I participated in the National Pork Board Porksgiving program as a member of One2One Network. I received compensation but all opinions are my own.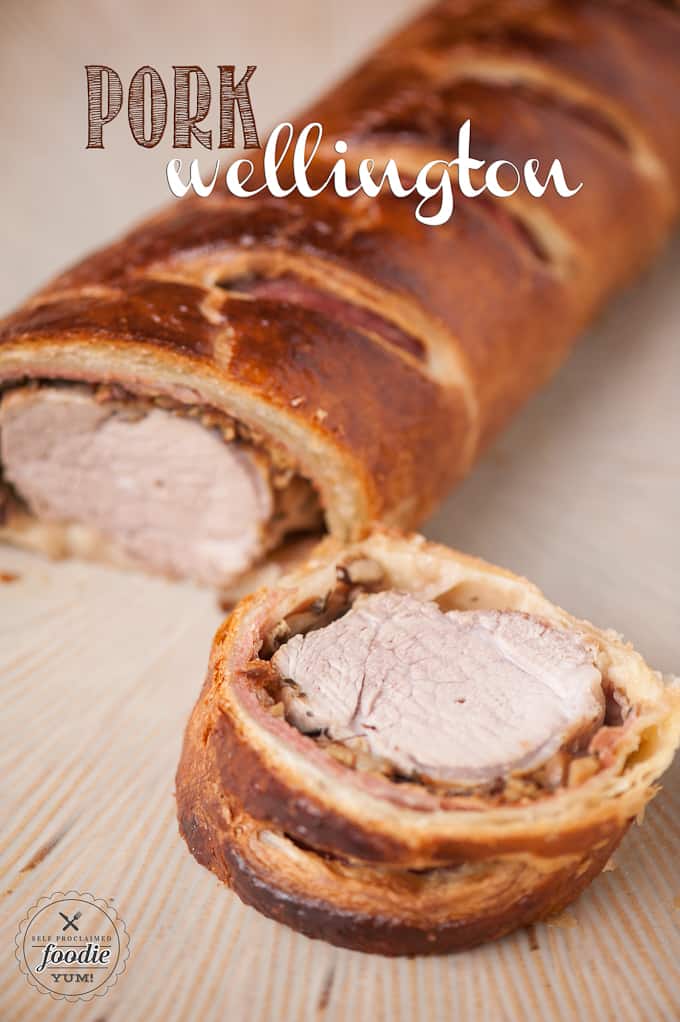 I'm going to throw a curve ball at you and declare that this holiday season is all about Porksgiving – sharing meals with friends and family – and giving back in inspired and unexpected ways- with pork. Who doesn't love pork? Why, just last night my daughter asked if we could ever just have bacon for dinner. I kid you not. We enjoy fresh and cured pork in our house on a regular basis. This dinner features a fresh cut pork tenderloin along with the beautiful combination of puff pastry, prosciutto, dijon mustard, and sautéed mushrooms to deliver the most flavorful, moist, and downright delicious dinner that is actually quite easy to prepare and perfect to share with friends or family to show your appreciation.
I made this particular dinner for my stepson who is a proud Marine and we are fortunate to have him at home for a visit. He is beyond deserving of a hot, delicious, homemade meal – not only for serving our country but just because of all the hard work he puts in every single day. Besides, can you think of a better way to a young man's heart than serving him a dinner like this?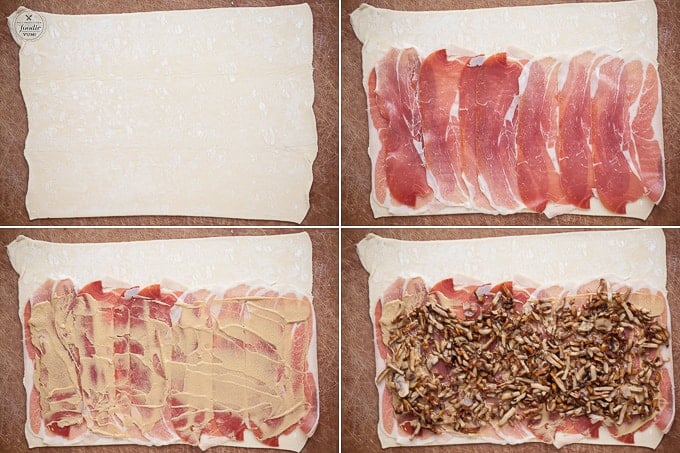 The first time I made a Wellington for dinner, I was a little intimidated and worried that it wouldn't turn out. The process is not only easy, but if you use a meat thermometer, you're sure to get perfect results. The National Pork Board advises the following temperature range when preparing pork chops, roasts and tenderloin: cook pork to an internal temperature between 145°F (medium rare) and 160°F (medium), followed by a three-minute rest. For ground pork, cook to an internal temperature of 160°F. Because you're wrapping this beauty up in a toasty puff pastry blanket, I recommend removing it from the oven before you hit your temperature because the internal temp will continue to rise while the meat is resting.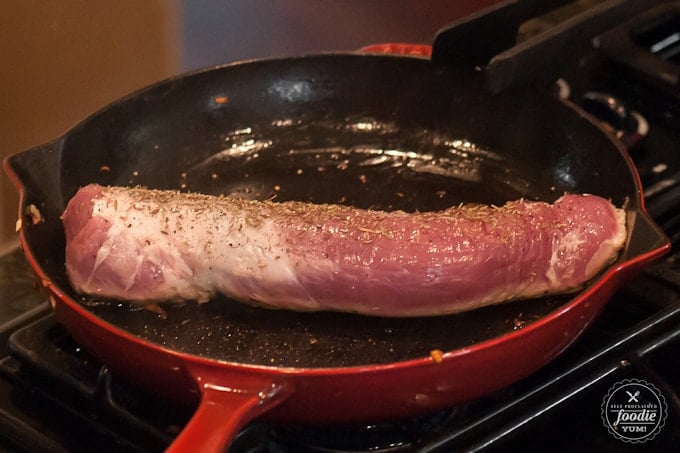 MY OTHER RECIPES
The process for this recipe is simple. Roll out the puff pastry so that it is big enough to wrap around your tenderloin. Cover it with a blanket of thinly sliced prosciutto, slather on some dijon mustard because we all know how wonderful pork and mustard are together, and cover that with some sautéed mushrooms and shallots. Before you add your tenderloin, you're going to want to give it a nice sear in that mushroom pan to lock in all the flavor and juices. You're starting to drool, now, aren't you? I can tell. Wrap it all up, seal it with a bit of egg wash and then paint on some more egg wash to give that pastry a golden brown shine while it cooks. Easy!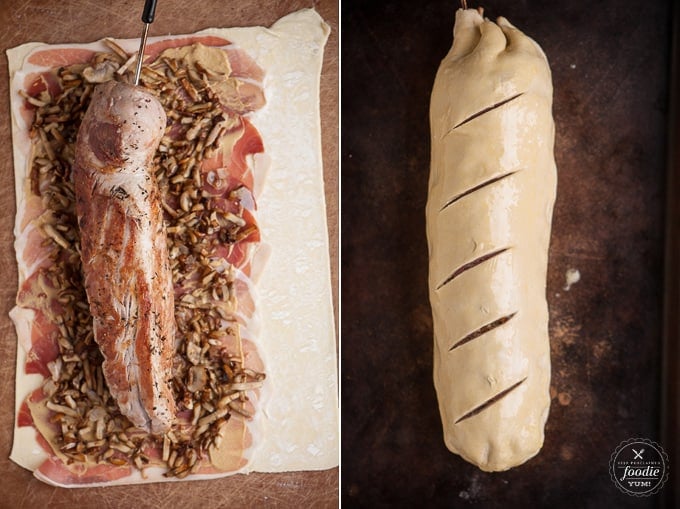 Then, all you need to do is invite over someone to say "thank you" with a home-cooked meal from the heart. Think about it… in today's busy and complicated world, can you think of a better way to show your appreciation and gratitude than by serving them a delicious home cooked meal? I cannot.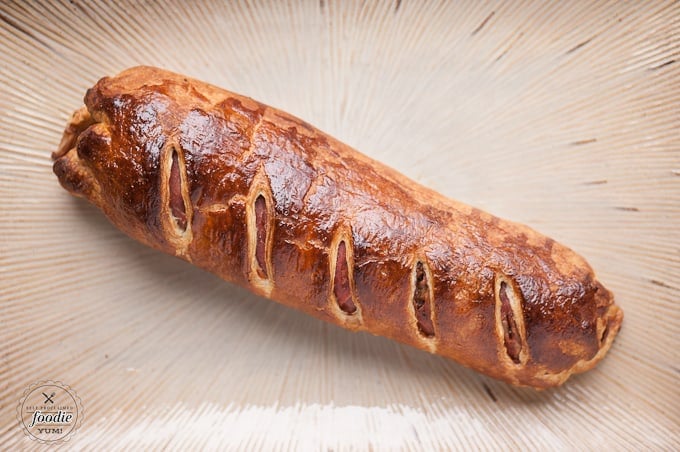 This recipe was absolutely outstanding and my entire family loved it. I'm sure yours will too. You can see this recipe posted on PorkBeinspired.com and be sure to visit this page for all sorts of pork inspired recipes.Find more recipes to share during Porksgiving at www.Facebook.com/porkbeinspired and follow the brand on Twitter, Pinterest and Instagram.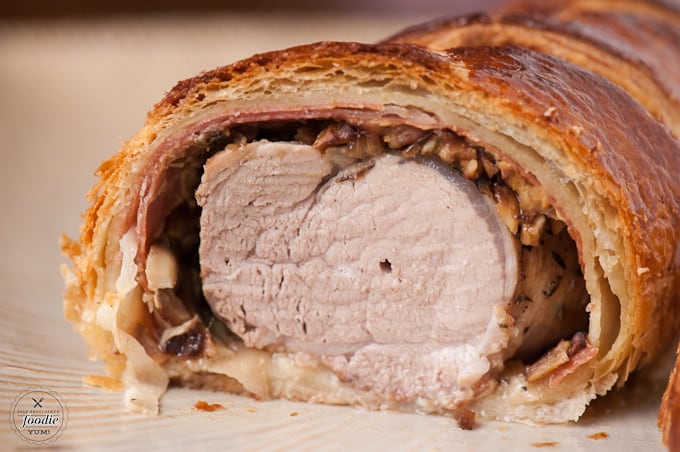 If you're looking for an easy dinner that is sure to impress everyone because of its amazing taste and presentation, choose Pork Wellington.
Ingredients
1

(1 1/2 pound) pork tenderloin

salt, pepper, dried thyme, as desired

1

sheet puff pastry dough

4

ounces thinly sliced prosciutto

1

tablespoon dijon mustard

1

tablespoon olive oil

1

tablespoon butter

8

ounces mushrooms, diced

1

shallot, diced

1

egg, beaten
Instructions
Preheat oven to 425 degrees F.
Season pork tenderloin with salt, pepper, and dried thyme. Set aside.
Roll out thawed puff pastry dough so that its as long as your tenderloin and wide enough to fully wrap around it.
Arrange the prosciutto so that there is a thin layer covering the dough. Spread dijon mustard over the top.
In a large skillet over high heat, melt butter with olive oil. Cook mushrooms and shallots in a single layer, stirring only occasionally, until golden brown, about 5-10 minutes. Remove from pan and set aside.
Add seasoned pork tenderloin to the hot pan and brown on all sides, about 1-2 minutes per side.
Spread sautéed mushroom mixture on top of the prosciutto in a single layer. Add seared tenderloin. Insert meat thermometer into the thickest part of the meat at the end - the thermometer will be able to stick out even after rolled. Roll tenderloin in dough and seal the edge with the beaten egg. Place the wellington on a parchment lined or stone baking sheet, seam side down. Brush top of dough with egg wash and cut slits in the top to release steam.
Cook in preheated oven for 20-30 minutes. Remove from oven when the internal temperature has reached between 145 degrees F (medium rare) and 160 degrees F (medium). Allow meat to rest 3 minutes before slicing. Enjoy!