Pork Wellington, made with pork tenderloin wrapped in prosciutto, mushrooms, and puff pastry, is the kind of homemade dinner recipe that will impress!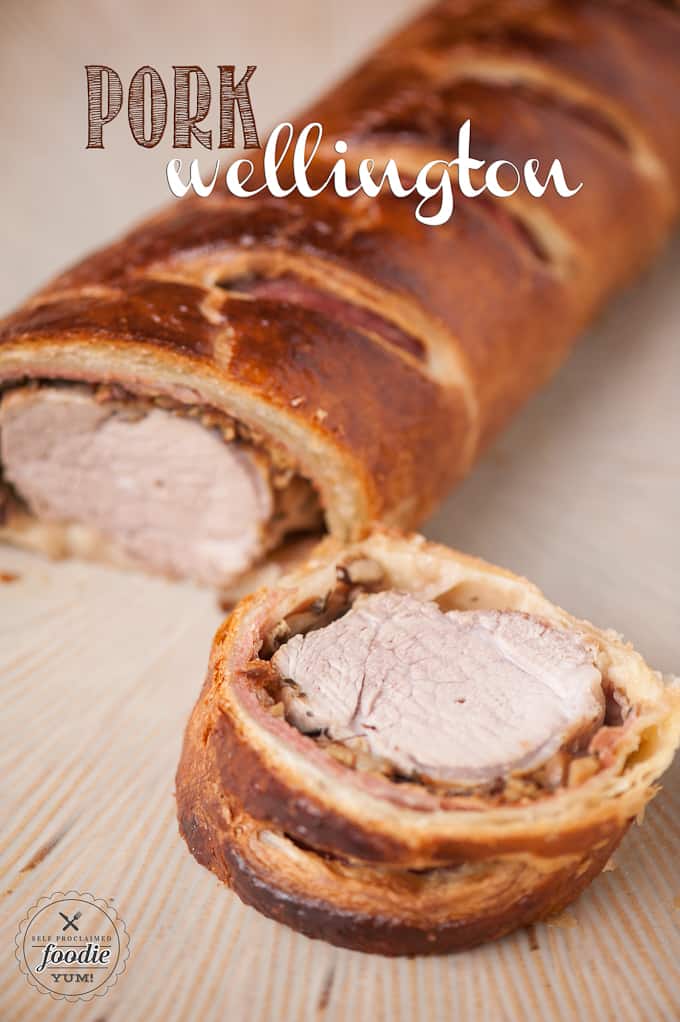 Who doesn't love pork? Why, just last night my daughter asked if we could ever just have bacon for dinner. I kid you not. We enjoy fresh and cured pork in our house on a regular basis and one of our favorite cuts of meat is pork tenderloin.
What is Pork Wellington?
This dinner recipe features a fresh cut pork tenderloin along with the beautiful combination of puff pastry, prosciutto, dijon mustard, and sautéed mushrooms to deliver the most flavorful, moist, and downright delicious dinner that is actually quite easy to prepare. Pork Wellington is perfect to share with friends or family and an excellent main course.
How to make this recipe:
The process for this recipe is simple. Roll out the puff pastry so that it is big enough to wrap around your tenderloin. Cover it with a blanket of thinly sliced prosciutto, slather on some dijon mustard because we all know how wonderful pork and mustard are together, and cover that with some sautéed mushrooms and shallots.
Before you add your pork tenderloin, you're going to want to give it a nice sear in that mushroom pan to lock in all the flavor and juices. You're starting to drool, now, aren't you? I can tell.
Wrap it all up, seal it with a bit of egg wash and then paint on some more egg wash to give that pastry a golden brown shine while it cooks. Easy!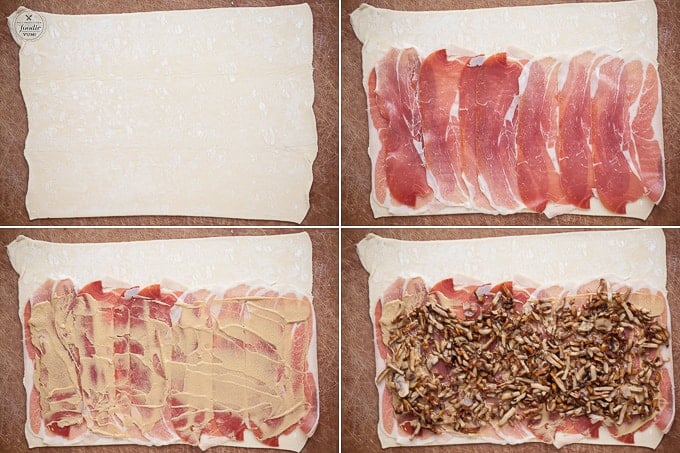 How long does this take to cook?
The first time I made a Wellington for dinner, I was a little intimidated and worried that it wouldn't turn out. The process is not only easy, but if you use a meat thermometer, you're sure to get perfect results.
The National Pork Board advises the following temperature range when preparing pork chops, roasts and tenderloin: cook pork to an internal temperature between 145°F (medium rare) and 160°F (medium), followed by a three-minute rest. For ground pork, cook to an internal temperature of 160°F.
Because you're wrapping this beauty up in a toasty puff pastry blanket, I recommend removing it from the oven before you hit your temperature because the internal temp will continue to rise while the meat is resting.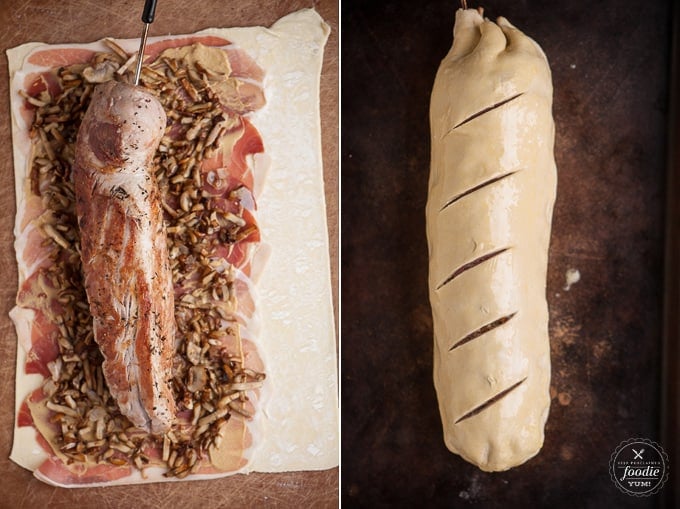 This recipe was absolutely outstanding and my entire family loved it. I'm sure yours will too.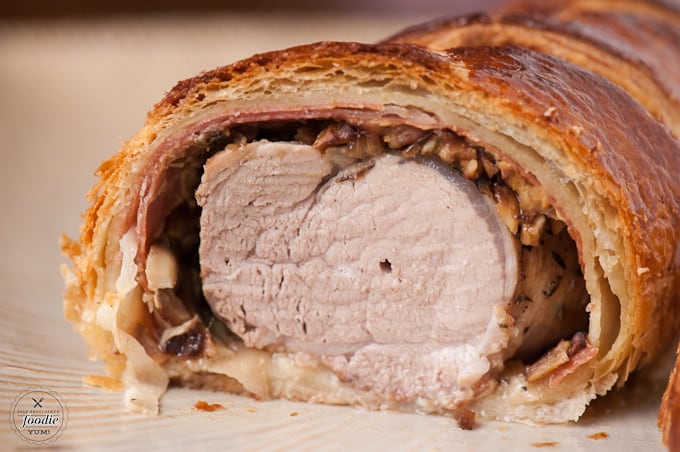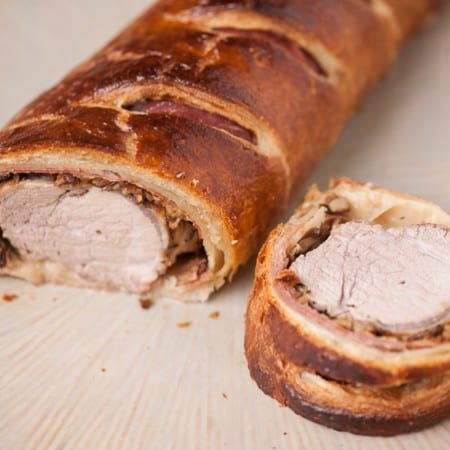 Pork Wellington
If you're looking for an easy dinner that is sure to impress everyone because of its amazing taste and presentation, choose Pork Wellington.
Print
Pin
Rate
RECIPE VIDEO WILL AUTOPLAY
Hover to scale:
4
servings
Ingredients
1.5

pound

pork tenderloin

salt

(pepper, dried thyme, as desired)

1

sheet puff pastry dough

4

ounces

thinly sliced prosciutto

1

tablespoon

dijon mustard

1

tablespoon

olive oil

1

tablespoon

butter

8

ounces

mushrooms

(diced)

1

shallot

(diced)

1

egg

(beaten)
Instructions
Preheat oven to 425 degrees F.

Season pork tenderloin with salt, pepper, and dried thyme. Set aside.

Roll out thawed puff pastry dough so that its as long as your tenderloin and wide enough to fully wrap around it.

Arrange the prosciutto so that there is a thin layer covering the dough. Spread dijon mustard over the top.

In a large skillet over high heat, melt butter with olive oil. Cook mushrooms and shallots in a single layer, stirring only occasionally, until golden brown, about 5-10 minutes. Remove from pan and set aside.

Add seasoned pork tenderloin to the hot pan and brown on all sides, about 1-2 minutes per side.

Spread sautéed mushroom mixture on top of the prosciutto in a single layer. Add seared tenderloin. Insert meat thermometer into the thickest part of the meat at the end - the thermometer will be able to stick out even after rolled. Roll tenderloin in dough and seal the edge with the beaten egg. Place the wellington on a parchment lined or stone baking sheet, seam side down. Brush top of dough with egg wash and cut slits in the top to release steam.

Cook in preheated oven for 20-30 minutes. Remove from oven when the internal temperature has reached between 145 degrees F (medium rare) and 160 degrees F (medium). Allow meat to rest 3 minutes before slicing. Enjoy!
NUTRITION INFORMATION
Calories:
751
kcal
|
Carbohydrates:
31
g
|
Protein:
46
g
|
Fat:
48
g
|
Saturated Fat:
14
g
|
Cholesterol:
177
mg
|
Sodium:
515
mg
|
Potassium:
978
mg
|
Fiber:
1
g
|
Sugar:
2
g
|
Vitamin A:
145
IU
|
Vitamin C:
1.7
mg
|
Calcium:
22
mg
|
Iron:
3.9
mg
This post was originally created in December 2015 and has been updated with more fun facts and tidbits for your reading pleasure.