Parmesan Roasted Cauliflower Rice combines an easy and delicious vegetable side dish recipe with low carb cauliflower benefits!
If you love eating this healthy vegetable, you'll also want to try my Cauliflower Mashed Potatoes, Buffalo Cauliflower Bites, and my Cauliflower Fried Rice!

ROASTED CAULIFLOWER RICE RECIPE
Parmesan Roasted Cauliflower Rice is one of those quick and easy veggie side dishes. It goes with everything from a low carb chicken and Brussels Sprouts meal to a mouthwatering bacon wrapped meatloaf.
It really takes no time to put together, especially if you buy the cauliflower rice pre-packaged, which is exactly what I do (I buy an organic bag of cauliflower rice at Costco).
In just minutes, you have the easiest roasted cauliflower side dish, and its made extra tasty with golden brown parmesan and herbs mixed in. Here's the bonus - roasted cauliflower doesn't just taste good, and cauliflower rice isn't just super easy, but its so good for you!
Cauliflower benefits:
Cauliflower is a member of the cancer-fighting cruciferous family of vegetables. Cauliflower contains sulforaphane, a sulfur compound that has also been shown to kill cancer stem cells, thereby slowing tumor growth. 

Cauliflower is anti-inflammatory and antioxidant-rich, and may boost both your heart and brain health. Cauliflower contains a wealth of anti-inflammatory nutrients to help keep inflammation in check, including indole-3-carbinol or I3C, an anti-inflammatory compound that may operate at the genetic level to help prevent the inflammatory responses at its foundational level.

Eating cauliflower will provide your body with impressive amounts of vitamin C, vitamin k, beta-carotene, and much more while supporting healthy digestion and detoxification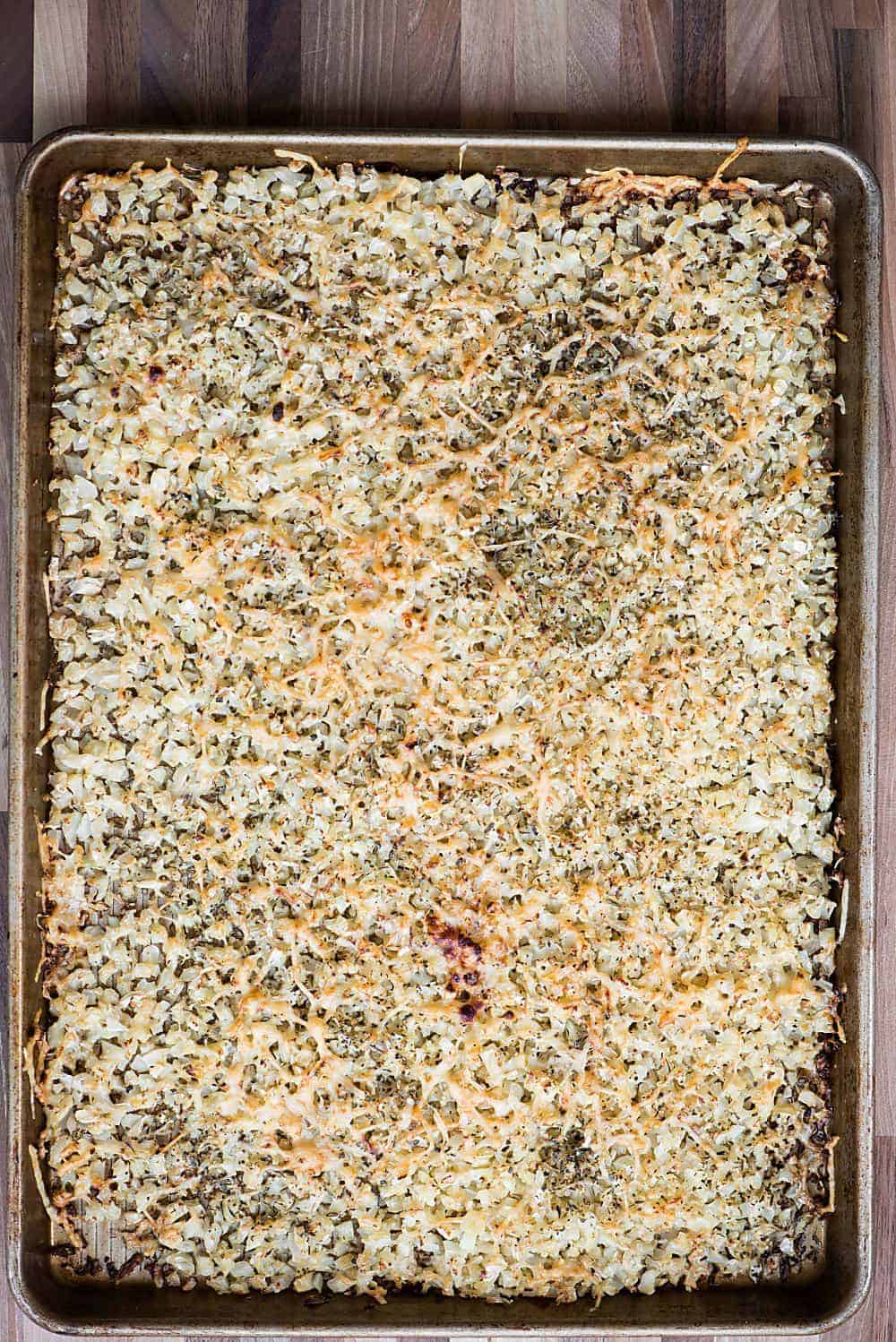 There are two ways I can think of to tell you how to make cauliflower rice: either you buy a head of cauliflower at the grocery store or the farmers market and you pulse it in the food processor until it is finely chopped, or you buy cauliflower rice ready to use at the store. You could always chop the cauliflower rice by hand, I suppose, but this recipe is all about it being quick and easy. I have found that buying pre-packaged cauliflower rice is your best choice when planning on making roasted cauliflower because it comes pre-washed and there's no excess moisture in the bag.
Are there carbs in cauliflower?
The answer is yes. There are about 29 grams of carbs in one medium head of cauliflower.
1 cup of raw or cooked cauliflower has about 5 grams of carbohydrates.  Cauliflower is rich in fiber, which is a type of carbohydrate. Of the 5 grams of carbs present in 1 cup of cauliflower, 2 of those grams of carbs are from fiber.
If you're eating a paleo or keto diet, cauliflower is a great choice and can make an easy substitute for potatoes or bread, depending on how you plan on using them.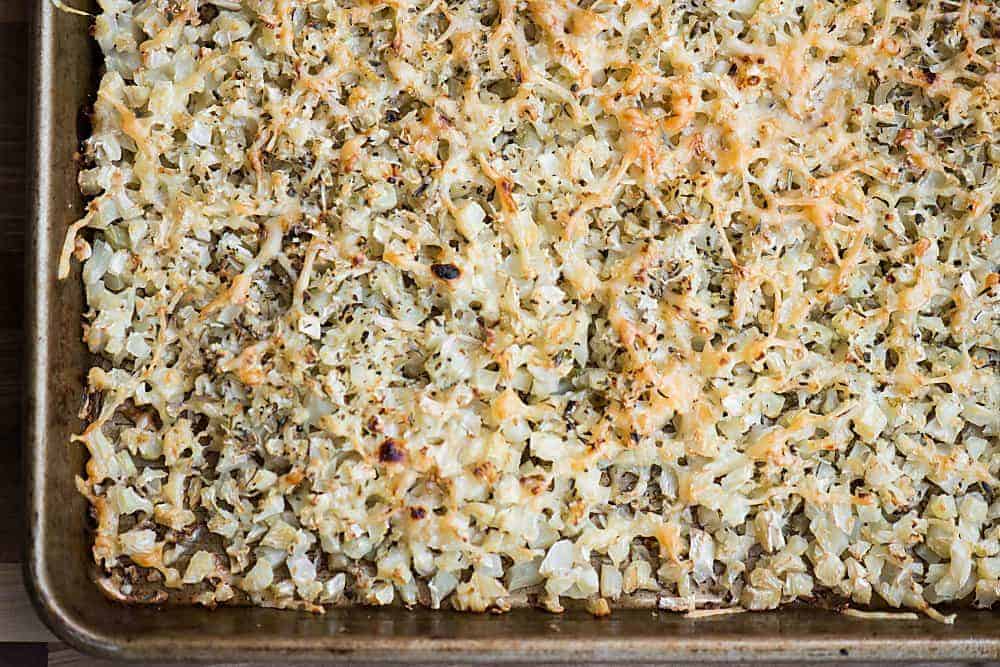 Kitchen tools used to make this Parmesan Roasted Cauliflower Rice:
Baking Sheet: I've been using this one for years. I love that it's made in the USA, the sides are high enough to keep anything from spilling over, and it's warp resistant.  That's basically the only thing I used to make this roasted cauliflower. Easy, right?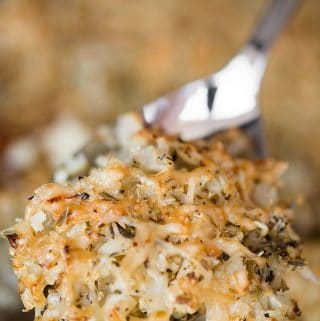 Parmesan Roasted Cauliflower Rice
Parmesan Roasted Cauliflower Rice combines an easy and delicious vegetable side dish recipe with low carb cauliflower benefits!
Print
Pin
Rate
RECIPE VIDEO WILL AUTOPLAY
Hover to scale:
6
servings
Ingredients
32

ounces

cauliflower rice

1 1/2

cups

shredded parmesan

(divided)

2

tablespoons

olive oil

1

teaspoon

dried herbs

(Your choice of rosemary, thyme, basil (or a combination of all three))
Instructions
Preheat oven to 425 degrees F.

On large baking sheet, combine all ingredients except about 1/2 cup of the shredded parmesan. Mix to evenly distribute the oil, cheese, and herbs over the cauliflower. Spread in an even layer. Top with remaining 1/2 cup parmesan cheese.

Bake in preheated oven until golden brown, about 30min. No need to stir during cooking. Serve warm.
NUTRITION INFORMATION
Calories:
187
kcal
|
Carbohydrates:
8
g
|
Protein:
12
g
|
Fat:
12
g
|
Saturated Fat:
5
g
|
Cholesterol:
22
mg
|
Sodium:
427
mg
|
Potassium:
483
mg
|
Fiber:
3
g
|
Sugar:
3
g
|
Vitamin A:
215
IU
|
Vitamin C:
72.8
mg
|
Calcium:
314
mg
|
Iron:
1.1
mg