Oven Roasted Asparagus, made from fresh asparagus, olive oil, garlic, and parmesan, is a simple and easy vegetable side dish.
With very little prep and cook time, you end up with the most delicious, tender, vibrant green asparagus. If you're looking for a healthy vegetable to serve with dinner, this is the recipe!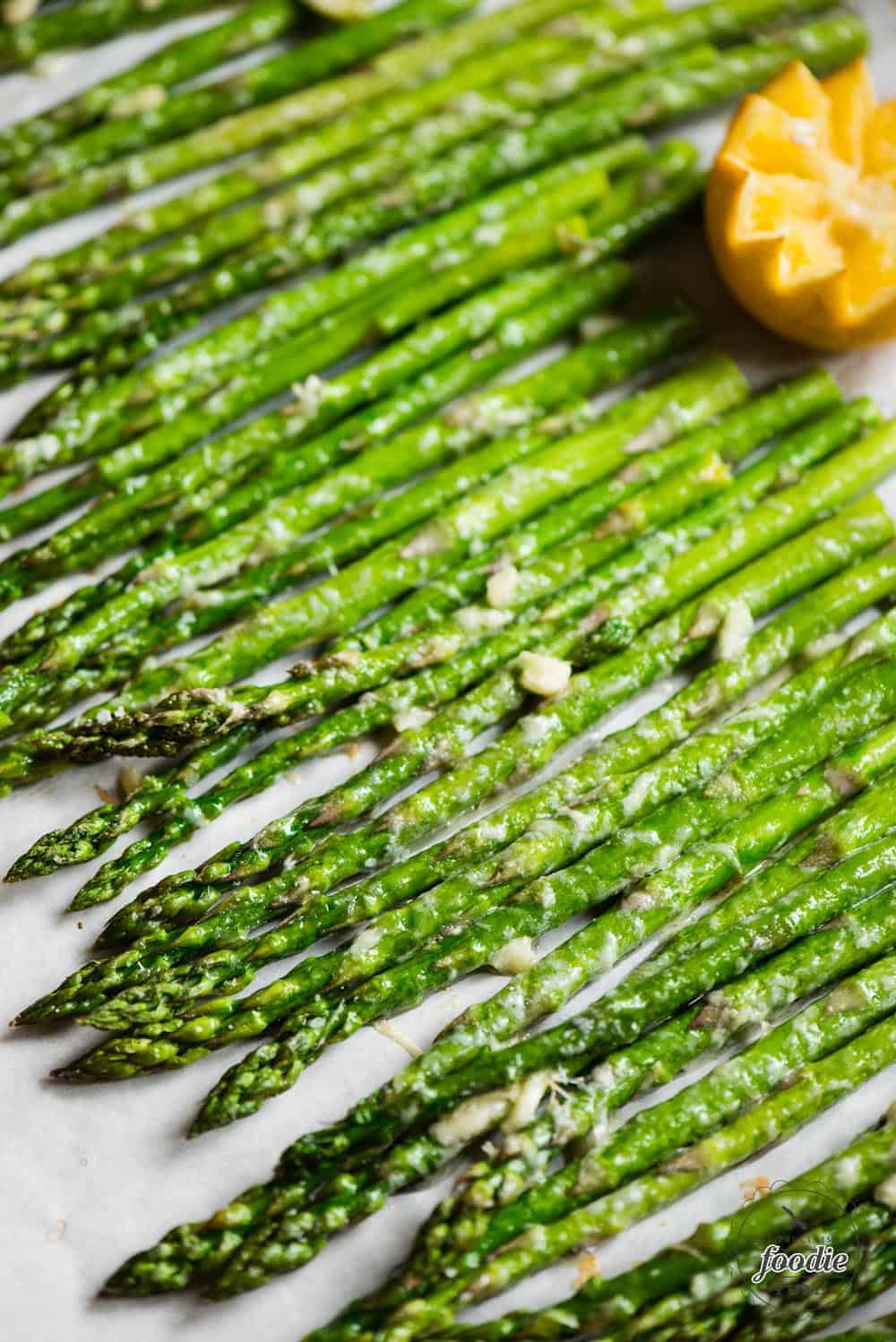 OVEN ROASTED ASPARAGUS RECIPE
Oven Roasted Asparagus is one of those perfect vegetable side dishes.
Is it easy to make? If you consider 15 minutes and just a few ingredients, well then, it is very easy!
Is it healthy? You can't beat a dark green vegetable like asparagus and we all know extra virgin olive oil is a healthy fat. I won't argue whether the parmesan is healthy or not.
Does it go with a variety of main dishes? Absolutely! Asparagus side dish recipes like this one go perfectly with homemade pasta with alfredo sauce. Nothing like prepping something like a decadent and rich creamy pasta dish and then fixing up an easy healthy side dish to balance things out!
Know what else I love when I make roasted asparagus with parmesan? A fork-tender cedar plank salmon filet. My mouth is starting to water just thinking of it!
How to cook asparagus:
Oven roasted – That is how this particularly recipe is made. To roast asparagus in the oven, you will just need to add a little fat like a high quality olive oil or melted butter to help make it crispy on the outside and give it some flavor. Things like parmesan cheese and garlic add incredibly flavor. When roasting asparagus in the oven, just remember to not crowd your pan. You need the hot air to touch each asparagus spear so that it roasts more than it steams.
Sauteed – I think sauteed asparagus spears are just as good as oven roasted asparagus. Same rules apply – add a little fat, use a high heat, and don't crowd your pan.
Steamed – If you're looking for the healthiest option, you can never go wrong with steamed vegetables. No fat is needed with this cooking method.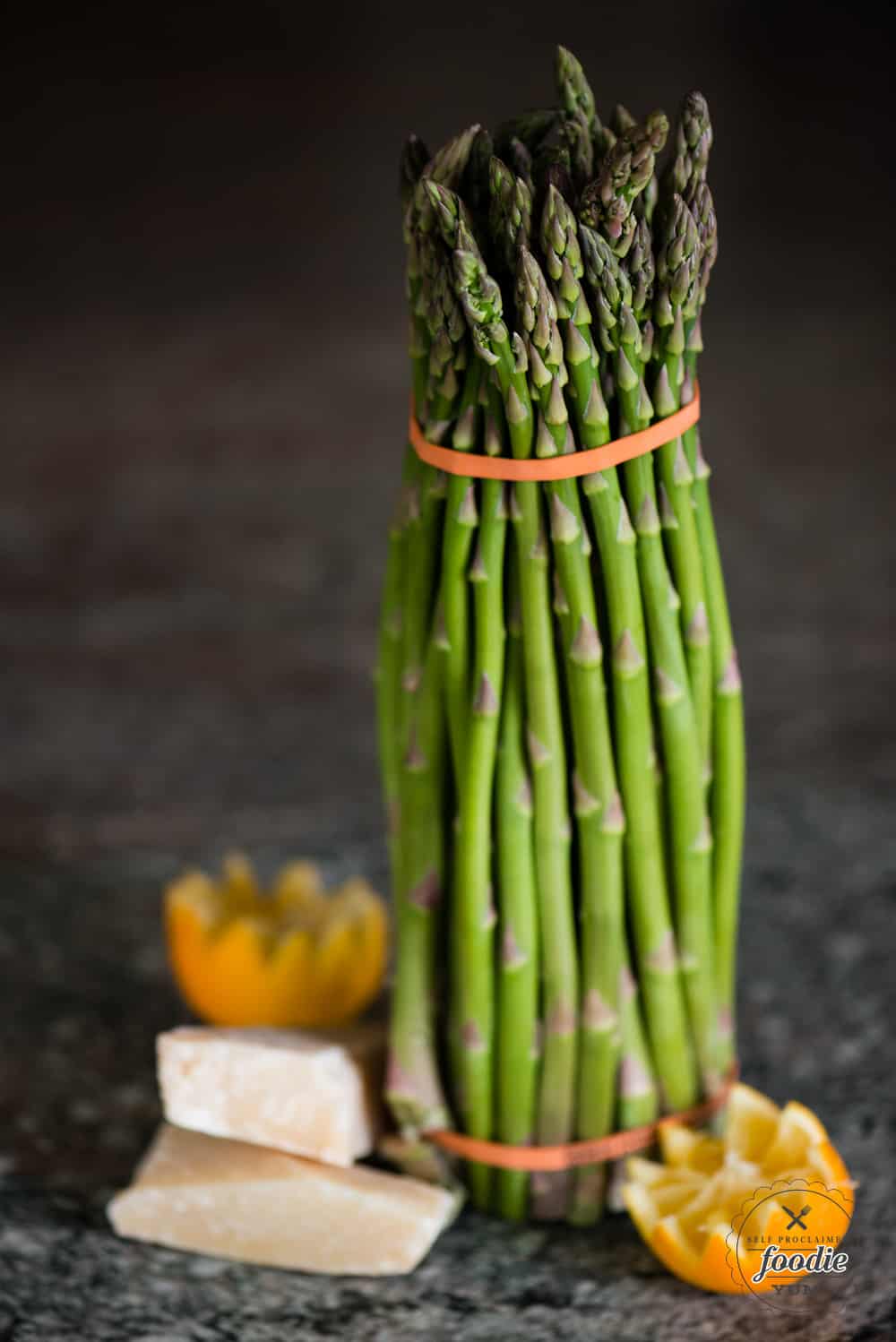 How do you know if asparagus has gone bad?
There are a few ways to tell if fresh asparagus has gone bad. Lucky for all of us, it's pretty easy to tell. You just need to trust your senses.
First, and this goes for most vegetables, you'll want to trust your nose. Asparagus already has a pretty strong smell. I recommend getting familiar with what fresh asparagus smells like. That way, when you pull a questionable bunch of asparagus out of the refrigerator, you'll know the difference between the normal smell and the smell of asparagus that has gone bad.
The second test is sight. If you see any mold or fungus growing on the asparagus, send it to your compost bin. Once it starts growing stuff you don't want to eat, it's time to toss it.
Finally, go by touch. Asparagus, especially the tips, will start to get wet and mushy when it gets bad. Once this happens, you won't want to eat it.
How long do you roast asparagus for?
This answer completely depends on a few factors.
How thick is your asparagus? Obviously, the thinner the spears, the quicker it will cook.
How done do you like your oven roasted asparagus? Do you like it firm so that there's still a bit of a snap? Or do you prefer it to be a bit on the mushy side?
What oven temperature are you using? Sometimes we have to cook things like our asparagus side dish recipes in the oven along with the main course. Even though I recommend cooking this recipe at 400 degrees F, sometimes you might have to adjust based on other factors.
For all of those reasons, here are a range of cooking times at different temperatures. If you like your asparagus more firm, cook it less time. Likewise, if you like it softer, cook it longer. These times are based on asparagus spears with a medium thickness.
400 degrees F: 8-12 minutes
375 degrees F: 10-14 minutes
350 degrees F: 12-16 minutes
Love easy asparagus recipes? How about tossing in some fresh herbs and making roasted asparagus with thyme? Or basil? Or both? What about taking that asparagus to the next level and transforming it into a heavenly asparagus risotto with Pecorino Romano?
I am sure this easy Oven Roasted Asparagus will become one of your favorite go-to side dishes!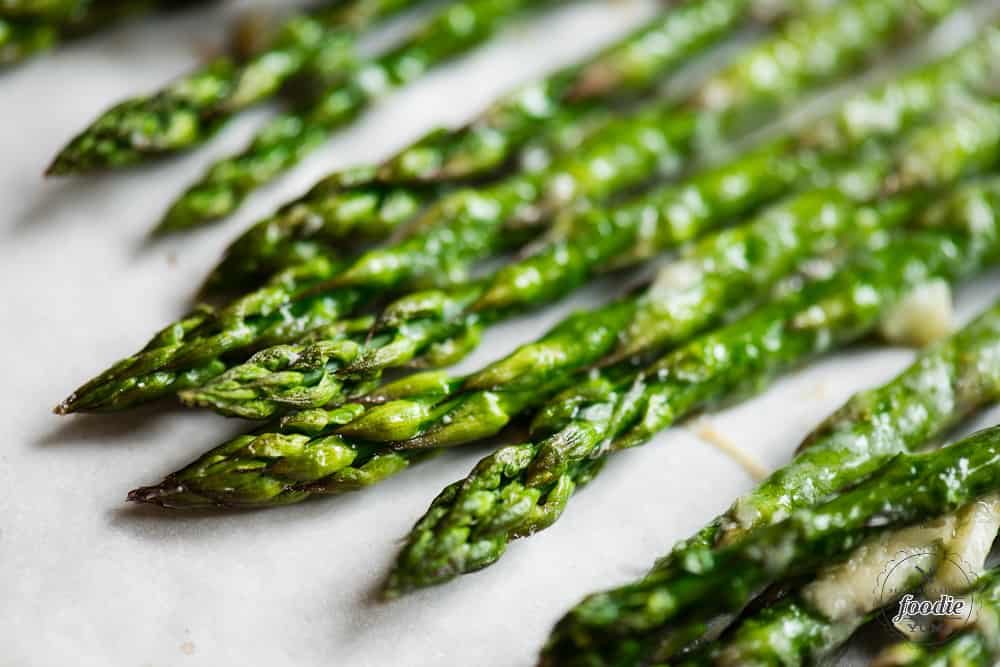 Love baked asparagus?
If you're a fan of this healthy spring veggie, you'll definitely want to check out these other asparagus recipes:
Garlic Parmesan Roasted Asparagus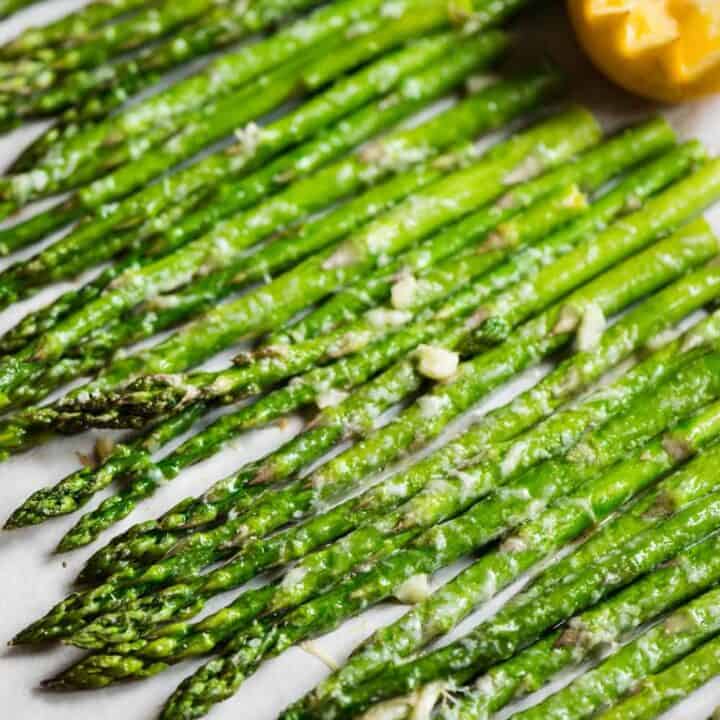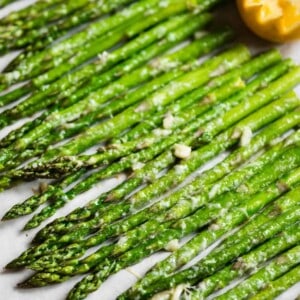 Garlic Parmesan Oven Roasted Asparagus is the best vegetable side dish recipe! Baked asparagus in the oven is crispy and tender and oh-so-delicious.
Ingredients
1

bunch

fresh asparagus

about a pound of fresh asparagus spears, bottoms trimmed and discarded

1

T

olive oil

1

T

fresh lemon juice

about a half of a lemon

3

cloves

garlic

thinly sliced

1/2

tsp

kosher salt

1/4

cup

parmesan

grated
Instructions
Preheat oven to 400 degrees F. Line a baking sheet with parchment paper.

In a large bowl (with a flat bottom, if available), toss asparagus in olive oil, lemon juice, garlic, and salt to coat. Add parmesan cheese and toss to evenly distribute.

Lay asparagus on prepared baking sheet and arrange in a flat layer. Roast in preheated oven for 8-12 minutes depending on desired tenderness.
Nutrition
Calories:
82
kcal
,
Carbohydrates:
6
g
,
Protein:
5
g
,
Fat:
5
g
,
Saturated Fat:
2
g
,
Cholesterol:
4
mg
,
Sodium:
394
mg
,
Potassium:
236
mg
,
Fiber:
2
g
,
Sugar:
2
g
,
Vitamin A:
899
IU
,
Vitamin C:
8
mg
,
Calcium:
105
mg
,
Iron:
2
mg
Nutrition information is automatically calculated, so should only be used as an approximation.
This post was originally created in May 2016 and has been updated with more fun facts and tidbits for your reading pleasure.