If you're looking for a new way to enjoy your eggs at breakfast, this Smoked Salmon Asparagus Goat Cheese Omelet tastes outstanding and is full of protein.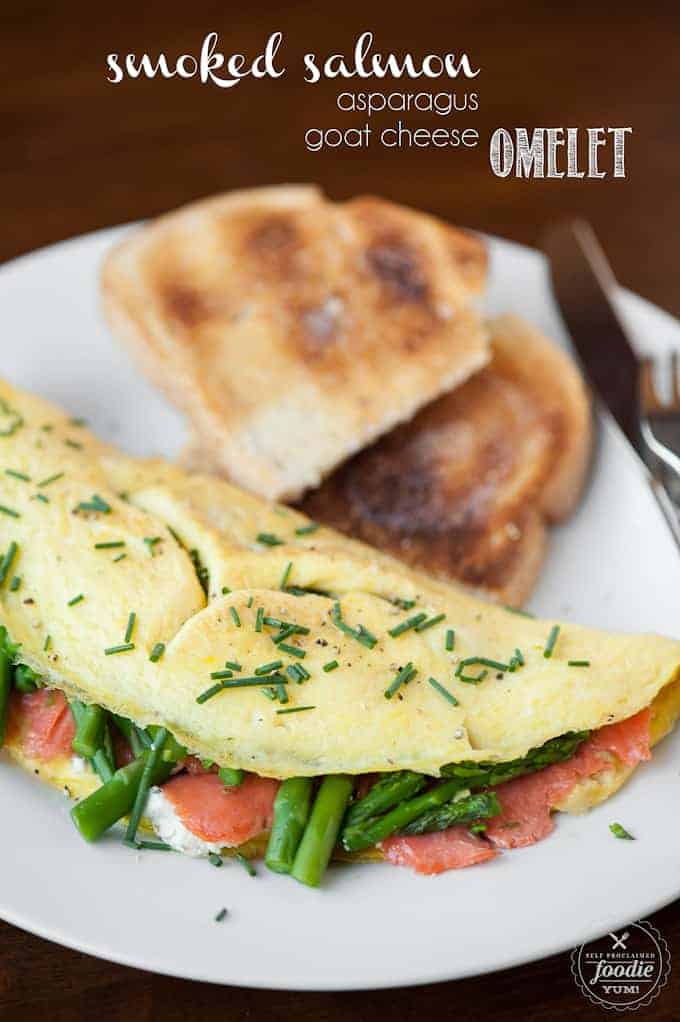 Well, the title of this post says it all. I would have loved to have come up with a clever catchy title, but instead I basically listed all of the ingredients. I love smoked salmon. So much so that my smoked salmon dip is my crack cocaine. I can't get enough of it. I've paired salmon and asparagus together before in my mini fritattas and that was a fantastic combination. And goat cheese. Ah, wonderfully creamy and perfectly tart goat cheese. I love it. Goat cheese is the star ingredient in my polenta and that combination is to die for when paired with vegetable ratatouille. I probably shouldn't write when I'm hungry because I end up gushing about how much I love food… even more than usual.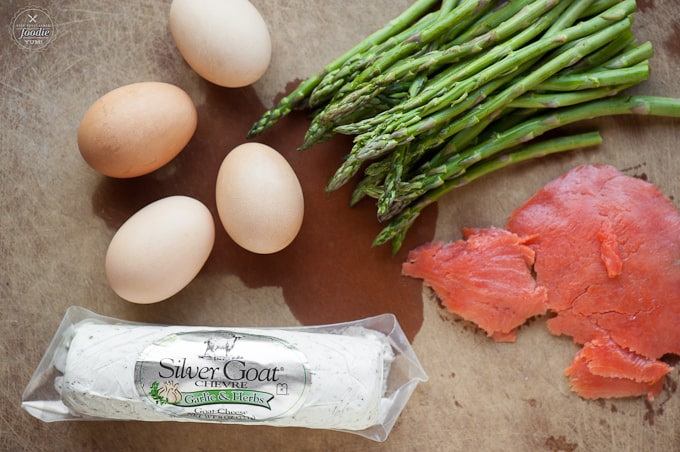 Omelets used to intimidate me. I would try to flip the entire egg before adding the toppings and then folding it over, which always resulted in a scramble rather than a beautiful fluffy omelet. Not any more. I feel like I've perfected my technique. What I like to do is beat the eggs by hand really well with some water. I grease up my pan with a healthy amount of butter on relatively high heat, and then when I add the egg I reduce the heat as low as it will go. I use a spatula to gently lift the outside of the cooked egg to allow the runny part to hit the bottom of the pan and cook. Now here's my trick: when things are starting to look like they're close to being set, I cover the pan with a lid to help facilitate the cooking of the top. As long as the heat is on very low, the bottom won't get overly cooked.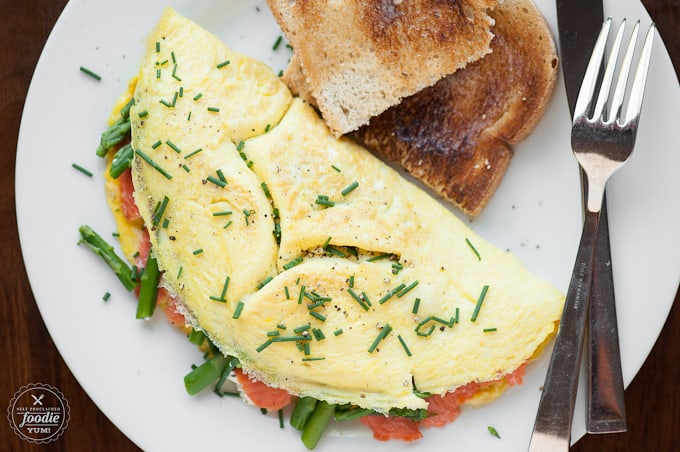 I also prefer to briefly blanch my asparagus before I put it in the omelet. Crunchy starchy asparagus doesn't really taste good, so do yourself a favor and take the extra two minutes to properly poach your asparagus and then quickly stop the cooking process so that they're still firm and fresh. I add my smoked salmon straight from the package along with the cut asparagus and little globs of goat cheese to half of the omelet and then fold the remaining egg over the top. Then I cover and allow to sit over the low heat until the middle ingredients are heated through. This omelet was so insanely delicious that I ate the entire thing. I'm not kidding. There were four eggs in there too! This breakfast truly has everything you want to fill your belly and give your day a proper start: protein, fiber, and fat. YUM!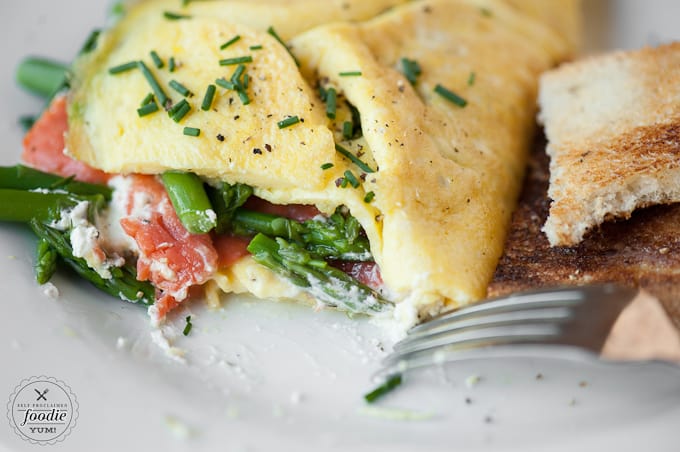 Smoked Salmon Asparagus Goat Cheese Omelet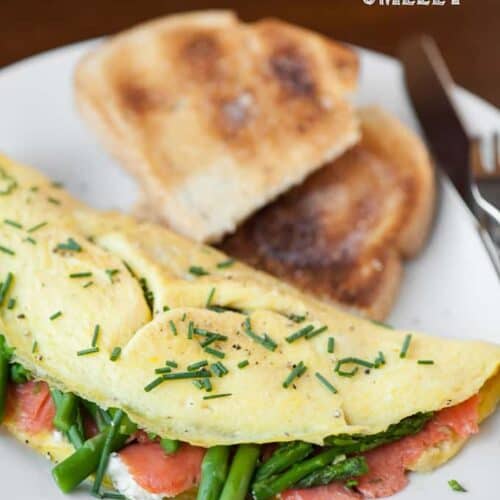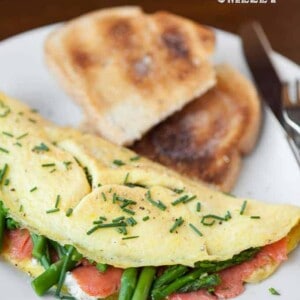 If you're looking for a new way to enjoy your eggs at breakfast, this Smoked Salmon Asparagus Goat Cheese Omelet tastes outstanding and is full of protein.
Ingredients
4

eggs

2

tablespoons

water

1/2

cup

asparagus

chopped into 1 inch pieces

1

tablespoon

butter

2

ounces

goat cheese

crumbled

1

ounce

smoked salmon

wild smoked sockeye salmon, I used Trader Joes
Instructions
Beat eggs with water in large bowl. Set aside.

Blanch asparagus by cooking in salted boiling water for only about a minute, and then transfer to ice water using a slotted spoon to stop the cooking process. Once cold, use slotted spoon to remove asparagus to a separate plate to drain. This makes it crisp, green and vibrant without the raw starchy taste.

Heat a large saute pan over medium high heat and melt the butter, coating all surfaces. Reduce heat to very low.

Add whisked eggs. Do not stir; rather, use a spatula to gently lift the edges and allow the raw egg to slide under to enable even cooking. Continue to do this until most of the wet egg has been able to set. Cover with a lid and allow to cook a few more minutes. Once all of the egg appears to have mostly set, top half of the egg with blanched asparagus, goat cheese, and smoked salmon. Fold other half of cooked egg over the top. Once again cover and allow omelet to cook for another minute or two so that ingredients can get nice and warm.

Slide entire omelet onto a plate and enjoy.
Nutrition
Calories:
274
kcal
,
Carbohydrates:
2
g
,
Protein:
20
g
,
Fat:
21
g
,
Saturated Fat:
11
g
,
Cholesterol:
359
mg
,
Sodium:
392
mg
,
Potassium:
214
mg
,
Fiber:
1
g
,
Sugar:
1
g
,
Vitamin A:
1196
IU
,
Vitamin C:
2
mg
,
Calcium:
97
mg
,
Iron:
3
mg
Nutrition information is automatically calculated, so should only be used as an approximation.