This easy Perfect Cedar Planked Grilled Salmon is wild caught Copper River Salmon marinated in a light Asian marinade grilled into a healthy summer dinner.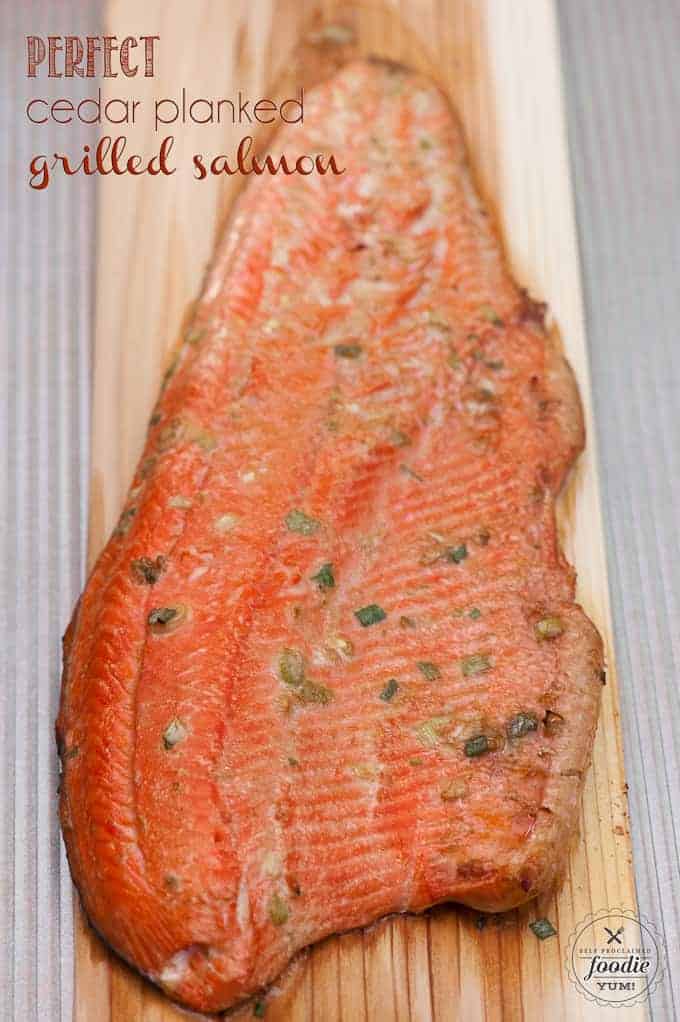 So, I've been hearing radio ads and seeing posters advertising that Fred Meyer had fresh wild Copper River salmon. I was hesitant to buy any because I've been known to royally screw up salmon before. Don't let this whole "I have a food blog so I must be an awesome cook" facade fool you. Sure, I have my kitchen success stories, but I never show you the mess ups!  Anyway, I went out on a limb and actually bought an entire salmon. Here's a little tip for you: If you buy a single fillet, the price per pound will be a whole lot more than the price per pound for an entire fish. Just buy the entire fish and have them fillet it right there for you in the store. That's exactly what I did and I ended up getting both fillets plus the bones to make a fish stock for the price of a single fillet. Did you know that?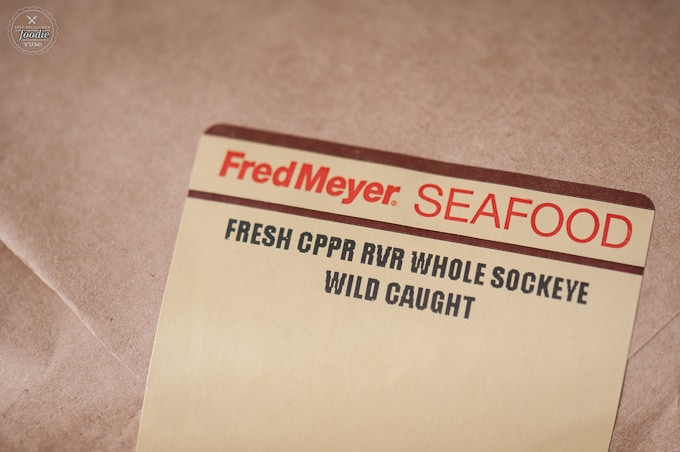 Just look how gorgeous that fish is. Anyone who tells you farm raised is as good as wild caught is out of their mind. Add on fresh versus frozen, even if its flash frozen at sea, and the texture is unreal. Bottom line – if you see something like this at the store – buy it.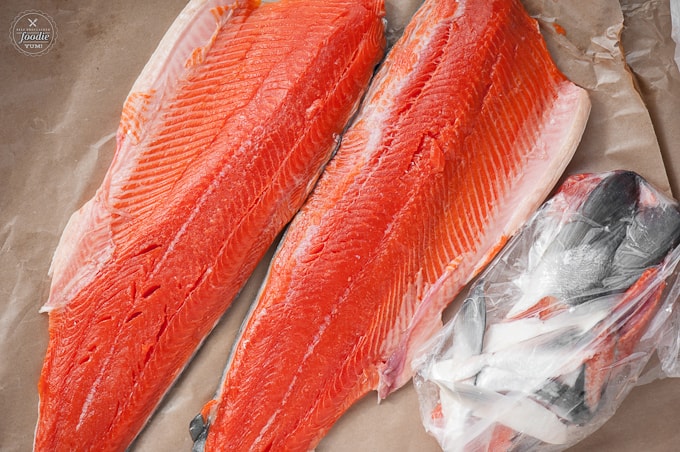 There are two reasons this salmon turned out perfect, and I mean it was downright perfect. First, I used a cedar plank. You must use a food grade cedar plank (don't go cutting up your fence boards). You can find them at most stores that sell fish like this. I soaked the plank in a jelly roll pan using boiling water and I set a heavy glass bowl on top to ensure it was fully submerged. I let it soak for a good 7 hours and it was long enough to cook both my fillets one at a time without it burning.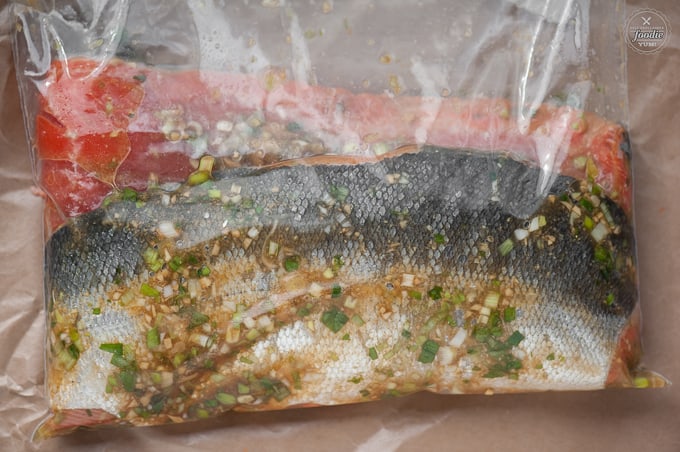 Second, is the marinade. This one added just the right amount of flavor and moisture to the fish without overpowering the wonderful taste and delicate texture of the fish. Because of the acid in the vinegar, you really shouldn't marinate the fish for more than 30 minutes or so.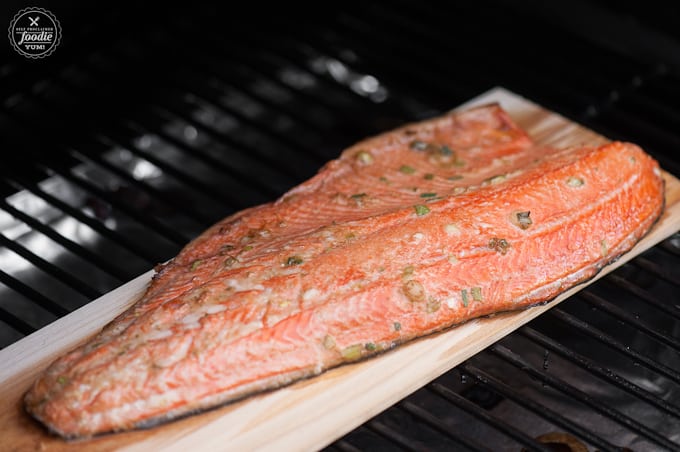 I've never just set my temperature and grilled fish for an exact period of time and had it turn out perfect but this did… twice. 350 degrees F for exactly 20 minutes and, at risk of totally overusing the word, PERFECT PERFECTION!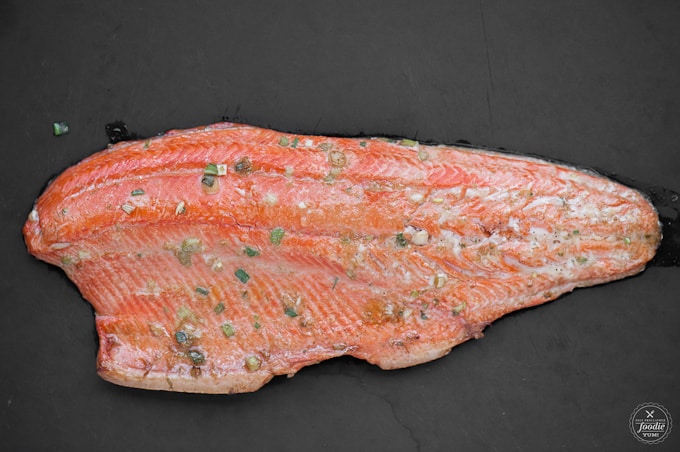 Of all the things I make, salmon is actually one of the least favorite of my husband. Well, when I served this up for dinner he couldn't believe how delicious it was. My family and I ate one of the fillets for dinner and then I ate the entire other fillet over the next few days for lunch along side an avocado and some snap peas – YUM!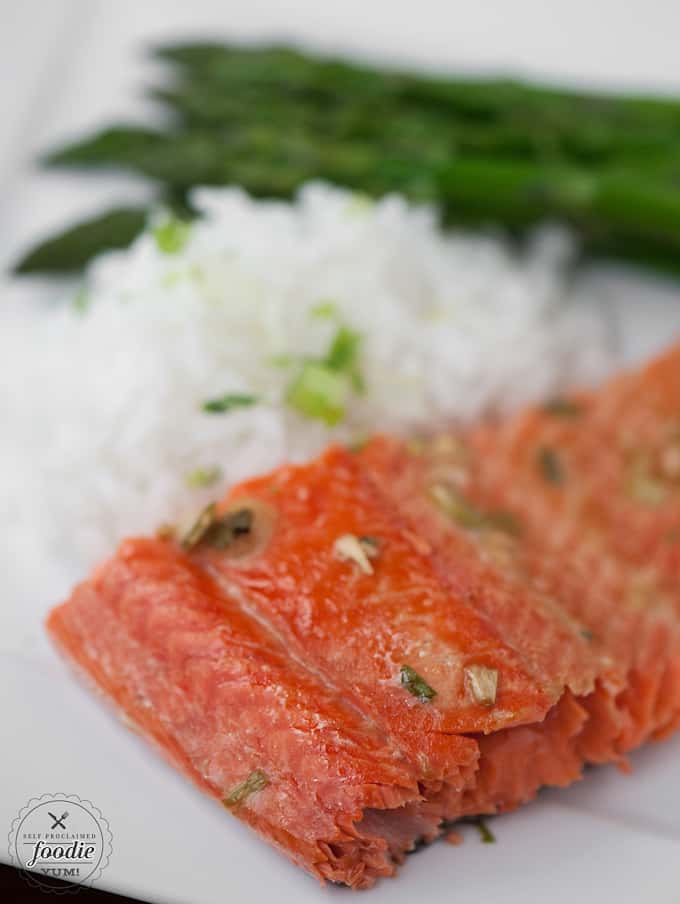 Perfect Cedar Planked Grilled Salmon
This easy Perfect Cedar Planked Grilled Salmon is wild caught Copper River Salmon marinated in a light Asian marinade grilled into a healthy summer dinner.
Instructions
Soak cedar planks in hot water for a minimum of 1 hour, up to overnight.

Combine all marinade ingredients in gallon sized freezer bag. Add salmon fillets and marinate for 15-30 minutes.

Preheat grill to medium (350 degrees F heat). Place soaked cedar plank on the grill and when it is hot, add the salmon fillet, skin side down. Discard any remaining marinade.

Cook on hot grill for about 20 minutes or until salmon is flaky.

You may serve with the skin still on, but I don't advise eating it. Enjoy!
Nutrition
Calories:
334
kcal
,
Carbohydrates:
1
g
,
Protein:
31
g
,
Fat:
22
g
,
Saturated Fat:
3
g
,
Cholesterol:
83
mg
,
Sodium:
319
mg
,
Potassium:
762
mg
,
Fiber:
1
g
,
Sugar:
1
g
,
Vitamin A:
102
IU
,
Vitamin C:
1
mg
,
Calcium:
21
mg
,
Iron:
1
mg
Nutrition information is automatically calculated, so should only be used as an approximation.