Slow Cooker Turkey Breast is perfect as Thanksgiving dinner for two or serves as an easy meal prep idea. Crock pot turkey breast is easy and delicious!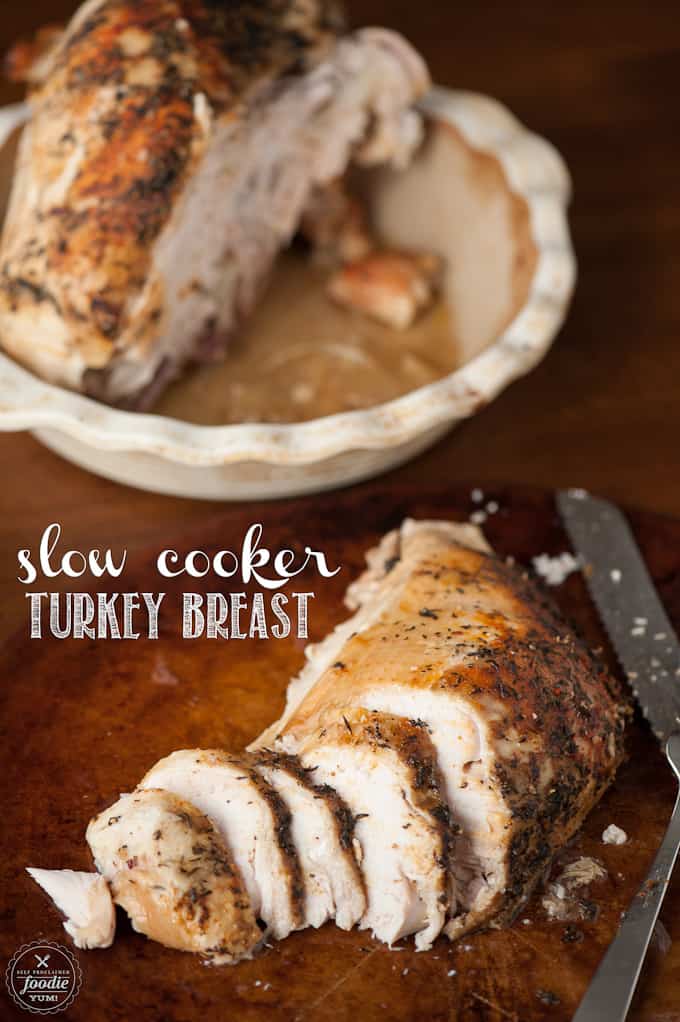 Slow Cooker Turkey Breast might just be the best recipe idea you'll come across this week. Let's face it: quality time with the family sounds much more appealing than hours of cooking every night. Rejoice! Moms everywhere can save time with easy meal prep ideas and using things like leftover turkey creatively. My favorite way to make quick and easy delicious meals that can fit into my busy family's schedule is to make things like this crock pot turkey breast.
Every time I use my slow cooker, I ask myself why I'm not using it more often. Most meals literally take a few minutes to throw together, plus I can do it in the morning and then walk into a welcoming delicious smelling kitchen. The absolute bonus is that 9 times out of 10 that I make things like this slow cooker turkey breast, I end up making enough food and the right kind of food to cook several more meals.
Take this bone-in turkey breast, for example. It took me no more than five minutes to throw everything together, walk away, and come home to the most amazing smelling kitchen. Don't let the bone intimidate you – look at it as a free bouillon packet to add flavor. Everyone knows that the most delicious broths come about because of the goodness in the bones.  Cook your turkey slowly for the best taste and tenderness.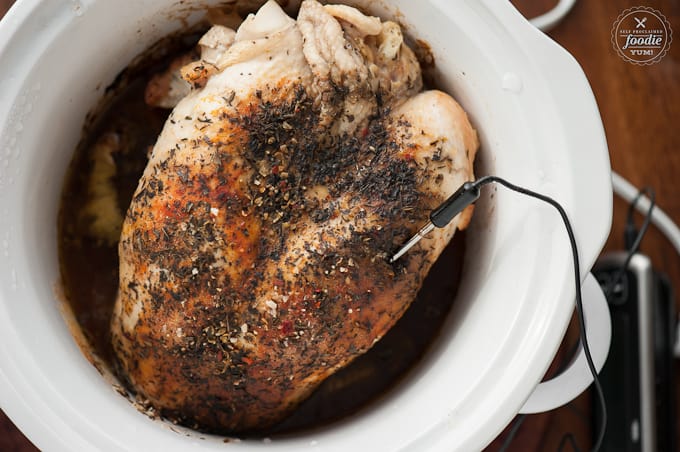 As popular as this crock pot turkey breast recipe is as an easy meal prep idea, it is even more popular as a "Thanksgiving dinner for two" idea. When I think of Thanksgiving, I think of too many people in my house and total chaos. But how many times are people not able to join their big families for the Thanksgiving holiday? Tons of circumstances have people all over the country needing recipes for a perfect Thanksgiving dinner for two, and this slow cooker turkey breast is just the right amount and will still provide leftover turkey that can be used for those easy meal prep ideas!
Leftover turkey recipe ideas: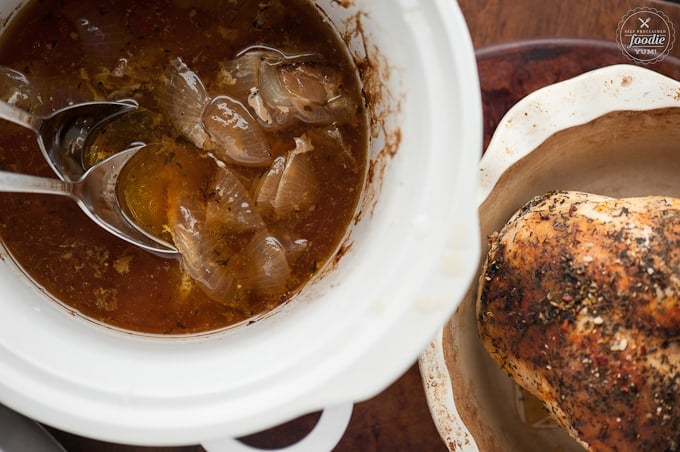 How long to cook a turkey breast:
The time it takes to cook a turkey breast completely depends on the size of the breast, whether it is bone-in or boneless, your cooking temperature, and your method of cooking, so it is impossible to tell you a standard time of how long to cook a turkey breast.
If you roast a bone in turkey breast in the oven at a high temperature, you can count on it taking about 2 hours. Using the low setting in the slow cooker, you can plan on it taking about 4-5 hours. If you're using your electric pressure cooker, or Instant Pot, you can count on it taking about 30 minutes using high pressure.
The only way to know when a turkey breast is completely cooked is to check the turkey's temperature. The turkey is done when it reaches 165°F in the thickest part of the breast meat.
It is always best to loosely tent your turkey breast after cooking and allow it to rest for at least 15 minutes to allow the juices to redistribute.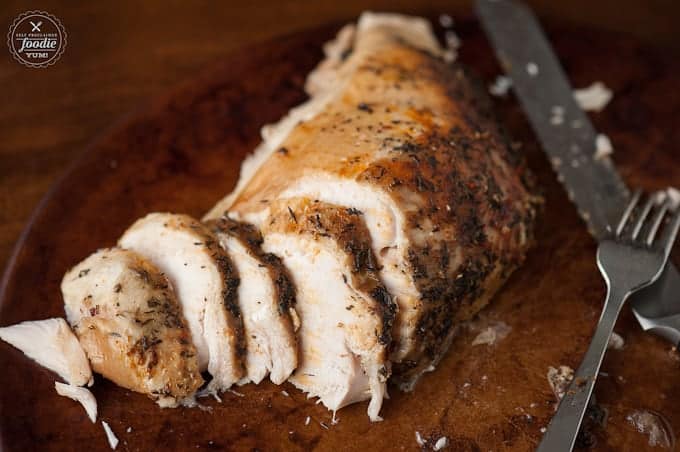 Kitchen tools used to make this Slow Cooker Turkey Breast:
Slow Cooker (aka Crockpot): Either every house already has one that they love, or they have one but could use a newer version. Which one are you? And seriously, how did busy families ever get by without a Crockpot?
Cutting Board: These are my go-to cutting boards. They are super easy to clean, never hold a smell (onion transferred to apple is gross), and because they are so thin, they are really easy to store.
Knives: There is nothing more frustrating than having to use a poor quality knife. I've been using this set for years. I found it to be affordable yet incredibly durable and versatile. Whether you're
Digital thermometer: I consider this a kitchen-must have. Whether I'm cooking meat or candy, I always use this thermometers. Gone are the days when I trust recommended cooking times or my sense of smell. I depend 100% on the internal temperature.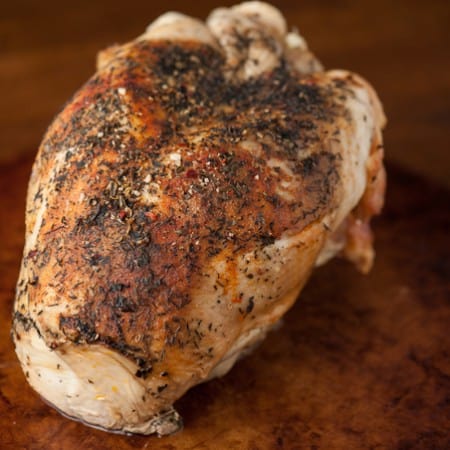 Slow Cooker Turkey Breast
Making Slow Cooker Turkey Breast with one night's quick meal preparation can provide enough flavorful turkey for several busy weeknight dinners ahead.
Print
Pin
Rate
RECIPE VIDEO
Total Time:
4
hours
5
minutes
Ingredients
1

large yellow onion

sliced thick

1

double breasted bone-in turkey breast

1

teaspoon

smoked paprika

1

teaspoon

thyme

1

teaspoon

garlic powder

1

teaspoon

kosher salt

1

teaspoon

freshly ground pepper

1

tablespoon

olive oil
Instructions
Place onion in the bottom of your slow cooker.

Rinse clean the turkey breast and place on top of the onion, breast side up. Top breast meat with paprika, thyme, garlic powder, salt, and pepper. Drizzle olive oil over the top.

Insert meat thermometer into thickest part of breast.

Cover with lid and set the slow cooker to low for 4-5 hours. Continue to cook on low until internal temperature reads 165 degrees F.
Notes
Recipe for 2 bone-in turkey breasts
Nutrition
Calories:
160
kcal
|
Carbohydrates:
2
g
|
Protein:
28
g
|
Fat:
4
g
|
Cholesterol:
69
mg
|
Sodium:
654
mg
|
Potassium:
351
mg
|
Vitamin A:
4.1
%
|
Vitamin C:
2.3
%
|
Calcium:
2.2
%
|
Iron:
4.8
%