The best Leftover Turkey Soup is created by turning your leftover Thanksgiving turkey into a rich broth that is turned into an easy creamy soup with rice.
I make this soup every year after cooking my Thanksgiving Turkey. The delicious broth filled with tender shredded turkey will keep in the freezer for months, making it an easy dinner option long after the holiday has passed.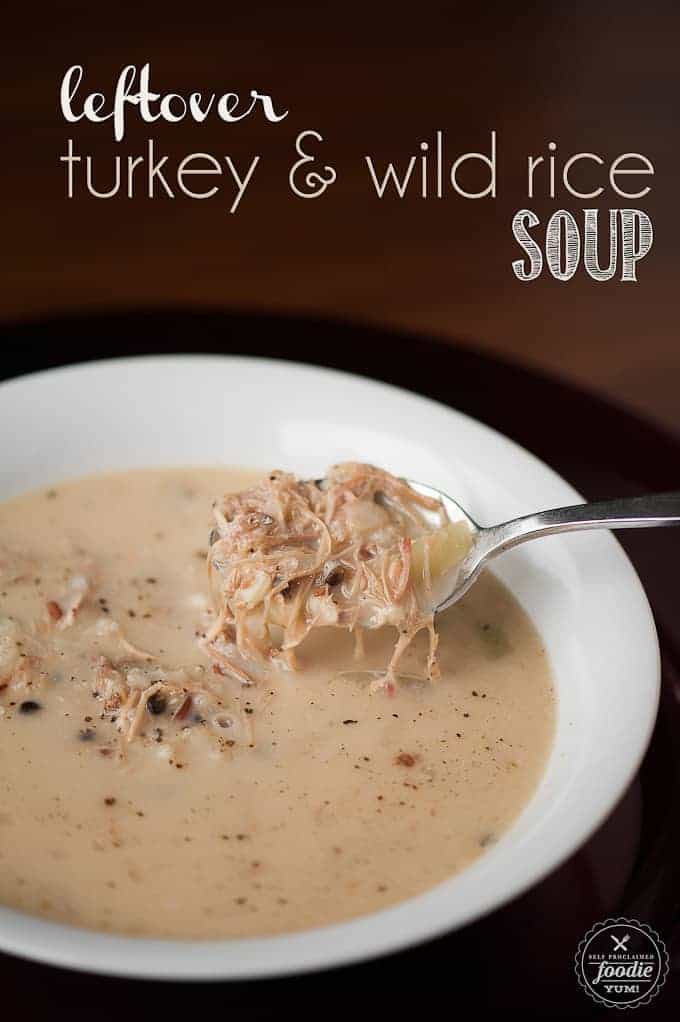 Leftover turkey:
Dinner is over. Everyone is stuffed. You look around at your messy kitchen and try to figure out what to do first. Here's what I do every single year:
Take what's left of your turkey, carve off enough to have all the leftovers you can enjoy along with some Sausage Stuffing, Mashed Potatoes, Savory Herb Turkey Gravy, and Fresh Cranberry Sauce. Then turn that turkey carcass into the best tasting broth you can imagine.
How to make stock from turkey:
When I make turkey stock, I combine the turkey carcass with onion, celery, carrot, garlic, bay leaves, and water. I generally do not season with salt and pepper until the stock is done so that I can season according to taste.
There are two methods I recommend using to make turkey stock from your leftover Thanksgiving turkey carcass: the slow cooker or the Instant Pot. There are pros and cons to both methods.
Slow cooker: The benefits of using a slow cooker to make stock is that they are generally pretty large and you can easily fit the entire turkey carcass inside, along with all the other ingredients. You can let it cook on low all night long. Your entire house will smell like turkey broth, which you might consider a pro or a con.
Instant pot: This is actually my preferred method. Although my Instant Pot is smaller than my crockpot and I usually have to make the broth in two batches, it only takes 90 minutes (even less time if you prefer), and I feel that the broth comes out much more flavorful and rich than when using a slow cooker.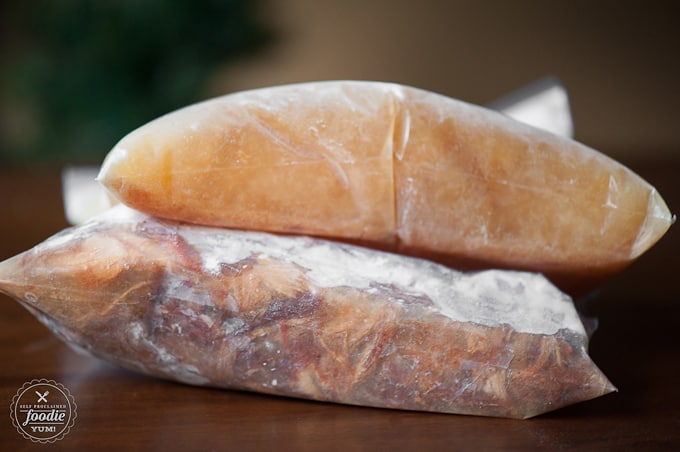 How to freeze turkey stock for soup:
I don't know about you, but after Thanksgiving dinner and eating leftovers for a solid week, turkey soup doesn't sound that great for at least a few months. That's why I always freeze the turkey stock.
Once the broth is made, I let it cool in the refrigerator and store it in the freezer.
I used to use resealable plastic bags to store broth, but now I use re-usable plastic quart sized containers.
How to make leftover turkey soup:
Making the actual soup part only takes a few minutes so its a quick and easy weeknight meal to throw together.
I start by heating my turkey stock along with any shredded turkey.
In a separate pan, I saute up some onion, celery, and garlic in olive oil. Once they're nicely browned, I add them to the broth.
Then, in the same pan I cooked the onion, I melt some butter with some flour to create a roux. To that, I add milk and some heavy cream to make a milk gravy. That gets stirred into the soup.
For the rice, I bought pre-cooked wild rice from Trader Joes. They sell boxes with 3 packs of 2 cups each. I didn't even let it thaw; I just took it out of the freezer and threw it in.
Creamy soups like this and my Creamy Chicken Soup have the most rich and delicious broth. This was by far the best turkey soup I have ever made.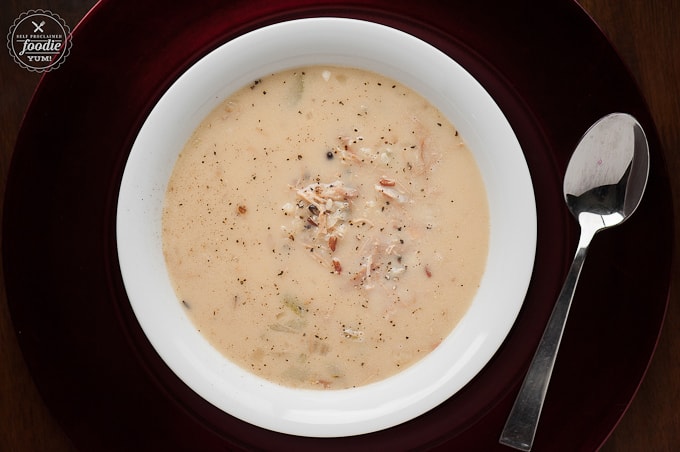 Leftover Turkey and Wild Rice Soup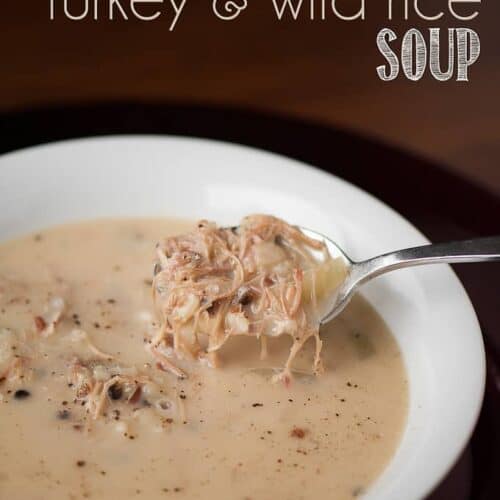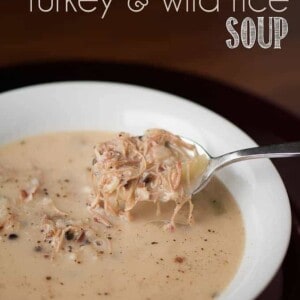 The best Leftover Turkey Soup is created by turning your leftover Thanksgiving turkey into a rich broth that is turned into an easy creamy soup with rice.
Ingredients
Homemade Turkey Stock:
Turkey carcass

with as much or as little meat as you'd like and be sure to include any herbs that you cooked with the bird

1

onion

quartered

2

stalks celery

cut into 2 inch pieces

2

carrots

peeled, cut into 2 inch pieces

4

cloves

garlic

peeled and smashed

2

whole bay leaves
Soup:
8

cups

turkey stock

Use the stock that you prepared along with any shredded meat (8 cups minimum, more if you like)

1

tablespoon

olive oil

1

medium

yellow onion

diced

4-5

stalks

celery

diced (you want the same onion:celery ratio)

4

cloves

garlic

minced

4

tablespoons

unsalted butter

6

tablespoons

flour

1 1/2

cups

whole milk

1/2

cup

heavy whipping cream

4

cups

cooked wild rice

1

tablespoon

kosher salt
Instructions
To make the broth:
Once you've cooked and eaten your turkey, pick off any meat you want to enjoy as leftovers, but be sure to leave at least a small amount on the bones. Place entire carcass including skin, bones, and any herbs stuffed in the cavity in the largest slow cooker or Instant Pot you have. If it doesn't fit, you can break it down to fit the entire thing in or cook in multiple batches.

Add onion, celery, carrot, garlic, and bay leaves to the slow cooker or Instant Pot.

Add as much water as you can, filling it to the highest allowed level.

Cover and cook on low 10-12 hours in slow cooker (easy to do overnight after Thanksgiving dinner) or on high pressure for 90 minutes in Instant Pot.

Strain the broth into a container. When cool enough to handle, shred any turkey from the carcass that you can and add to the broth. Cool the broth and the shredded turkey in the refrigerator and use within a couple of days or store in air tight plastic bag or container in the freezer until ready to use.
To make the soup:
In a large stockpot over medium heat, cook the broth with the shredded meat. If frozen, its okay to put the frozen block in the pot to let it melt. Otherwise you can allow broth to thaw in refrigerator prior to heating.

Meanwhile, in a separate heavy bottom stockpot, heat the olive oil over medium high heat. Saute the onion and garlic until golden and fragrant, stirring occasionally, about 5-8 minutes. Add the garlic and allow to cook for 2-3 more minutes. Add cooked onion, celery, and garlic to the hot broth.

Using the stockpot you used to cook the onions, melt the butter over medium heat and whisk in the flour. Allow to cook until golden brown and fragrant, stirring frequently, about 3-5 minutes. Whisk in the milk and the heavy whipping cream and continue to whisk until until a very thick gravy has formed. Add gravy to soup and whisk until completely mixed and smooth. Add cooked rice. Add salt and pepper, adjusting amounts to taste.
Notes
Cooking tips:
Don't let that turkey carcass sit out too long. After everyone is done eating, get that stock going.
The amount of salt you add to your soup will depend on the taste. For example, if you make your Thanksgiving Turkey with a dry rub, you may not need to add any additional salt to the soup.
My favorite tip is to use the frozen par-cooked bags of rice from Trader Joe's. It's much easier than cooking the rice yourself
Nutrition
Calories:
344
kcal
,
Carbohydrates:
35
g
,
Protein:
12
g
,
Fat:
18
g
,
Saturated Fat:
9
g
,
Cholesterol:
47
mg
,
Sodium:
1256
mg
,
Potassium:
487
mg
,
Fiber:
2
g
,
Sugar:
8
g
,
Vitamin A:
565
IU
,
Vitamin C:
3
mg
,
Calcium:
86
mg
,
Iron:
1
mg
Nutrition information is automatically calculated, so should only be used as an approximation.
This post was originally written in November 2014 and was most recently updated in November 2019 for your reading pleasure.