This rich and Creamy Chicken Soup, loaded with veggies, is a healthy and easy to make meal that your entire family will love.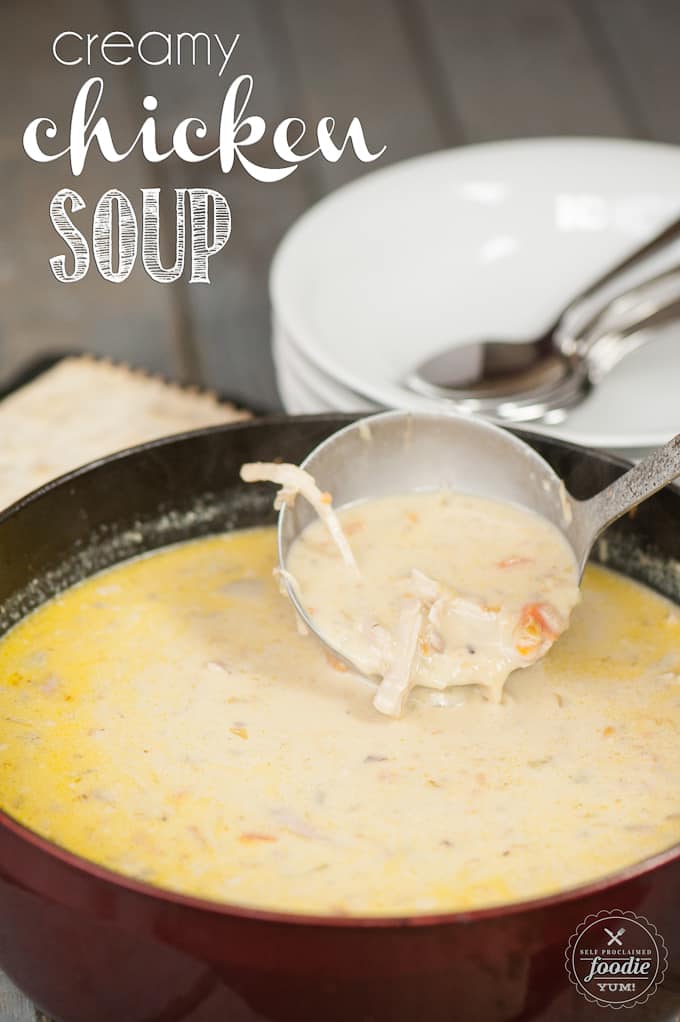 This is the time of year I love to cook big meals. Gone are the days of endless fresh and local produce choices. Winter time in the Pacific Northwest is a time when most everything stops growing and we have to rely on what I consider the basics for my fruit and vegetables. That is why I'm especially fond of hearty soups. Not only do they incorporate lots of fresh veggies, but they are so comforting and satisfying, its easy to forget that we still have many cold and wet months ahead of us before the local produce makes its way back.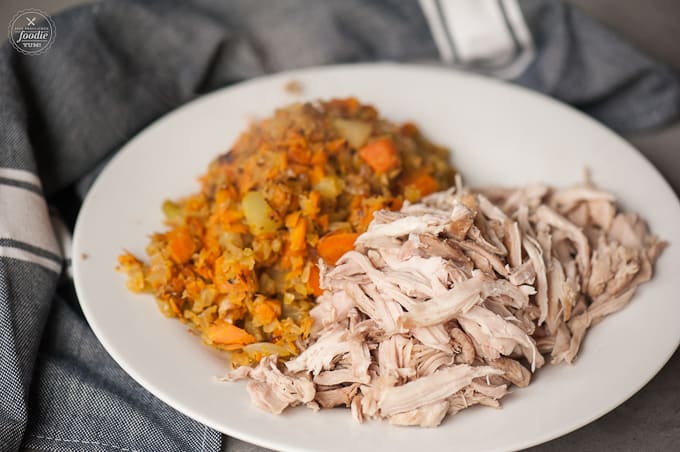 This time of year I love stocking my freezer with prepared meals. I don't know if it has to do with the possible threat of getting stuck at home because of that once a year snow storm, but it just makes me so happy to cook meals in big batches and store them for another day. This soup is a perfect freezer meal because you can double or triple the batch and then just freeze what you don't plan on eating that night for another day. Not all soups, especially ones with pasta, freeze that well. This soup, however, does.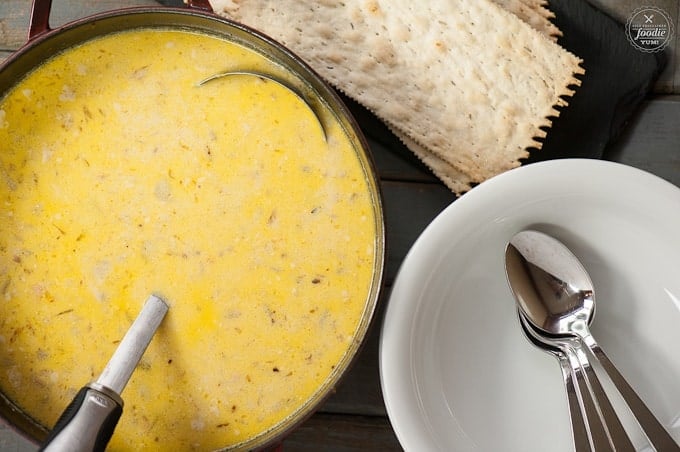 I prefer to use chicken thighs because the meat is so flavorful and it shreds really well. Even though I add a bit of olive oil to my pan, the chicken almost always sticks. Have no fear… the part that sticks to the bottom is the best part!  I use a little white wine to release all of that wonderful flavor and I can definitely taste it in the final soup. I prefer to chop all of my veggies by pulsing them in the food processor. Not only does that save me time, but I think having a wide variety of sizes, from minced to chopped, not only enhances the texture of the soup but also the taste.  I also continue to use the same pot to cook the chicken, then the vegetables, then the roux which turns into a cream gravy and then eventually the soup. By keeping all the ingredients going in the same pot, you don't lose any of those wonderful flavors along the way.

MY OTHER RECIPES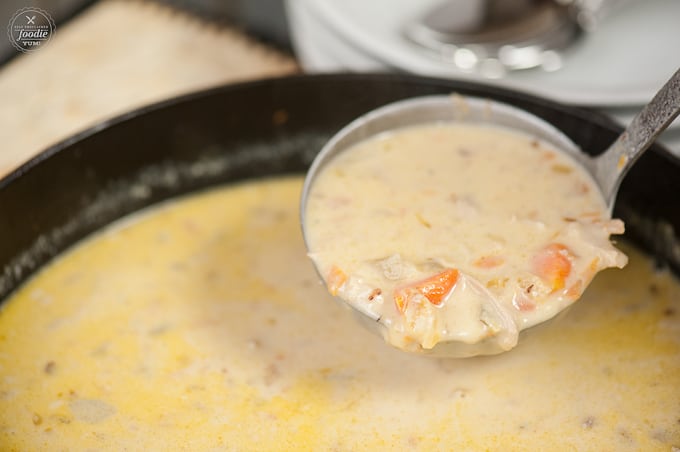 Creamy Chicken Soup
This rich and Creamy Chicken Soup, loaded with veggies, is a healthy and easy to make meal that your entire family will love.
Ingredients
1 pound skinless chicken thighs
1 tablespoon olive oil
1/2 cup white wine
5 T butter, divided
1 onion, minced
4 celery stalks, diced
2 large carrots, peeled and diced
3 cloves garlic, minced
6 T flour
1 1/2 cups milk
1/2 cup heavy cream
4 cups chicken broth
1 teaspoon salt, to taste
Instructions
In a heavy bottom dutch oven over medium high heat, cook chicken thighs in olive oil for about 15 minutes, flipping once. Remove from heat and allow to cool slightly on a plate. The chicken likely stuck to the pan. Deglaze the pan by adding the white wine over low heat and scraping the bottom of the pan until all of the cooked bits have been loosened. Transfer the cooked chicken bits in white wine to a separate cup.
Add one tablespoon of the butter to the dutch oven and and set heat to high. Add onions, celery and carrot and allow to cook until slightly golden brown while stirring only occasionally for a total of about 10 minutes. While vegetables are cooking, shred chicken meat. When vegetables have finished cooking, remove them from the dutch oven and set them on the same plate as the chicken.
Return the pan to the stove and melt the remaining 4T of butter over medium high heat. Add the garlic and allow to cook for about a minute, then add the flour and stir to combine to make a roux. Allow to cook for a few minutes until fragrant.
Add the milk and heavy cream to the roux and whisk constantly until thoroughly mixed. Allow to cook while constantly whisking until thickened. Whisk in the chicken broth. Add shredded chicken and cooked vegetables to the broth and stir. Add salt, to taste, and pepper, as desired.
Serve with a warm crusty bread or some rosemary crackers.