Old Fashioned Beef Stew is a hearty dinner with tender meat and soft potatoes that can be made in the crockpot or on the stove top.
I highly recommend making this wonderful stew with roasted beef broth. I always have some on hand in the freezer so that anytime I want to make my favorite comfort food dinners like Salisbury Steak or Beef Stroganoff or even a classic French Onion Soup, I know they'll turn out 10x better if I use my homemade beef bone broth than if I use store bought stock.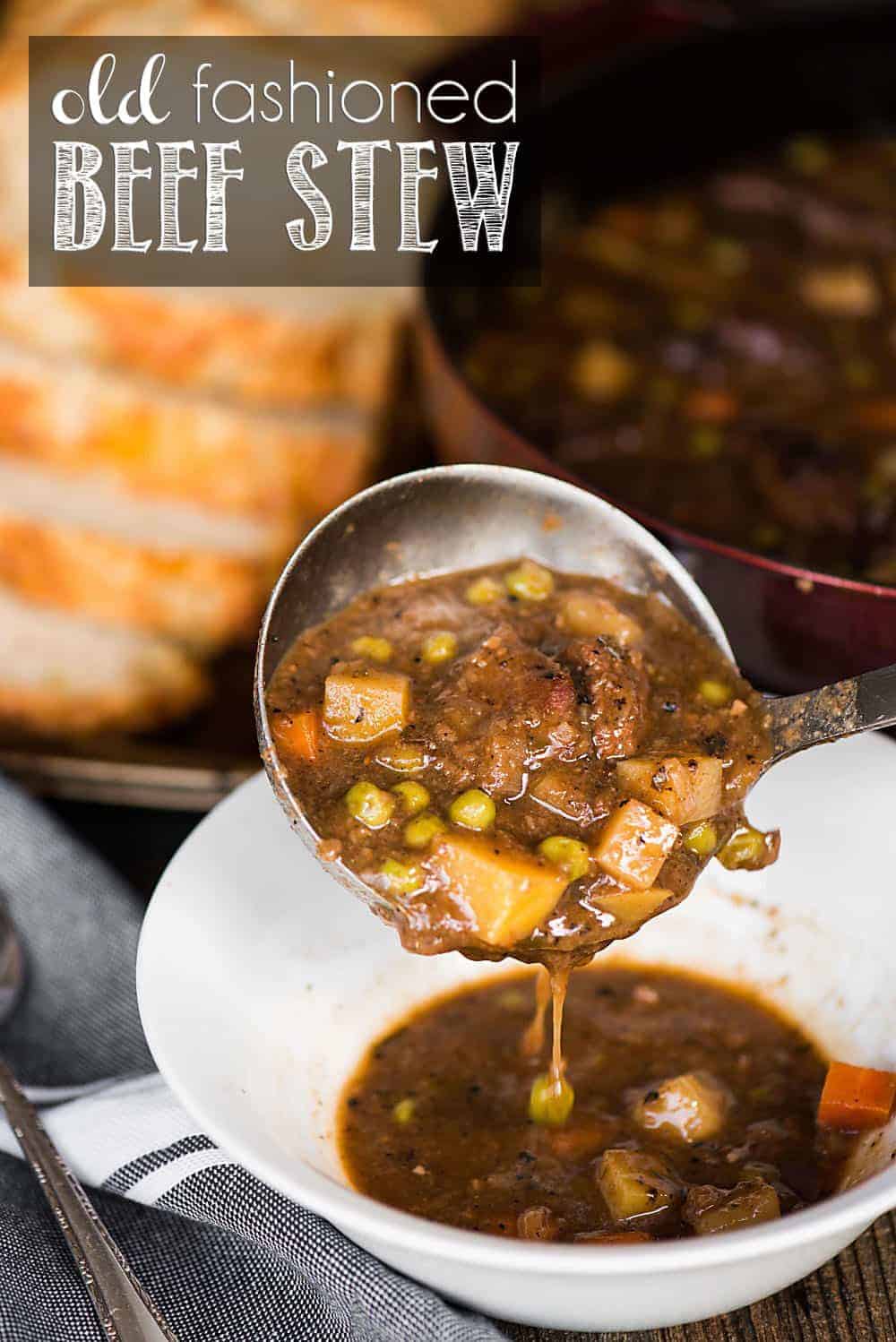 BEEF STEW RECIPE
Old Fashioned Beef Stew is one of the best feel-good, cold-weather, hearty meals you can enjoy. Don't you agree?
There's just something about walking into your home and smelling the wonderful aroma of a homemade beef stew full of tender cuts of beef, super soft potatoes, little chunks of carrots, and perfect little peas.
Cooking for a crowd?
If you and your family love having old fashioned beef stew on hand, be sure to double or triple the recipe so that you can freeze individual or family sized portions to enjoy during the next bad weather day.
This recipe can easily be made in the slow cooker or on the stove top. I chose to make it on the stove this time because I was home all day, but any time I want to enjoy this recipe during a hectic sports and homework filled weekday, the trusted crockpot comes out.
I will, however, always brown the meat on the stove top first.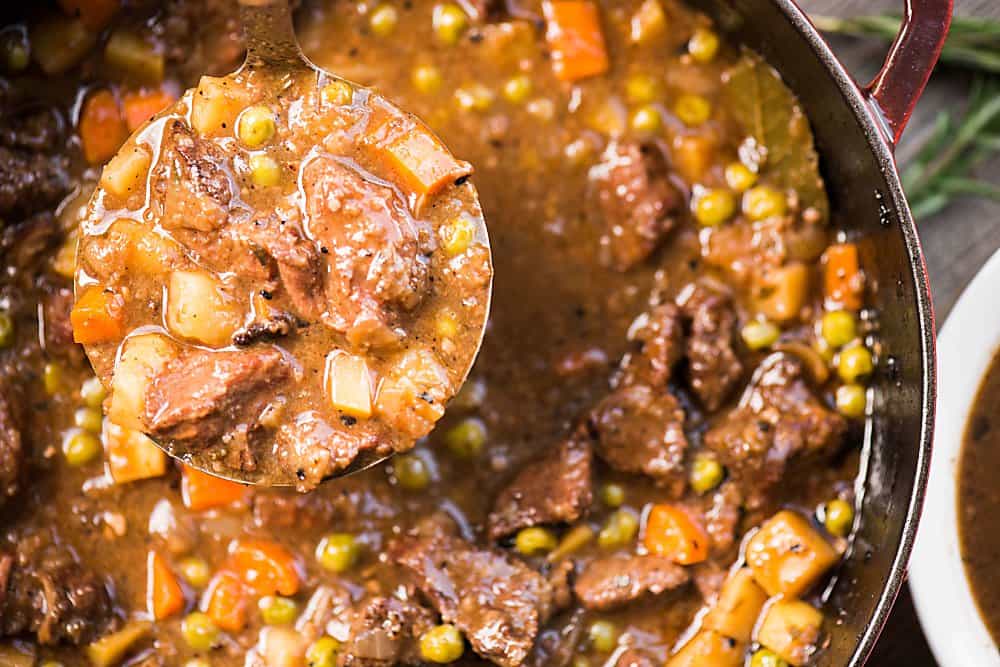 Beef stew is actually really easy to make.
I should have called this recipe Redemption Beef Stew instead of Old Fashioned Beef stew because the last time I made it, the final outcome was closer to a disaster than a meal.
I was visiting my sister in California a few months back. She knows I love to cook, so every time I visit she tells me what she wants me to make, buys the ingredients, and gets to enjoy a home cooked meal that she didn't have to prepare.
During my last visit, she really wanted beef stew in the slow cooker. It really couldn't have turned out worse, and to make a bad situation bad-er, my dad was also there visiting.
I'm happy to say that the beef stew you're looking at in these photos was phenomenal, thus it really should have been called Redemption beef stew.
Tips of what not to do when you make homemade beef stew:
Typically I like to share tips of what you can do to make a recipe great. Today, I'm going to share what not to do.
When you brown the meat, do not brown all of it in one big batch with the onions. Meat won't brown if it's too crowded in the pot. You also won't be able to get it to brown if it's mixed with the onions because onion sweat (i.e. release moisture when cooking). Moisture is the opposite of what you want when you're trying to brown meat to a golden tasty crisp.
Don't use a sweet dessert wine. Read the label. I can't believe I'm admitting my mistakes. Don't be like Krissy.
Use homemade beef stock, if you have it. I'm of the firm believe that everyone should always have some in their freezer, but I'm willing to cut everyone some slack. When I made my disaster stew, I used your typical boxed beef broth. It works fine, but homemade is always better.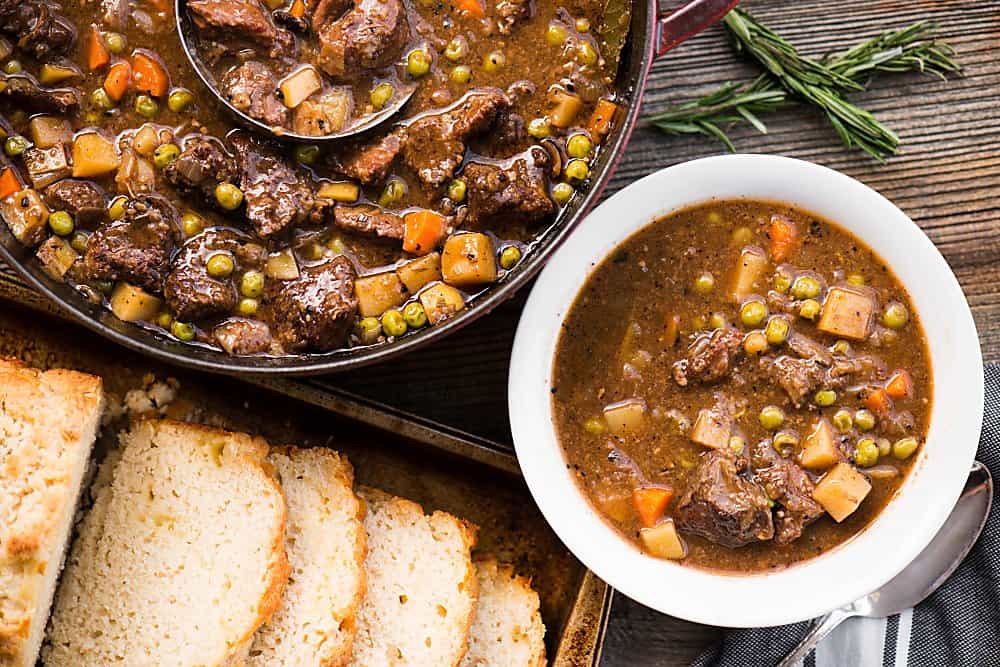 Kitchen must-haves to make this recipe a success:
Dutch Oven: I don't take this one camping. It stays in the kitchen. I absolutely love the heavy bottom and lid. You can really get a nice sear on meat and it's easy to transfer to the oven, if needed.
Stainless Steel Ladle: This one is easy to grip and light weight. Just a few ladles will fill your soup bowl.
Cutting Board: These are my go-to cutting boards. They are super easy to clean, never hold a smell (onion transferred to apple is gross), and because they are so thin, they are really easy to store.
Knives: There is nothing more frustrating than having to use a poor quality knife. I've been using this set for years. I found it to be affordable yet incredibly durable and versatile. Whether you're filleting a salmon or slicing a super ripe tomato, these are great knives for the everyday chef.
Garlic Press: Having a good garlic press can make all the difference. I use this one because it's not only easy to squeeze, but it's easy to clean. Both are equally important, in my opinion.
Peeler: Growing up we only had horrible vegetable peelers that had not-very-sharp blades. It's amazing I made it to adulthood with all of my fingers. Once I moved out onto my own, I invested into this ceramic blade peeler and I've never looked back. It is amazing and I think everyone should have one in their kitchen.
Crockpot: Everyone needs a good one! Whether you love walking into your home after a busy day to a dinner that's ready to serve or you're warming up the perfect tailgating recipe during the big game, a good crockpot is a kitchen necessity!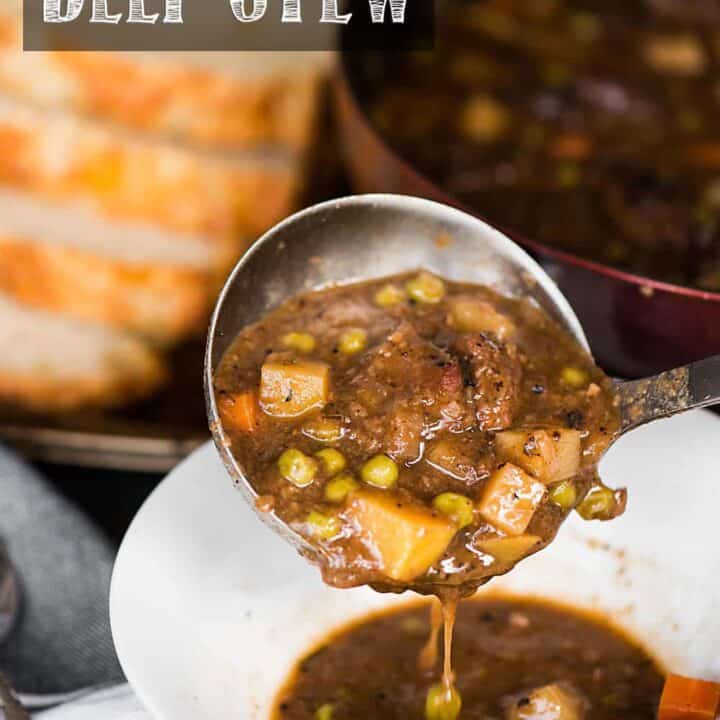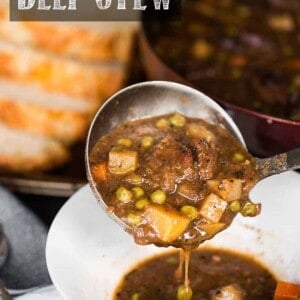 Old Fashioned Beef Stew is a hearty dinner with tender meat and soft potatoes that can be made in the crockpot or on the stove top.
Ingredients
3

tablespoons

olive oil

2 1/2

pounds

beef stew meat

cubed

1/4

cup

flour

2

tablespoons

onion dip mix

2

yellow onions

diced

3

cloves

garlic

minced

1

tablespoon

fresh thyme

1

tablespoon

fresh rosemary

minced

1

tablespoon

tomato paste

1

cup

red wine

4

cups

beef broth

1

bay leaf

2

medium sized golden potatoes

diced

4

small carrots

diced

1 1/2

cups

frozen peas
Instructions
Mix the flour and the onion dip mix together and then coat the stew meat in it.

Heat the oil in a large pot (I used a dutch oven) over medium high heat, then add just enough of the flour coated beef to create a single layer with space in between each piece. Allow meat to turn golden brown, flip, allow the second side to turn golden brown, then transfer to a separate plate. Continue with remaining meat until all of it has been browned.

In the same pot, sauté the onions. When they start to become softened (about 5 min.) reduce the heat to med-low and add garlic, rosemary and thyme; cook 1 more minute. Stir in tomato paste and cook for an additional minute or two.

Add the wine and deglaze the pan, scraping any browned bits stuck to the bottom of the pan. Simmer for 5 min, then add the broth, bay leaf, and browned beef along with any juices that may have pooled on plate. Bring back up to a simmer and cook on low for about an hour.

Add the potatoes and carrots, cover, and simmer for another hour or until the vegetables are tender. Taste and adjust seasoning to desired level. Add frozen peas and continue cooking until heated through. The stew meat will taste best the longer and slower you cook it, so if you have the time, take it!

To allow the flavors to fully marry, this stew is BEST made a day in advance.
Nutrition
Calories:
582
kcal
,
Carbohydrates:
27
g
,
Protein:
58
g
,
Fat:
22
g
,
Saturated Fat:
6
g
,
Cholesterol:
147
mg
,
Sodium:
924
mg
,
Potassium:
1121
mg
,
Fiber:
5
g
,
Sugar:
6
g
,
Vitamin A:
7175
IU
,
Vitamin C:
29
mg
,
Calcium:
83
mg
,
Iron:
8.2
mg
Nutrition information is automatically calculated, so should only be used as an approximation.