There are a few secrets to developing insanely delicious flavor in a bowl of homemade French Onion Soup, and this recipe is the best I've ever enjoyed!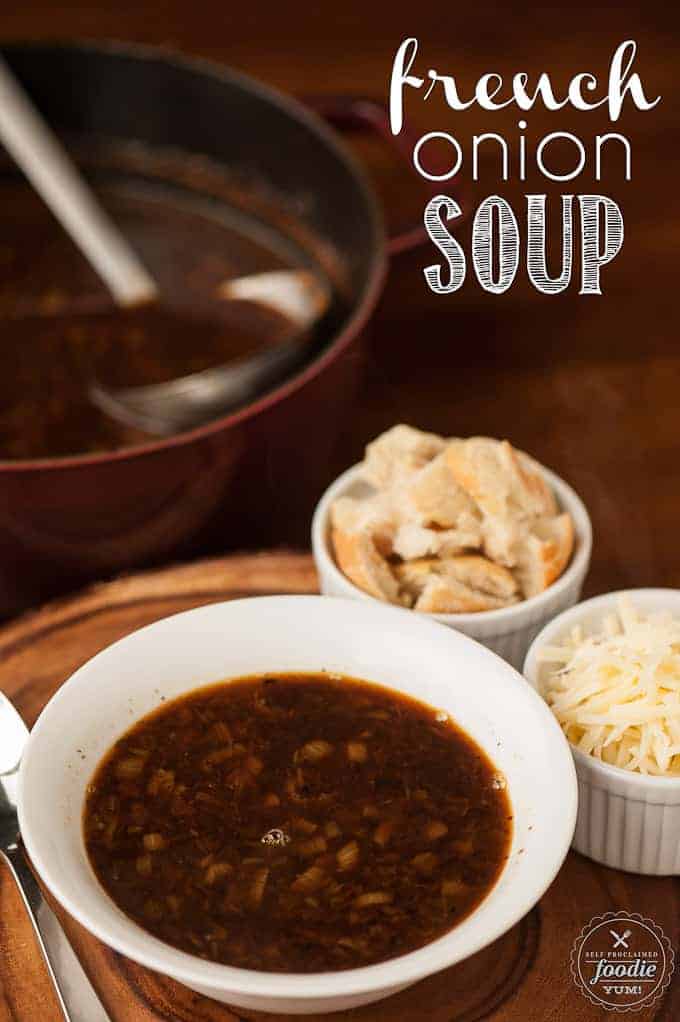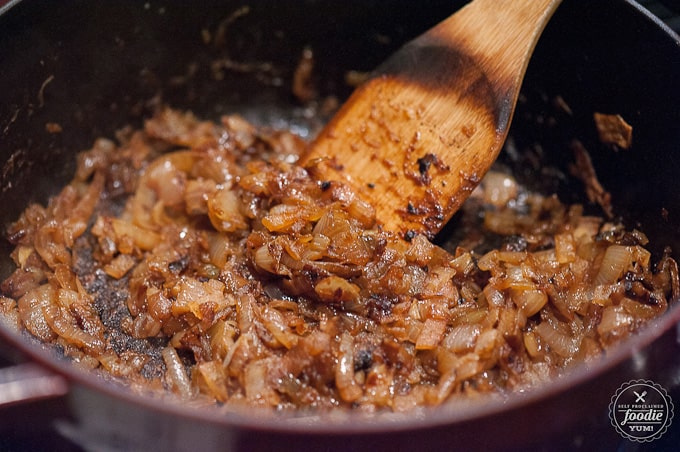 I have a few pet peeves. One of them has to do with having a craving, ordering it at a restaurant, and then having that one thing I was craving so badly suck. This has happened time after time with french onion soup. There are a few restaurants who manage to get it right, but too many times did I get big thick chunks of onion, soup that was lacking flavor, and/or a big mound of cheese that nearly choked me. Yuck. It wasn't until I made my own french onion soup using the recipe I share in this post did I find the most divine method of making it. The problem now is that I will probably never order it from a restaurant again because I'm quite sure I'll never find another version as good as this one.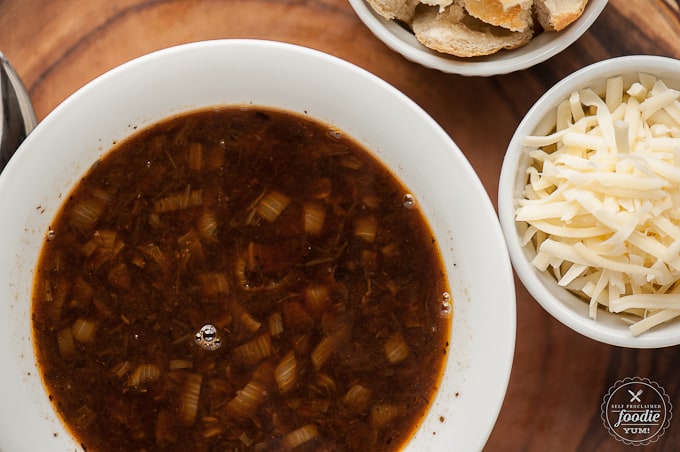 I promised you secrets and secrets are what I shall deliver. First, the onions must be cook a hell-of-a long time. Much longer than you might ever think, and even longer than you might be comfortable with. You cook them almost to the point where they might burn, then you stir them up and keep that process going. Repeat. Repeat. You get this amazing dark color and all sorts of crispy good things that get stuck to the bottom of the pan that you scrape right into the soup.
Secondly, if you use your own homemade roasted beef stock, this soup will be unbelievably delicious. Yes, you can use broth from a box, but if you're going to go to the trouble of standing in front of your stove for an hour cooking down onions, you might as well go the extra mile and pour some liquid gold into your soup to create something divine. Finally, I've never much cared for nor had much success with broiling cheese on bread on soup. It never quite melts the way I want. Instead, I like to serve this soup piping hot with some homemade croutons and a high quality freshly shredded Emmtaler along side. When the cheese is grated like this, all you need to do is sprinkle it on top and it melts ever so perfectly. Ugh. I'm writing this post at 6:18am and all I can think about is how delicious a bowl of this soup would be right now. Good thing I'm making another round of broth today!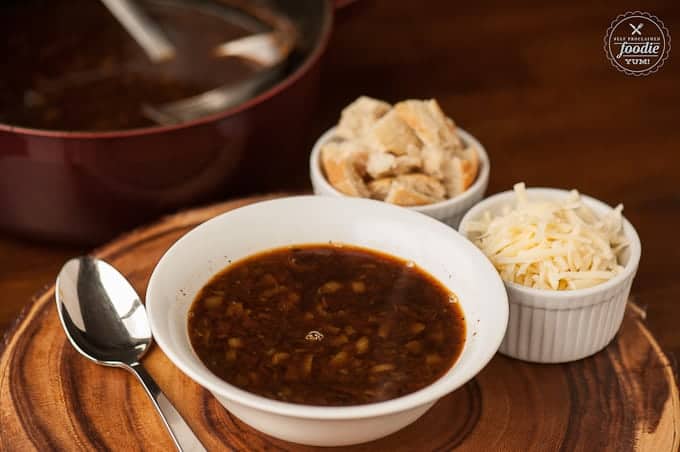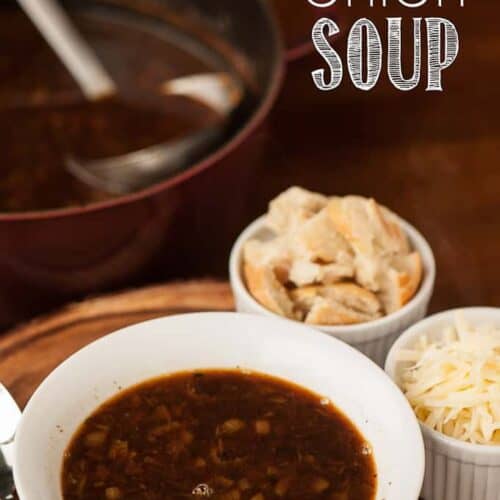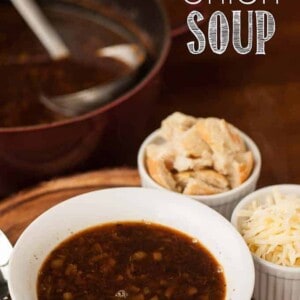 There are a few secrets to developing insanely delicious flavor in a bowl of homemade French Onion Soup, and this recipe is the best I've ever enjoyed!
Instructions
In a heavy bottom pot over medium high heat, melt the butter. Add onions and salt and cook undisturbed until liquid starts to release and the onions get limp, about 7-10 minutes. Stir the onions and continue to cook, stirring once every 5 minutes, until they start to brown. After about 30 minutes, reduce heat to low and continue to stir every 5 minutes. Continue to repeat this process, scraping the bottom of the pan every time you stir, until the onions are a very dark brown, for a total of about 50 minutes to 1 hour of cooking time.

Sprinkle the flour over the browned onions, stir, and allow to cook for about 10 minutes to cook away any starchy flavor.

Add the wine, stir, and cook until the liquid nearly all evaporates, about 5 minutes.

Add the

beef broth

, thyme, bay leaf, salt and pepper. Stir and allow to heat to a simmer temperature, at least 15 minutes. Adjust salt and pepper, as needed. Remove and discard the bay leaf.

Serve the soup hot with the shredded cheese and toasted bread.
Nutrition
Calories:
171
kcal
,
Carbohydrates:
18
g
,
Protein:
6
g
,
Fat:
7
g
,
Saturated Fat:
4
g
,
Cholesterol:
15
mg
,
Sodium:
2560
mg
,
Potassium:
467
mg
,
Fiber:
3
g
,
Sugar:
7
g
,
Vitamin A:
258
IU
,
Vitamin C:
15
mg
,
Calcium:
69
mg
,
Iron:
1
mg
Nutrition information is automatically calculated, so should only be used as an approximation.