As the leaves change color and the air turns crisp, it's the perfect time to embrace the warmth of fall with a bowl of homemade Pumpkin Curry Soup.
This creamy and inviting soup is a true testament to the comforting flavors that define the season.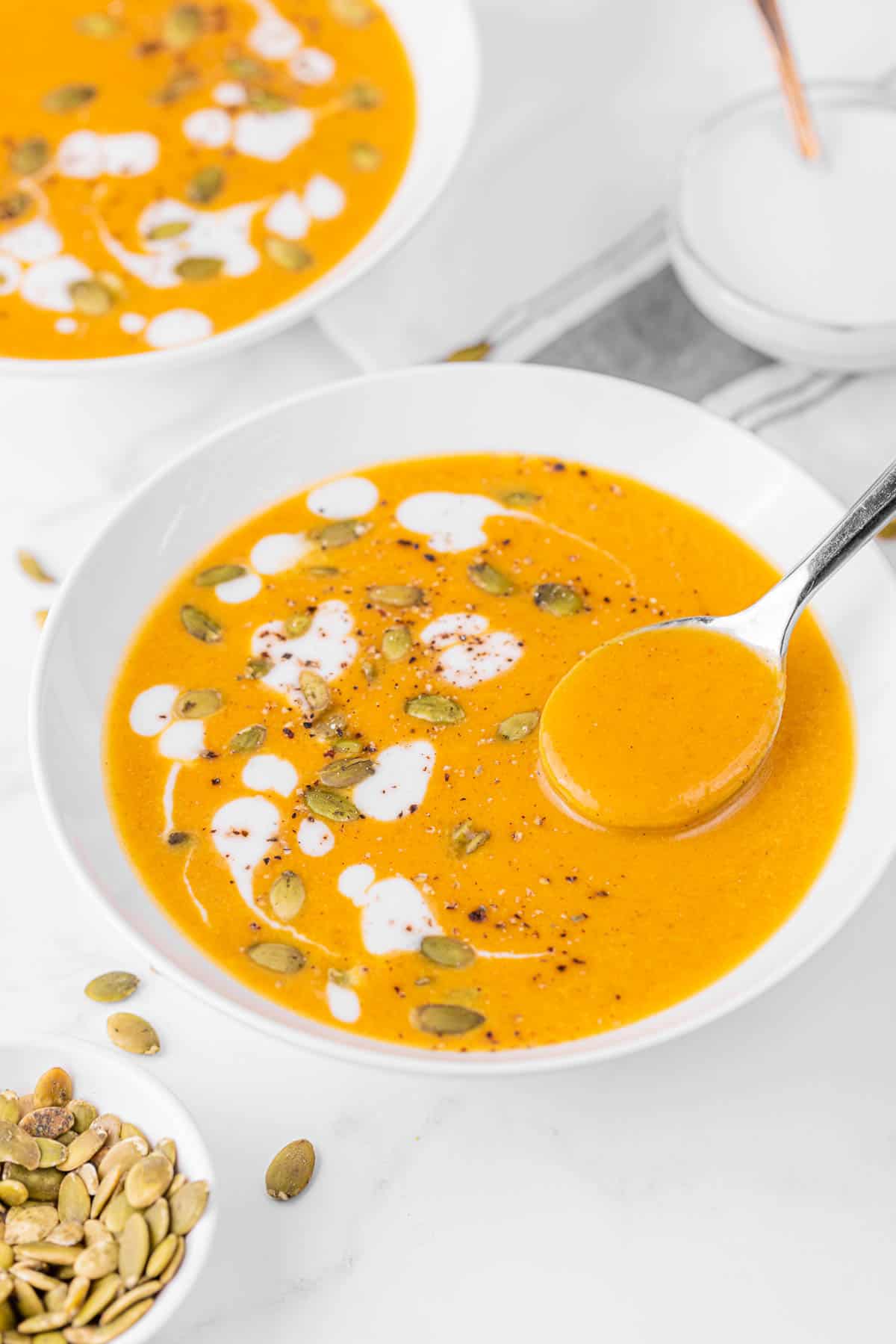 If you love fall soups and stews, I have tasty ones to choose from including Hungarian Mushroom Soup, Butternut Squash Soup, and many others!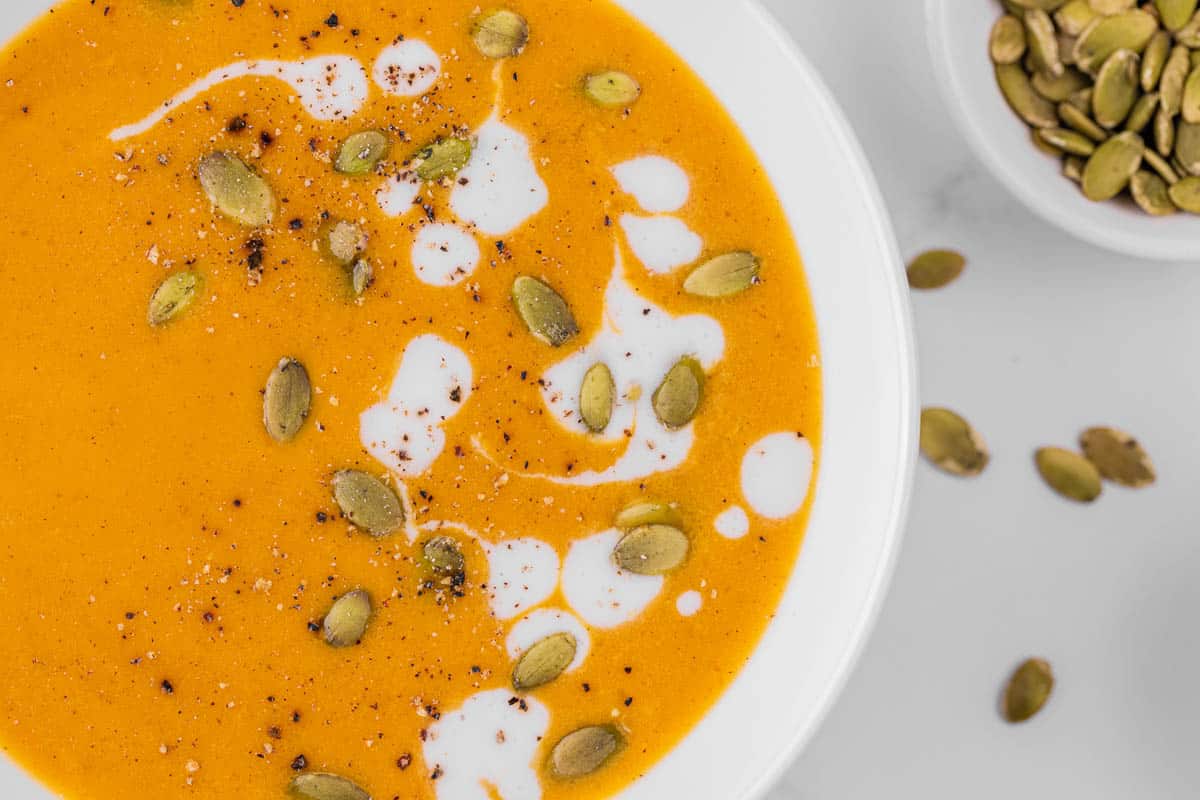 Reasons to Make This Soup
Interesting combination of ingredients – This pumpkin curry soup is a medley of simple, yet dynamic ingredients. At the heart of this recipe lies the enchanting flavor of curry powder that infuses the dish with warmth and a touch of spiciness. The sweetness of pumpkin puree is balanced by the savory flavors of onion and garlic. Chicken broth contributes depth and a satisfying, hearty base. The coconut milk keeps the soup light while creating a luscious texture.
Very easy to make – Even novice chefs can make this soup in no time at all because the recipe requires minimal prep, simple ingredients, and very few steps.
Make it your own – This soup is incredibly versitile and can easily be customized based on your preferences and dietary needs. Scroll down to see a huge list of ideas and ingredient substitutions.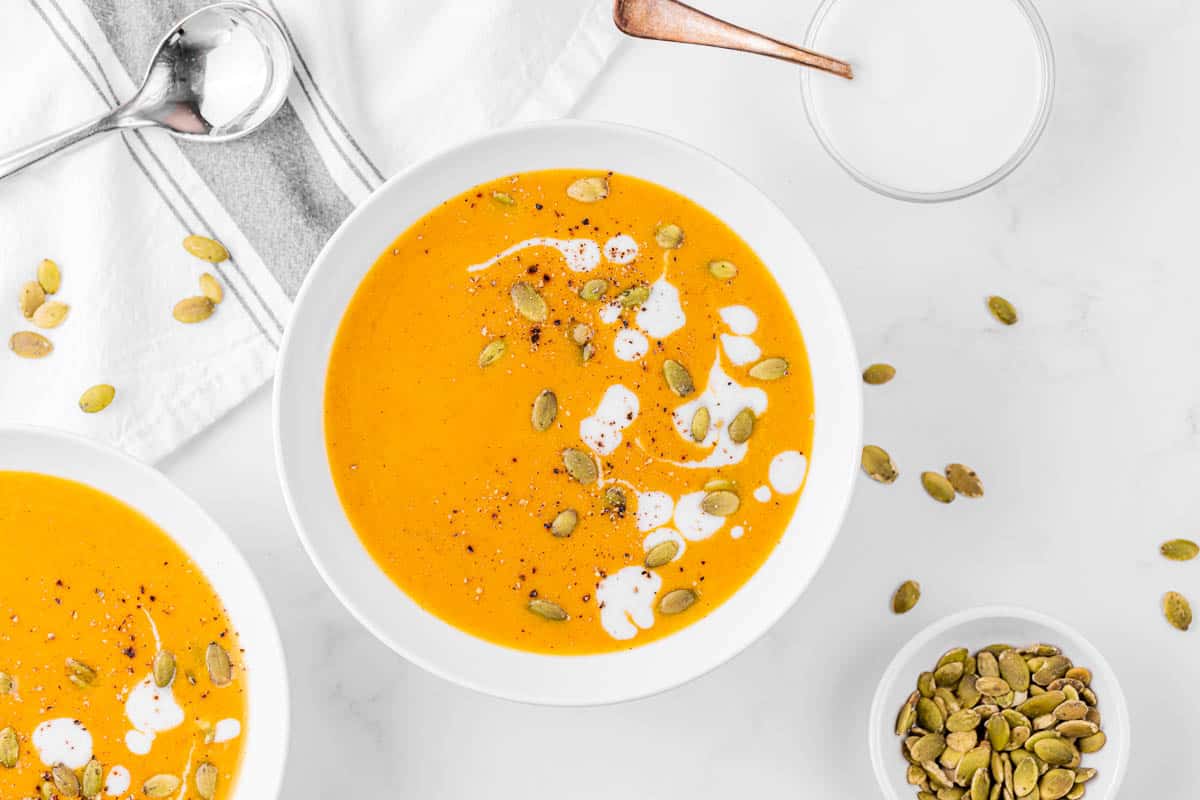 Ingredients Needed
Exact quantities are listed in the recipe card below. The ingredients used in this recipe are butter, yellow onion, garlic cloves, chicken broth, curry powder, salt, cinnamon, pumpkin puree, lite coconut milk.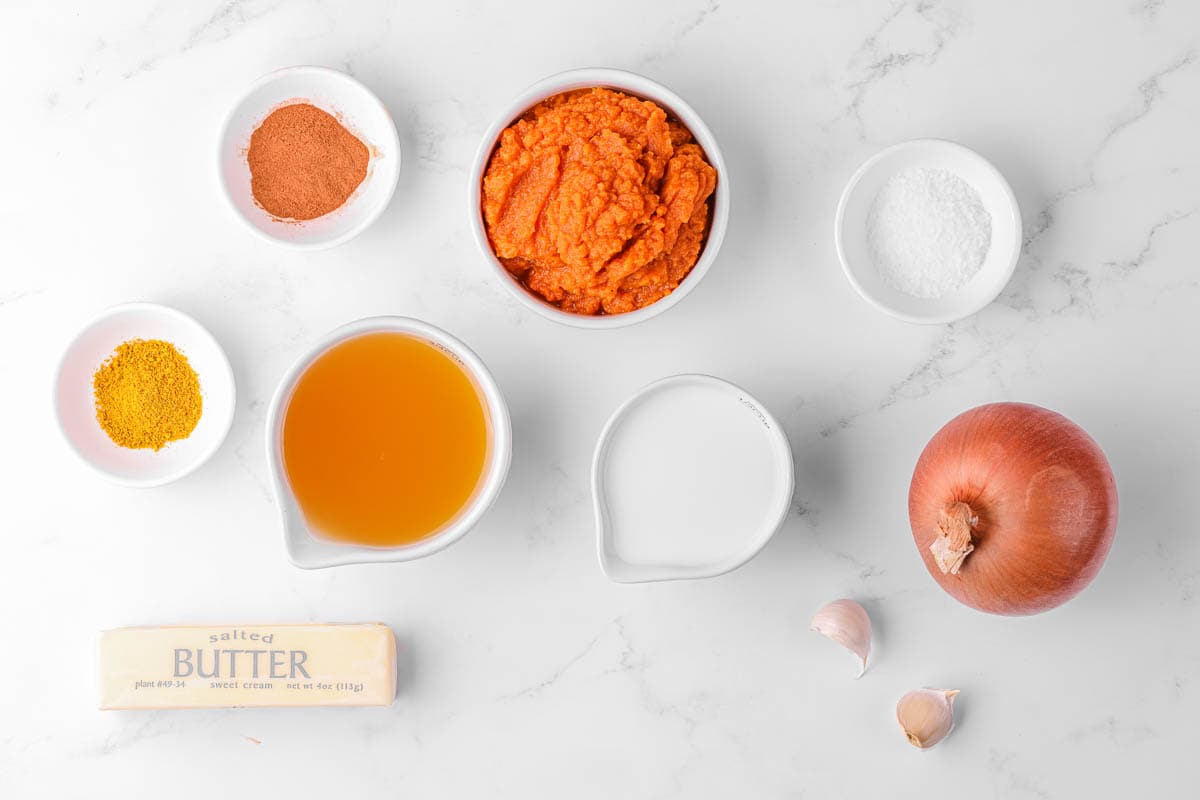 How to Make Pumpkin Curry Soup
Sauté the onions and spices
In a heavy bottom stockpot or Dutch oven over high heat, melt the butter. Sauté the chopped onion in the butter until it starts to brown, then add the garlic and cook for an additional minute or so.
Add the curry powder, salt, and cinnamon. Stir and cook for another minute or so.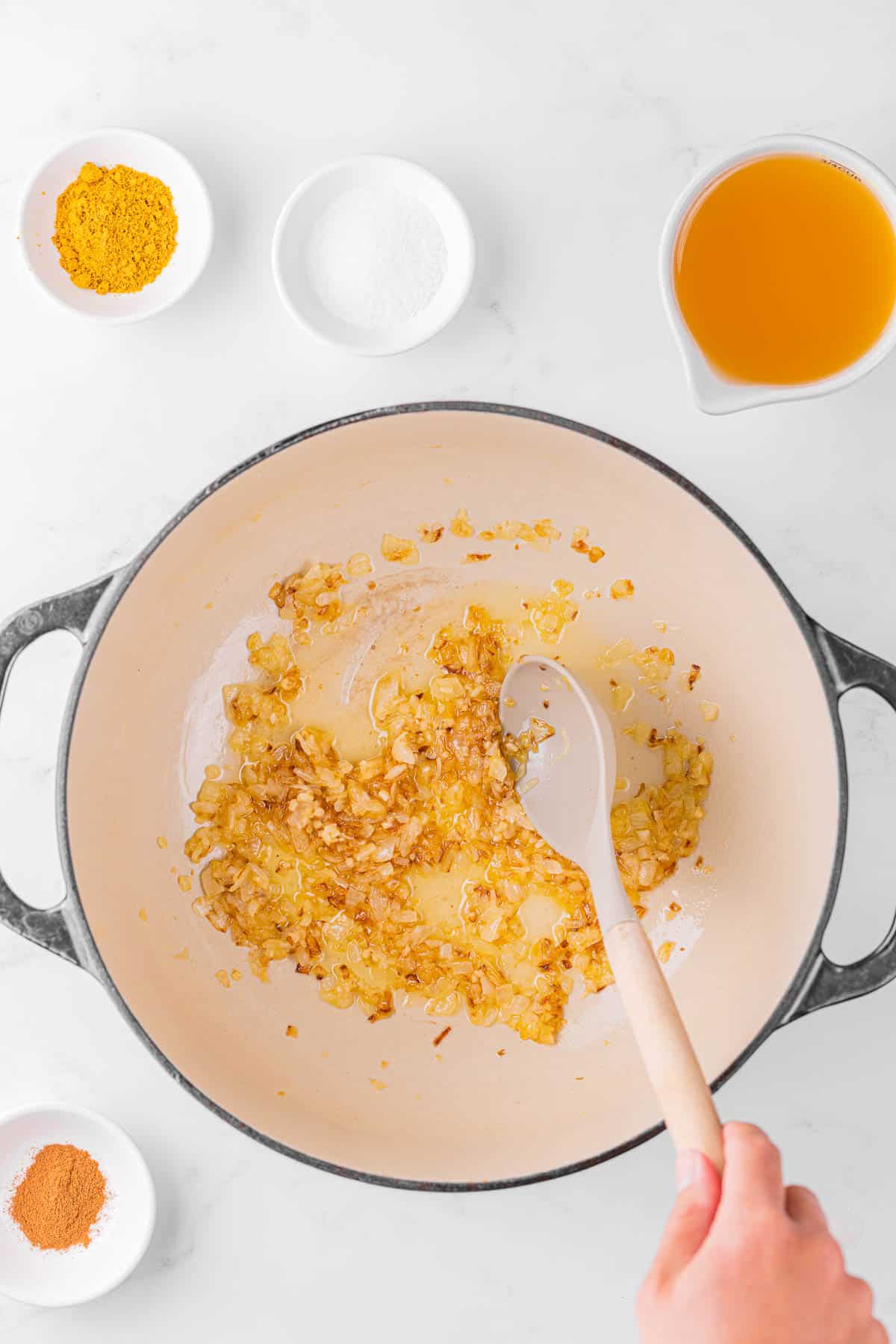 Add chicken broth and simmer
Add the chicken broth. Bring the mixture to a boil, then reduce the heat to low and cover. Simmer the soup over low heat, covered, for 20 minutes. This will allow the flavors to meld and develop.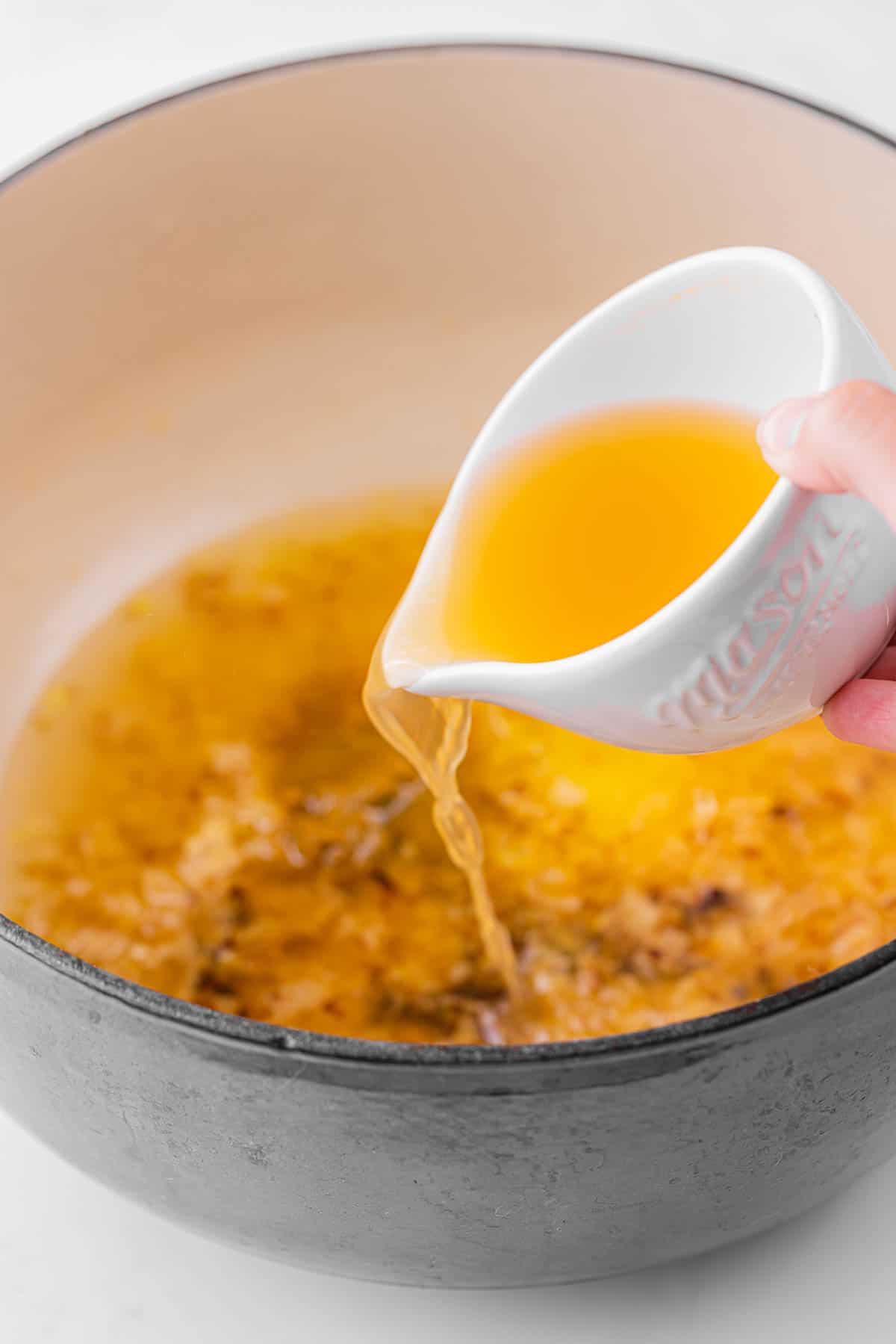 Add remaining ingredients and blend
Add the pumpkin puree and the coconut milk. Stir the soup well to combine and then continue to maintain a simmer until everything has heated through.
Run the soup through the blender, the food processor, or use an immersion blender to process it until it has a smooth consistency.
Season the curry pumpkin soup with additional curry powder, salt, and black pepper, if desired. Serve with a nice salad and some warm crusty bread for a complete meal.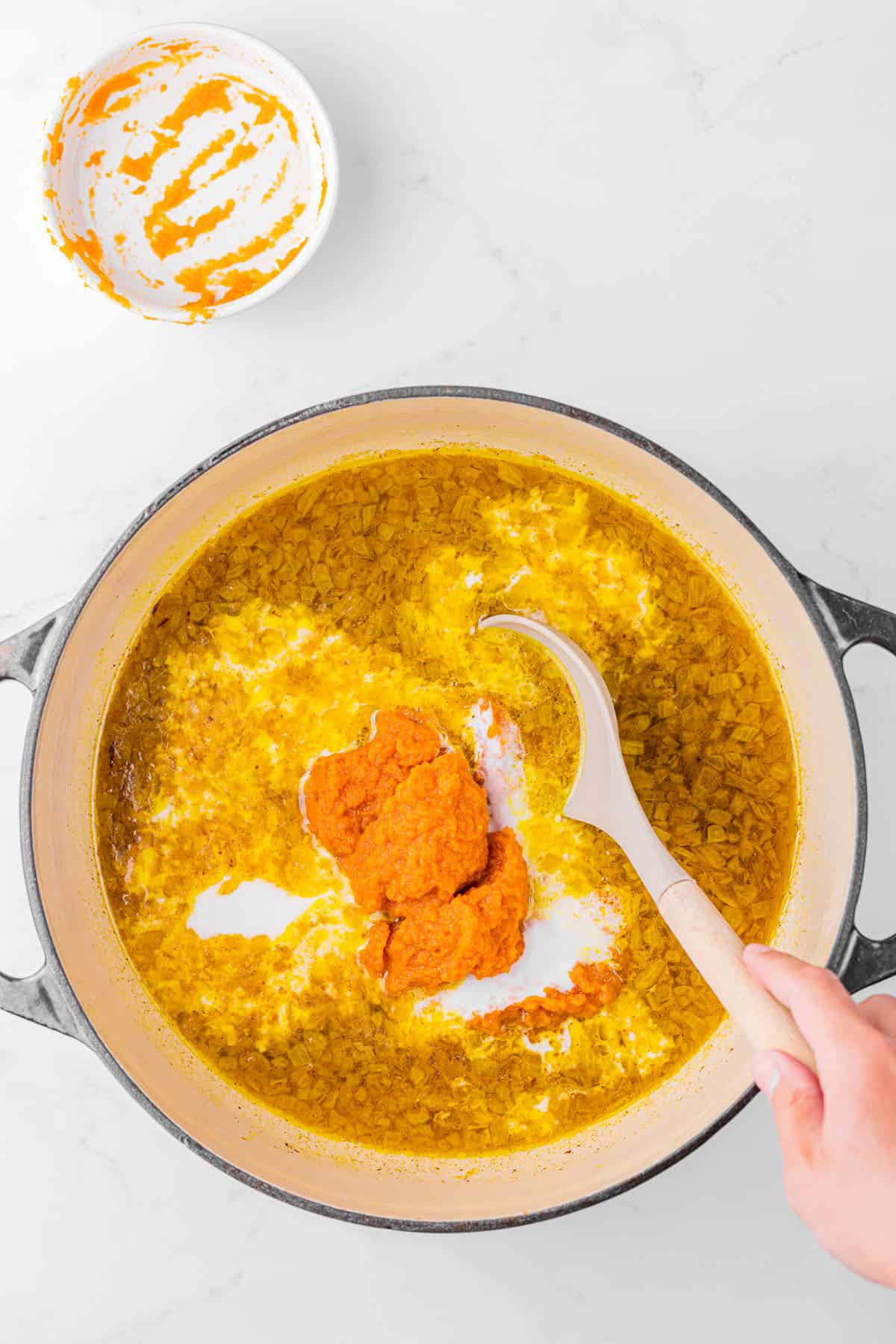 Recipe Modifications
One of the great things about making Pumpkin Curry Soup is its versatility and adaptability. This allows for various ingredient additions and substitutions to accommodate dietary restrictions or simply to work with what you have in your kitchen. Here are some options.
Ingredient Substitutions
Vegan Version: To make vegan pumpkin soup, use vegetable stock instead of chicken stock. You can replace the butter with olive oil, coconut oil, or avocado oil.
Pumpkin Purée: Instead of canned pumpkin puree, you can use roasted fresh pumpkin. Butternut squash puree, either canned or fresh, makes a great substitute with a similar flavor profile. It can be used in place of or in addition to the pumpkin.
Curry Powder Variations: Feel free to experiment with different types of curry powder. You can use mild, medium, or hot curry powder to adjust the level of spiciness.
Thai Red Curry Paste: For a twist, you can add a spoonful of Thai red curry paste for a more intense and exotic flavor.
Coconut Milk: If you don't have lite coconut milk, you can use regular full fat coconut milk for a creamier texture. For an even richer and creamier soup, add a touch of heavy cream. If you prefer a lighter option, consider Greek yogurt or sour cream as alternatives.
Additional Ingredients
Sweeteners: To enhance the sweetness, add a touch of maple syrup, brown sugar, or agave nectar.
Protein: You can include protein sources such as shredded chicken, tofu, or lentils to make the soup more substantial.
Fresh Ginger: For an extra kick of warmth and a zesty flavor, grate fresh ginger into the soup.
Acid: A squeeze of lemon or lime juice or a splash of apple cider vinegar compliments the flavors of this cozy soup nicely.
Spices and seasonings: If you want to add a little heat, sprinkle in some chili flakes while the soup is simmering. You can add any fall flavored favorite spices that will compliment the curry flavors in this pumpkin curry soup recipe as well.
Garnishes
Cream: A swirl of heavy cream or a dollop of sour cream or Greek yogurt can serve as a creamy garnish.
Crunch: Pumpkin seeds, either raw or roasted, add great texture to creamy soups. You may also consider topping with toasted pine nuts or pecan pieces for a nice crunch.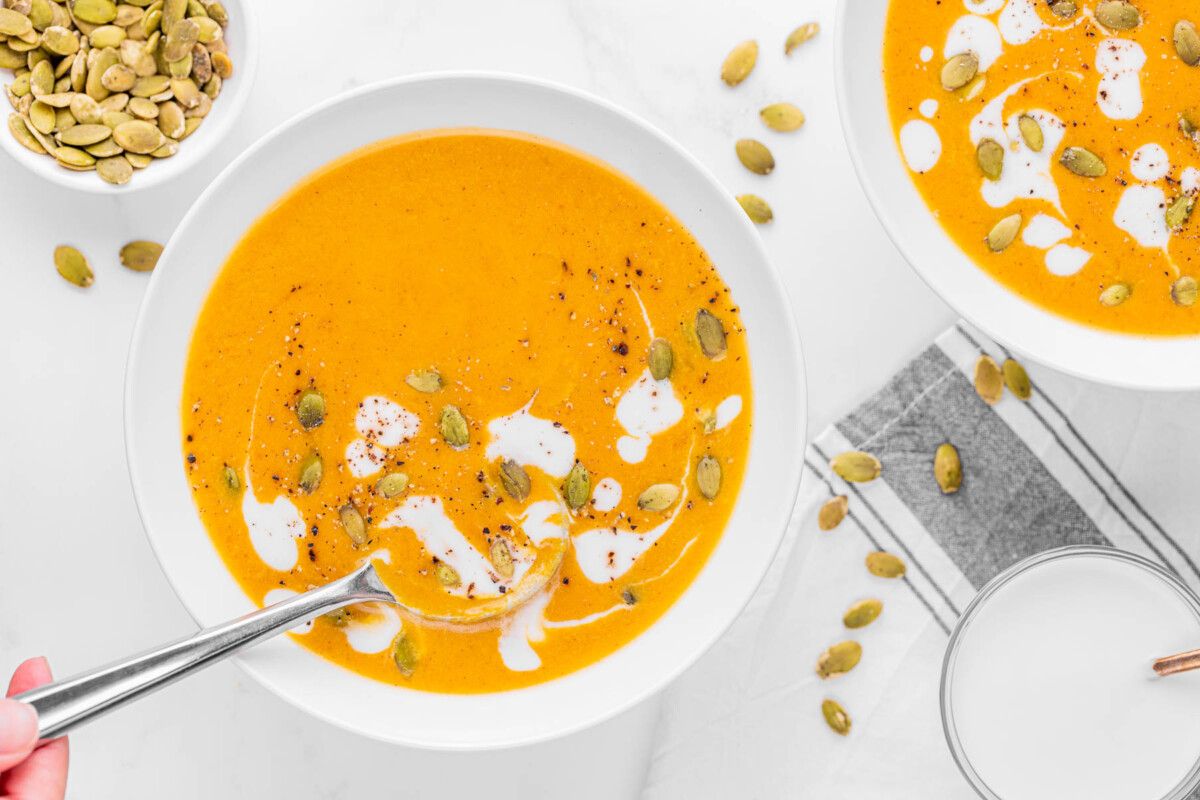 FAQs
Can I freeze this soup for later use?
Yes, you can freeze Pumpkin Curry Soup in an airtight container or a freezer bag for up to three months. Thaw and reheat when ready to enjoy.
How do I adjust the spiciness of the soup?
To control the spiciness, choose a milder or hotter curry powder and adjust the quantity. To add spice and a slightly different flavor, add red pepper flakes or experiment with Thai red curry paste.
Can this be made in the slow cooker?
Yes! It is still best to sauté the onion and garlic first, but all of the ingredients can then be transferred to a slow cooker to simmer.
What type of pumpkin is best for this recipe?
If you are roasting your own pumpkin instead of using canned pumpkin puree, sugar pumpkins are the traditional choice.
Can I use pumpkin pie filling instead of pumpkin puree?
While you can use pumpkin pie filling, it contains added sweeteners and spices, so the soup's flavor will be different. For a more authentic taste, stick with plain pumpkin puree.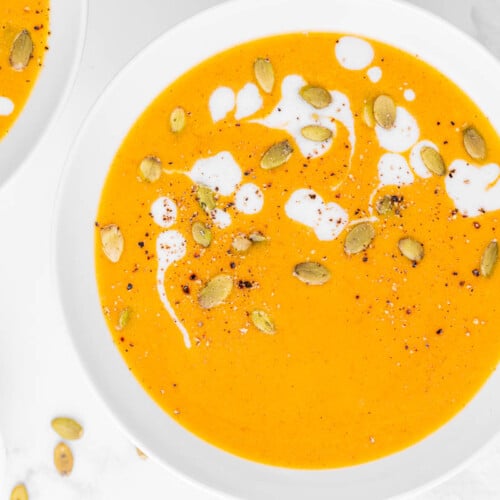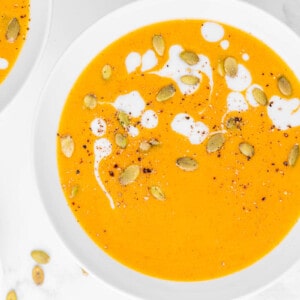 Savor the essence of fall with this easy-to-make Pumpkin Curry Soup. It's rich, cozy, flavorful, and simply delicious!
Ingredients
1/4

cup

butter

1

medium

onion

chopped

2

cloves

garlic

chopped

2

teaspoons

curry powder

more if desired

2

teaspoons

kosher salt

1/2

teaspoon

cinnamon

3

cups

chicken broth

2

cups

pumpkin puree

I used homemade but you can use a 15 ounce can

1

cup

lite coconut milk
Instructions
In a heavy bottom stockpot over medium high heat, melt butter. Sauté onion in butter until it starts to brown, then add garlic and cook for an additional minute.

Add the curry powder, salt, and cinnamon. Stir well and cook for a minute or so.

Add chicken broth. Bring to a boil, then reduce heat to low and cover. Simmer over low heat, covered, for 20 minutes.

Add the pumpkin puree and coconut milk. Stir, and simmer until heated through.

Run through blender or use an immersion blender to process until smooth.

Season with additional curry powder, salt and pepper, if desired.
Notes
Leftover soup can be frozen and stored in an air tight container. Simply thaw before reheating.
Nutrition
Calories:
141
kcal
,
Carbohydrates:
11
g
,
Protein:
2
g
,
Fat:
10
g
,
Saturated Fat:
7
g
,
Cholesterol:
20
mg
,
Sodium:
1306
mg
,
Potassium:
299
mg
,
Fiber:
3
g
,
Sugar:
4
g
,
Vitamin A:
12946
IU
,
Vitamin C:
13
mg
,
Calcium:
40
mg
,
Iron:
2
mg
Nutrition information is automatically calculated, so should only be used as an approximation.