Authentic Pork Tamales made from scratch are a flavorful and delicious Mexican recipe.
These step by step instructions using your Instant Pot are so easy!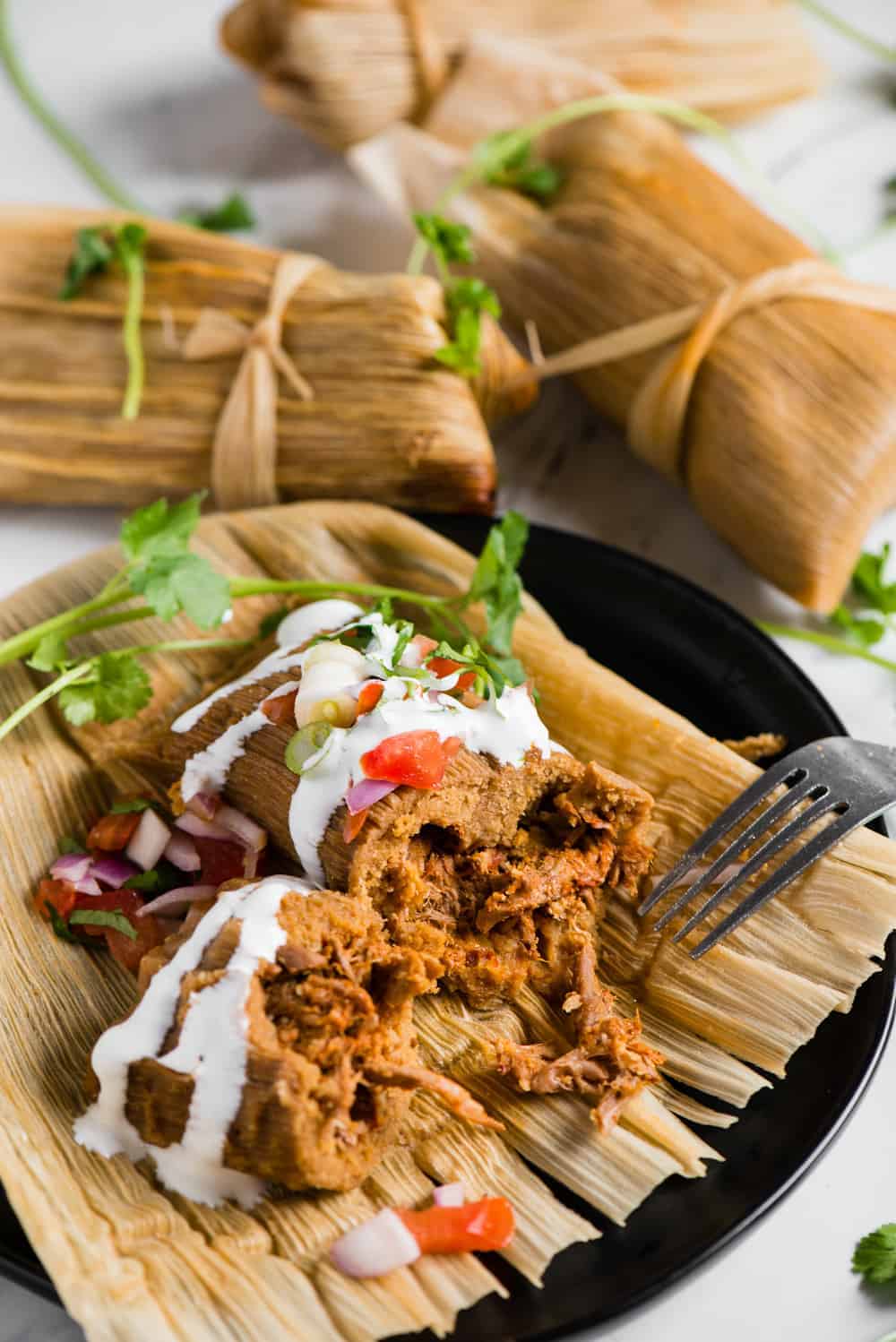 Why this recipe works:
Don't be intimidated! A lot of people never make their own tamales because they've heard the process is long and complicated. Yes, it's a lot of work, but they're actually very easy to make and taste amazing!
This might sound crazy, but much like making homemade pasta, it's really not that complicated and tamales are so satisfying to make.
With this particular recipe, the shredded pork is infused with a ton of flavor. Then, because the liquid from the meat is added to the masa, that is also infused with all of that great flavor!
What are the ingredients?
Tamales are made with a masa dough and are usually filled with a variety of fillings that can range from meat to cheese to, well, anything you want.
I've had plenty of tamales where the masa dough was bland, dry, and flavorless. One of my main goals with this recipe was to make the masa dough as tasty as the filling that it held. Some recipes just mix masa with water to form the dough. Not me. This masa is delicious!
And because I cooked the pork roast in the Instant Pot with chili peppers, the meat is infused with just the right amount of heat and flavor.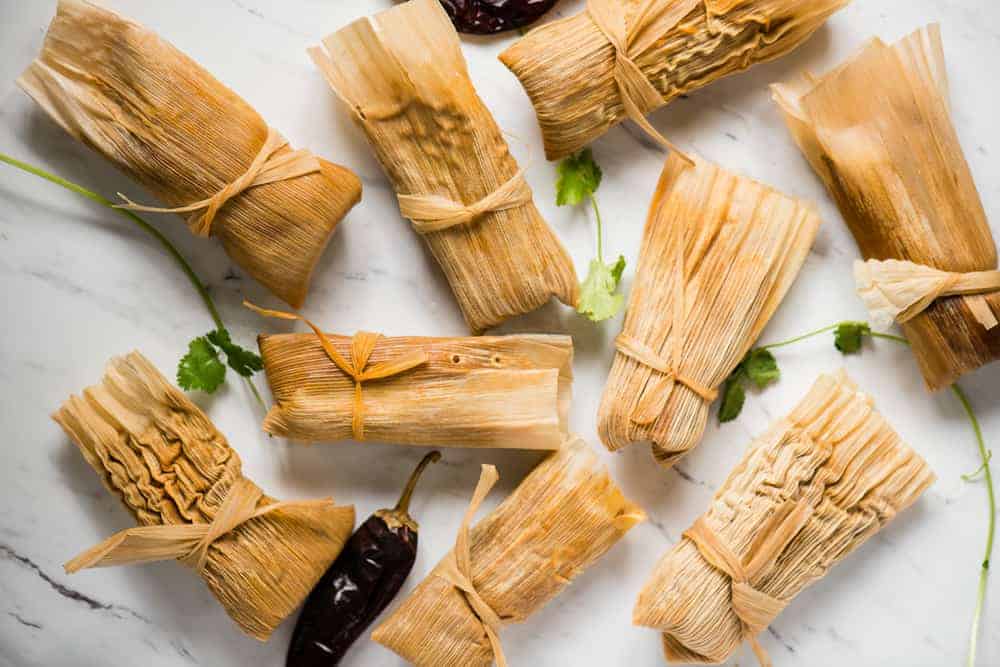 How to make Instant Pot Pork Tamales:
Even though this is a multi-step recipe with a lot going on, you'll find that everything is really easy to make.
The first thing you're going to need to do is soak the corn husks. Some people recommend using boiling water and some people say you need to soak them for at least 24 hours. I didn't find either of these to be true. Just put the corn husks in a large pot, add hot tap water, weigh them down with a plate so they stay submerged, and soak for at least an hour. Keep the corn husks wet until you're ready to wrap the tamale.
Next step is to make the pork filling. This involves two steps: cooking the pork roast in the Instant Pot and then making salsa roja to mix with the cooked shredded pork. Now, I understand that me telling you to make the salsa roja is adding another recipe to the mix, but it's worth it. If you really don't want to, you can leave out the salsa roja or even use store bought salsa. I won't tell anyone.
The next step is to make the masa filing. This is done in a stand mixer because it needs to mix on high speed for about 10 minutes. Here's the tasty part – I use the cooking liquid left over from the pork roast. It not only adds a ton of flavor the masa but also fat which is needed to make these tamales moist instead of dry.
Finally, you'll assemble your tamales by spreading masa dough on the corn husk, adding shredded pork mixed with salsa roja, folding and tying them up, then steaming in the Instant Pot. I have detailed instructions on how to roll them in the recipe below. It's actually quite fun.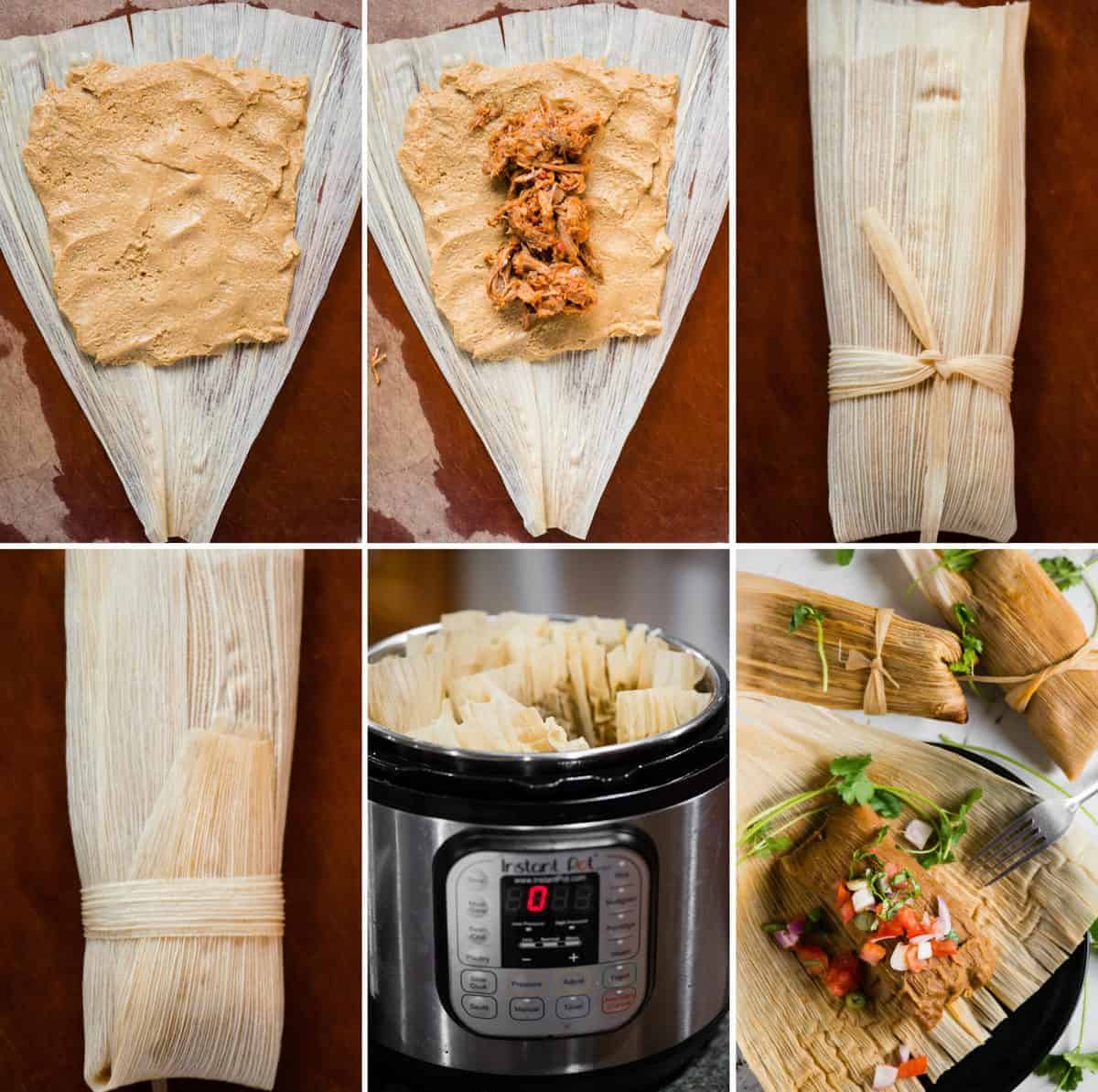 Why are they wrapped in corn husks?
Tamales are wrapped in corn husks for a couple reasons.
First, the masa dough is very wet. The corn husk allows you to add filling, roll the masa dough around the filling, and make a tight little cylinder to hold the tamale.
Because the corn husks can absorb water and also allow steam to pass through, they actually make a great wrap for the tamale.
In a nutshell, the corn husks allow the tamale to cook while holding it's shape.
Are you supposed to eat the corn husk?
Nope. Think of the corn husk as the wrapping paper or a disposable plate. You definitely don't want to eat the corn husks.
Can you reheat them?
Absolutely!
If they were frozen, be sure to thaw the tamales completely. A good day in the refrigerator should do the trick.
There are a couple different ways to reheat your homemade tamales.
You can steam the tamales again. They're still wrapped in the corn husk, so the steam will heat the tamales without taking away any of their moisture. You can do this in the Instant Pot on low pressure for 5 minutes or you can do it on the stove top in a pot with a rack, a lid, and a bit of water. You can also steam frozen tamales this way, but it will take more time.
You can microwave the tamales to reheat them. Keep them in their husks, cover them with a wet paper towel, and heat on 50% power until heated through, about 4 minutes.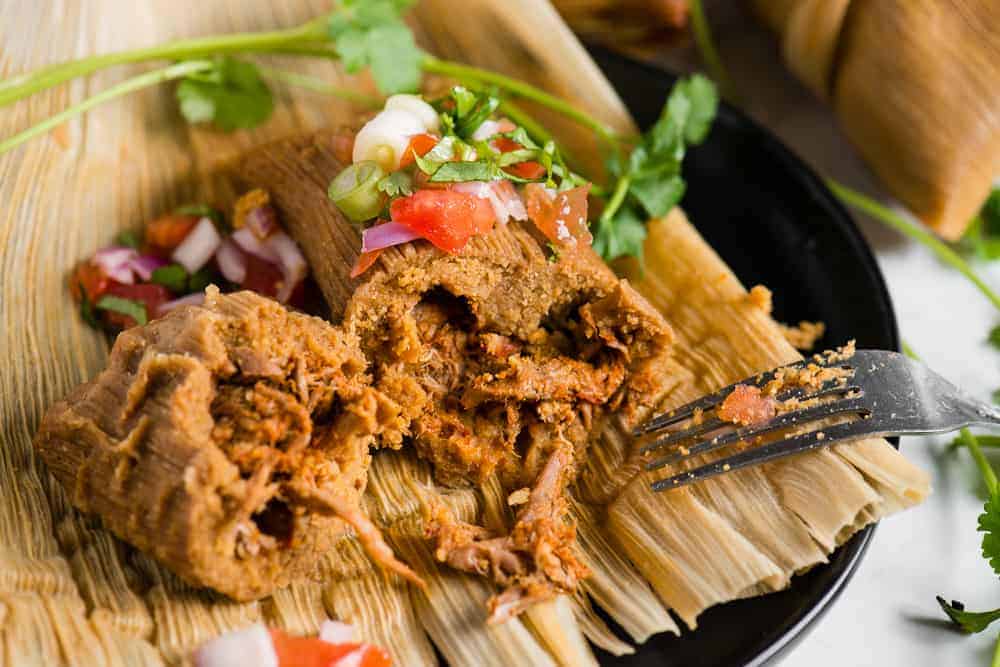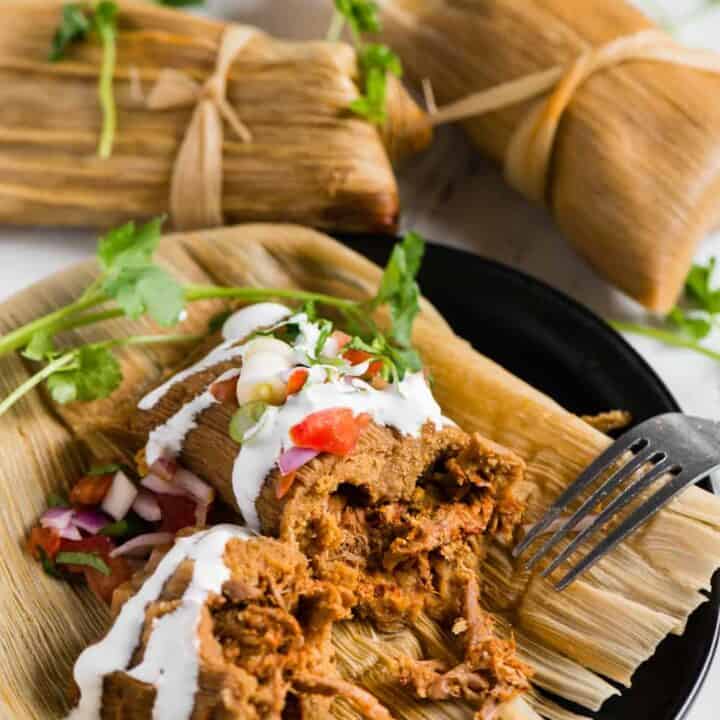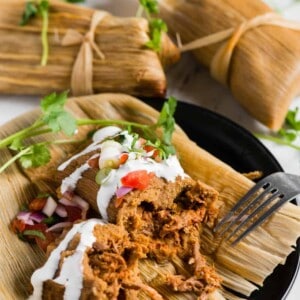 Authentic Pork Tamales made from scratch are a flavorful and delicious Mexican recipe. These step by step instructions using your Instant Pot are so easy!
Ingredients
For the Pork Filling:
1

tablespoon

oil

I used avocado

1

tablespoon

kosher salt

2 1/2

pound

pork shoulder roast

6

cloves

garlic

smashed

2

dried

ancho chile pods

stem and seeds removed

2

dried

New Mexico chile pods

stem and seeds removed

1

teaspoon

oregano

Mexican if available

1

cup

water

1

cup

Salsa Roja

link to recipe in Notes
For the Masa Dough:
4

cups

masa harina

1

teaspoon

baking powder

1

teaspoon

kosher salt

remaining cooking liquid from pork roast

2

cups

chicken broth

more or less depending on liquid from pork roast, total combined volume should be 3 1/2 cups

1/2

cup

oil

I used avocado oil
You Will Also Need:
14-18

corn husks

available in the Hispanic foods section of the grocery store

small bowl

warm water

to dip your fingers in when assembling tamales
Instructions
Prior to starting:
Soak the corn husks in warm water. This should be done for at least an hour but they can be soaked overnight. To do this, I added them to a large pot, added water, and weighed them down with a heavy lid.
To make the pork filling:
Using an Instant Pot on Saute mode, heat the oil. Cover both sides of the pork roast with the salt. Sear the pork roast on both sides in the Instant Pot until browned, about 5 minutes on each side.

Add the garlic, chile pods, oregano and water to the Instant Pot. Seal the lid and set it to high pressure for 60 minutes. Allow pressure to naturally release when done cooking.

Remove roast and transfer to a large bowl. Transfer all of the cooking liquid to a large measuring cup, pouring through a fine mesh sieve, pressing down on the chiles and garlic to extract as much liquid out of them as possible.

Once cool enough to handle, shred the meat and discard any large chunks of fat, if desired. Combine with salsa roja.

To make the masa filling:
Combine masa flour, baking powder and salt in bowl of stand mixer. Attach paddle and stir on low to combine.

Add enough chicken broth to the cooking liquid to total 3 1/2 cups. Add that to the masa flour. Add remaining 1/2 oil. Using the paddle attachment, whip masa mixture on medium high speed for about 10 minutes, scraping at least once half way through mixing.
How to make the tamales:
Keep in mind as you assemble the tamales that they will need to fit in your Instant Pot vertically on the steamer rack. The length of each tamale should be no more than about 6 inches.

Place wet corn husk on your work surface so that the pointy end is facing you (like a capital letter V). Place a generous scoop of masa dough on the corn husk. Wet fingers to prevent sticking and spread masa dough into a thin layer the shape of a square. You want the bottom of that square to be about 3-4 inches from the bottom of the point and you'll want the dough to extend all the way to the edges. The top of the square should stop about an inch from the top of the corn husk.

Spoon the pork filling in a vertical line down the center of that masa square. You'll want to leave a little room at the top and bottom so that you can seal the tamale. Pack in as much filling as you can but keep in mind that you'll need to be able to wrap the sides completely around.

Holding onto the corn husk, grab the right and left sides and bring them together until the sides meet. Once the edge of the masa are touching, pull the left side of the corn husk away and wrap the right side over. Then take that left side and wrap it over the right side. With the seam side down and the point still facing you, fold the bottom tip up towards the seam.

Take an extra corn husk and shred it into long pieces. Use these to tie the tamales to hold that folded tip in place.

Place the steamer rack into your Instant pot. Fill the base with enough water to come to the bottom of the rack, at least 1 cup but more if room will allow.

Place the tamales in the Instant Pot vertically, open side up. You may need to push them down a bit to get the lid to fit correctly. Close lid and cook on high pressure for 20 minutes.

Serve immediately with salsa, Crema, or any other fixings. Enjoy!
Notes
Recipe for Salsa Roja: https://selfproclaimedfoodie.com/salsa-roja/
If you prefer to use store bought, look for something that does not have a lot of liquid (i.e. do not use something like Pico de Gallo). Rather, look for something made with chiles and tomatoes.
Nutrition
Calories:
276
kcal
,
Carbohydrates:
26
g
,
Protein:
13
g
,
Fat:
14
g
,
Saturated Fat:
2
g
,
Cholesterol:
33
mg
,
Sodium:
828
mg
,
Potassium:
315
mg
,
Fiber:
2
g
,
Sugar:
1
g
,
Vitamin A:
70
IU
,
Vitamin C:
3
mg
,
Calcium:
70
mg
,
Iron:
3
mg
Nutrition information is automatically calculated, so should only be used as an approximation.