Pot Roast is is the perfect comfort food. Tender pieces of chuck roast braised in a rich broth with potatoes and carrots is one of the best dinner recipes!
A mouthwatering Perfect Pot Roast takes time because it is slowly braised in the oven. I'll tell you how to also make this recipe in the crockpot or Instant Pot, but using a dutch oven is my favorite method.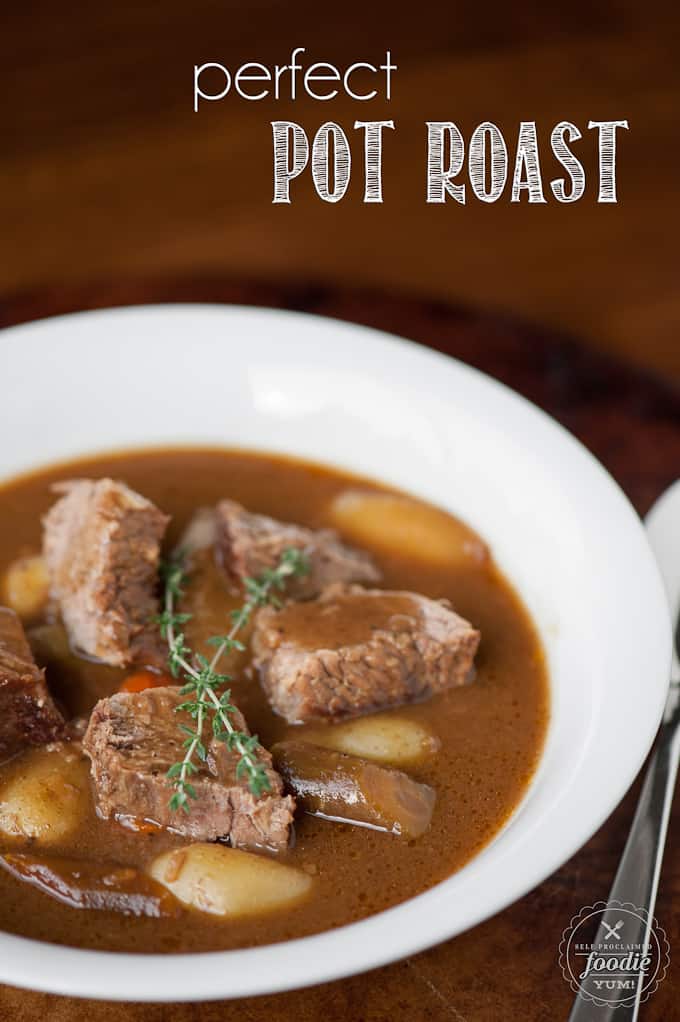 Why this recipe works:
If you love a good dinner recipe where you can slowly braise a tender chunk of meat in a rich broth with potatoes and carrots, you're going to love this recipe.
My preferred method of cooking when making traditional pot roast is to use a

dutch oven

.

I always made pot roast with a beef chuck roast. It is relatively less expensive than more tender roasts like a tenderloin because it requires braising, a long cooking time in liquid, in order for it to be tender. It is marbled with fat which completely renders during the braising process.
I also highly recommend that you use a bone-in chuck roast, as that will yield the most tender and flavorful meat.
Ingredients needed:
Chuck roast - I always recommend bone-in verses boneless when you're braising meat. The amount of flavor you get from the bones and everything inside the bones makes for an extra rich broth.
Of course, half of what makes this meal so amazing is that it was made with slow roasted homemade beef stock. That stuff is like liquid gold and will transform any soup or stew into a meal that will never allow you to go back to store bought beef broth.
Butter and all-purpose flour - used to make a roux to thicken the broth.
Onion Dip Mix - Now, back when I originally made this I used Trader Joe's and they have since discontinued. You can always use dried onion soup mix too. Just stay away from anything with preservatives.
Red wine - just a bit goes a long way.
Carrots and potatoes - I like to use large carrots that are peeled and chopped rather than baby carrots. They taste better. I also like super small potatoes that don't have to be cut because the skin keeps them in tact.
Salt, pepper, thyme, bay leaves, oil, butter - usual pantry ingredients
Whole grain mustard - This is almost a secret ingredient. I stir it in at the end for a bit of added flavor.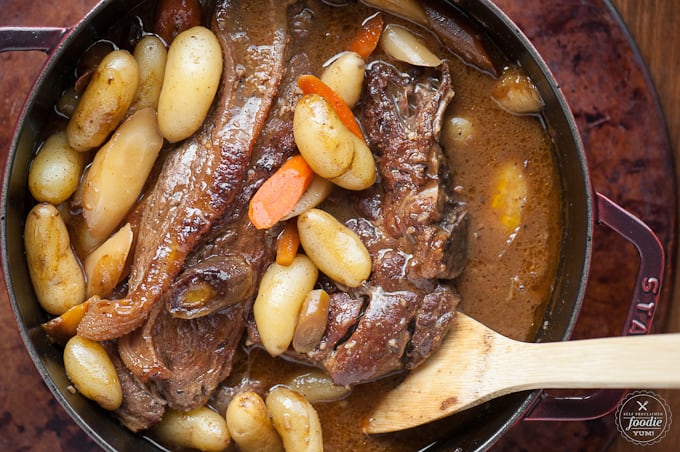 How to make it in a dutch oven:
To properly make this recipe, you need a really good dutch oven. Something cast iron that can properly brown your chuck roast on the cooktop and then slowly braise the meat in the oven while covered with a heavy lid. Mmmmmm.
For best results, allow your roast to sit at room temperature for a bit. Coat both sides with some salt and pepper. Get your dutch oven screaming hot on the stove, add your oil, and then sear the roast on both sides.
Remove the roast from the dutch oven and make a roux. Then add the onion dip mix, beef broth, and red wine. This will turn into a very thin gravy. Add the seared roast back to the dutch oven, add more salt and pepper along with some thyme and bay leaves. Cover with lid and cook in oven for 2 ½ hours.
At this point, you'll flip the roast over and then add the carrots and potatoes. Cover and cook until the veggies are tender.
The final step is to shred the meat and discard any bones and fat. That's it!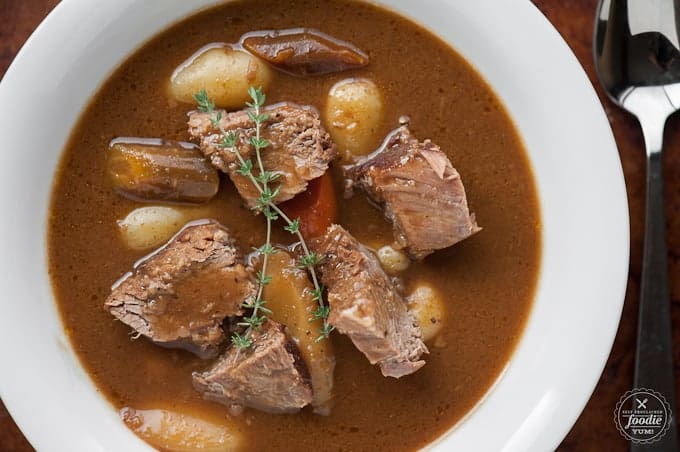 Cooking tips:
Did your pot roast turn out tough?
It shouldn't, but if it did, it's quite possible you didn't cook it long enough.
When you braise a fatty cut of meat like a chuck roast, low and slow is the name of the game. I cook my chuck roast at 300 degrees F in the oven. For me, that's the perfect temperature for braising a chuck roast.
Ways to avoid a dry pot roast:
Ensure your lid is on tight. You not only want the roast sitting in liquid, but you want the air trapped inside to be very moist.
Did you use a larger roast than what the recipe recommends? If yes, you'll need to increase the amount of liquid as well.
If possible, find a roast that is nicely marbled with fat and had a nice thick bone in the center. Both the fat and everything inside the bone will give you the most tender pot roast possible.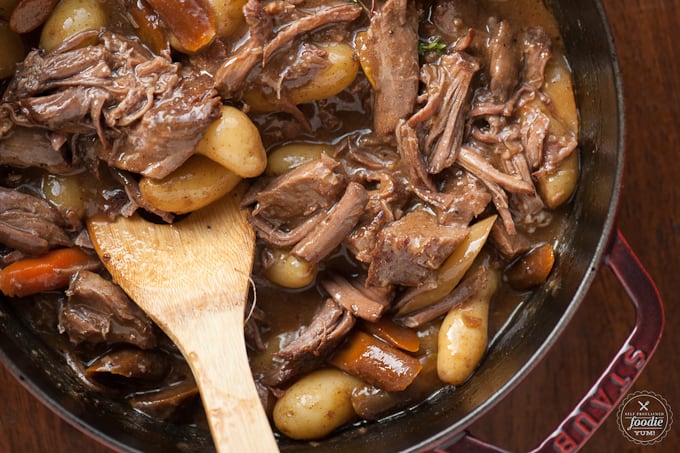 What to serve with pot roast:
This meal is so perfect with a crisp green salad and some hot crusty bread with a big pad of butter on the side.
Don't you just want to eat a big bowl of this while sitting in your cabin looking out the window at the snow fall? I don't have a cabin nor do I live in an area where we get regular snow fall, but a girl can dream, can't she?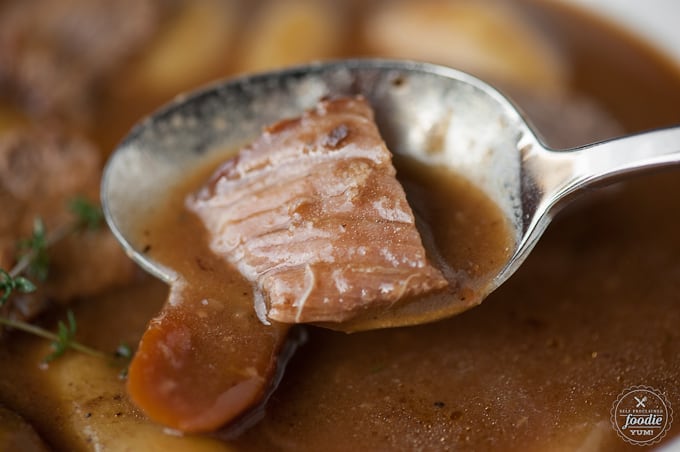 Although I think pot roast is best when made in a dutch oven as outlined in the recipe, busy lives dictate the use of other cooking methods. If you aren't able to be in your kitchen all day, here are some alternatives:
How to make it in the slow cooker (Crockpot method):
You will still need to sear the roast on both sides. Again, cast iron works great for this, but you can use a nice heavy bottom stainless steal pan as well.
You will still need to make a nice roux on the stove top using that same pan. You will also need to add the liquid to that pan to create the gravy.
Once all of that has been done, you can add the seared chuck roast along with all of the gravy to your slow cooker.
Cook on low for at least 8 hours (preferred), or if you're pressed for time you can cook on high for 4 hours. Be sure the meat is super tender and easy to shred before you finish cooking.
How to make it in the pressure cooker (Instant Pot method):
Unlike a slow cooker, you can cook this entire pot roast recipe in your Instant Pot. The only restrictions you might run into would be capacity. If your roast and all of the remaining ingredients are too much for the Instant Pot to hold, you'll either have to make two batches or reduce the size of the recipe.
Use the Instant Pot to sear the roast on both sides. You will then still remove the roast and can make the roux in the Instant Pot while it is still on the saute setting. Add the broth to make the gravy, then put the seared roast back in.
Secure the lid and cook on high pressure for 60 minutes. You can either quick or naturally release the pressure. Open the lid, flip over the roast, and add the potatoes and carrots.
Close the lid and cook the vegetables for another 10 minutes or so. When it's done, you'll have to ensure both the meat and veggies are super tender. If not, secure the lid and continue cooking for another 10 minutes or more, depending on how much more time you think it needs.
Other great family dinner recipes:
Love roasting for family dinner? Then you'll have to try these favorite recipes: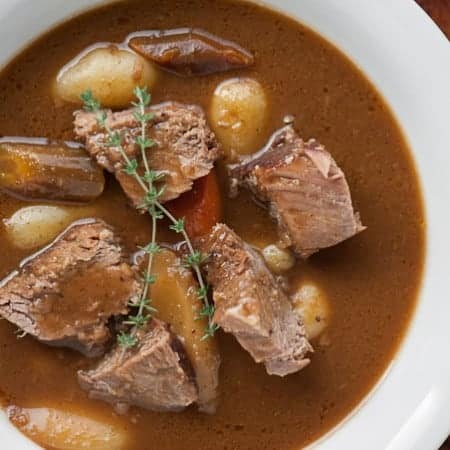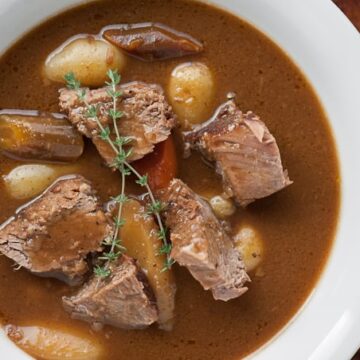 Perfect Pot Roast
A mouthwatering Perfect Pot Roast takes time because it is slowly braised in the oven, but it is the most flavorful family dinner best enjoyed during the winter.
Print
Pin
Rate
Hover to scale:
7
servings
Ingredients
3

pound

bone-in chuck roast

1

teaspoon

kosher salt

1

tablespoon

vegetable oil

(I used avocado oil)

2

tablespoons

butter

4

tablespoons

all purpose flour

13

ounces

onion dip mix

(one packet, can also use dried onion soup mix)

4

cups

beef stock

(homemade is best)

2

tablespoons

red wine

(dry wine, not sweet)

1

teaspoon

salt

freshly ground pepper

(to taste)

1

teaspoon

thyme

2

bay leaves

5

large

carrots

(peeled and chopped into 1 inch pieces)

1

pound

Dutch yellow baby potatoes

(If they are not small, cut into bite sized pieces)

1

tablespoon

whole grain mustard
Instructions
Preheat the oven to 300 degrees F.

Get a dutch oven nice and hot over medium high heat. Pat dry the chuck roast, then cover both sides with the first teaspoon of kosher salt. Add the oil to the dutch oven and when it gets nice and hot, sear both sides of the meat until deeply browned, about 10 minutes per side.

Remove the meat from the dutch oven and transfer to a plate. Add the butter to the dutch oven and melt over medium heat. Use a wooden spoon to scrape up any bits that pay have stuck to the pot. Once melted, add the flour, stir, and allow to brown for a few minutes until fragrant. Add the onion dip mix and stir. Add the beef stock and the red wine. Allow to come to a boil, stirring occasionally and scraping any bits that may have stuck to the bottom of the pan. Once the mixture comes to a boil, remove from heat and add the meat along with any of the juices from the plate along with the remaining salt, pepper, thyme, and bay leaves to the dutch oven. Cover tightly with lid and cook in preheated oven for 2 ½ hours.

Turn the beef over in the pot and add the carrots and potatoes, pushing them down into the liquid as much as possible. Cover the dutch oven and continue to cook, stirring the vegetables once, for 1 to 1 ½ more hours, until the vegetables are tender.

Remove the roast from the dutch oven and transfer to a cutting board. Separate the chunks of meat into bite sized pieces and discard any fat and bones. Return meat to the pot. Stir in the mustard.

Serve hot with warm crusty bread. Enjoy!
NUTRITION INFORMATION
Calories:
660
kcal
|
Carbohydrates:
56
g
|
Protein:
46
g
|
Fat:
28
g
|
Saturated Fat:
14
g
|
Cholesterol:
143
mg
|
Sodium:
5414
mg
|
Potassium:
1722
mg
|
Fiber:
7
g
|
Sugar:
6
g
|
Vitamin A:
8740
IU
|
Vitamin C:
18.1
mg
|
Calcium:
144
mg
|
Iron:
6
mg
This recipe was originally created in December 2015 and has been updated for your reading pleasure.