My Green Chile Stew, made with New Mexican roasted Hatch green chile, pork tenderloin, potatoes and corn, is the ultimate spicy and healthy comfort food!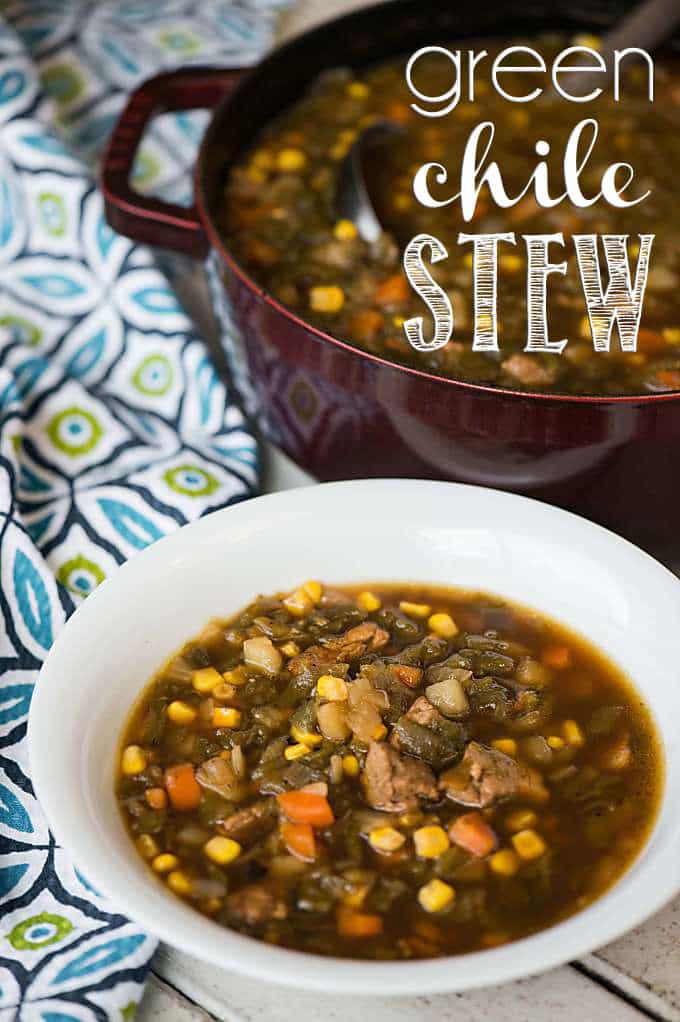 Have I ever told you how I went to college in New Mexico?  Yep, I earned a BS in Chemical Engineering at UNM. I grew up a California girl and have been an Oregon girl my entire adult life, but I have this funny 4 year period of time smack dab in the middle where I followed my high school sweetheart out to New Mexico. Well, that love story didn't quite end as originally planned, but I wouldn't have changed a thing because everything that happened in my life got me to the exact point I'm at now, and despite the occasional depression over insignificant first world issues, I really have no room to complain.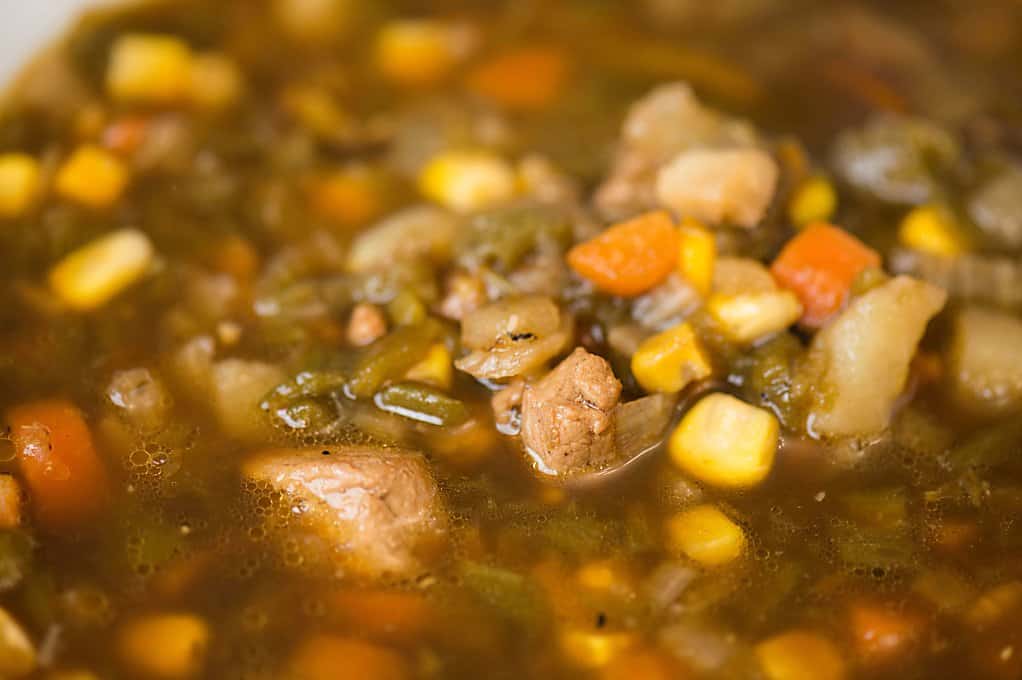 Here's the funny part about my time in New Mexico – I refused to give in to the green chile obsession. It irritated me to know end how much green chile there was everywhere! Was I fine that avocado was on everything in California? You bet I was. But green chile? Those people were crazy. It took me years before I was even willing to try the stuff. What a silly girl I was!  Now I'm the one who's obsessed.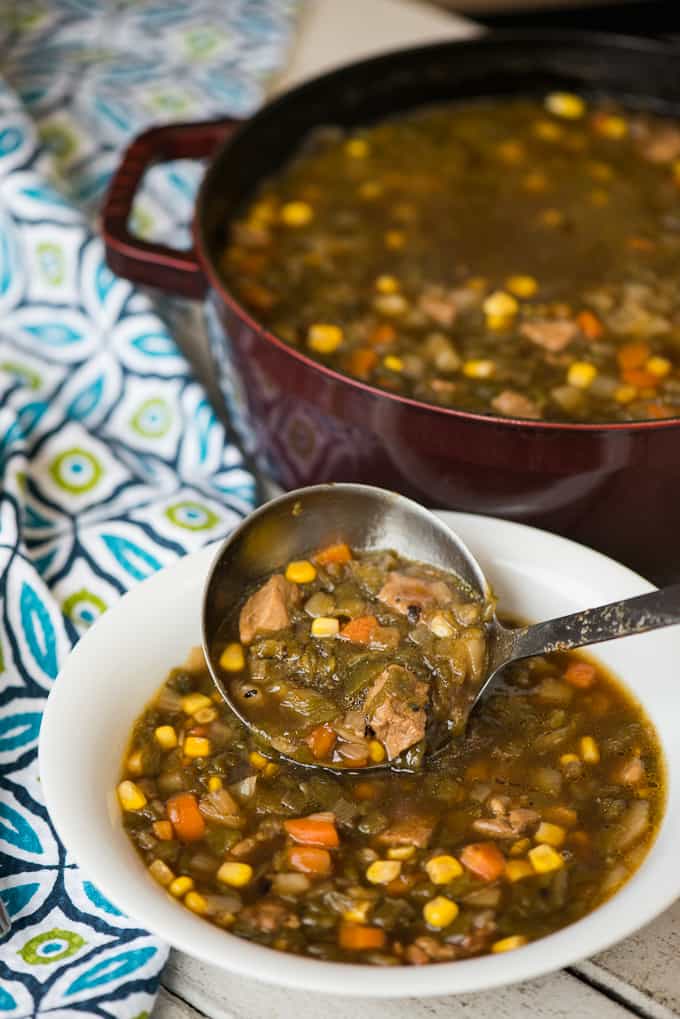 And don't think that now that I'm in Oregon I use any other kind of green chile other than the kind grown in Hatch, New Mexico. No way, no how! I order it up and have it shipped directly to my door!  Green chile stew is one of those meals that I remember eating and making me feel so good.  Sick with a head cold? Green chile stew. Hung over from a late night? Green chile stew. Its kind of the cure all meal. I couldn't remember how to make it so I asked my dear New Mexico native friends and they gave me a starting point. I knew I wanted potatoes and corn. There are a lot of recipes out there that tell you to add tomatoes. You know I love tomatoes, but I feel they have no place in this stew. Also, I went with pork tenderloin and can tell you it is the perfect choice. Super tender, no fat, and crisps up perfectly when you cook it in bacon grease like I did. Enjoy!!!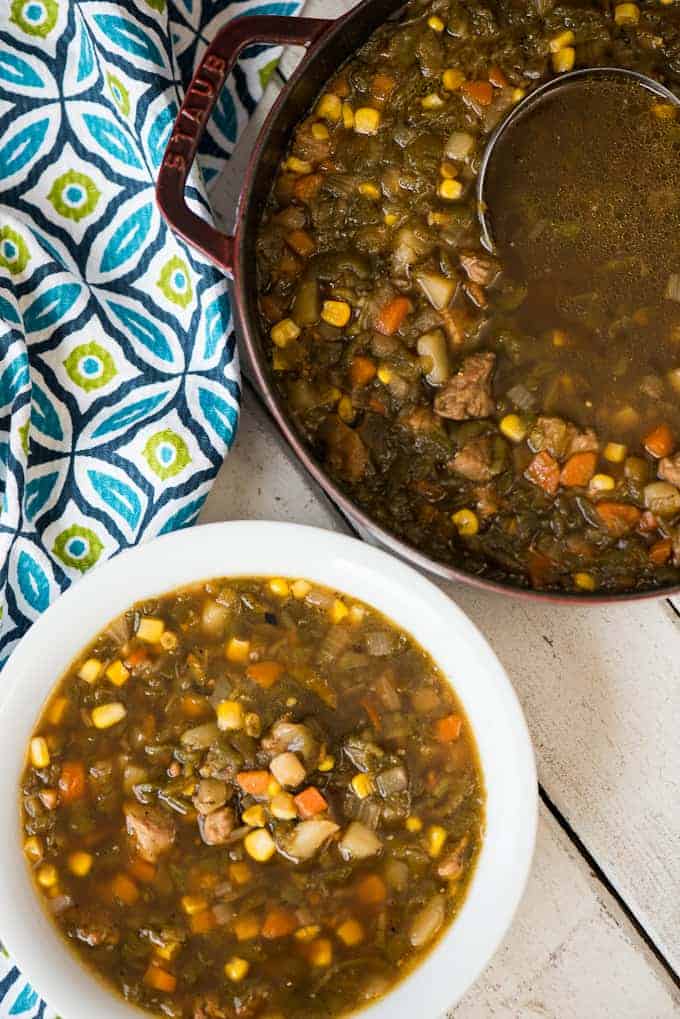 Watch the recipe video below of me making my Green Chile Stew!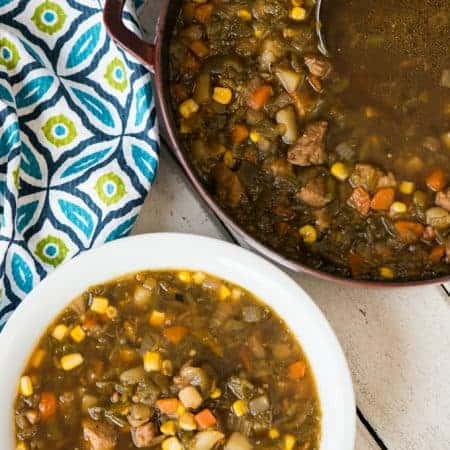 Green Chile Stew
My Green Chile Stew, made with New Mexican roasted Hatch green chile, pork tenderloin, potatoes and corn, is the ultimate spicy and healthy comfort food!
Print
Pin
Rate
Cook Time:
1
hour
30
minutes
Total Time:
1
hour
50
minutes
Ingredients
2

tablespoons

oil or bacon grease

1 to 1.5

pound

pork tenderloin roast

cut into small cubes

1

large yellow onion

minced

3

large carrots

peeled and diced

2

small russet potatoes

peeled and diced (about 2 cups)

1

tablespoon

salt

4

cups

chicken broth

2-3

cups

roasted green chile

stems, skin, seeds removed, chopped

1 1/2

cups

corn
Instructions
Over high heat, heat oil or bacon grease in heavy bottom pot or dutch oven. Once hot, add half of the tenderloin and allow to cook for a couple minutes until it starts to brown. Use tongs to flip. Once you achieve a nice crispy outside, remove meat and transfer to a clean bowl. Add remaining tenderloin to pot, cook until lightly brown, then transfer to bowl with other cooked meat.

Using the same pot you cooked the meat, add the onion and carrot. Stir and allow to cook until it starts to brown, about 5-10 minutes. Transfer browned tenderloin along with any resting juices from the bowl back to the pot with the onion and carrot.

Add potatoes, salt, and chicken broth. Bring to a boil and then reduce heat to low. Allow to cook for 45-60 minutes or until potatoes are very tender.

Add green chile and corn and cook for another 10-15 minutes until heated through. If you're concerned about the spice, start with a small amount of green chile and continue to add until you reach the amount that works best for you.

Refrigerate or freeze any leftover soup and to reheat, allow frozen soup to fully thaw and then heat on stove until piping hot. Enjoy!
Nutrition
Calories:
188
kcal
|
Carbohydrates:
19
g
|
Protein:
14
g
|
Fat:
6
g
|
Saturated Fat:
1
g
|
Cholesterol:
36
mg
|
Sodium:
1478
mg
|
Potassium:
692
mg
|
Fiber:
4
g
|
Sugar:
4
g
|
Vitamin A:
3895
IU
|
Vitamin C:
22.8
mg
|
Calcium:
37
mg
|
Iron:
2.7
mg