Winter Squash Casserole, with tender chunks of butternut and kabocha, sage butter sauce, and pure maple syrup, is the perfect cold weather side dish recipe.
When I'm craving roasted winter squash, I usually go for something simple like baked butternut squash. But if you're looking for a side dish recipe that's more rich and hearty, this version is a great choice!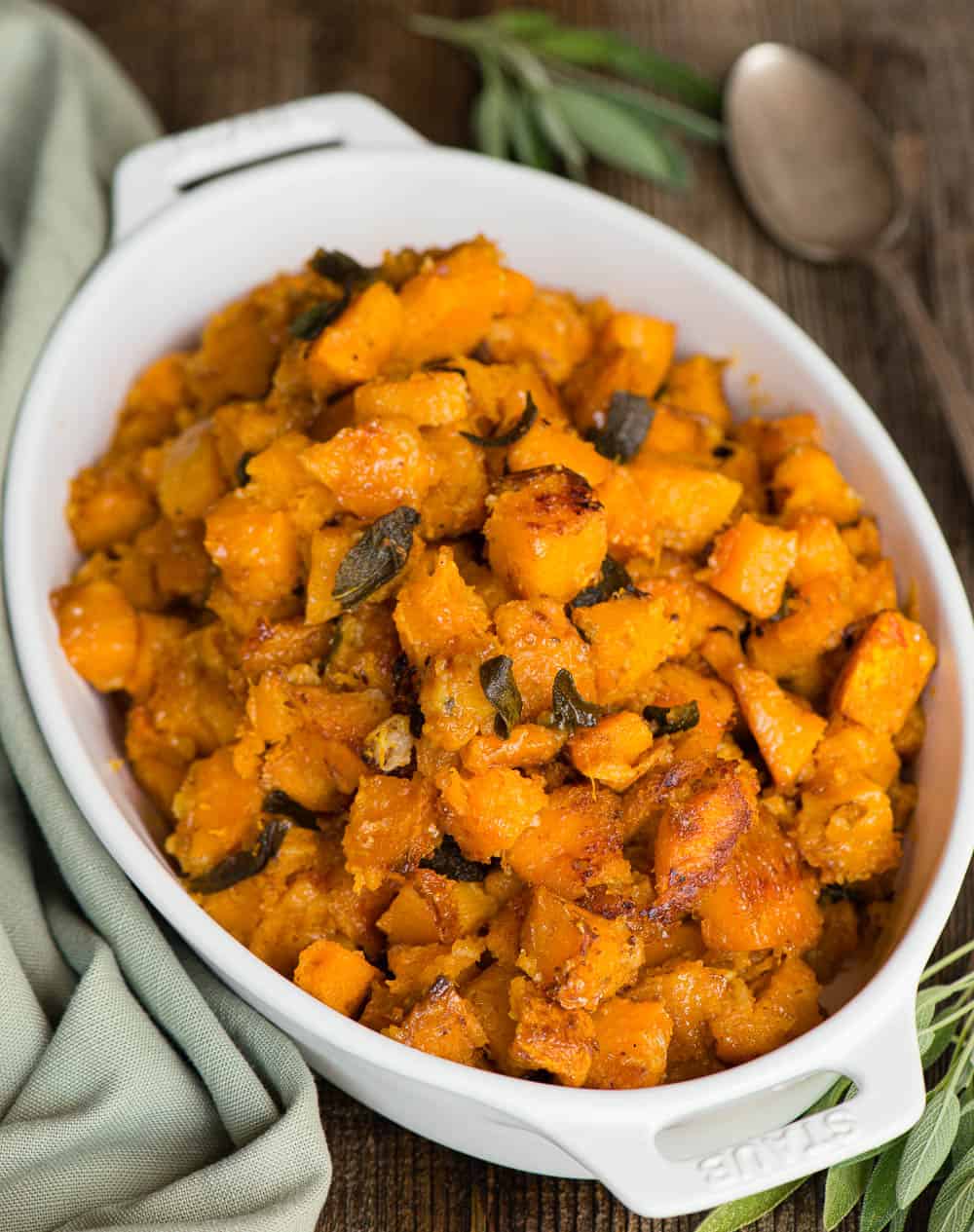 How to make this recipe:
The first thing I did was cut each of my squashes in half, scooping the seeds out (photo 1), and placing them face down on a parchment lined baking sheet (photo 2). I then baked them for about a half hour. The goal is to soften the squash to make it easier to peel and chop, but not fully cook them.
Once the par-baked squash was cool enough to handle, I used a peeler to remove the skin and then I chopped the flesh into 1-inch cubes (photo 3).
Here comes the casserole portion of the recipe. I whisked together some flour with a bit of corn starch, pumpkin pie spice, salt and pepper. I lightly coated the squash in this mixture and discarded whatever wasn't used. Add the lightly coated squash to your parchment lined baking sheet.
Prior to give the squash it's final roast in the oven, you'll make the maple sage brown butter sauce. Yes, it's as delicious as it sounds. Pour this over the coated squash, give it a toss, and then complete the roasting.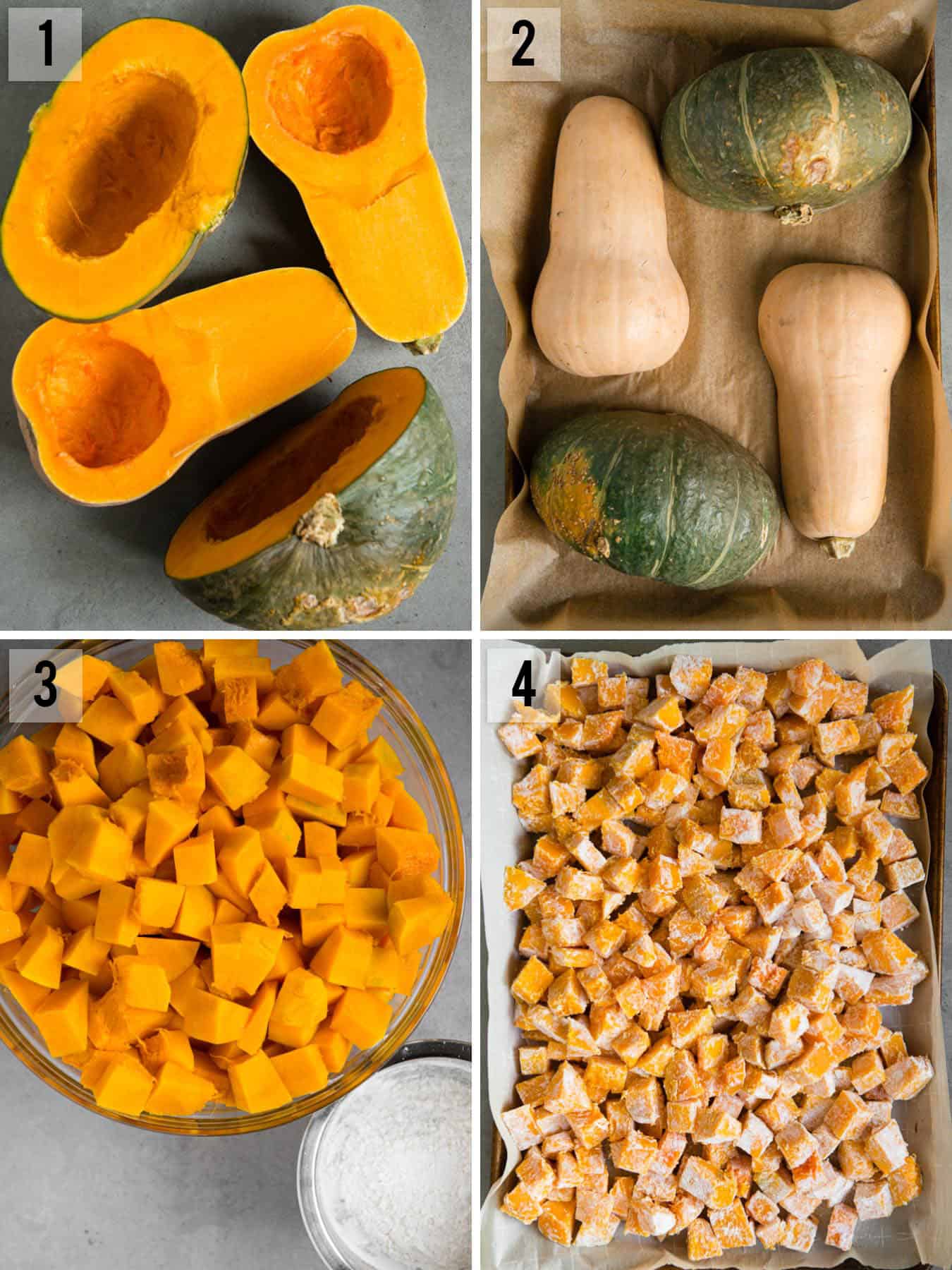 Cooking tips:
I have found you'll get the best results when making my winter squash casserole, if you do the following.
When cutting a winter squash, insert a very sharp chef's knife into one side and use a rocking motion to work your way around the squash. They are very hard and you must be very careful not to accidentally cut yourself!
A large spoon works great to scrape out the seeds. I feed the seeds and the pulp to my chickens.
We found that using a large peeler works better than a paring knife when removing the skin from the squash.
You'll get a better crispy outer layer on your squash if the pieces are completely spread out and in a single layer. To do this, you might have to cook the winter squash in batches or on separate baking sheets.
Winter squash recommendations:
Wondering what kind of winter squash works best?
First of all, let's get our squash straight. Summer squash, like zucchini, is completely different in flavor and texture. You can absolutely make a summer squash casserole, but it is an entirely different recipe than my winter squash version.
One of the most familiar winter squashes is butternut. It's everyone's favorite and I've made a ton of recipes using it. Some of my favorites include Butternut Squash Risotto, Butternut Squash Soup, Savory Parmigiano Reggiano Butternut Squash Cake, Butternut Squash Leek Stuffing, and Homemade Butternut Squash Ravioli with Brown Butter Sage Sauce.
Another favorite of mine is an acorn squash. I use it to make a Stuffed Acorn Squash with sausage and all sorts of other yummy filling.
Spaghetti squash is considered a winter squash, but I wouldn't use it in this casserole recipe because the texture is too stringy.
Other winter squash varities you might consider using depending on availability: delicata, hubbard, pumpkin, kabocha (this is one that I used and the flesh is similar to pumpkin), or turban.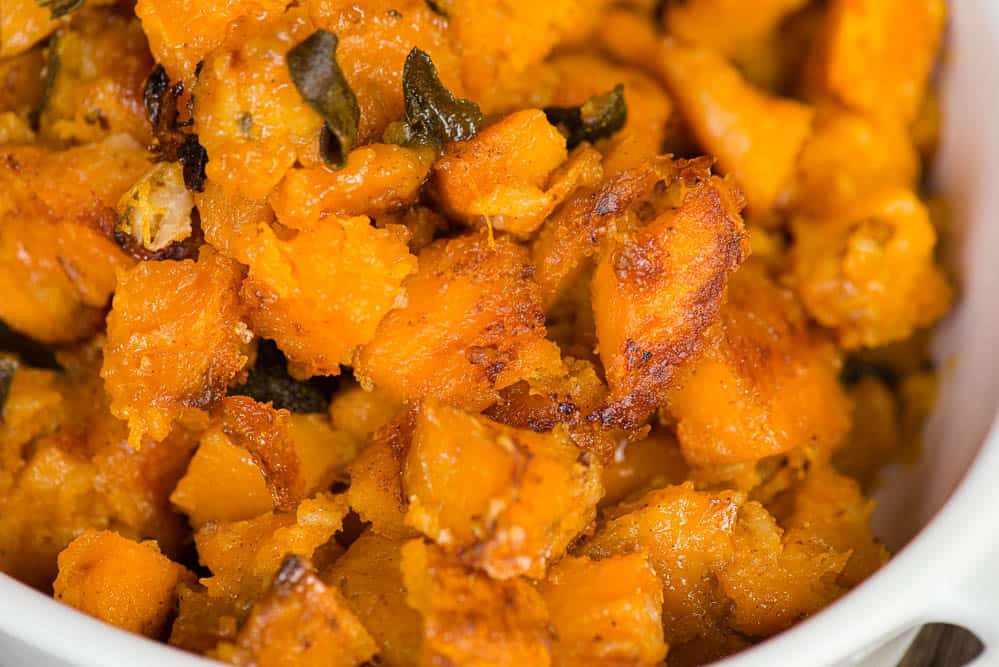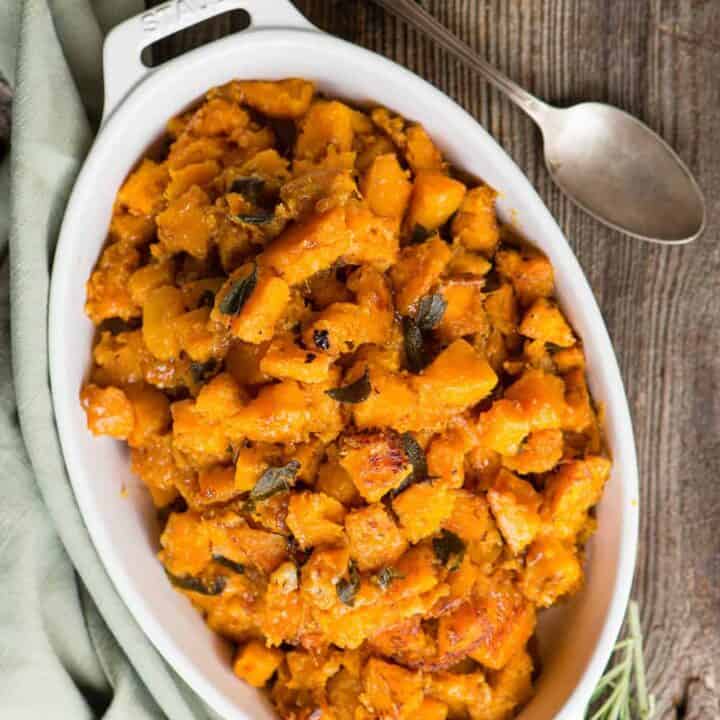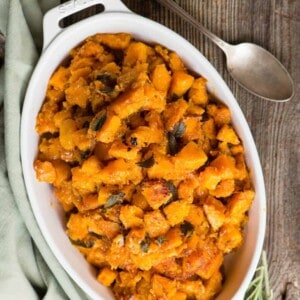 Winter Squash Casserole, with tender chunks of butternut and kabocha, sage butter sauce, and pure maple syrup, is the perfect cold weather side dish recipe.
Instructions
Preheat oven to 350 degrees F.

Cut each squash in half from stem to base by inserting sharp chef's knife and carefully rocking back and forth. Scoop out seeds and discard. Place squash halves face down on parchment lined baking sheet.

Bake in preheated oven for 30 minutes. The goal is not to fully cook the squash but to soften it enough to make peeling and cutting easier.

Once squash is cool enough to handle, use a vegetable peeler or sharp knife to remove skin. Cut flesh into 1-inch sized cubes. Transfer cut squash to a very large bowl.

Increase oven temperature to 425 degrees F.

In a small bowl, whisk together flour, corn starch, pumpkin pie spice, salt, and pepper. Add mixture to squash and toss to coat. Once all the pieces are lightly coated, discard any additional flour mixture, if any.

In a small sauce pan, melt butter with sage over medium high heat, whisking constantly. Continue to cook while continually whisking until butter gets hot and foamy, sage gets crispy, and brown solids start to form. Once you have brown butter, remove from heat and stir in maple syrup.

Pour butter mixture over flour coated squash, toss to coat, and then transfer to a parchment lined baking dish. Spread into a single layer.

Bake in 425 degree F oven for 30-45 minutes, turning at least once, until golden brown. Once squash is soft, you can increase heat to broil in order to get more of a top crust. Add additional salt, if desired. Transfer to a serving dish and serve hot.
Notes
You can use any variety of winter squash that your prefer including (but not limited to): butternut, kabocha, buttercup, acorn, carnival, delicata, or pumpkin
To make your squash extra golden brown and chewy, use two baking sheets and ensure there is room in between the individual pieces of squash.
Nutrition
Calories:
180
kcal
,
Carbohydrates:
28
g
,
Protein:
2
g
,
Fat:
8
g
,
Saturated Fat:
5
g
,
Cholesterol:
20
mg
,
Sodium:
268
mg
,
Potassium:
518
mg
,
Fiber:
3
g
,
Sugar:
11
g
,
Vitamin A:
7911
IU
,
Vitamin C:
22
mg
,
Calcium:
71
mg
,
Iron:
1
mg
Nutrition information is automatically calculated, so should only be used as an approximation.