Biscuits and Gravy Casserole is the best homemade breakfast!
This hearty comfort food recipe combines classic biscuits and gravy with a baked egg casserole. Since everything fromt the flaky buttermilk biscuit recipe to the country sausage gravy made with sage breakfast sausage is made from scratch, this breakfast recipe takes some time and effort but is definitely worth it!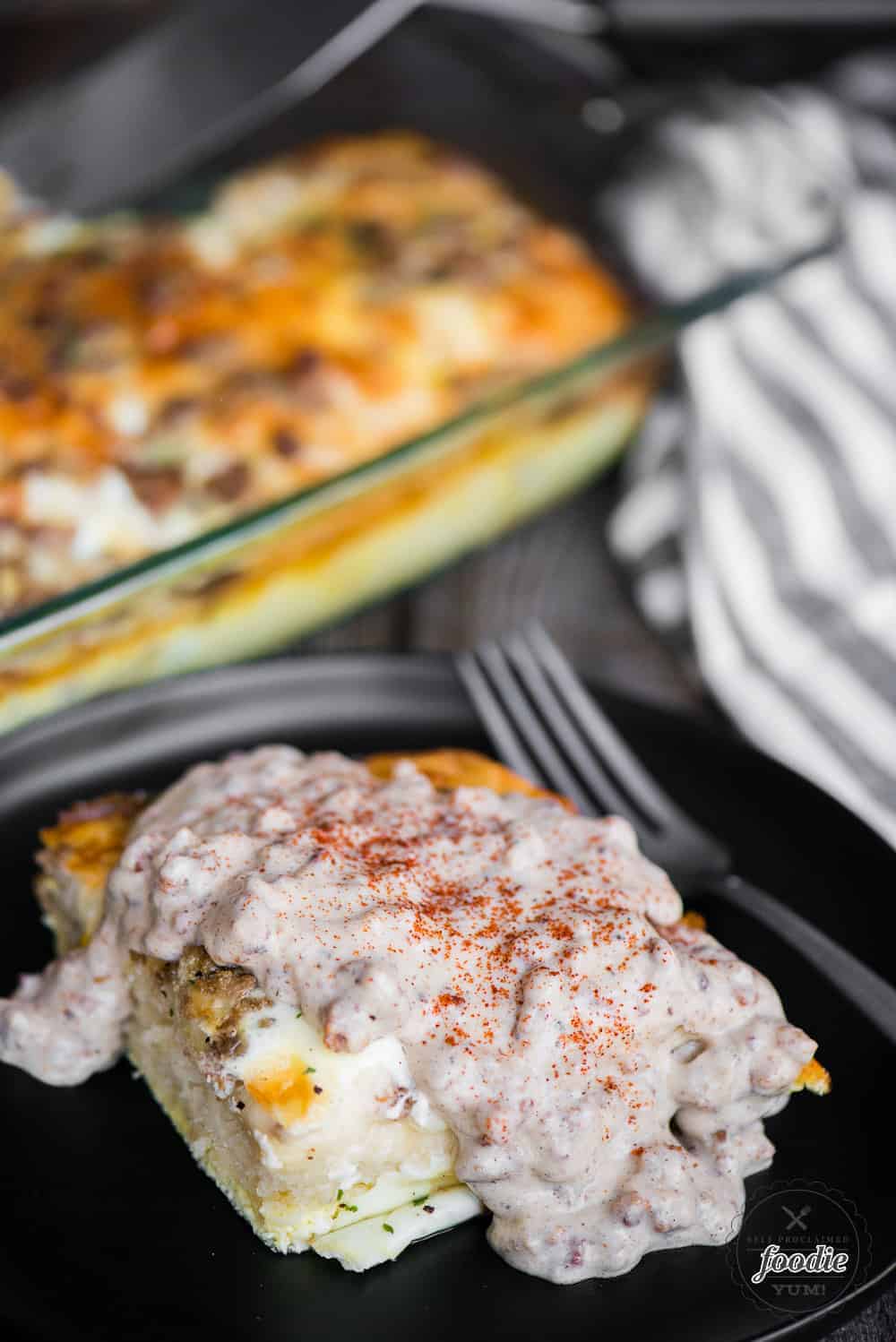 BISCUITS AND GRAVY BREAKFASTCASSEROLE
Pin it to your BREAKFAST BOARD to SAVE it for later!
Follow Self Proclaimed Foodie on Pinterest for more great recipes!
Biscuits and Gravy Casserole has everything I want in a hearty breakfast. Flaky buttermilk biscuits, eggs, cheese, crumbly breakfast sausage, and a savory sausage gravy. Oh my!
I'll be the last one to tell you this breakfast casserole is healthy, but it will definitely satisfy your taste buds and give you that comfort food satisfaction that you crave!
You can certainly "cheat" by buying a tube of pre-made biscuit dough, buying breakfast sausage that has been pre-mixed from the meat department, or *gasp* using gravy from a mix, but nothing will compare from the from scratch goodness of this homemade breakfast casserole recipe!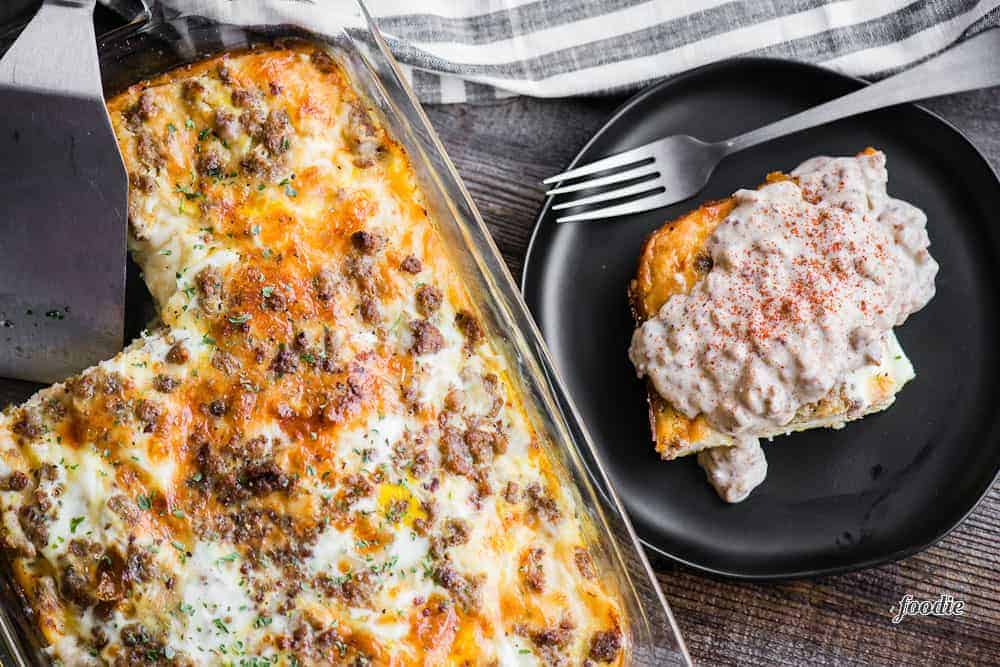 How to make this homemade biscuits and gravy breakfast casserole:
This is a multistep process, but really isn't that difficult. I've tried to write an easy-to-follow comprehensive recipe below, but here's a quick summary.
The first step is to make the buttermilk biscuit dough. The trick to a flaky biscuit is to start with very cold ingredients. That means ice cold butter and I even recommend ice cold flour. I also grate the butter into the flour. My recipe calls for using buttermilk, but if you don't have it, you can substitute by adding a tablespoon of lemon juice to regular milk and letting it sit for a few minutes.
Be sure not to overwork your biscuit dough. My process has you fold it over a few times. This makes those wonderful layers and is definitely worth it. You'll add the dough to the bottom of a 9x13 baking dish.
Next you'll make your breakfast sausage. I prefer to start with ground pork and add my own seasonings. This way it tastes exactly how I want it to taste. Just the right amount of sweet, spicy, and savory. For the breakfast casserole, I like to use about a third of the cooked sausage in the casserole and the remaining amount in the sausage gravy.
For the casserole, I top the biscuit dough with the cooked sausage, some shredded cheese (I found equal parts cheddar and pepper jack was perfect), and eggs and milk that have been whisked together. I don't know how, but the biscuit portion floats to the top and the egg sinks to the bottom during the cooking process.
While the casserole bakes, I make the sausage gravy. That way it's hot and ready to top the casserole when it comes out of the oven.
The final result? Biscuits and gravy casserole!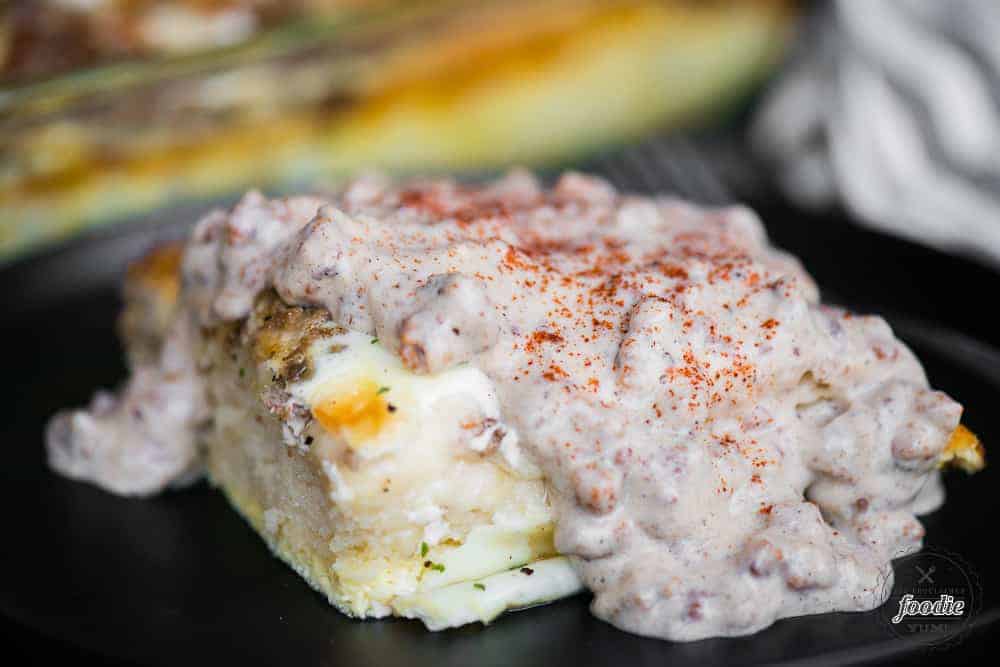 Love decadent brunch and breakfast recipes?
Be sure to check out these other recipes you'll love: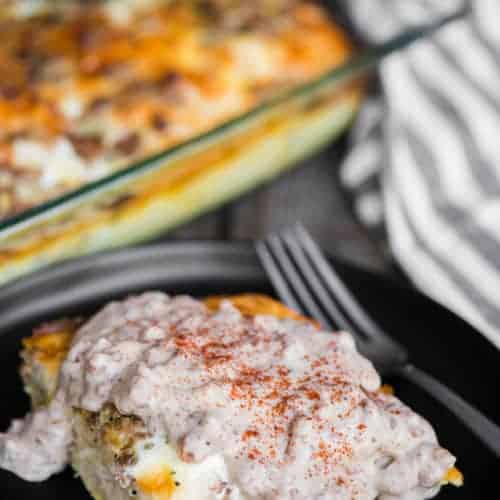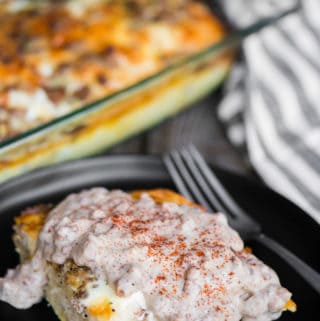 Biscuits and Gravy Casserole
Biscuits and Gravy Casserole is the best homemade breakfast! This hearty comfort food recipe combines classic biscuits and gravy with a baked egg casserole.

Print
Pin
Rate
Total Time:
1
hour
5
minutes
Hover to scale:
12
servings
Ingredients
How to make the biscuits:
2

cups

all-purpose flour

1

tablespoon

baking powder

1

teaspoon

salt

1

tablespoon

sugar

6

tablespoons

unsalted butter

(extra cold)

1

cup

buttermilk
How to make the sausage (will go in casserole and gravy):
1 1/2

pounds

ground pork

1 1/2

T

sage

(dried or minced fresh)

1 1/2

tsp

kosher salt

1 1/2

tsp

brown sugar

1

tsp

pepper

(freshly ground)

1/2

tsp

marjoram

(fresh if you have it)

1/8

tsp

cloves

(ground)
For the casserole:
1/3

of the cooked sausage from above

1/2

cup

cheddar cheese

(grated)

1/2

cup

pepper jack cheese

(grated)

8

whole

eggs

(beaten)

1

cup

whole milk
For the gravy:
2/3

of the cooked sausage from above

3

tbsp

butter

1/4

cup

all-purpose flour

3

cups

whole milk
Instructions
To make the biscuit dough:
In a medium sized bowl, combine flour, baking powder, salt, and sugar. For best results, freeze mixture for at least 15 minutes to get it really cold. Add in butter by grating cold butter over dry ingredients. Mix well to ensure each piece of butter is coated with the flour mixture.

Make a well in the middle and add the buttermilk. Use your hands to mix just enough to make all of the ingredients.

Dump dough onto a lightly floured surface and gently flatten out to a rectangle that is about 9 inches long and 5 inches wide. Fold the long sides over in thirds so that you now have a rectangle that is 3 inches long and 5 inches wide. Repeat process two more times. This is how you get the layers. Flatten the final rectangle so that its about an inch thick. Place inside a 9x13 baking dish and press down to expand the dough so that it covers the bottom of the dish.
To make the sausage:
Combine all sausage ingredients in a large bowl and mix well to combine. Cook over medium high heat in heavy bottom pan until brown and crumbly, about 10-15 minutes.
To assemble the casserole:
Add about 1/3 of the cooked sausage to the top of the bisuit dough. Cover with grated cheese.

Whisk together eggs and milk in bowl and pour on top of everything in baking dish.

Bake in preheated 425 degree F oven for 20-25 minutes or until golden brown.
To make the gravy:
While the casserole is cooking, make the gravy. In the same pan you cooked the sausage, combine the remaining 2/3 quantity of sausage with the butter over medium high heat. Once the butter has melted, sprinkle sausage with flour, stir, and allow to cook for several minutes.

Add the milk and stir. Continue stirring occasionally over medium heat until gravy thickens, 5-10 minutes.
To serve:
Remove casserole from oven when done cooking. Cut into squares. Serve with hot country sausage gravy on top.
Notes
Original Flaky Buttermilk Biscuit recipe: https://selfproclaimedfoodie.com/flaky-buttermilk-biscuits/
Original Sage Breakfast Sausage recipe: https://selfproclaimedfoodie.com/sage-breakfast-sausage/
Original Country Sausage Gravy recipe: https://selfproclaimedfoodie.com/country-sausage-gravy/
I highly recommend making your own flaky buttermilk biscuit dough from scratch, but you can always substitute with one package of jumbo biscuit dough in a tube.
NUTRITION INFORMATION
Calories:
417
kcal
|
Carbohydrates:
25
g
|
Protein:
17
g
|
Fat:
27
g
|
Saturated Fat:
13
g
|
Cholesterol:
85
mg
|
Sodium:
655
mg
|
Potassium:
428
mg
|
Sugar:
6
g
|
Vitamin A:
525
IU
|
Vitamin C:
0.5
mg
|
Calcium:
245
mg
|
Iron:
1.9
mg