Homemade Cinnamon Rolls are the absolute best! Scratch made ooey gooey brioche dough wrapped in a cinnamon filling and topped with cream cheese icing. YUM.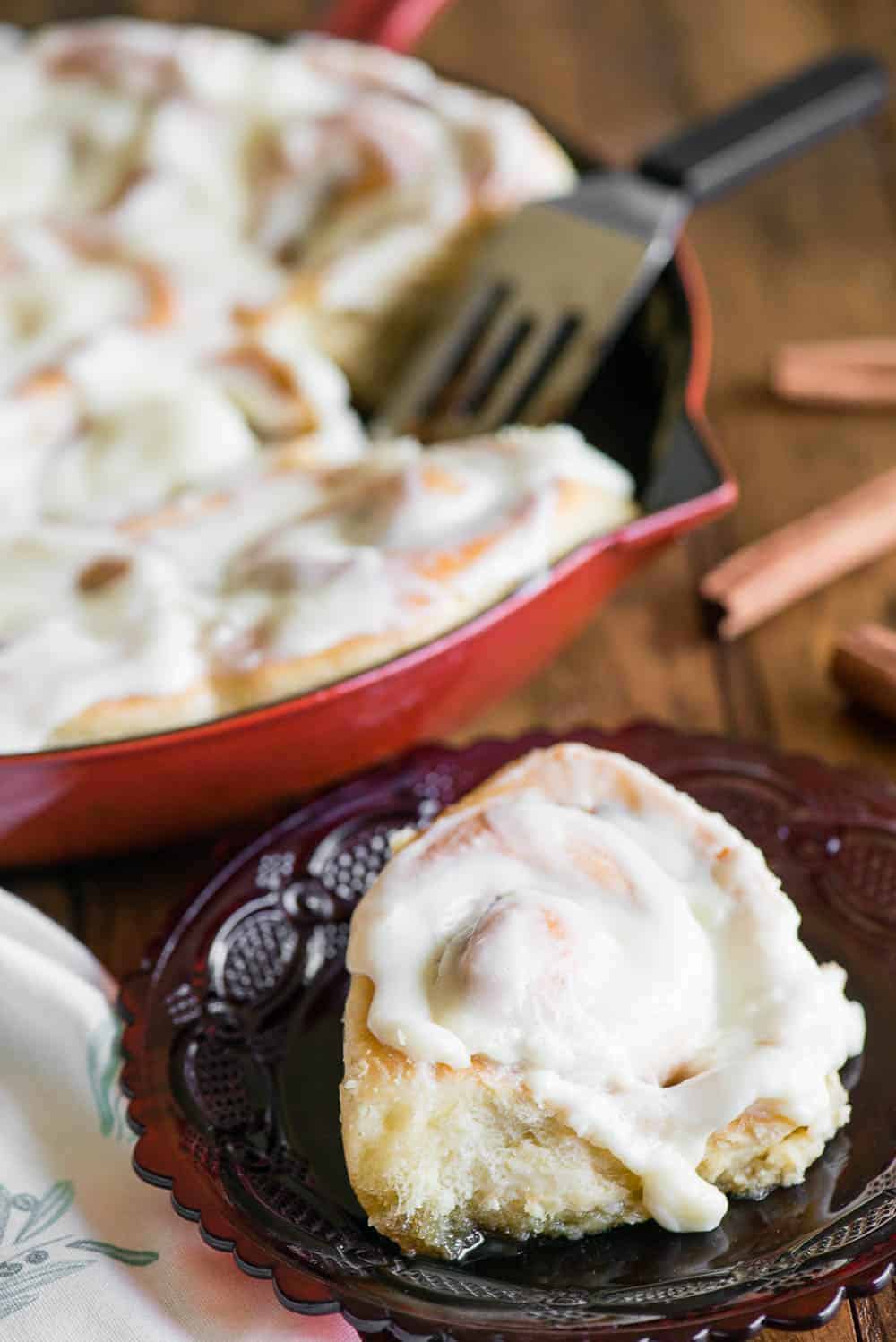 Is there really anything better than cinnamon rolls from scratch? I think not. I have made plenty of cinnamon rolls in my day, however, that weren't very good.
I have learned over the years that the only way all the cinnamon roll calories are worth it is if not only the dough is insanely soft and sweet, but the cinnamon roll frosting and filling are to die for as well.
I've made this sweet recipe more than enough times to share all my tips and tricks so that you'll have perfect results too. If you were looking to make super tasty cinnamon rolls, look no further. This is the best recipe you'll find.
Just as naughty as my famous Granny's Monkey Bread Recipe, but dare I say better? This recipe takes time but is worth every single calorie. Make them any time of year, but they are especially good on Christmas morning...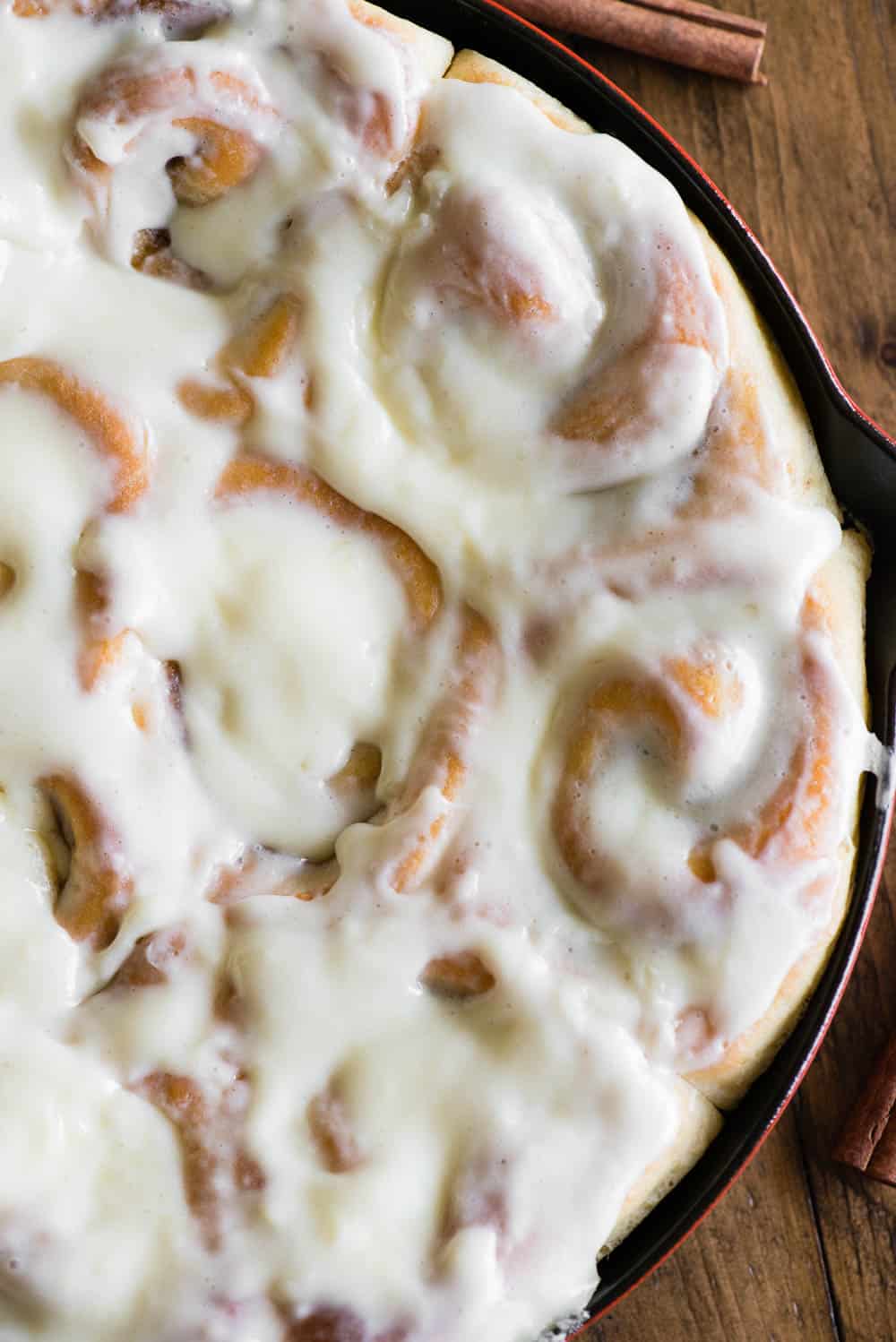 Ingredients needed:
Some of these ingredients make a repeat appearance throughout the recipe since you'll be making dough, filling, and frosting. Here's the list of what you'll need so you can check the pantry and refrigerator before starting.
whole milk
granulated, confectioners, and brown sugars
cinnamon
active dry yeast
large eggs
flour
salt
butter
heavy cream
cream cheese
How to make the dough:
These scratch made ooey gooey cinnamon rolls are a multi-step recipe. Not challenging to make, but there are a lot of steps.
Start by making the cinnamon roll dough:
My soft sweet brioche dough I use for my rolls starts with warm milk mixed with a bit of sugar and yeast. Make sure your yeast is good!
Next I mix in three whole room temperature eggs. This many eggs is what makes the roll so soft!
Finally you'll mix in the flour and then some butter. Once it's all incorporated, you'll knead the dough for 5-10 minutes until it's smooth and stretchy. I use my stand mixer with the dough hook for this step instead of kneading by hand. You'll cover and refrigerate for a couple hours.
Meanwhile you will prepare the cinnamon roll filling and the cream cheese frosting.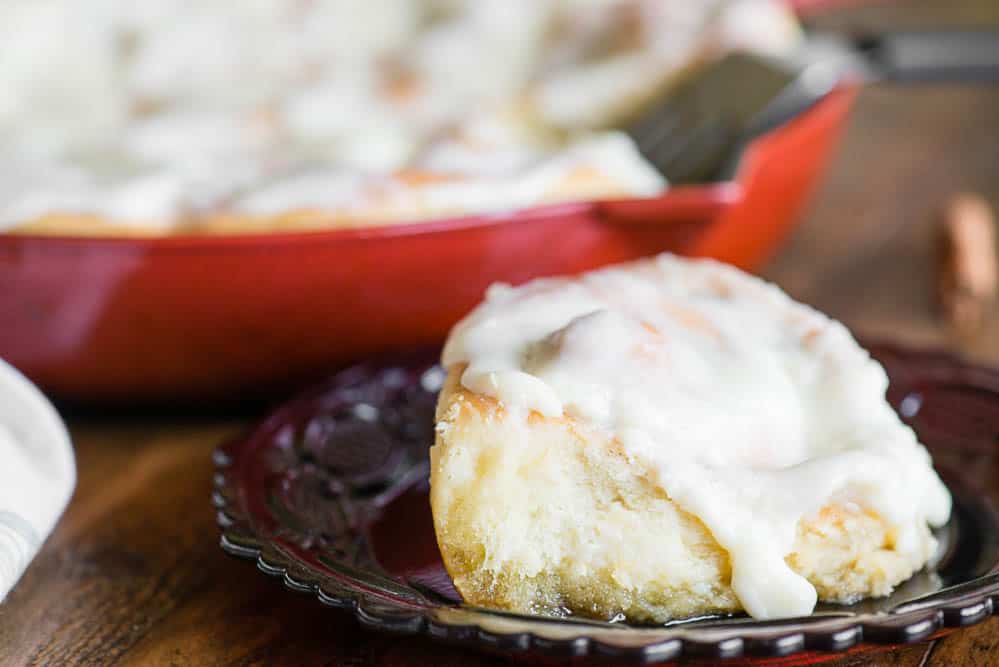 How to make the best icing:
My preference is to make cream cheese frosting for cinnamon rolls. You can go with a simple glaze, however I think this frosting really sets these soft rolls right over the edge.
This frosting recipe is a simple combination of cream cheese and butter held together with powdered sugar, vanilla, and heavy cream.
Be sure your cream cheese and butter are both softened and mix them extremely well together before adding the remaining ingredients.
You can vary the sweetness with the amount of sugar you add. You can also make this a thinner frosting by using milk instead of heavy cream.
How to roll and slice them:
This is the part I always struggled with when I was a novice cinnamon roll baker. The size and shape of your rolls depends on this step.
 You'll set your dough down on a clean surface covered with a bit of flour. Work the flour into the dough so it is no longer sticky.
Next, roll the dough into a rectangle that is about 12 inches tall and 18 inches wide. This is the hardest step because the dough is stretchy and doesn't want to stay in this shape. Just keep at it and get an extra set of hands to help, if available.
You'll cover this entire surface with the filling mixture. Just leave a bit at the edge closest to you so that the dough can seal to itself. Use those hands!
This is now the step where you roll your dough into a log. Start at the end farthest from you and tightly start rolling the dough towards you. Once it's in a log, use your hands to squish and roll as needed to get it into the most uniform log shape you can make.
To slice the cinnamon rolls, use a sharp serrated edge knife and make them about 1 to 1 ½ inches thick. The filling will stick to the knife so I wipe the blade in between each cut and coat it with flour before slicing.
Place the cut rolls in your prepared pan with the pretty swirl side facing up.
At this point you'll cover the pan and let the rolls rise for about 45 minutes. If you're making overnight cinnamon rolls, you won't let this second rise happen just yet.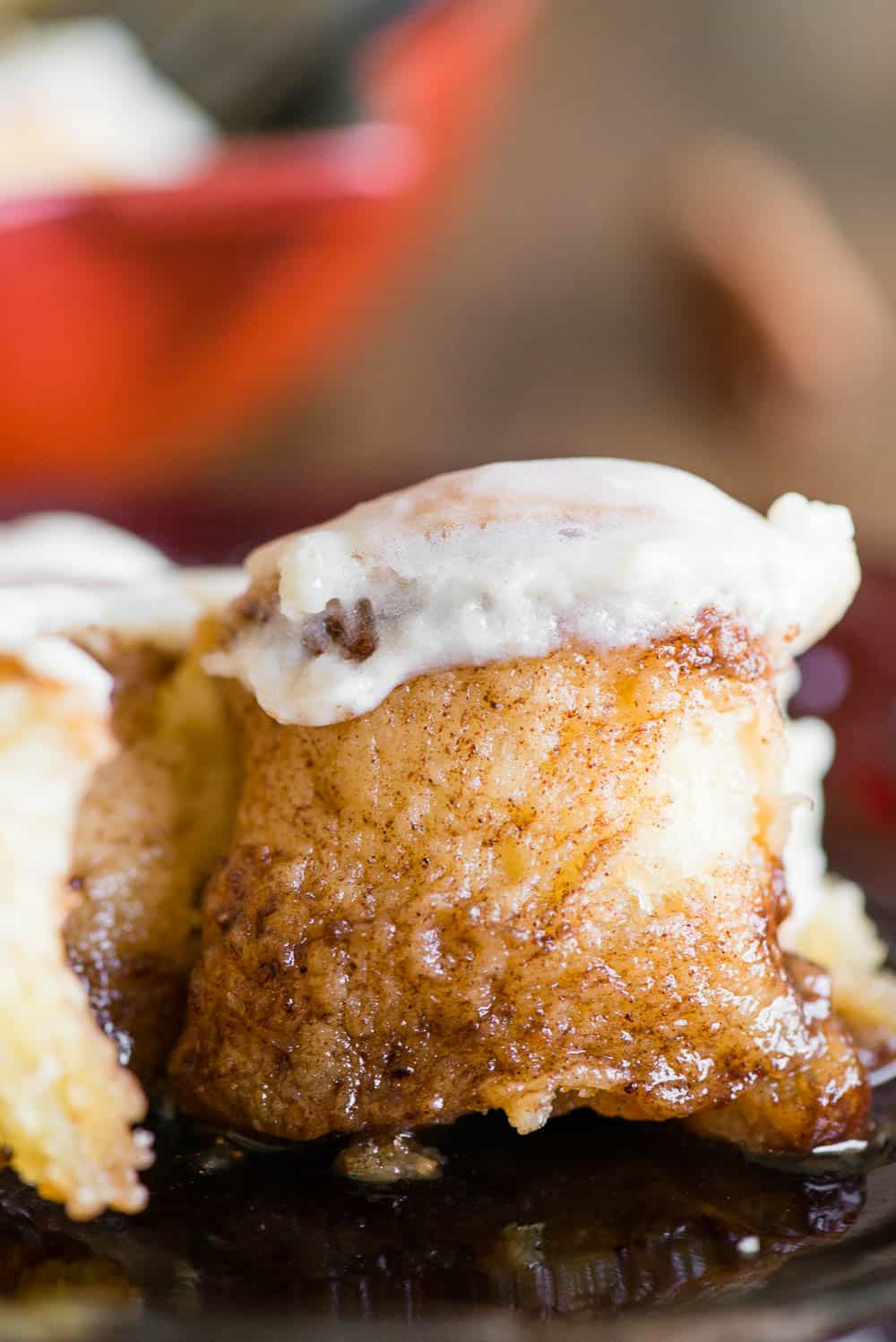 Overnight cinnamon rolls:
Since cinnamon rolls are a breakfast treat, and since they take so long to prepare with the mixing, rising of the dough (twice), rolling, cutting, baking, etc., preparing them the day before is often a preference.
To make overnight cinnamon rolls, simply follow the recipe all the way up to the point where the rolls are cut and placed into your baking dish.
Then, instead of letting them do their final rise in a warm area just before baking, you'll cover and refrigerate overnight instead.
Then, to bake the next morning, you'll simply remove them from the refrigerator and allow the rolls to come to room temperature before baking. They will have risen slowly in the refrigerator overnight and will finish the process as they come to room temperature.
Cooking tips:
There's nothing worse than putting this much time and effort into making something like cinnamon rolls from scratch, only to have them come out of the oven doughy and under cooked.
There are two main tricks that will give you perfectly cooked cinnamon rolls every time:
Be sure to place the cinnamon rolls in the center of your oven. If they are too high, the tops will get too browned while the bottoms are under cooked.
Use a thermometer to ensure the center of the dough reaches 190 degrees F. I can't tell you how many times I've trusted my eyes thinking they were done, only to have them completely sink in the middle because they weren't fully cooked. Always trust the thermometer.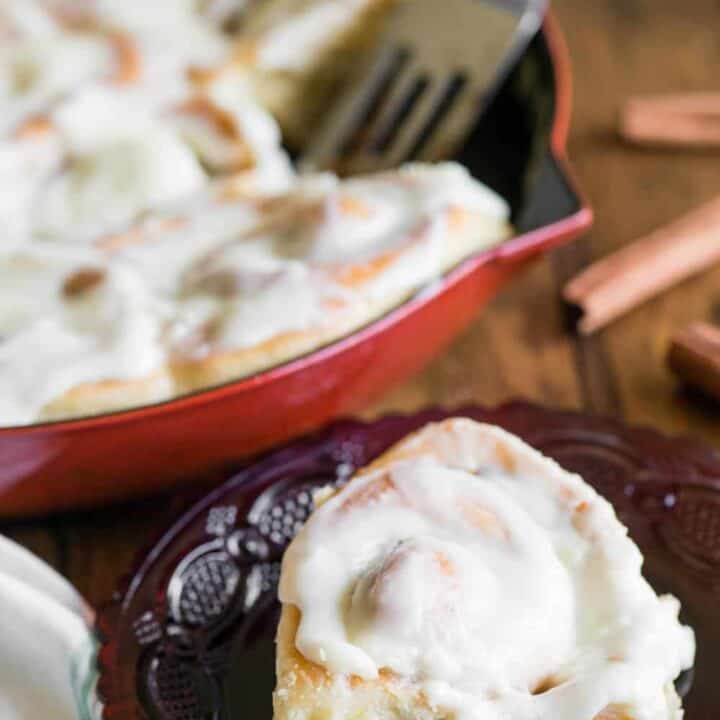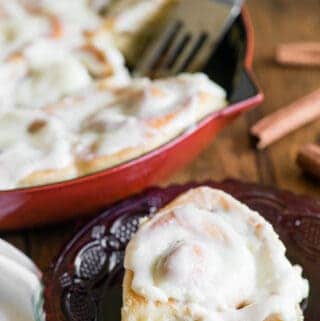 Cinnamon Rolls
Homemade Cinnamon Rolls are the absolute best! Scratch made ooey gooey brioche dough wrapped in a cinnamon filling and topped with cream cheese icing. YUM.
Print
Pin
Rate
Hover to scale:
12
servings
Ingredients
For the brioche dough:
1

cup

whole milk

(warm (about 110 degrees F))

¼

cup

granulated sugar

¼

ounce

active dry yeast

(one packet)

3

large eggs

(slightly beaten)

3 ¼

cups

all purpose flour

((additional flour might be needed, see instructions))

1

teaspoon

kosher salt

½

cup

unsalted butter, softened

vegetable oil spray
For the pan (optional)
¼

cup

butter

(melted)

¼

cup

heavy cream

5

tablespoons

brown sugar
For the filling:
1

cup

brown sugar

(packed)

2

tablespoons

granulated sugar

2 ½

tablespoons

cinnamon

(or pumpkin pie spice)

¼

teaspoon

kosher salt

¾

cup

butter, very soft
For the cream cheese frosting
8

ounces

cream cheese, softened

¼

cup

unsalted butter

(softened)

1

cup

powdered sugar

1

teaspoon

vanilla extract

¼

teaspoon

kosher salt

¼

cup

heavy cream
Instructions
To make the brioche dough:
Heat milk in small pot over low heat until it reaches about 105-110 degrees F. Remove from heat. Stir in sugar and sprinkle yeast on top. In about 5 minutes or so, your yeast should start to look slightly foamy. If there's no reaction at all, your yeast might be bad.

Mix the eggs into the milk mixture.

Add flour and salt to the bowl of a stand mixer. With the paddle attachment on and the mixer running on medium low speed, slowly add the milk/egg mixture until everything is combined. With the mixer still running, add butter one tablespoon at a time until fully mixed. Scrape bowl to ensure everything is well incorporated. Remove paddle and attach dough hook. Use dough hook to knead the dough on medium speed for about 5-10 minutes. The dough should start to look very smooth and stretchy. If dough is still wet and not pulling away from the sides of the bowl, continue to add flour (1 tablespoon at a time) until the dough comes together into one smooth and sticky ball.

Use vegetable oil spray to coat the bottom of a new bowl. Transfer dough to bowl. Dough should be very sticky, so use a silocon scraper to get it all out of the stand mixer bowl. Cover with plastic wrap and refrigerate at least 2 hours.
If coating bottom of pan with optional naughty layer:
Combine melted butter, heavy cream, and brown sugar in the base and up the sides of an 11x17 baking dish. Set aside. Alternatively, you can use an extra large oven safe skillet like I did to melt the butter over low heat. Then add the heavy cream and sugar, mix, and set aside.
Prepare the filling:
While the dough is chilling, mix together the sugars, cinnamon (or my preferred pumpkin pie spice), and salt. Mix in very soft butter. Mixture should look like a thick paste.
Prepare the cream cheese frosting:
Also while the dough is chilling, make the frosting. Combine the cream cheese and butter in the bowl of a stand mixer. Using the whisk or paddle attachment, blend on high speed until fully mixed, light, and fluffy.

Add the powdered sugar, vanilla, and heavy cream. Mix on low. Once incorporated, increase the mixing speed and beat to combine until light and fluffy.
To prepare cinnamon rolls:
Remove dough from refrigerator. It should have risen while chilling. Spread a thin layer of flour onto a clean working surface. Transfer dough to floured surface, an knead a few times. Use enough flour to prevent dough from sticking.

Roll dough into a large rectangle that's about 12 inches by 18 inches and uniform thickness. Dough will be very elastic, so you might have to get creative and use both a rolling pin and your hands to stretch. It will want to pull back, but keep at it.

Dump filling mixture on top of dough and use fingers to spread across entire surface.

Roll the dough into a log. Starting at the long edge, roll all the way to the end and finish with the seal side down. At this point I like to use my hands to shape the log into a more uniform shape (sometimes parts are skinnier than others).

To slice the rolls, use a sharp serrated edge knife and cut slices that are about 1-1 ½ inches thick. The filling will stick to the knife, so before each cut, coat the knife with flour.

Place the rolls in your prepared pan with the prettiest swirl of each roll facing up.

Cover pan with plastic wrap and allow to rise for about 45 minutes. If your house is cold, you can preheat your oven to 200 degrees F and as soon as it's warm, turn it off and open the door. Once the inside of the oven feels warmer than your kitchen (but not hot enough to melt the plastic wrap), place the covered rolls in the slightly warmed oven and allow them to rise in there.
To bake the cinnamon rolls:
Preheat oven to 350 degrees F (if you were allowing your rolls to rise in the oven, remove them before preheating the oven). Arrange your oven racks so that they rolls will bake in the middle to lower middle section of the oven. This will ensure they'll get cooked through without getting overly browned on top.

Cook in preheated oven until golden brown on top and the dough reaches a temperature of 190 degrees F (this is important because they may look done but could still be doughy in the center). Total cooking time may range from 20-25 minutes or so depending on your oven, but be sure to trust the thermometer over recommended cooking time.

Remove cooked rolls from oven and add frosting. Please note that this recipe makes a lot of frosting. My family likes it when I only use about half, but their eyes always light up when I set the extra frosting out in case they want to add a bit more.

Serve warm and enjoy!
Notes
To store leftover rolls, ensure they are fully cooled and store in airtight container. Can be left out at room temperature, but they will last much longer if refrigerated or frozen. To make rolls ahead of time, follow all cooking steps up to the point where you add the rolls to the pan and cover. Instead of allowing to rise, refrigerate overnight. To bake the next day, allow rolls to come to room temperature and then bake and frost, per the directions.
NUTRITION INFORMATION
Calories:
479
kcal
|
Carbohydrates:
67
g
|
Protein:
6
g
|
Fat:
21
g
|
Saturated Fat:
12
g
|
Cholesterol:
97
mg
|
Sodium:
428
mg
|
Potassium:
129
mg
|
Fiber:
1
g
|
Sugar:
39
g
|
Vitamin A:
715
IU
|
Calcium:
81
mg
|
Iron:
2.1
mg
Related recipes:
Love breakfast treat recipes? You'll love these decadent favorites: