Acai bowls are a quick, easy, nutritious and healthy breakfast recipe packed full of delicious super foods.
It's a vegan smoothie in a bowl with toppings!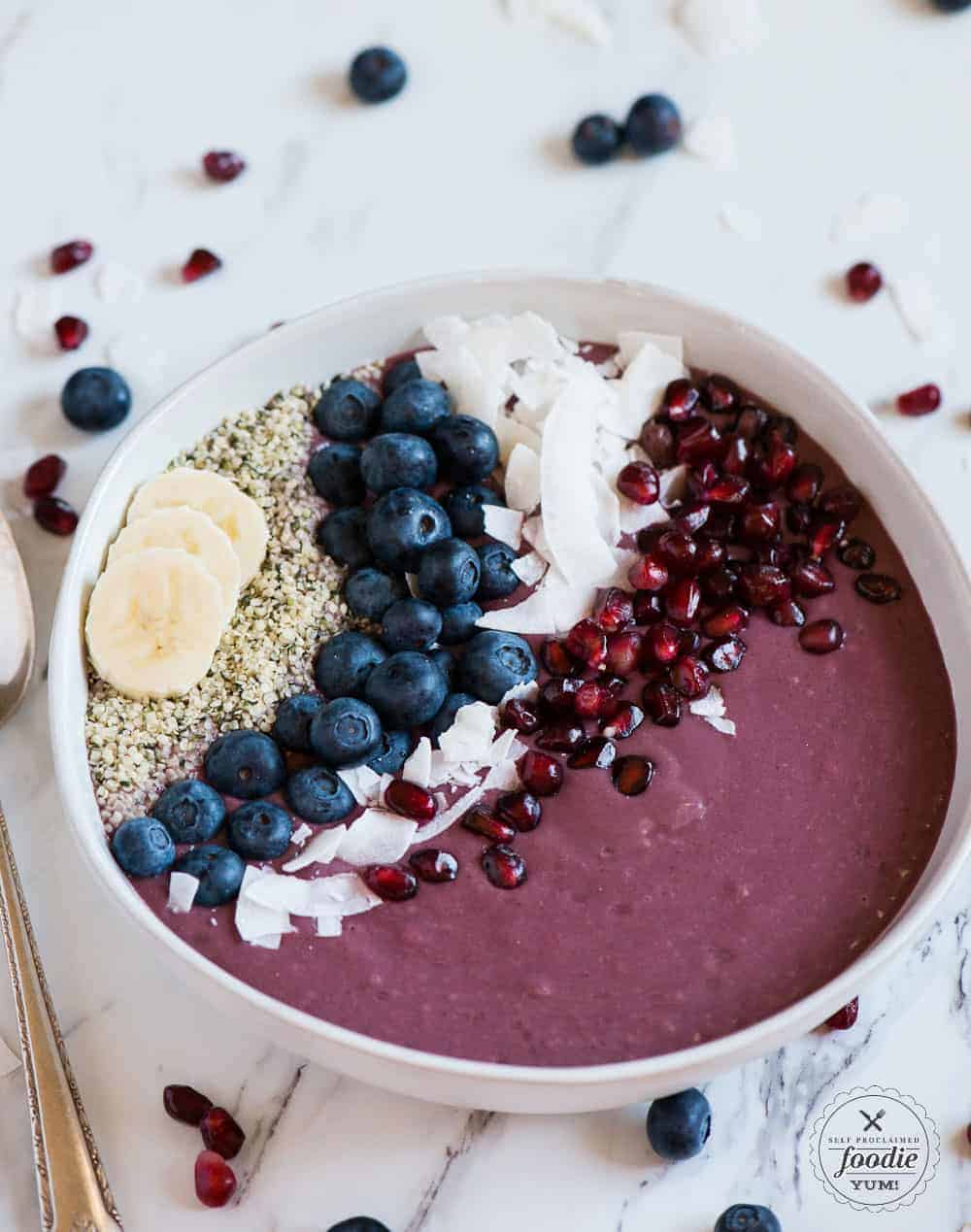 Açaí bowls are simply smoothies made with Açaí and served in a bowl with toppings. As opposed to the not-so-healthy breakfasts like monkey bread, belgian waffles, and eggs benedict that frequent our breakfast table, Açaí bowls are a super fast, super easy, super healthy, and surprisingly delicious way to start your morning!
What is Açaí?
Before I made this Açaí bowl recipe, I had no idea either, so let me share what I've learned with you.
First of all, I've been pronouncing it completely wrong. I was calling it ah-kye. Turns out it's pronounced as ah-sigh-EE. Glad I didn't embarrass myself ordering it incorrectly as some health food juice bar!
Açaí berries come from Açaí palm trees that grow in South American rainforests. They are a lot like grapes, but they have really big seeds. In fact, the seed portion takes up about 80% if the berry, but the flesh and the skin are packed with nutrients and are low in calories.
As you might guess from the dark color, Açaí berries are packed with antioxidants and we all know those are good for fighting cancer, among all sorts of other health benefits.
Acai berries are also full of fiber, healthy omega-3 fatty acids, and calcium.
They're known as "purple gold".
Where can you buy Açaí?
From what I understand, you can buy both Açaí puree and Açaí powder. I found a puree packet with the frozen fruits at Trader Joe's. I'm guessing other health food stores and major super markets will carry the puree in the same section.
I've never used the powder before but I'm sure you can find it on Amazon or in the vitamin section of a health food store.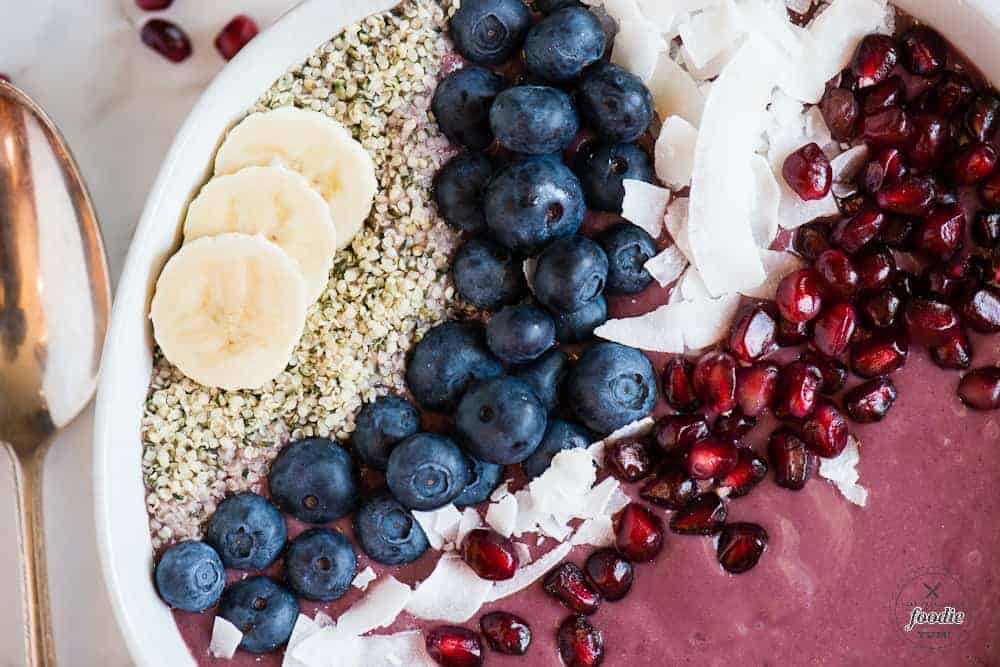 How do you make an acai bowl?
There are countless ways to make an acai bowl. You need some kind of liquid. This can range from a high-protein greek yogurt (okay, not really liquid but sort of), to milk to a nut or coconut milk. I chose to use unsweetened almond milk because it's my preferred beverage to add to smoothies. Plus, if anyone was looking for a vegan acai bowl recipe, I wanted this one to work.
From there, people typically add some additional fruit. I found that a ripe banana and some frozen mango chunks added just the right amount of sweet and thickness to my acai bowl.
The acai smoothie is only half of the acai bowl. If you're like me and love a little texture, then you'll love serving your acai smoothie in a bowl smothered with toppings!
The best toppings:
I prefer a mixture of soft and chewy with a little crunch mixed in.
You can't go wrong by adding additional fruit to your acai bowl. I chose fresh pomegranate seeds along with fresh blueberries - both super foods. I also added sliced banana, but I used a banana that was not as ripe as what got blended with the acai puree.
As far as the non-fruit options to top your healthy acai bowl, I love hemp hearts on just about everything. They not only taste fantastic but they are loaded with healthy stuff! I also topped my acai bowl with coconut flakes for both the taste and the texture.
You can add anything else that sounds good. Go crazy!
How many calories are in an acai bowl?
Well, that completely depends on what ingredients you blend with your acai but also what you choose to top your acai bowl with.
This acai bowl I created here was big enough for two full servings, and each of those servings comes out to roughly less than 250 calories. This acai bowl recipe is a great way to start your morning full of healthy super foods!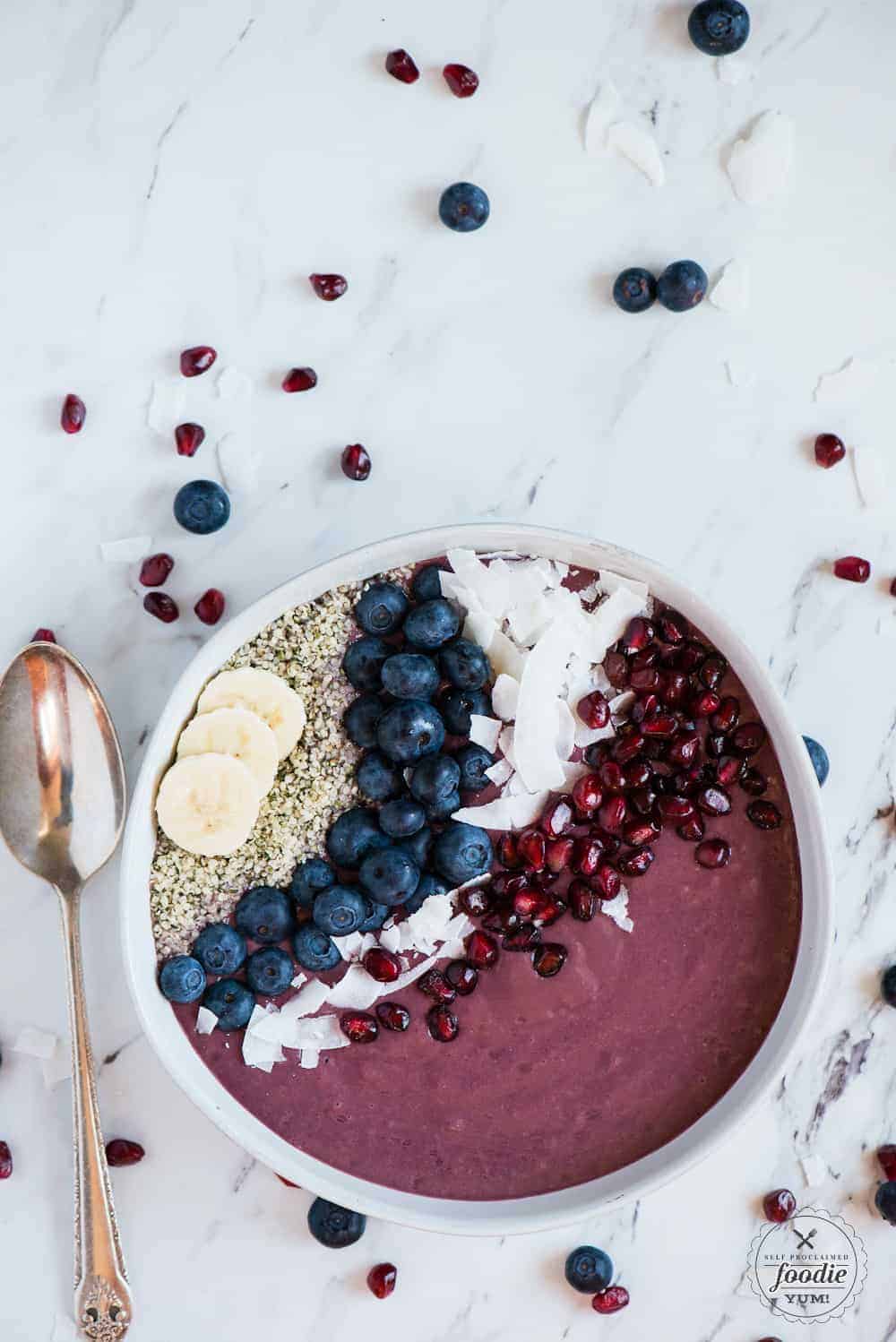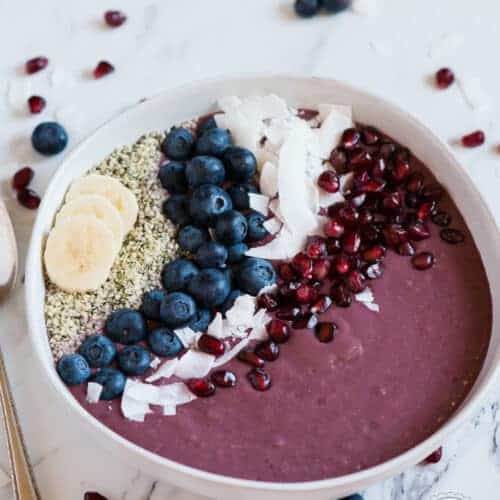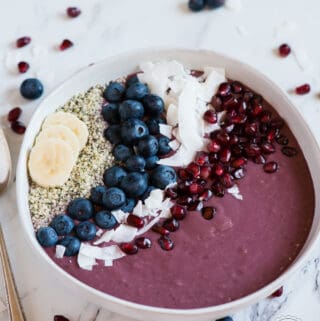 Acai Bowl
Acai bowls are a quick, easy, nutritious and healthy breakfast recipe packed full of delicious super foods. It's a vegan smoothie in a bowl with toppings!
Print
Pin
Rate
Hover to scale:
2
servings
Ingredients
Acai smoothie bowl:
3.52

ounce

acai puree

(frozen)

1

cup

unsweetened vanilla almond milk

1

cup

mango

(frozen)

1

large

banana

(ripe)
Toppings:
1

tbsp

hemp hearts

1

tbsp

coconut flakes

1

tbsp

pomegranate seeds

2

tbsp

blueberries

(fresh)

1/4

banana

(sliced)
Instructions
Run hot water over the package of frozen acai puree to thaw it enough to break into chunks. Add to blender with almond milk, mango, and banana. Blend until smooth. Pour into two bowls.

Top with toppings. You can add anything else you'd like including nuts, granola, berries, etc.
NUTRITION INFORMATION
Calories:
244
kcal
|
Carbohydrates:
42
g
|
Protein:
5
g
|
Fat:
7
g
|
Saturated Fat:
1
g
|
Sodium:
167
mg
|
Potassium:
452
mg
|
Fiber:
5
g
|
Sugar:
29
g
|
Vitamin A:
1040
IU
|
Vitamin C:
40.3
mg
|
Calcium:
182
mg
|
Iron:
1.5
mg