Enjoy the best Strawberry Banana Smoothie! Made from four simple ingredients available year round, this healthy vegan drink is so delicious!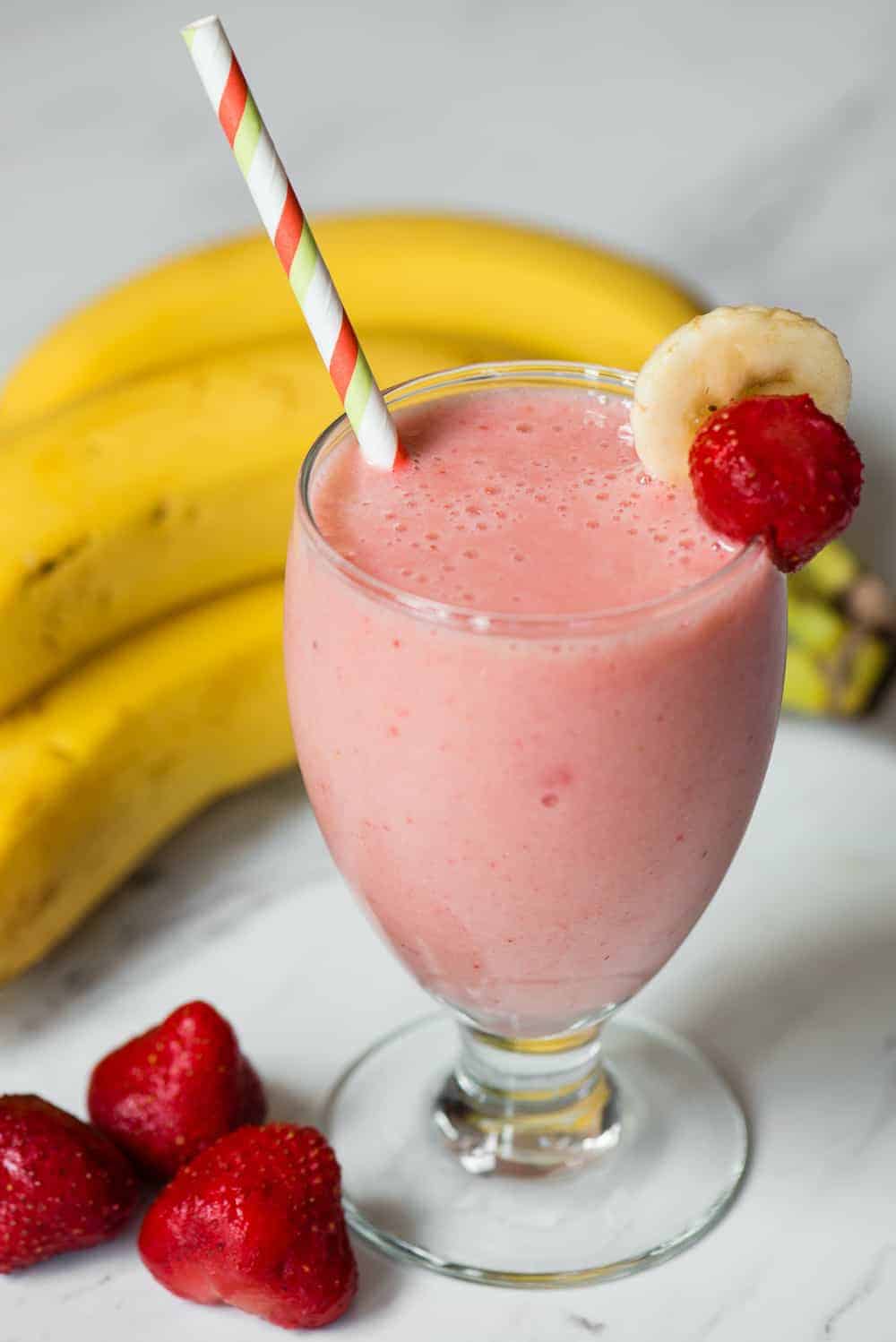 Why this recipe works:
Not gonna lie. Most smoothies I make at home consist of fruit, tons of spinach, all kinds of seeds, and some kind of liquid to hold everything together.
My main smoothie goal is to pack in as many nutrients as possible which means that they aren't always super delicious. My plan was different with this Strawberry Banana Smoothie.
Sure, this smoothie is still made of good wholesome quality ingredients, but it tastes like an expensive tropical drink you order pool side.
What if strawberries aren't in season?
You've heard me talk about how crazy good Oregon strawberries are. Need extra convincing? Just check out my fresh strawberry pie or my classic strawberry shortcake recipes. Oregon strawberries are the best in the world. Dark ruby red all the way through, perfectly sweet and juicy, and the absolute best fresh, cooked, or frozen.
Sadly, the growing season here in Oregon where the best strawberries in the world are grown is quite short, especially for my favorite varieties like the Hoods.
Have no fear! Strawberries are available year round in the freezer section. Here in Oregon, local farms like Stahlbush Island Farms, Willamette Valley Fruit Co, and Sturm's Berry Farm are widely available in local grocery stores.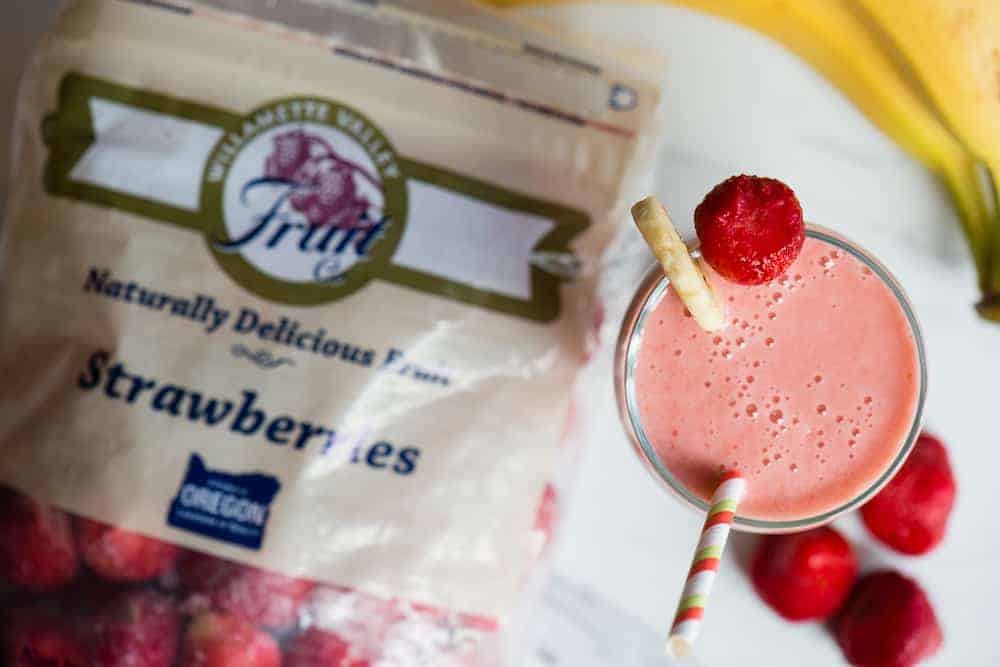 Why are frozen Oregon strawberries so good?
Pop on over to oregon-strawberries.org to see why they're so amazing. Here are a few of my favorite Oregon strawberry tidbits:
Grown on family farms and picked at the peak of ripeness, Oregon strawberries are widely known for exceptional taste, and deep red color throughout
The qualities that make our strawberries so wonderful to eat, make them difficult to ship long distances when fresh.
More than 90% of our strawberries are frozen with 24 hours of being picked, to lock in maximum taste, color, and nutrition which means it's really Oregon strawberry season 365 days a year!
There are many different varieties of Oregon strawberries to ensure ripe, fresh strawberries from May to September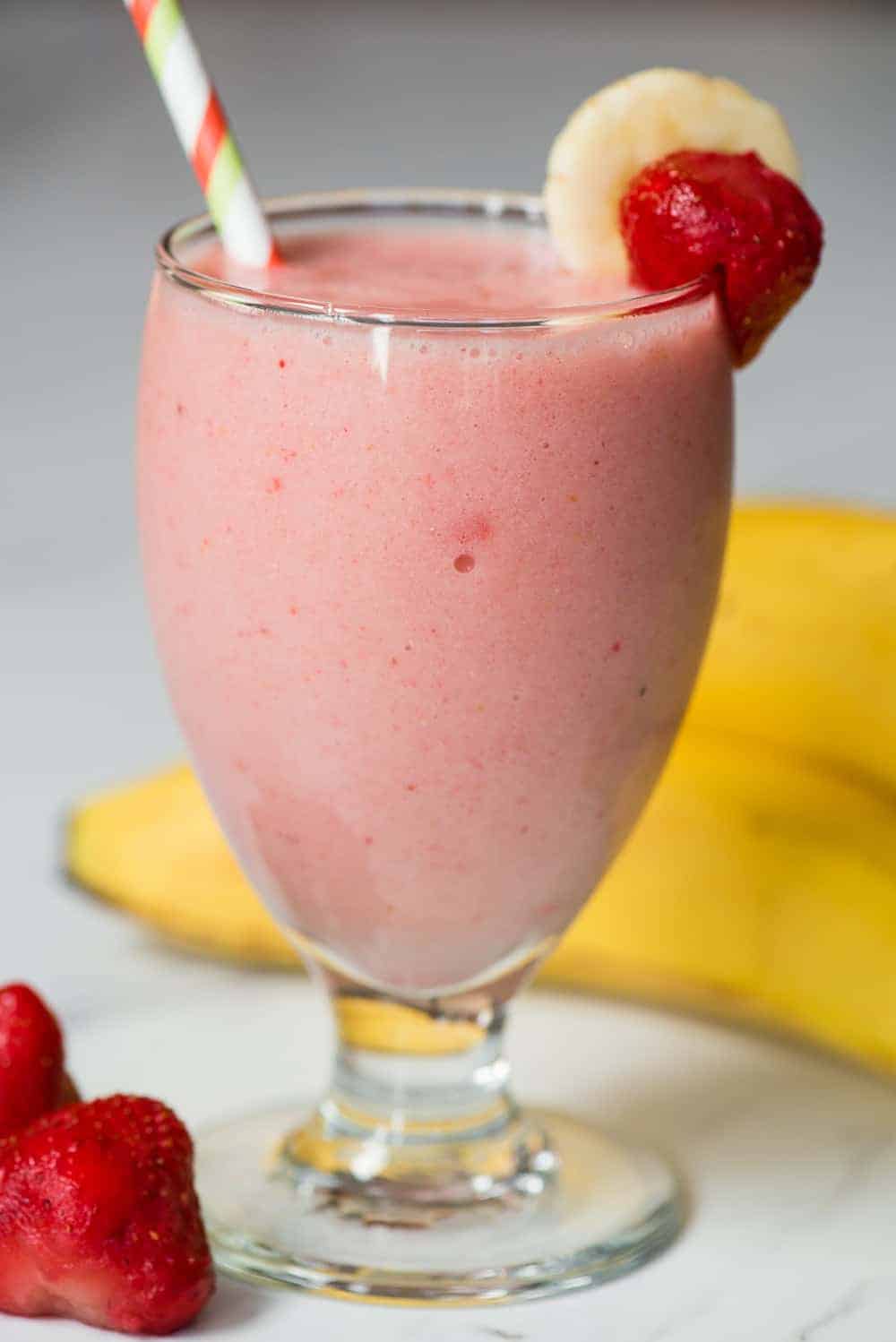 How to make it:
There are probably hundreds of ways to make a strawberry banana smoothie, but I'll share my recipe for a super easy and ridiculously delicious kid friendly strawberry and banana smoothie.
The only ingredients I put in my strawberry banana smoothie are frozen Oregon strawberries, a ripe banana, unsweetened vanilla almond milk, and pure maple syrup.
The more ripe and sweet the banana, the less maple syrup you will need to sweeten the smoothie. If unsure, start with a very small amount of maple syrup. You can always add more after you taste the smoothie if you want it a little sweeter.
To make the smoothie, simply combine all of your ingredients in the blender and blend until smooth. Since the berries are already frozen, you do not need to add any ice to produce a super cold smoothie. Score another point for frozen berries!
Seriously, my first thought when I tasted this smoothie was that I should be sitting by a pool or the beach on some tropical island. It didn't taste like a healthy drink at all even though it was full of ingredients I would be happy to serve my kids. If you've never made a smoothie like this, you must try!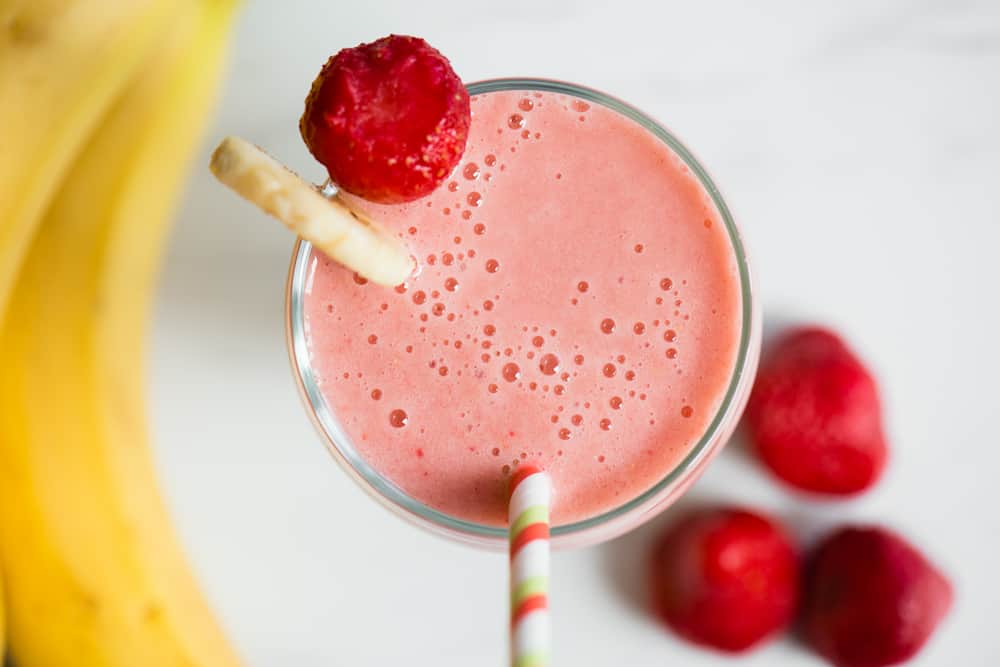 Strawberry Banana Smoothie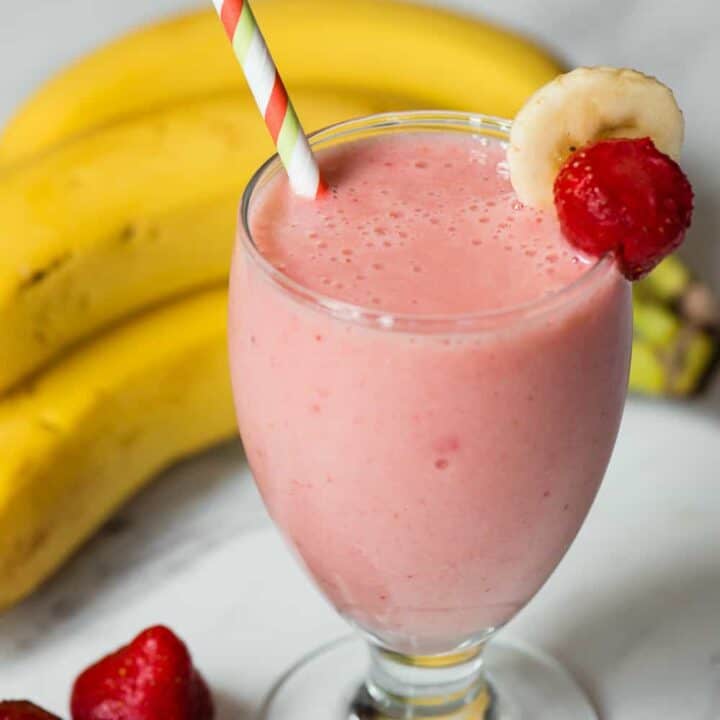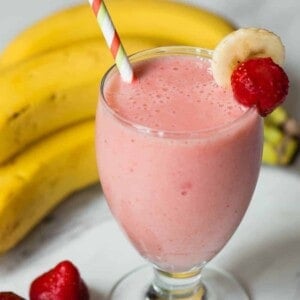 Enjoy the best Strawberry Banana Smoothie! Made from four simple ingredients available year round, this healthy vegan drink is so delicious!
Ingredients
1

large

banana

ripe

1

cup

strawberries

frozen Oregon berries recommended

1

cup

almond milk

vanilla unsweetened

1

tsp

maple syrup

more if desired
Instructions
Remember, Oregon strawberries are the best strawberries you'll find, and they're available year round in the freezer section!

Add all ingredients to blender and blend until smooth. Drink immediately.
Nutrition
Calories:
111
kcal
,
Carbohydrates:
24
g
,
Protein:
2
g
,
Fat:
2
g
,
Saturated Fat:
1
g
,
Sodium:
164
mg
,
Potassium:
354
mg
,
Fiber:
4
g
,
Sugar:
14
g
,
Vitamin A:
44
IU
,
Vitamin C:
48
mg
,
Calcium:
162
mg
,
Iron:
1
mg
Nutrition information is automatically calculated, so should only be used as an approximation.