Air Fryer Breakfast Potatoes with peppers and onions turn out crispy on the outside, soft and tender on the inside, and oh-so-delicious!
This has become my favorite way to make breakfast potatoes.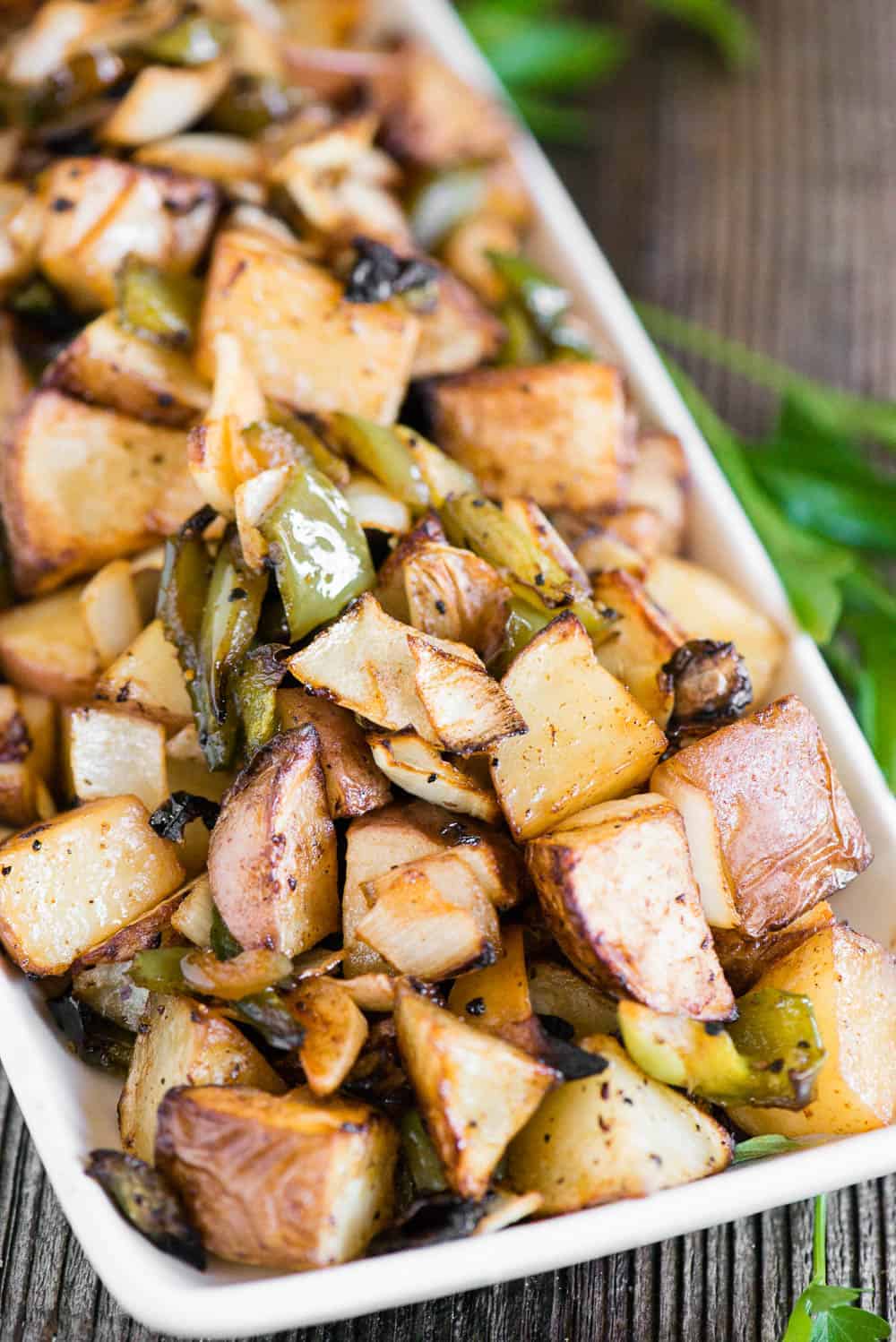 Why this recipe works:
When I make breakfast potatoes in the oven, I sometimes struggle with them getting mushy and not super crisp on the outside. Because the air doesn't circulate in the oven like it does in the air fryer, the moisture that gets released during the cooking process can make them soggy.
The air fryer does a fantastic job of giving the potatoes, onions, peppers, and jalapeno a nice golden brown crisp on the outside without burning them. It's almost like the air fryer gives each piece a nice seal on the outside that makes the inside super soft.
Breakfast potatoes have always been a favorite in our house, and I've always made them in the oven. Now that I've made them in the air fryer, I'll probably never make them in the oven again!
Ingredients needed:
Breakfast potatoes are one of those recipes that you can alter based on your preferences. That said, these are the ingredients I used in my recipe and it turned out fabulous.
Potatoes – I highly recommend using red potatoes and leaving the skin on. Red potatoes roast up to a heavenly crispy outside with a soft and creamy inside. The smaller you cut them, the faster they will cook.
Onion – I used a yellow onion because that's what I pulled out of the garden, but a red onion would be delicious as well.
Bell pepper – I used a green bell pepper because that's what I had on hand, but any color would work great.
Jalapeno – I love spicy and almost always have fresh jalapenos at the ready. If you don't like a hint of spice, you can skip the jalapeno. If you love the spice, go ahead and throw the seeds in too!
Olive oil – Only about a tablespoon is needed when using the air fryer and you can even omit if you really need to. But, since olive oil is a healthy fat, I use it!
Salt, pepper, and paprika – potatoes just aren't good without them.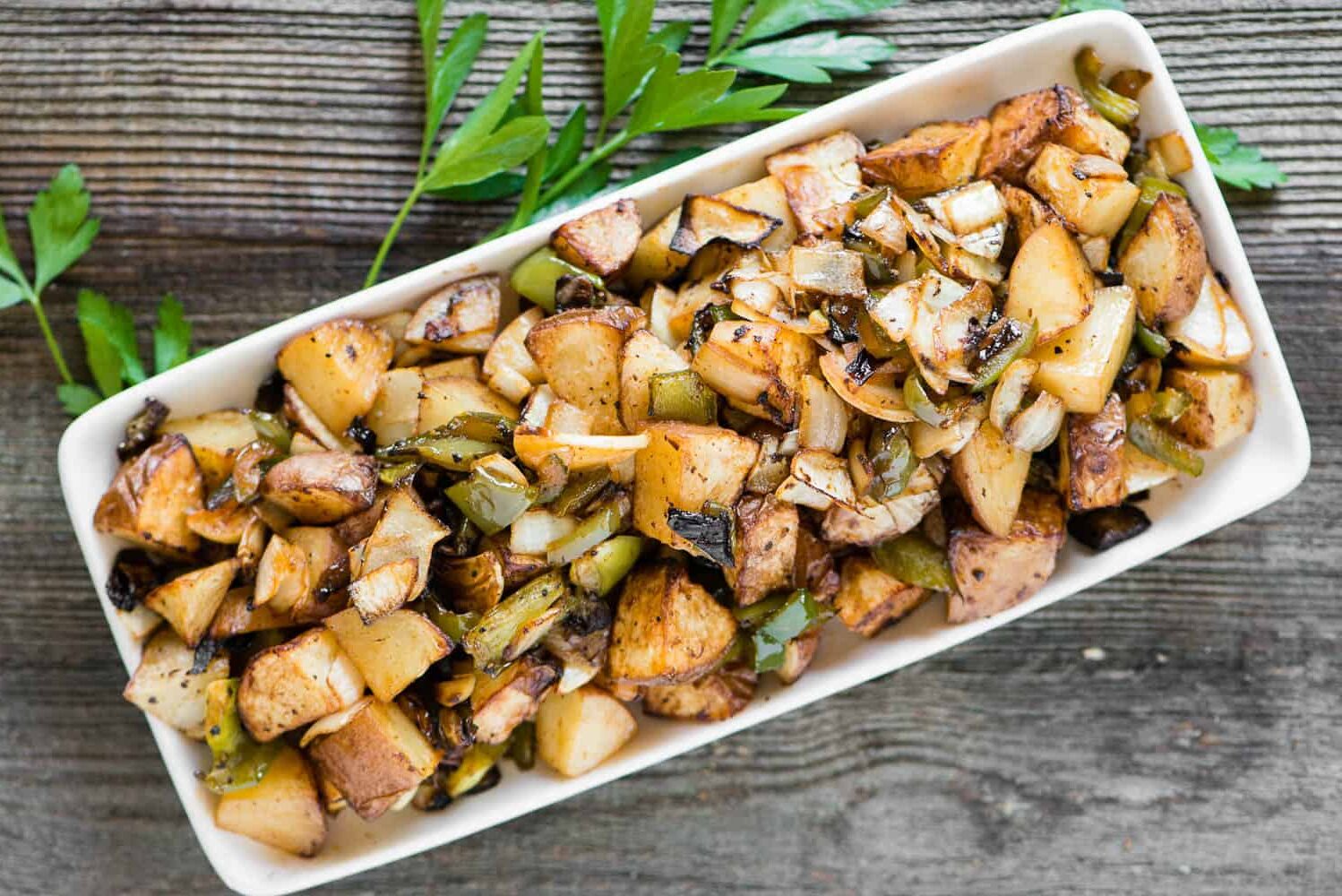 How to make them:
Everyone's air fryers cook a little different based on size and model, so you might have to play around with the total cooking time needed. Overall, you should be able to achieve similar results to what I had.
First step is option but encouraged. I love to soak my cut potatoes in water for about an hour before I fry them. I find that it helps them hold the moisture in the middle making a very creamy potato while the outside gets very crispy.
Next you'll drain the potatoes thoroughly and combine them with the other ingredients in a large bowl. Give them a good toss to make sure everything is distributed evenly.
Then, all you have to do is cook them up in the air fryer with a high temperature. I like to give the basket a good shake every five to ten minutes to make sure everything gets nice and crispy.
To make sure your potatoes are done, go on a hunt for the biggest chunk. If it's nice and soft in the middle, they're all done!
Recipe variations:
There are lots of things you can do to make your breakfast potatoes more interesting.
You can look for different colored potatoes. I'm a big fan of the dark purple ones.
How about adding in some sweet potatoes to the mix?
Marinated artichokes would be such a great addition to these breakfast potatoes.
You can mix in small pieces of bacon to cook with the potatoes. Mercy.
And finally, I'll never say no if someone asks if I want melted cheese on top.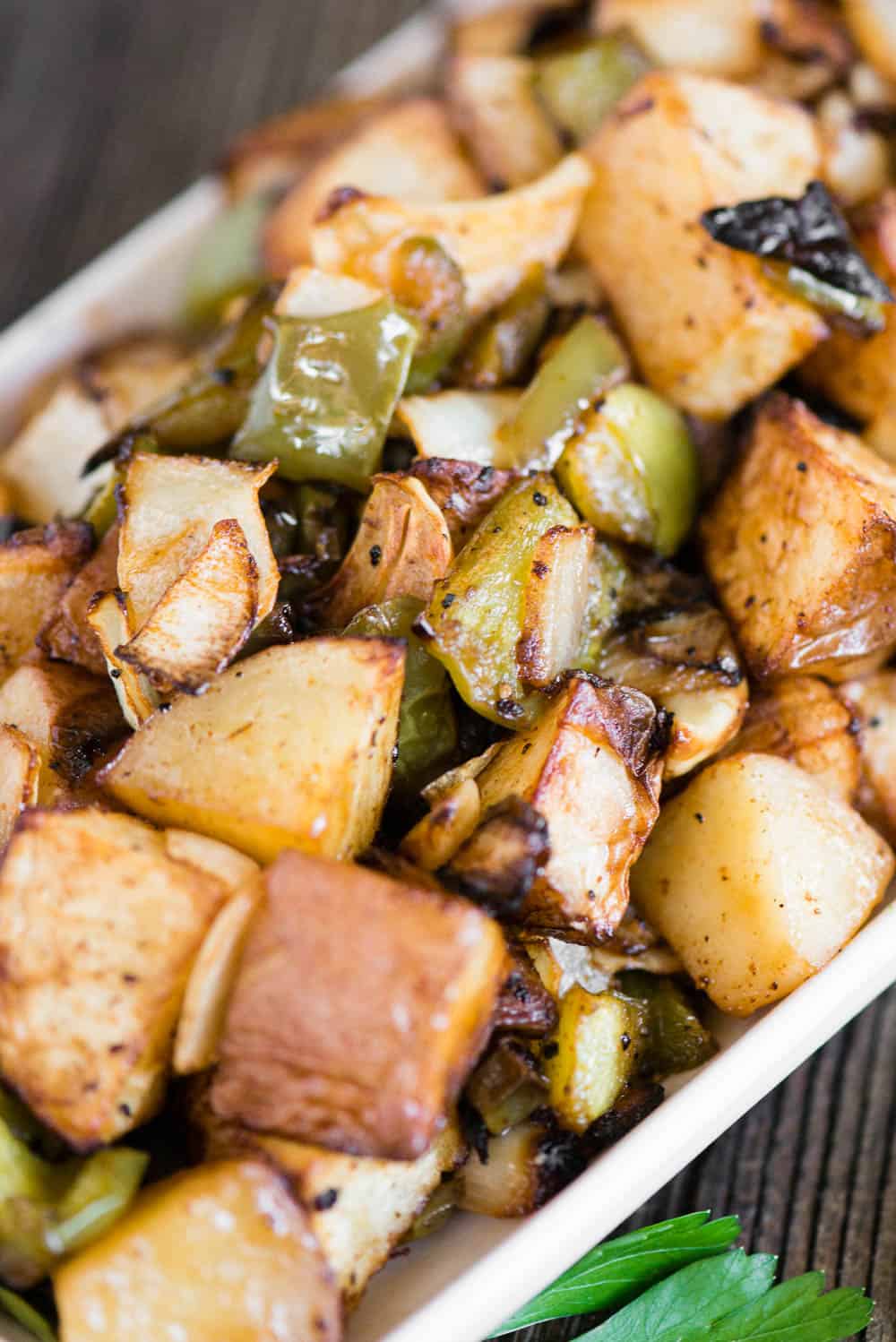 They go fantastic with a tasty breakfast burrito or as a side with homemade eggs benedict. YUM!
Air Fryer Breakfast Potatoes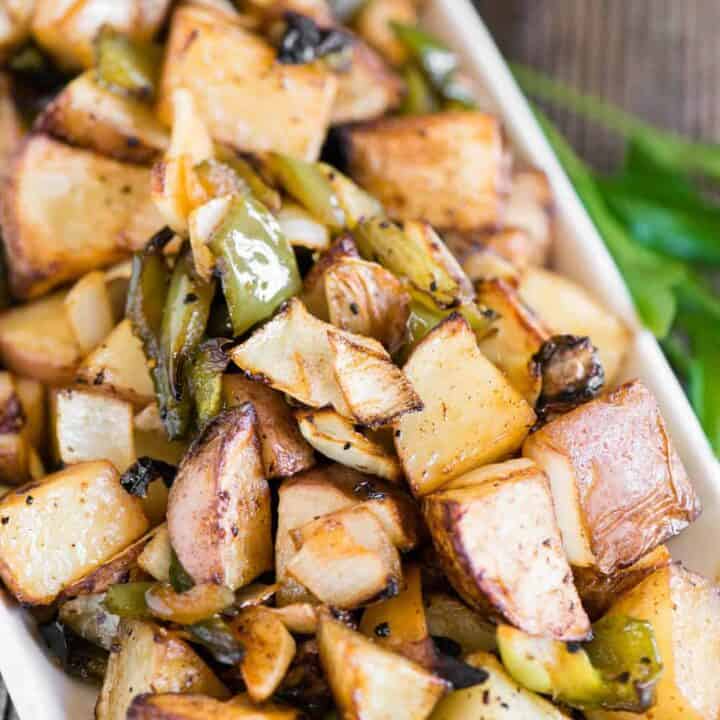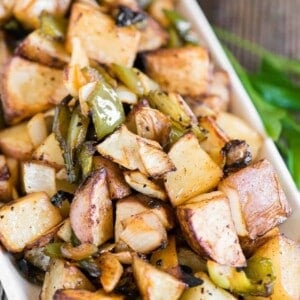 Air Fryer Breakfast Potatoes with peppers and onions turn out crispy on the outside, soft and tender on the inside, and oh-so-delicious!
Ingredients
1 1/2

pounds

red potatoes

washed, chopped into 1/2 inch cubes (The smaller you cut your potatoes, the faster they will cook)

1

yellow onion

peeled and chopped

1

green bell pepper

stem and seeds removed, chopped

1

jalapeno

stem and seeds removed, chopped

4

cloves

garlic

sliced in half

1

tablespoon

olive oil

1/2

teaspoon

kosher salt

1/2

teaspoon

black pepper

freshly ground

1/4

teaspoon

paprika
Instructions
Optional but encouraged: place cut potatoes in a large bowl of water for at least 30 minutes to over night. I've found that when I soak my potatoes, they are extra soft in the middle and crisp up wonderfully. Drain and shake off any excess water.

Combine all ingredients in a large bowl and toss to combine. Add everything to the air fryer.

Cook at 400 degrees F for 25 minutes, shaking the basket to redistribute every 5-10 minutes or so (do this over the sink if your air fryer has slits on the side that will allow any liquid to spill out). When done, find the largest potato and check for doneness. If not completely soft in the middle, shake and continue cooking in five minute increments until done.
Nutrition
Calories:
173
kcal
,
Carbohydrates:
32
g
,
Protein:
4
g
,
Fat:
4
g
,
Saturated Fat:
1
g
,
Sodium:
324
mg
,
Potassium:
878
mg
,
Fiber:
4
g
,
Sugar:
4
g
,
Vitamin A:
210
IU
,
Vitamin C:
45.7
mg
,
Calcium:
32
mg
,
Iron:
1.5
mg
Nutrition information is automatically calculated, so should only be used as an approximation.