Start your morning with a healthy protein and vitamin packed breakfast. This tasty 3-egg Gorgonzola Veggie Omelet is packed with kale, peppers, and onion.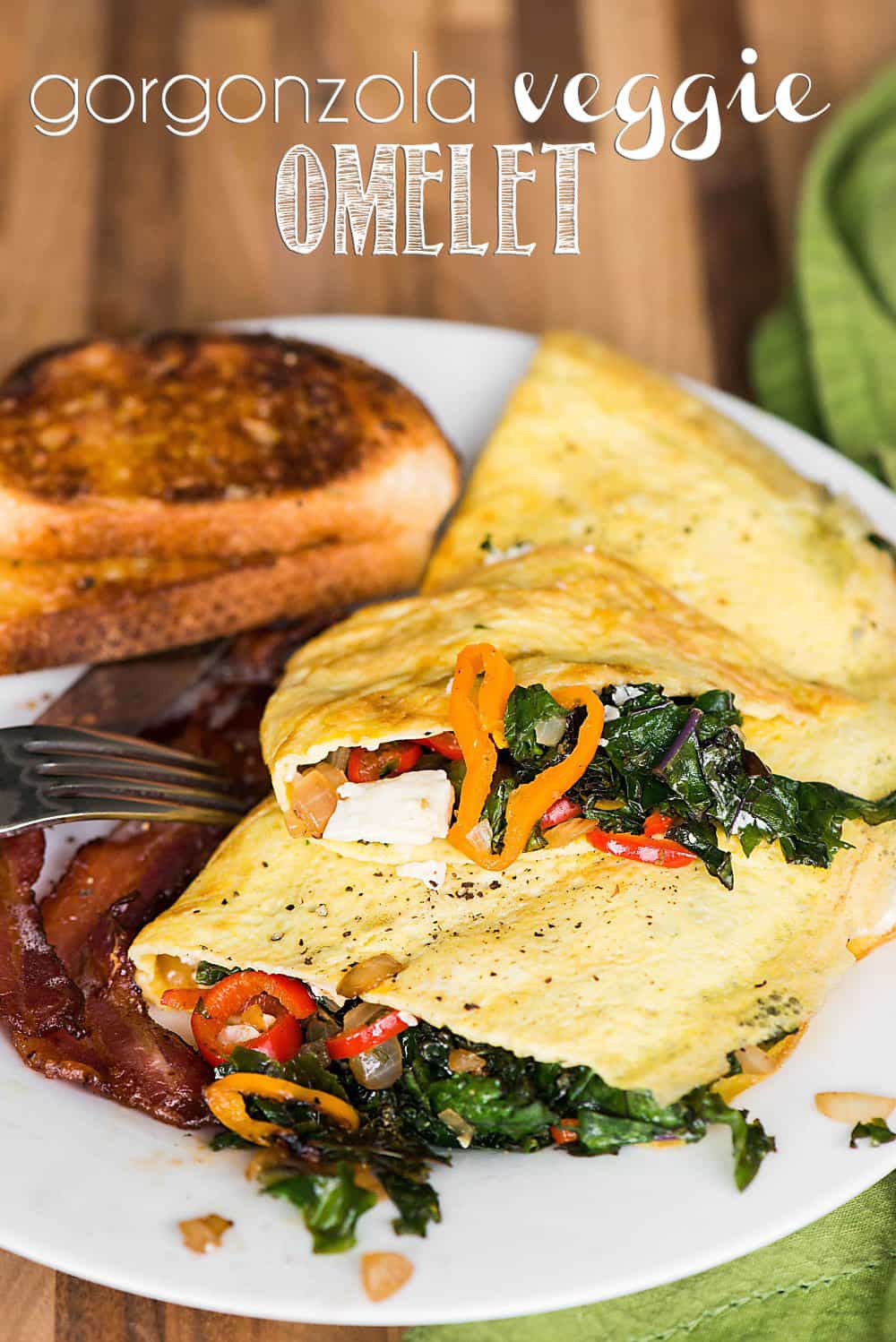 Whether you like to eat eggs for breakfast, lunch or dinner, this is a meal you and your family will love. I am completely addicted to these omelets. I have a few friends who follow a keto diet, and this recipe would fit perfectly into that kind of lifestyle. We're talking eggs, butter, cheese, lots of veggies (although, I'm not sure these veggies are all keto-approved), and bacon on the side. I see the weight loss my keto friends are experiencing and 95% of me wants to try it purely for the weight loss results, but then I want a piece of bread and am disqualified. Why must bread make me so happy?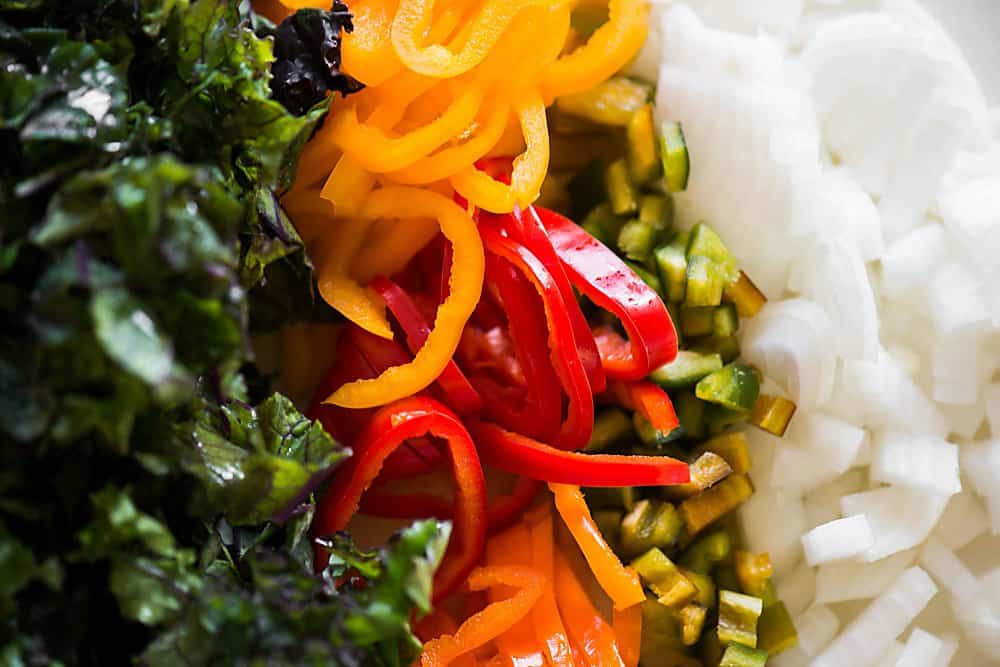 This is probably the tenth omelet I've made like this before I finally decided to photograph it and share it with all of you. You see, I'm almost 40 years old and I have spent the last 38 years of my life attempting to make omelets, only to have a scramble to show for it. I'm happy to tell you that I have finally nailed the secret to a perfect loaded omelet.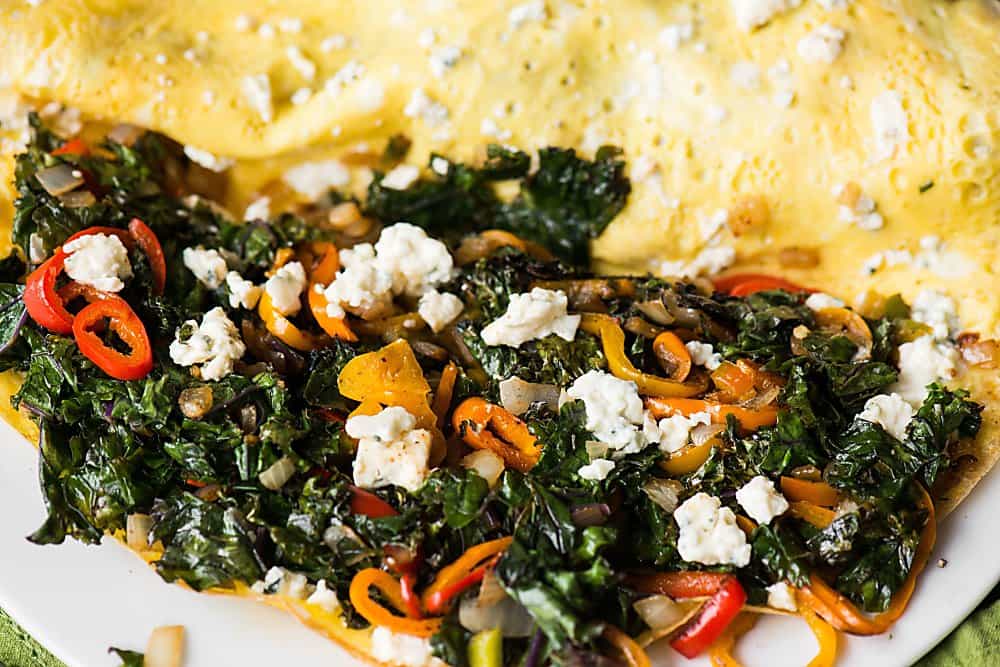 Here are the steps you must take:
You need a really nice non-stick pan. If your pan sucks, no amount of butter will save you.
Cook your veggies first or separately. You must use a perfectly clean pan for your omelet or the eggs will stick, even if you are using said awesome non-stick pan.
Grease your non-stick pan with butter because… why wouldn't you?
Set your heat to medium low and make sure your pan is at temperature. If your pan is still heating up and the surface isn't hot, your eggs will stick.
No need to add anything to the eggs. Just whisk them up in the bowl and pour into your greased pan. I used to add milk to my scrambled eggs and I still sometimes add a wee bit of water when making scrambled eggs, but I don't add anything when I'm making an omelet.
Okay, now here's the secret: when you pour the egg, swirl the pan around and around until the entire surface has somewhat set and once the egg no longer runs, cover it with a lid and allow to cook for a few minutes. As long as your heat is not too high, the bottom won't get overcooked, and the lid traps steam to allow the top to get cooked.
Once all of the egg looks fully set, cover the entire thing with cheese and only half of it with your veggie mixture. This will allow the cheese to melt all over your veggies and will hold the whole thing together. Then, using a really big and flexible spatula, carefully fold the egg and cheese half onto the veggie half. Then all you have to do is slide it onto your plate.
My omelets are usually loaded with anything I can find in my refrigerator that needs to be eaten. In fact, last night I made myself an omelet for dinner. It was family movie night and I threw together a hodge podge dinner. The husband said he had already eaten so I didn't make him anything. The kids got egg, ham, and cheese sandwiches on an english muffin alongside a Mediterranean salad the husband had made up from a kit. I made myself an omelet with kale (I'm addicted to kale in my omelet), mushrooms, onions, mini peppers, bacon (we actually had cooked leftover bacon in the fridge!) and sharp cheddar. I brought my omelet downstairs for movie night and wouldn't you know it? The husband is all of a sudden hungry. He stared at me like a starving stray dog and I had to relinquish control of three large bites of my omelet. Worse than that, he now knows how delicious they taste and will expect me to make them on a regular basis!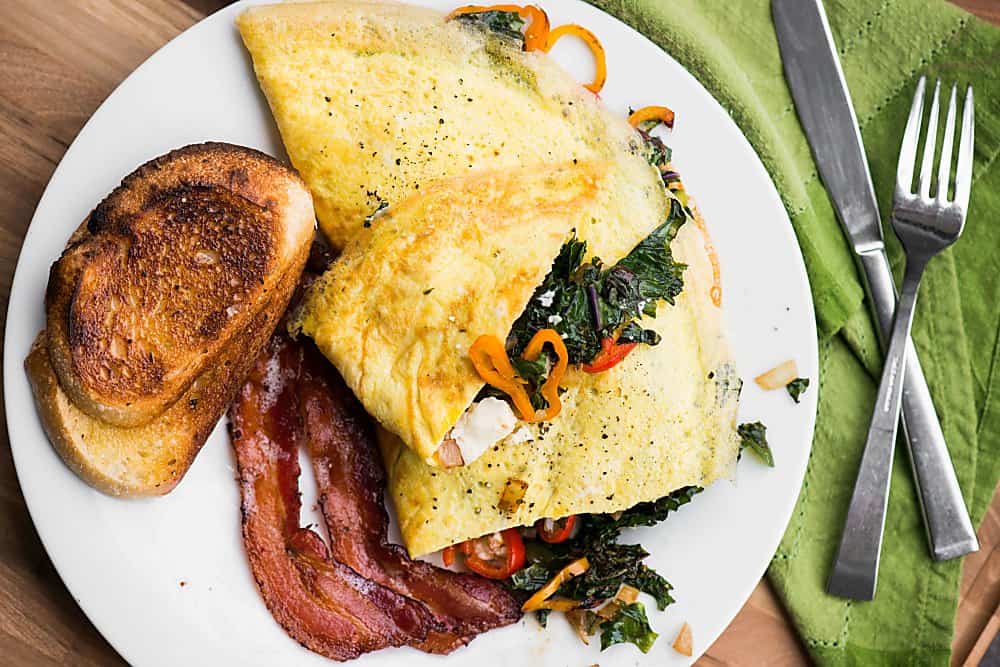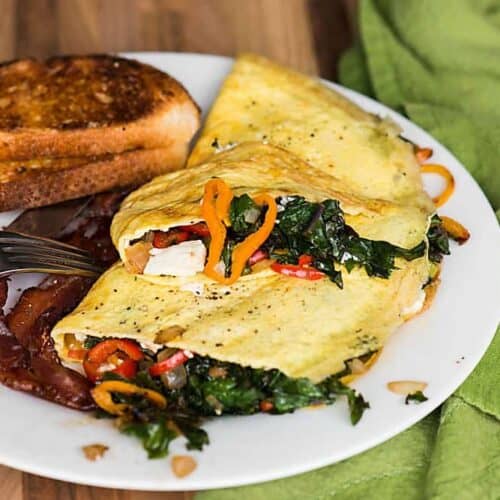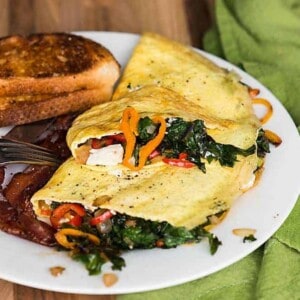 Start your morning with a healthy protein and vitamin packed breakfast. This tasty 3-egg Gorgonzola Veggie Omelet is packed with kale, peppers, and onion.
Ingredients
2

cups

kale

stems removed and diced

3

mini peppers

stem and seeds removed, sliced

1

jalapeno

stem and seeds removed, diced

1/2

yellow onion

diced

3

tablespoons

butter

divided

3

eggs

whisked

1/4

cup

gorgonzola

crumbled
Instructions
Melt half the butter in a large saute pan over high heat. Add all of the veggies and cook until slightly brown and wilted, tossing occasionally to allow for even cooking. Transfer to a plate. Wash out pan.

Over medium low heat, melt remaining butter and spread across the bottom surface of the pan. Add whisked egg and spread across base of pan. Continue to swirl pan around spreading the egg until the egg sets, then cover with a lid and allow to slowly cook until the egg completely sets. Remove lid, sprinkle cheese across entire egg surface, add cooked veggies to half of the egg surface, and then use a large spatula to carefully fold the egg over.

Allow to cook for just a minute or so more to allow the cheese to soften, then slide onto a plate.
Nutrition
Calories:
707
kcal
,
Carbohydrates:
24
g
,
Protein:
30
g
,
Fat:
56
g
,
Saturated Fat:
31
g
,
Cholesterol:
603
mg
,
Sodium:
938
mg
,
Potassium:
1170
mg
,
Fiber:
3
g
,
Sugar:
7
g
,
Vitamin A:
18145
IU
,
Vitamin C:
289
mg
,
Calcium:
447
mg
,
Iron:
5
mg
Nutrition information is automatically calculated, so should only be used as an approximation.