Savory Breakfast Crepes with Bourbon Bacon Jam are an incredibly easy and delicious option to start your day.
Dill & Chive Crepes are wrapped around egg, cheese, arugula and mushrooms. Bourbon Bacon Jam adds an intense sweet and salty flavor that ties the entire spring inspired meal together!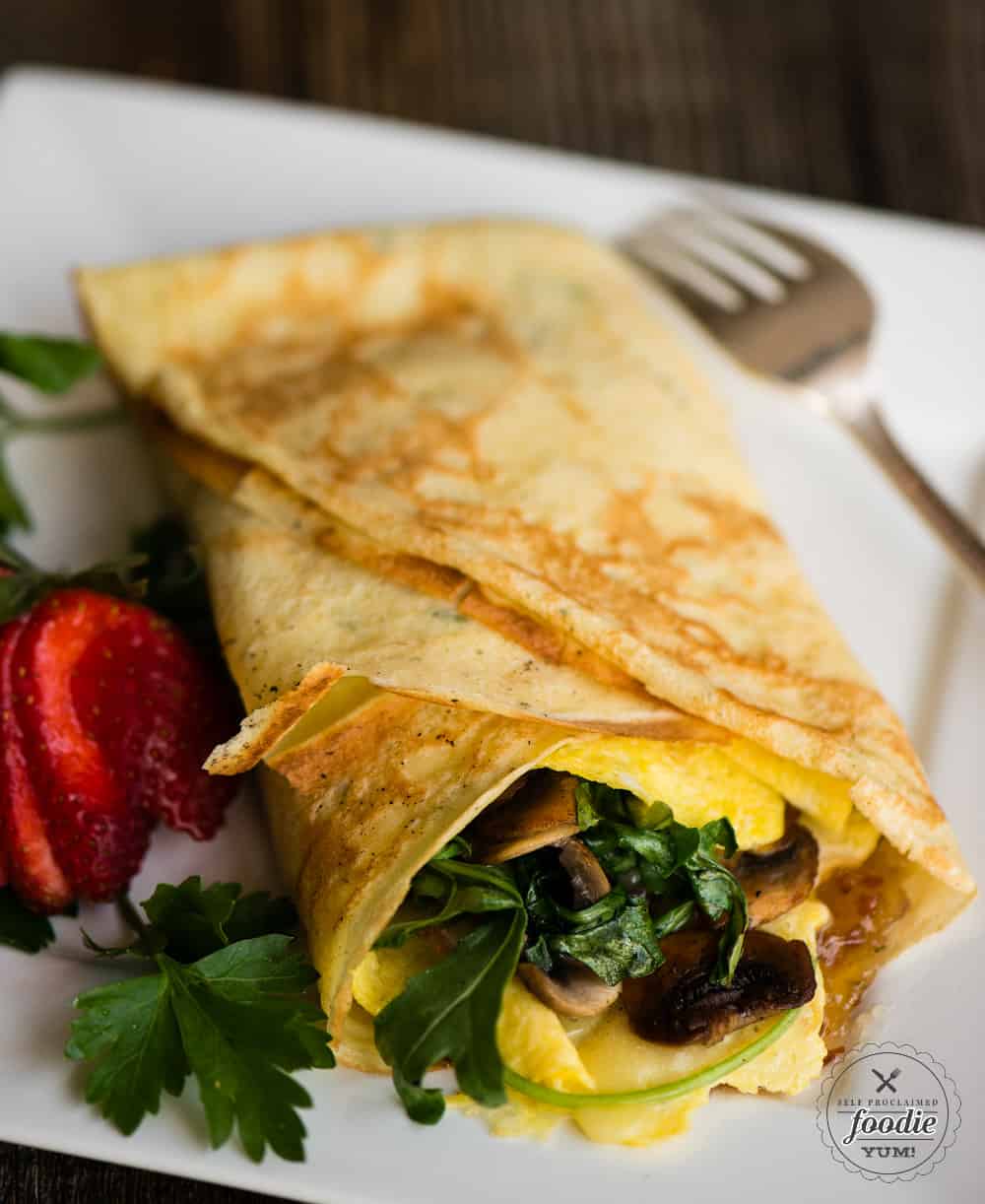 This recipe post was sponsored by Stonewall Kitchen, but all opinions are 100% my own. #stonewallkitchen
Savory Breakfast Crepes with Bourbon Bacon Jam is the kind of deliciously satisfying breakfast that just screams spring! Every year, I look forward to the Farmers' Market re-opening. There's just something about walking around the market on a brisk spring Saturday morning, looking at all of the gorgeous produce and salivating over the smells wafting over from the food vendors.
My favorite breakfast to order at the Farmers' Market is actually savory breakfast crepes with eggs, bacon, greens and cheese. The woman who makes them is French and makes the crepe making look easy.
That is why I was so excited… Okay, I admit it. I was darn right giddy when I saw that Stonewall Kitchen makes a Dill and Chive Crepe Mix. Flashbacks of those Farmers' Market breakfasts came rushing through my head and I knew I had to recreate it at home. But I was going to take it to the next level. Stonewall Kitchen also makes a Bourbon Bacon Jam, and I knew that would tie the entire meal together in taste bud harmony.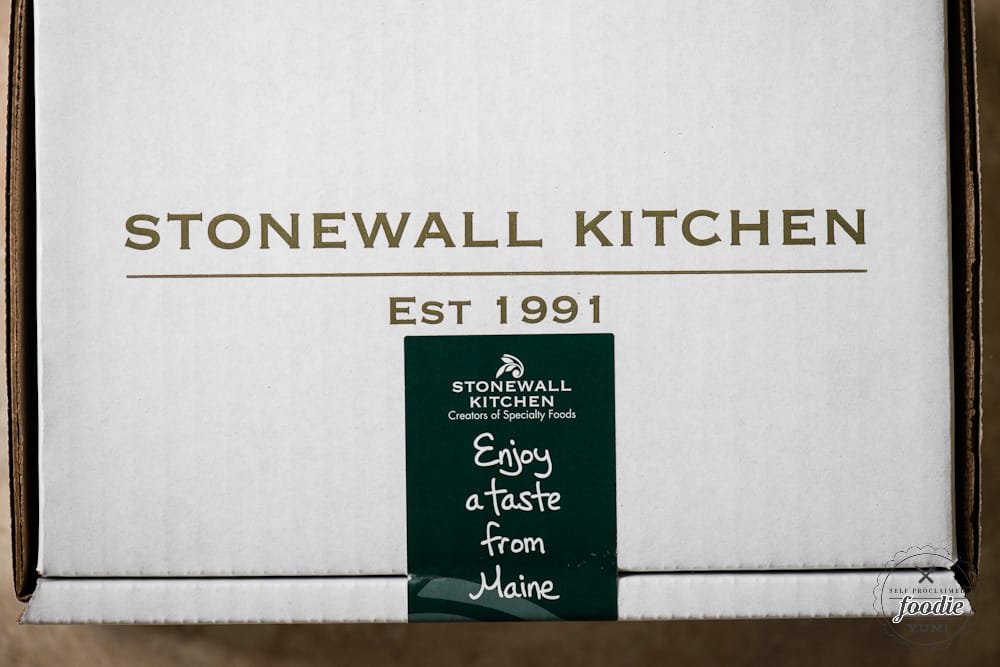 Stonewall Kitchen products are outstanding.
You would have thought I was a kid on Christmas morning when I opened up that box.
I've been a long time fan of their specialty foods, so to say that I'm over the moon excited to be telling you all about them is the understatement of the year.
My fondness for Stonewall Kitchen actually started with their branding. I know you can't judge a book by its cover, but their simplistic branding with hand written labels just call to me.
The fact that I'm basing my recipe off of my love of Farmers' Market ties in perfectly with the brand because that's exactly how they got started – selling jam in Portsmouth, New Hampshire well over 25 years ago. From there, Stonewall Kitchen just continued to grow and grow, winning all kinds of prestigious awards along the way and picking up loyal customers like myself.
In 2000 they moved to York, Maine, and their headquarters are one of Maine's largest tourist destinations. A visit there is actually on my bucket list.
They went from producing a few dozen jars of jam for the farmers' market to about 75,000 jars a day!
Stonewall Kitchen offers so many amazing products from baking mixes, to sauces and dips, to sweet and savory jams… and beyond. If you haven't tried them out yet, you're in for a real treat!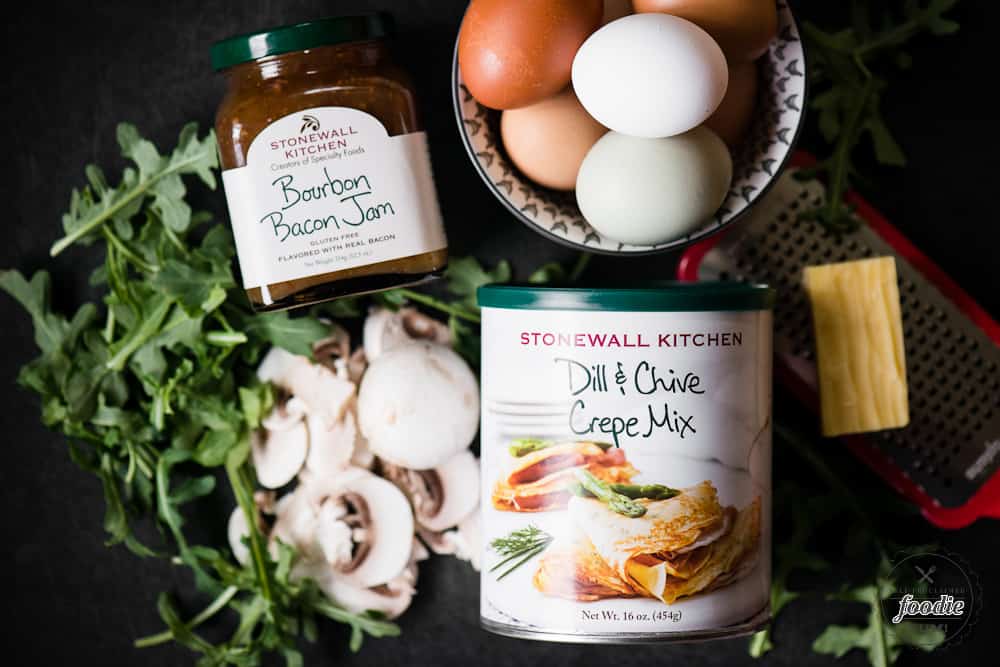 What is bacon jam?
Stonewall Kitchen actually makes a few different kinds of bacon jams. I had my choice of Spicy Chili Bacon Jam, Maple Bacon Onion Jam, and Bourbon Bacon Jam. They all sound amazing, but you can see which one was calling to me.
Bacon jam is both sweet and savory.
The way they describe it on the label is the perfect description. The caramel bite of bourbon meets the smoky char of bacon in this richly complex jam. Built upon a base of tender apples, onions and shallots, it instantly elevates appetizers, adds depth to cheese boards, and builds a better burger. They should add breakfast crepes to their description!
I can't wait to pair this bacon jam with a triple cream brie next time I host a get together.
What is a crepe?
A crepe is a type of very thin pastry. Once might consider it a very thin pancake, however due to the large amount of egg and water in the batter, I find that the consistency is much smoother and chewier.
People enjoy eating both sweet and savory crepes.
Crepes originate in France and can be served cold, warm, or hot.
They are generally cooked on a large, round, flat surface over moderately high heat. Because the batter is spread so thin, they take less than a couple minutes to cook.
Stonewall Kitchen's crepe mix makes cooking crepes a breeze and they turn out perfectly.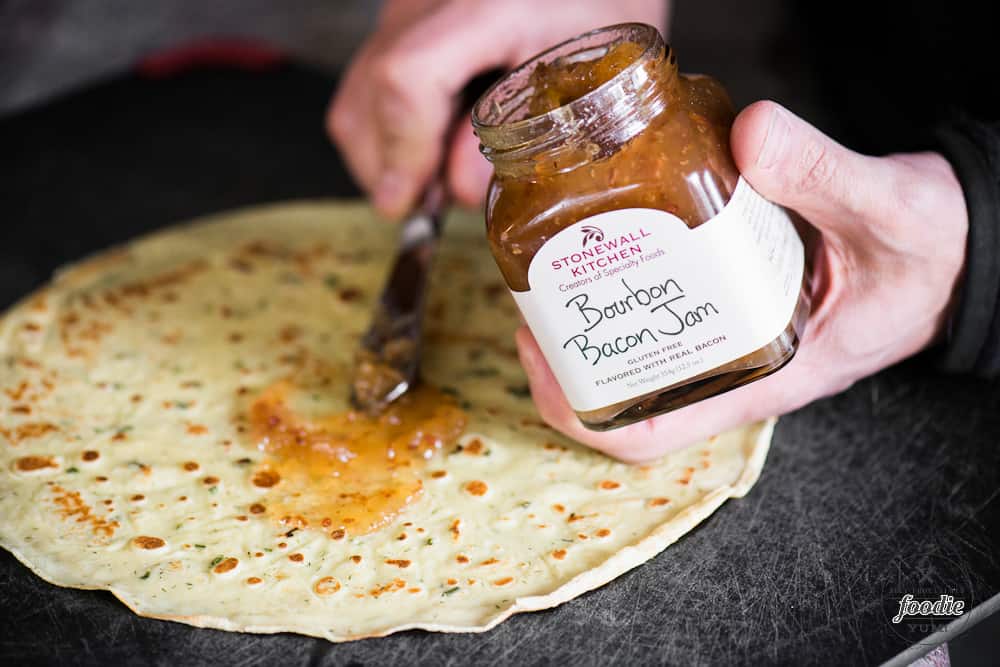 How to assemble these Savory Breakfast Crepes with Bourbon Bacon Jam:
This is such an easy breakfast recipe. Your friends and family will be most impressed!
The crepes are made separately from the eggs, veggies, and cheese.
You'll start by laying the crepe out on a flat surface like a cutting board. Then you'll spread a couple spoonfuls of the Bourbon Bacon Jam on the crepe. I like to spread it in the area where I will be placing my eggs.
Set the warm egg mixture on top of the crepe. Then fold one side over, then the bottom, and finally wrap the remaining side of the crepe around the eggs.
Serve warm with some sliced fruit and a hot cup of coffee and you'll have an extraordinary breakfast that only took you a short amount of time to prepare.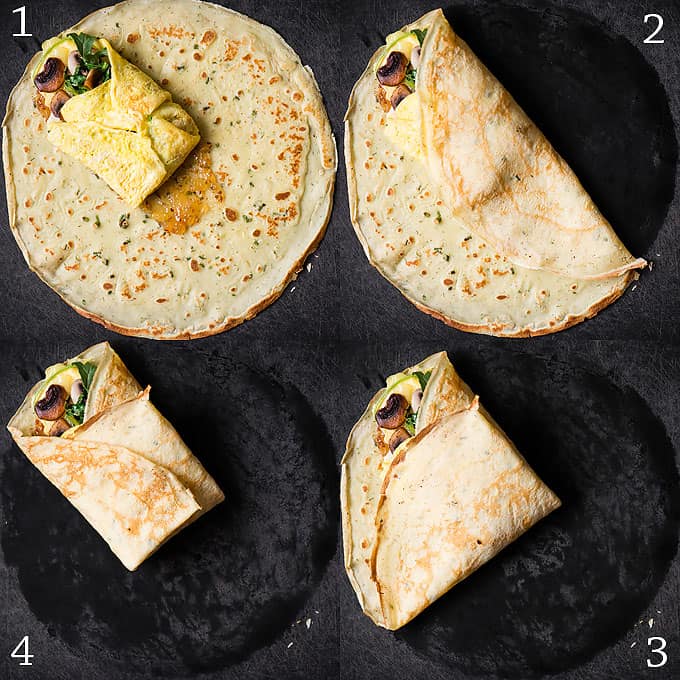 If you want to recreate this breakfast recipe in your own kitchen, or are looking for specialty foods you can share with friends and family, head on over to the Stonewall Kitchen website to see what they have to offer! Bon appetit!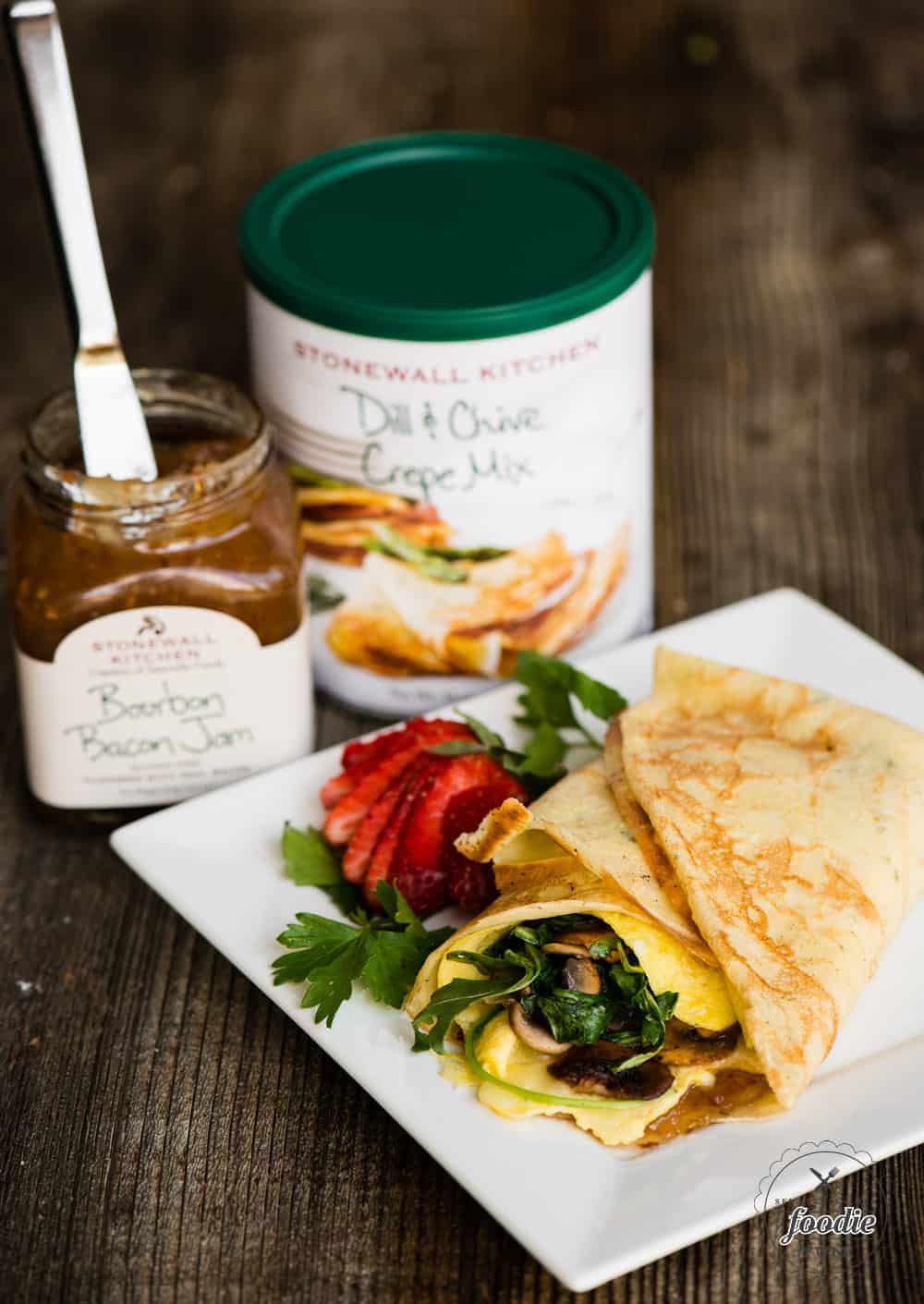 Savory Breakfast Crepes with Bourbon Bacon Jam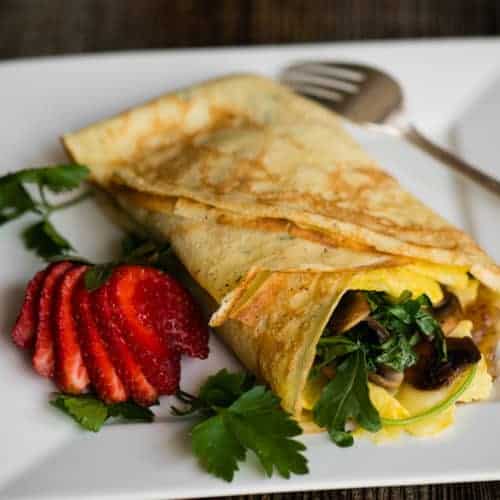 Savory Breakfast Crepes with Bourbon Bacon Jam are an incredibly easy and delicious option to start your day. Savory Stonewall Kitchen Dill & Chive Crepes are wrapped around egg, cheese, arugula and mushrooms. Bourbon Bacon Jam adds an intense sweet and salty flavor that ties the entire spring inspired meal together!
Ingredients
Dill & Chive Crepes
2

eggs

large

1

cup

water

2

tbsp

oil

olive, avocado, or vegetable

1

cup

Stonewall Kitchen Dill & Chive Crepe Mix

1

tbsp

butter

divided
Breakfast Crepes
6

eggs

large

2

tbsp

butter

divided

2

ounces

brie or sharp cheddar

sliced or grated

8

ounces

mushrooms

sliced thin

2

cups

arugula

fresh

8

teaspoons

Stonewall Kitchen Bourbon Bacon Jam
Instructions
To make the Dill & Chive Crepes
Whisk eggs with water. Add dry mix and oil and whisk well to blend all ingredients. For best results allow batter to stand 20 minutes.

Preheat a 12-inch skillet (preferably non-stick or well seasoned enameled cast iron) to medium high heat. Grease lightly with butter (reserving remaining amount of tablespoon for remaining crepes).

Pour about 1/2 cup batter on skillet and swirl to form a thin 12-inch circle. You want to pour just enough batter so that it makes the thinnest layer possible to cover the base of the pan.

Cook approximately 45 seconds, or until it not longer looks wet and edges start to lift and are turning golden brown. Flip, then cook another 45 seconds. Make 4 large crepes and set cooked crepes aside until ready to assemble.
To assemble the Breakfast Crepes:
In a medium sized bowl, whisk together the eggs. In a large skillet over medium heat, melt one tablespoon of butter. Pour in the eggs. You can choose to scramble them or cook them in a single layer without stirring if you steam with a lid. Top with cheese, allow to melt, then remove from heat when cooked.

Heat remaining tablespoon of butter in large skillet over medium high heat. Add sliced mushrooms and arugula. Allow to cook without stirring 3-5 minutes, or until they start to brown. Stir and allow to cook a couple more minutes.

Top each crepe with about 2 teaspoons of the Bourbon Bacon Jam.

To assemble, divide eggs and veggies into 4 portions. Place on crepe and fold. Serve warm.
Nutrition
Calories:
488
kcal
,
Carbohydrates:
36
g
,
Protein:
19
g
,
Fat:
29
g
,
Saturated Fat:
11
g
,
Cholesterol:
365
mg
,
Sodium:
302
mg
,
Potassium:
396
mg
,
Fiber:
1
g
,
Sugar:
8
g
,
Vitamin A:
1120
IU
,
Vitamin C:
4
mg
,
Calcium:
175
mg
,
Iron:
3.6
mg
Nutrition information is automatically calculated, so should only be used as an approximation.