Grape Salad, made with a mixture of fresh grapes smothered in sweetened cream cheese and sour cream topped with brown sugar pecans, is the perfect potluck side dish!
This recipe can feed a crowd and it's super easy to make, which is why it makes for a great summer party recipe. It keeps really well in the refrigerator, so any leftovers won't go to waste. You can use green or red grapes depending on personal preference.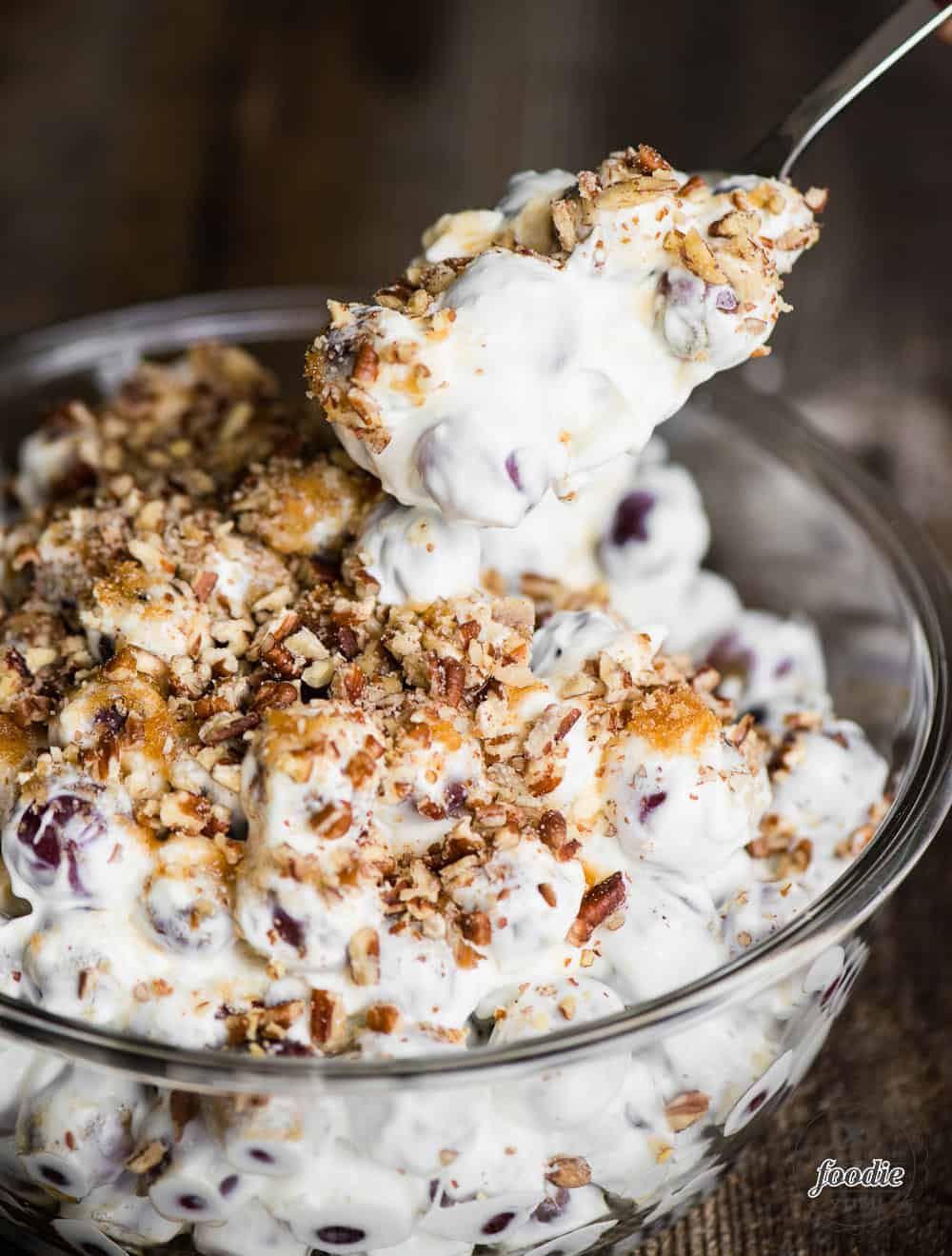 Sweet and creamy Grape Salad is officially one of my son's favorite meals. In fact, his birthday is still several months away, but he has already requested that I make this recipe, along with my sweet blender crepes for breakfast and salmon patties for dinner. No cake. Weird kid, right?
Well, once you eat this grape salad, you might not think he's so weird. It's strangely delicious.
I'm no stranger to pairing cream cheese with fruit. After all, I've made a handful of cream cheese fruit dip recipes. But this simple recipe is really great, and I'll tell you why.
What is grape salad?
That's exactly what I asked when someone first mentioned it to me. I had never heard of it.
My version of grape salad combines cream cheese, sour cream, and sugar together. What else is a combination of cream cheese, sour cream, and sugar? Cheesecake. We all love cheesecake, don't we?
The star ingredient is of course grapes. You can use whatever kind of grape that tickles your fancy. For me, I always sample all kinds at the store and buy whichever tastes best. One week it'll be the green grapes, the next week it'll be the green. You just never know.
My recipe for grape salad calls for 4 pounds. That's a lot of grapes, my friends. Why 4 pounds? Because that's what I bought at Costco. Also, I figured this is more of a potluck recipe than a family recipe, and potluck recipes are meant to feed a crowd.
The topping for this grape salad consists of chopped pecans and brown sugar. So easy!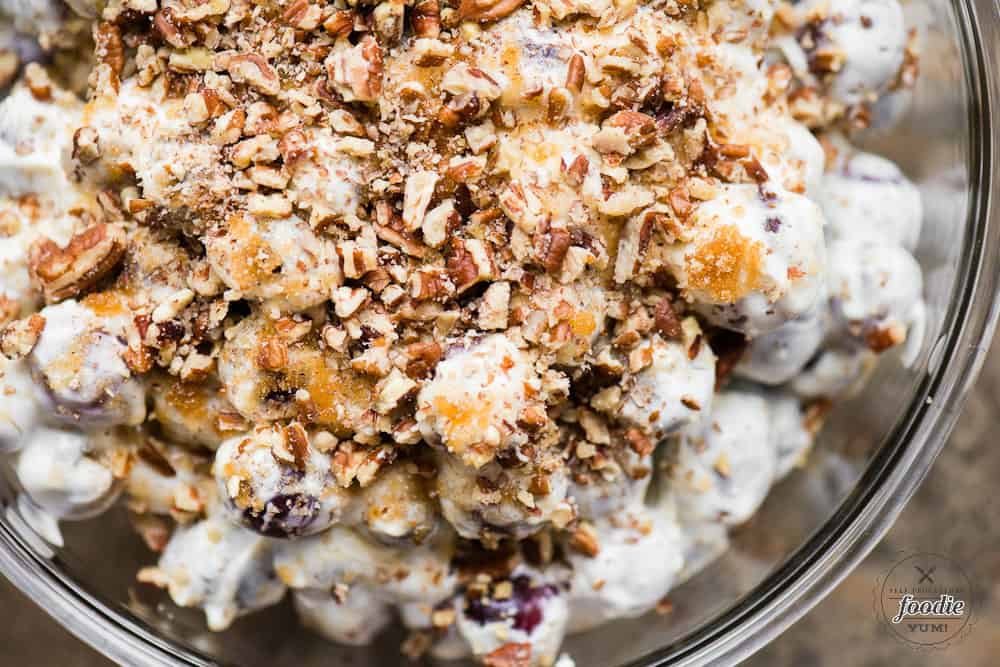 Variations of grape salad:
Although my recipe recommends a combination of cream cheese and sour cream, there are all sorts of other ingredients you can use to make this sweet and creamy salad.
Grape salad with yogurt would be a great option. Either use plain yogurt and sweeten it with sugar, honey, or maple syrup or you can use sweetened yogurt.
Grape salad with marshmallow cream and whipped cream would be a divine choice, especially if you're making your own homemade marshmallow creme.
Grape salad with cool whip is always an option. Personally, I can't stand the stuff. I much prefer to make my own stabilized whipped cream instead.
If healthy grape salad is what you're after, you could always replace the dairy with coconut cream and sweeten with a natural sweetener like raw honey or pure maple syrup.
Adding additional fruit like making grape salad with strawberries, banana, etc. an interesting twist on this simple recipe!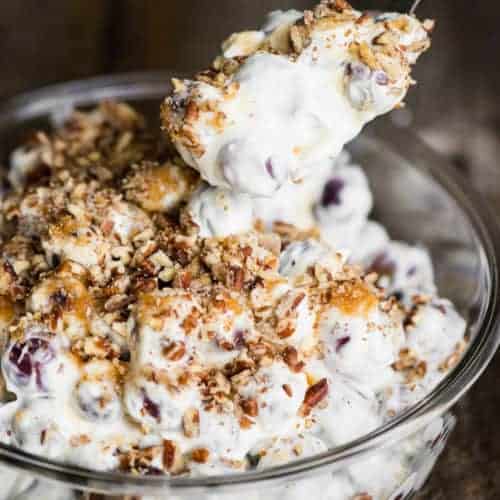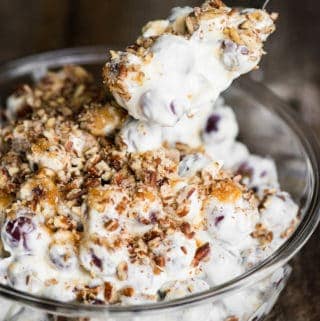 Grape Salad
Grape Salad, made with a mixture of fresh grapes smothered in sweetened cream cheese and sour cream topped with brown sugar pecans, is the perfect potluck side dish!
Print
Pin
Rate
Hover to scale:
12
servings
Ingredients
4

pounds

grapes

(seedless, green or red or combination of both)

8

ounces

cream cheese

(softened)

8

ounces

sour cream

1/2

cup

granulated sugar

1

tsp

vanilla
Topping:
2

tbsp

brown sugar

1/2

cup

pecans

(chopped)
Instructions
Using a stand mixer, beat the cream cheese until light and fluffy. Mix in the sour cream, sugar and vanilla and beat until smooth. Add grapes and mix until evenly incorporated. Sprinkle brown sugar on top. Serve immediately or refrigerate over night.

Prior to serving, top with brown sugar and pecans.
Notes
There are about 2.5 cups in a pound of grape, so the equivalent of 4 pounds of grapes would be about 10 cups.
NUTRITION INFORMATION
Calories:
274
kcal
|
Carbohydrates:
39
g
|
Protein:
2
g
|
Fat:
13
g
|
Saturated Fat:
6
g
|
Cholesterol:
30
mg
|
Sodium:
79
mg
|
Potassium:
358
mg
|
Fiber:
1
g
|
Sugar:
35
g
|
Vitamin A:
470
IU
|
Vitamin C:
5
mg
|
Calcium:
59
mg
|
Iron:
0.8
mg