Easy Dinner Recipes are meals that your family will love, especially during this busy time of year when school and sports dominate your schedule!
I'm sharing over 20 dinner recipes that are so easy, they can be prepared after a long day of work. Easy dinners are what we need, especially if you have a hectic schedule!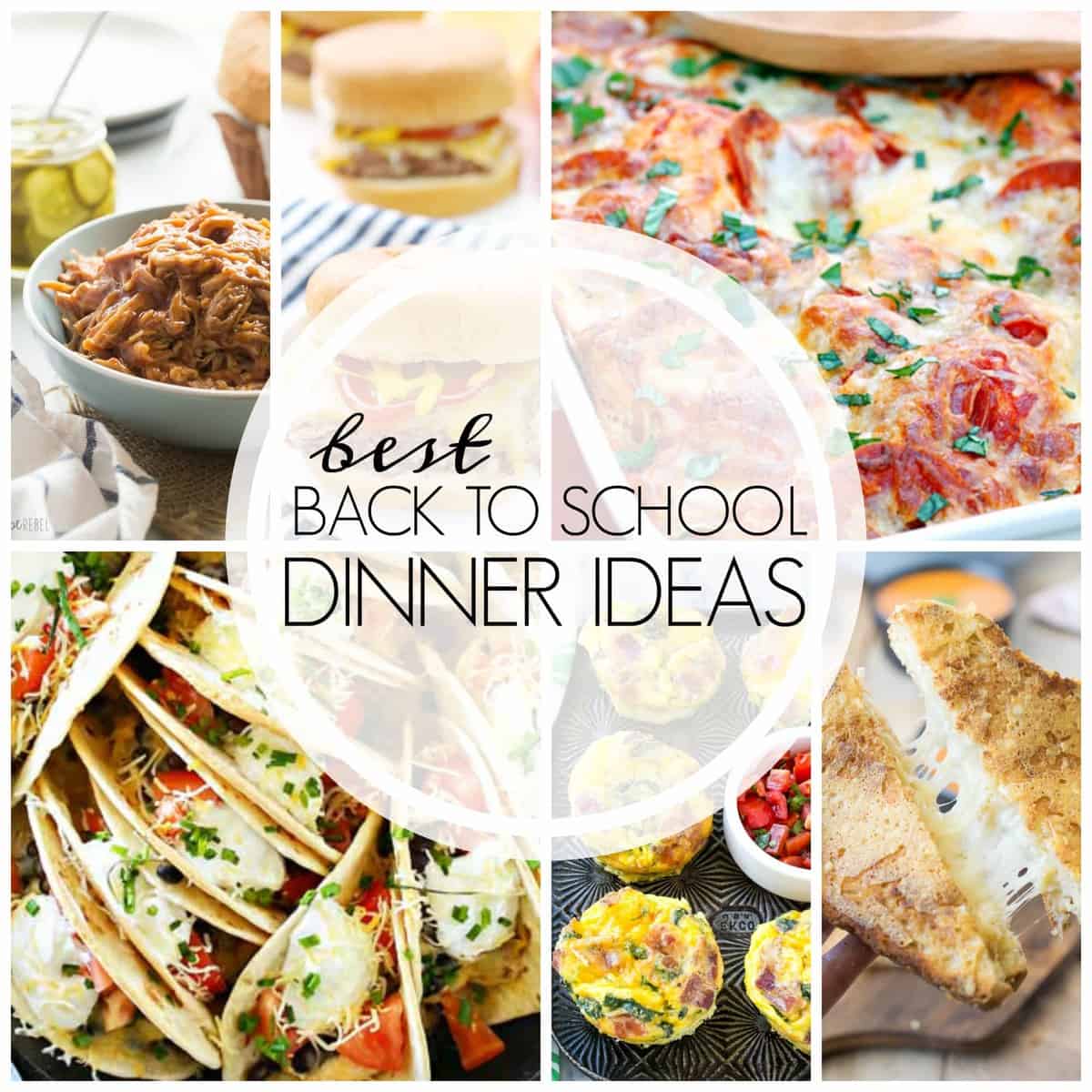 EASY DINNER RECIPES
Pin any of these recipe ideas to your DINNER BOARD to SAVE it for later!
Follow Self Proclaimed Foodie on Pinterest for more great recipes!
Easy Dinner Recipes are everything you need to fill hungry bellies on a busy evening.
Work. School. Sports. Clubs. Homework. Meetings. Chores. The list goes on and on. How many of us have time to cook a home cooked meal on top of all of that?
We need easy dinners that the entire family will love. Otherwise, we're scrambling to pick something up on the way home, and that's not good for anyone. Well, rest assured that I've got you covered. I've got over twenty recipes below that will not only make your mouth water, but can be made quickly on a busy weeknight. Enjoy!!!
What makes an easy dinner recipe easy?
The recipes I've chosen to share all fall under one or more of the following categories:
The dinner recipe doesn't take much time to prepare and cook. Often times, these recipes can go from start to finish in under 30 minutes. Either it's a quick recipe, or it's something you can throw in the crockpot to have ready when you come home.
The recipe calls for ingredients you most likely already have on hand. No extra trip to the grocery store needed!
All of these dinner recipe ideas are recipes that I think the typical family would enjoy. That includes picky husbands and kids.
Easy dinner recipe ideas with pasta:
If you are a gluten tolerant family, you most likely always have pasta on hand. Here are a few recipes your family might love!
One Pot Cheesy Pizza Pasta Bake – I'm going to be a bit partial to this recipe because it's mine. This one has everything you could ever want in a quick and easy dinner. It's made in one pot which means easy clean up. It's full of everything I love – cheese, pasta, and flavor!
Beef Stroganoff Ravioli Skillet – And the only thing that you need to make sure to have on hand, that might not be a pantry staple, is mushrooms. And if you buy the pre-sliced mushrooms, you have even less prep work. Keep frozen ravioli in your freezer and the rest should be on hand, so you can make this any night of the week.
One Pot Spinach Artichoke Pasta –  Penne pasta works perfectly in this dish. Toss some chicken in for an extra protein boost if you want. No matter what, you are less than 30 minutes away from pure comfort food.
One Pot Spaghetti and Meat Sauce – If you're family is anything like mine, we rely on some version of spaghetti as an easy dinner idea at least once a week.
French Spaghetti – Ever heard of French spaghetti?  I hadn't… but this recipe sounds delicious!
Easy dinner recipes that use ground beef:
I always have ground beef in the freezer. It's one of our family's go-to standbys.
Skillet Enchilada Bake – This Skillet Enchilada Bake is a perfect weeknight meal if you're looking for quick and easy. This dinner recipe is a delicious 30 minute meal that is comfort food at its best.

One-Pot Southwest Macaroni – Pasta meets the flavor of sloppy joes. Pair this with a quick green salad and you have an easy dinner recipe the whole family will love!
Smoky Tex Mex Sloppy Joes – Sloppy Joes with a Fritos crunch! These are perfect for a weeknight meal because they really took no time to cook up. And I bet most of the ingredients are things you already have on hand!
Sloppy Joe Mac & Cheese – Here's an easy family-friendly meal made in under 30 minutes for pure comfort food everyone will go crazy for!
Easy Beef Sliders – These are different than a grilled burger. Her cooking method is the perfect solution to a busy weeknight!
Shepherd's Pie Loaded Baked Potatoes – Shepherd's Pie Loaded Baked Potatoes are a fun, simple twist on a classic meal. Carrots and potatoes and cheese, oh my! These shepherd's pie loaded baked potatoes are a perfect way to enjoy an easy dinner. Gluten free, too!
Slow cooker dinner recipe ideas:
There's just something comforting about walking into your home in the evening and having dinner ready to go!
Slow Cooker Chicken Enchilada Soup – This easy dinner idea puts Mexican comfort food into a delicious and easy slow cooker soup recipe. This Slow Cooker soup packs a little heat and a lot of deliciousness!
Slow Cooker Pineapple Brown Sugar Pulled Pork – This easy Slow Cooker Pineapple Brown Sugar Pulled Pork recipe is smothered in homemade pineapple brown sugar barbecue sauce! Sweet, tangy and so tender!
Slow Cooker Meaty Marinara – Italian Turkey Sausage and lean ground turkey are the main ingredients in this simple slow cooker meaty marinara! Nothing beats an easy dinner that's ready when you need it!
Easy dinner recipes that use cheese:
If you're a dairy loving family like these are, chances are everyone will love these easy cheesy dinner recipe ideas.
Pepperoni Bubble Up Pizza – Canned biscuits, pepperoni, marinara sauce and cheese are baked until bubbly in this crowd pleasing pizza casserole.
Pizza Muffins – Sure to please the pickiest of eaters, this Pizza Muffin Recipe is a quick & easy mom win! And they can be made to order with your favorite pizza toppings! You can use homemade pizza dough or save that extra time and use store bought dough!
Triple Grilled Cheese – A triple grilled cheese is a grilled cheese with a twist. Two cheeses on the inside of the bread and one cheese on the outside. How cool is that? But you must be a cheese lover to enter this dark side…
Breakfast Egg Muffins – Breakfast for dinner? Yes please! We do this in our family all the time!
Bubble Up Carbonara – Another great weeknight dinner recipe. It's an easy dish that everyone will love! With just a few minutes of prep time, dinner will be ready fast. asically anytime bacon and bread is involved, a recipe will be amazing. Throw in Alfredo sauce and cheese and boom. You have one perfect recipe.
Quick and easy dinner recipes that are made with chicken:
Who doesn't love a good chicken dinner?
Chicken Mozzarella Pasta – Farfalle pasta tossed with some seasoned cooked chicken tenders, sun-dried tomatoes and bacon in a creamy mozzarella sauce. An easy and delicious weeknight dinner.
Baked Chicken Street Tacos – Here's a super easy family dinner idea. Quick to make using rotisserie chicken smothered in homemade crema & baked in the iron skillet.
30 Minute 2 Ingredient BBQ Wings – Quick BBQ wings that are baked in the oven in 30 minutes! 2 ingredients and 30 minutes is all that stands between you and dinner! Plus, these can go from an appetizer to a main dish by pairing with some mashed potatoes and a salad.
Baked Orzo with Chicken – Carrots, celery and onion are sauteed in a hot pan with some fresh garlic. Dry orzo pasta and tomato paste are stirred in to lightly toast the pasta. After it has been removed from heat, chicken, vegetable stock, fresh herbs and some essential seasonings are stirred in. Baked orzo with chicken is hearty and delicious!