Instead of braising in the oven all day, enjoy healthy Pressure Cooker Pork Roast with Apple Gravy.
This is the perfect fall dinner that is ready in little more than an hour.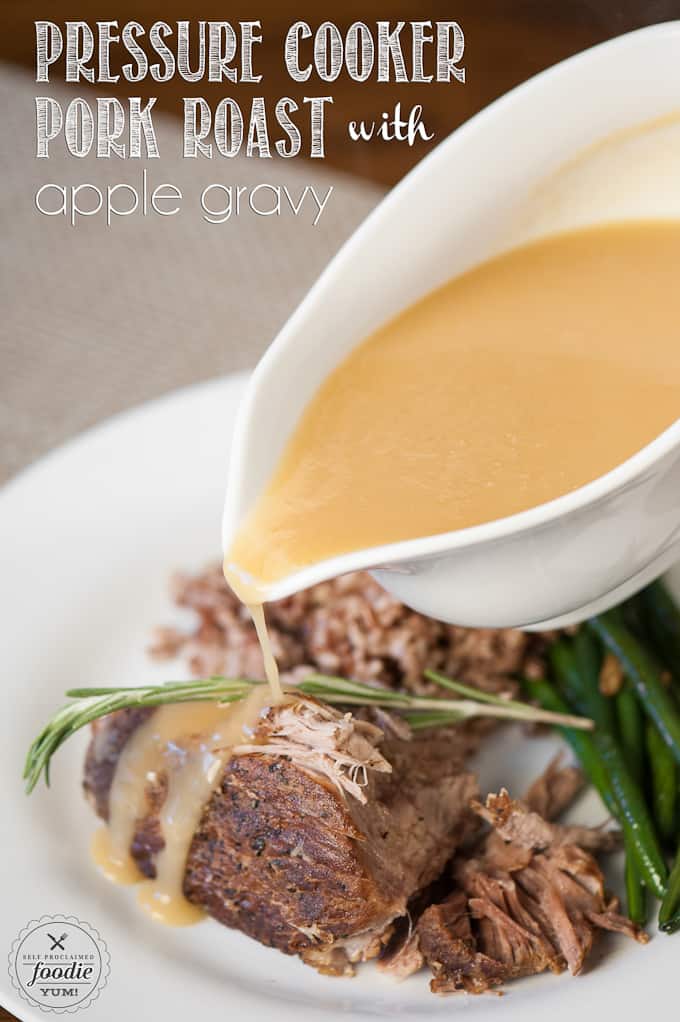 I have a serious love affair with my pressure cooker. I was so afraid to use it when I first got it. Now its my new crockpot.
Why do I love it so much? Well, its basically the same as a slow cooker, except its much faster and it locks in the flavor, moisture, and vitamins so much better than a slow cooker! How else can you make an outstanding dinner like this Pressure Cooker Pork Roast with Apple Gravy without braising it all day in the oven or a slow cooker? You can't!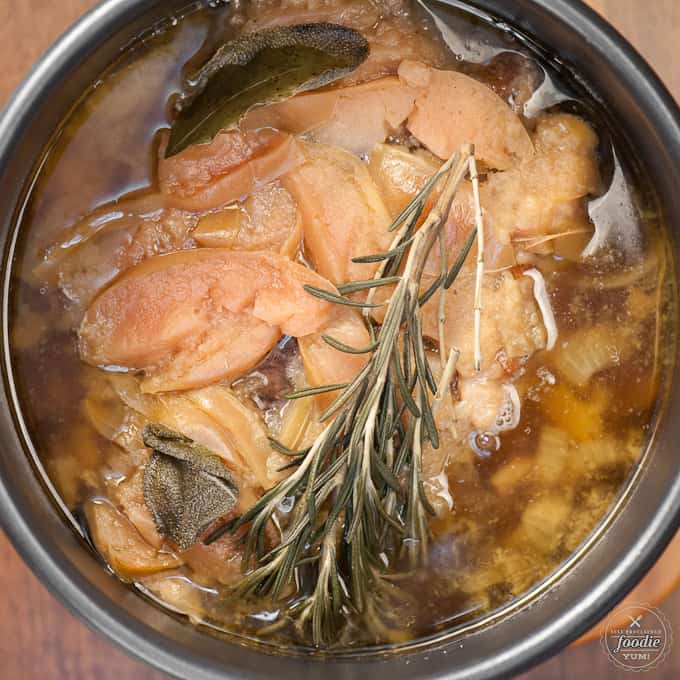 Want more awesome pressure cooker recipes? Try out Brandie's instant pot meat loaf recipe!
Reasons to use a pressure cooker instead of a slow cooker:
I was actually planning on cooking this pork roast in the slow cooker. I hadn't used it in a long while and always have personal guilt when I neglect my appliances that take up a large amount of cabinet space. Alas, it was a busy weeknight and I hadn't planned ahead - the story of my life. It was either a decision to leave it for the crockpot the next night and eat breakfast for dinner, or to try it out in the electric pressure cooker. I think its evident which won.
One of the main reasons I love using the pressure cooker over the slow cooker is that I can use that pressure cooker to sear the meat. I took the explanation below from Kitchn and couldn't agree more:
"Contrary to widely held belief, searing meat doesn't actually seal moisture inside the cut of meat or result in a juicier finished dish. It does, however, give meat dishes an incredible depth of flavor. Additionally, it gives meat an appetizing color and kills off any bacteria that might be hanging out on the surface of the meat. Searing over high heat caramelizes the surface of the meat, which enhances the savory 'meat' flavor and fills the finished dish with complex layers of nutty caramel and coffee-like bitterness. In technical terms, this is called a Maillard reaction and it's a flavor profile we omnivores happen to find quite delicious. Without searing, meat dishes can taste flat and boring. Admittedly, searing isn't strictly necessary for the cooking process. Technically speaking. The meat will cook just fine without searing. (And any surface bacteria will die during cooking anyway.) But I really believe that the depth and complexity of flavor we gain in this searing step is well-worth the extra effort." What about you?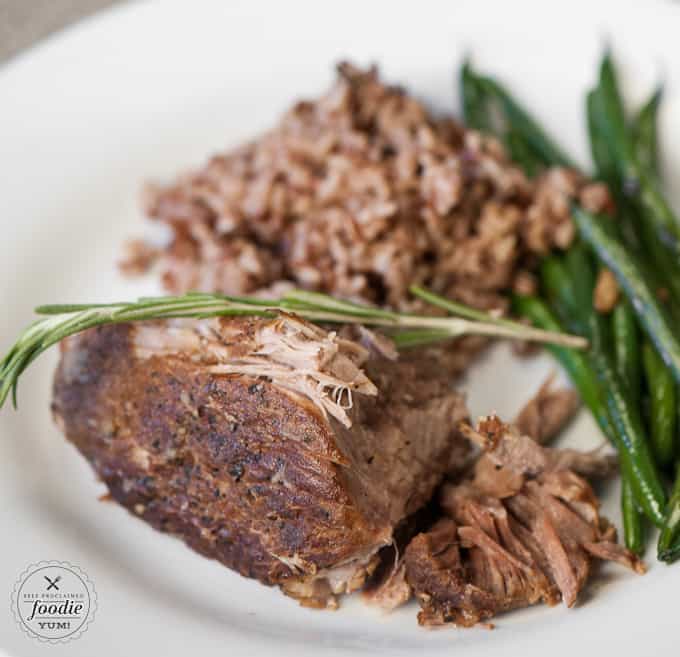 How to make a pork roast in a pressure cooker:
Step one is to sear the meat as described above. Then you add onion, apple, apple juice, chicken broth, and a whole bunch of fresh herbs. A little savory and a little sweet is the right flavor profile for this meal. Any time you cook in the pressure cooker, you must add liquid!
If you're wondering how long it takes to cook a pork roast in a pressure cooker, my rule of thumb has always been 60 minutes with a slow pressure release. If your meat is frozen or cold, that may increase your cooking time, but one full hour has always worked for me. Sure beats the 6-8 hours it would take to braise this meat to tender perfection in a dutch oven or crockpot!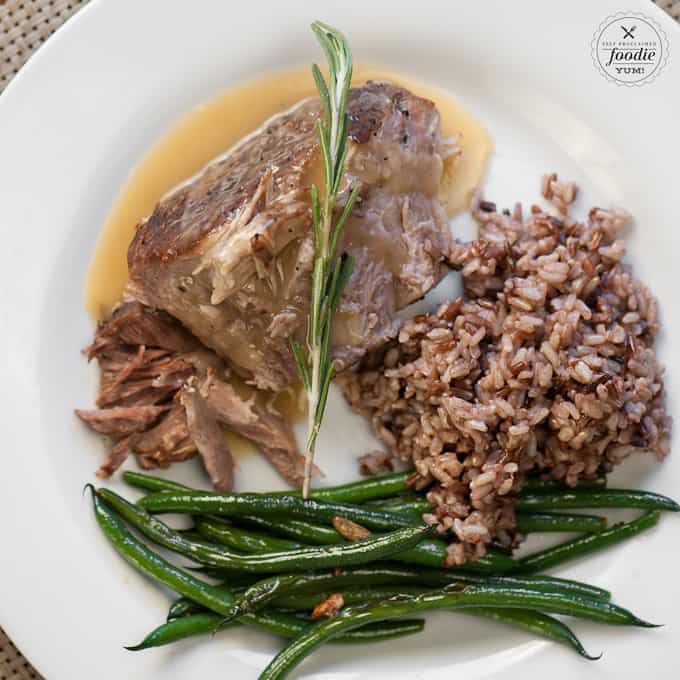 Pork roast with gravy:
Alone, the roast is tender and delicious. But all good things deserve lots of good gravy.
I cooked down all those wonderful apples and onions along with the juices from the meat, then I strained out all the solids and thickened it up. The result was a beautiful savory gravy that tasted like a fall harvest. It reminded me of when I was a kid and we had pork chops with apple sauce for dinner, only much better.
I served this dinner up with some wild rice and fresh green beans sauteed in garlic - YUM!
Healthy, fast, and fall flavor for the win!!!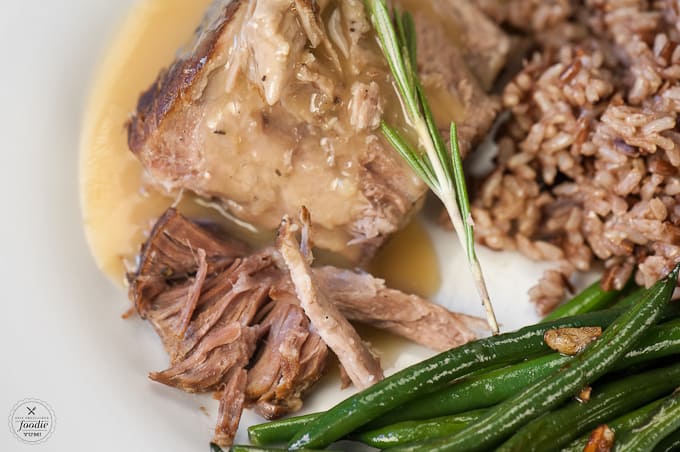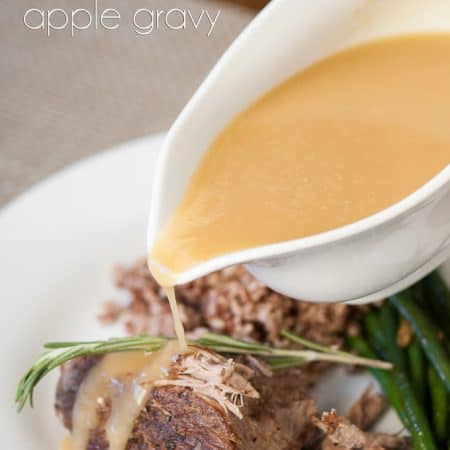 Pressure Cooker Pork Roast with Apple Gravy
Instead of braising in the oven all day, enjoy healthy Pressure Cooker Pork Roast with Apple Gravy as a perfect fall dinner in little more than an hour.
Print
Pin
Rate
Hover to scale:
6
servings
Ingredients
1

3-5 pound bone in pork shoulder roast

1

teaspoon

kosher salt

1/2

teaspoon

freshly ground pepper

1

tablespoon

olive oil

1

yellow onion

(sliced)

2

apples

(core removed and sliced)

1

cup

chicken broth

1

cup

apple juice

1

sprig fresh rosemary

3

fresh sage leaves

1

bay leaf

3

tablespoons

butter

3

tablespoons

flour
Instructions
Rinse and thoroughly dry roast. Any moisture will prohibit a nice crust from forming. Season both sides with salt and pepper.

Heat pressure cooker to browning setting. Heat oil and add pork roast. Brown for 5 minutes on both sides.

Add onion, apples, broth, juice, rosemary, sage, and bay leave. Close lid and set to high pressure. Cook at high pressure for 60 minutes. Allow to naturally release pressure once done cooking.

Once you can remove the lid, carefully remove roast and loosely tent with aluminum foil.

Strain out all the solids from the liquid by pressing through a mess sieve. Discard solids and save the liquid for the gravy.

Using your electric cooker on the saute setting, heat butter and flour and allow to cook until golden brown while stirring, about 3-5 minutes. Whisk in the hot liquid to form the gravy.

To serve, shred the pork roast away from the bone and any remaining fat. Smother it with the apple gravy.
NUTRITION INFORMATION
Calories:
417
kcal
|
Carbohydrates:
17
g
|
Protein:
37
g
|
Fat:
21
g
|
Saturated Fat:
8
g
|
Cholesterol:
138
mg
|
Sodium:
724
mg
|
Potassium:
793
mg
|
Fiber:
1
g
|
Sugar:
11
g
|
Vitamin A:
220
IU
|
Vitamin C:
8.7
mg
|
Calcium:
41
mg
|
Iron:
2.7
mg
This post was originally created in Sept 2016 and has been updated in August 2018 with more fun facts and tidbits for your reading pleasure.