Seafood Gumbo, with shrimp, crab, chicken Andouille sausage, and okra is a spicy Cajun inspired meal served over rice or grits.
This recipe is not quick and easy as it takes time to cook to properly develop all of the flavors. It all starts with a dark and rich roux made from bacon drippings.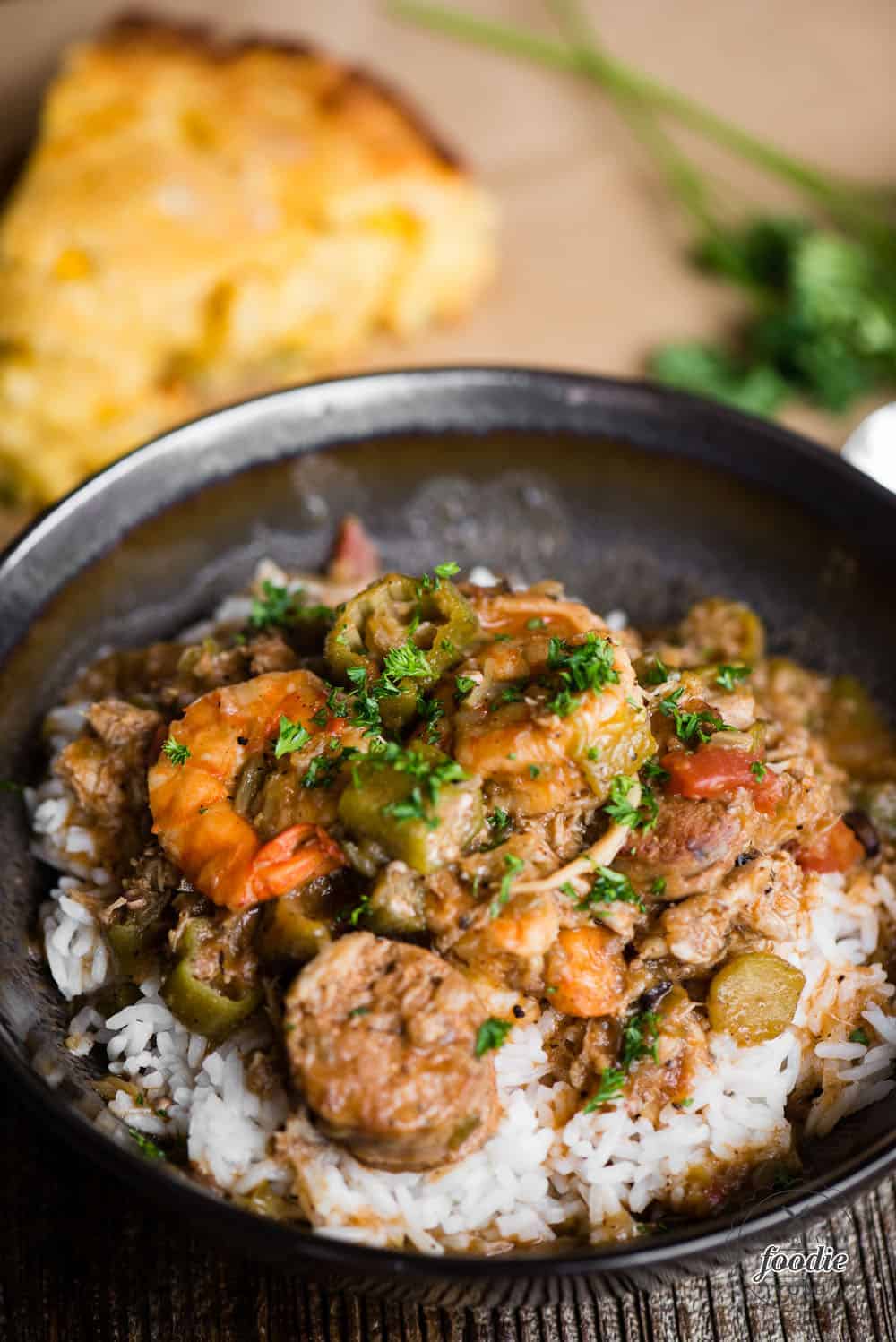 Why this recipe works:
Gumbo is one of those seafood dinner recipes that is worth the time and effort.
Cooking this scratch is not for the faint of heart. Not only will it take a lot of your time and patience, but shrimp and crab can be costly.
But, if you want to make something flavorful, a meal fit for a king that can be devoured for a fun occasion like Mardi Gras - well then, you can't go wrong with this recipe.
This recipe is packed with flavor.
How to make Cajun inspired Gumbo:
To make this recipe, you will follow a long and somewhat detailed recipe. There are many steps and ingredients, but the final result has out of this world flavor.
This recipe starts with the roux. You can make your roux on the stove top over very low heat, but I chose to do it in the oven so I could more easily walk away. I used my dutch oven so that I could easily transfer it from the stove top to the oven. The trick to a well developed roux is to cook it low and slow. You need a low heat to keep it from burning. The slow ensures a long cooking time. I used bacon drippings, but butter would work well too.
Next comes that Holy Trinity of vegetables: onion, celery, and green bell pepper. I diced them up using the food processor because I like the way it shreds the veggies and cuts them into various sizes. Cook them up in the roux. I also added the sausage at this point because it was uncooked and I wanted the meat to absorb all of the flavor of the vegetables.
Next, you add the stock and a bunch of other ingredients to get the stew cooking. This part needs about an hour.
Finally, you'll toss in your seafood and cook it for another hour or so. The entire making process benefits from low and slow. Like I said, this is not a quick and easy recipe, but it is well worth your time.
The ingredients matter.
STOCK: When choosing a stock, I recommend beef broth. You can easily used boxed beef broth, but if you want outstanding flavor, you should make your own roasted beef broth. You can also make this recipe using chicken broth as well.
SHELLFISH: Gumbo typically contains shellfish. I chose to add shrimp

and

crab

.

SAUSAGE: Andouille sausage

adds great Cajun flavor.
Gumbo is thickened by several components.
The roux is arguably the most important part of the recipe.
Okra is also a thickener, It has a rather slimy texture, but that just adds to the stew.
Finally, gumbo file powder, which is made from ground sassafras, also acts as a thickener.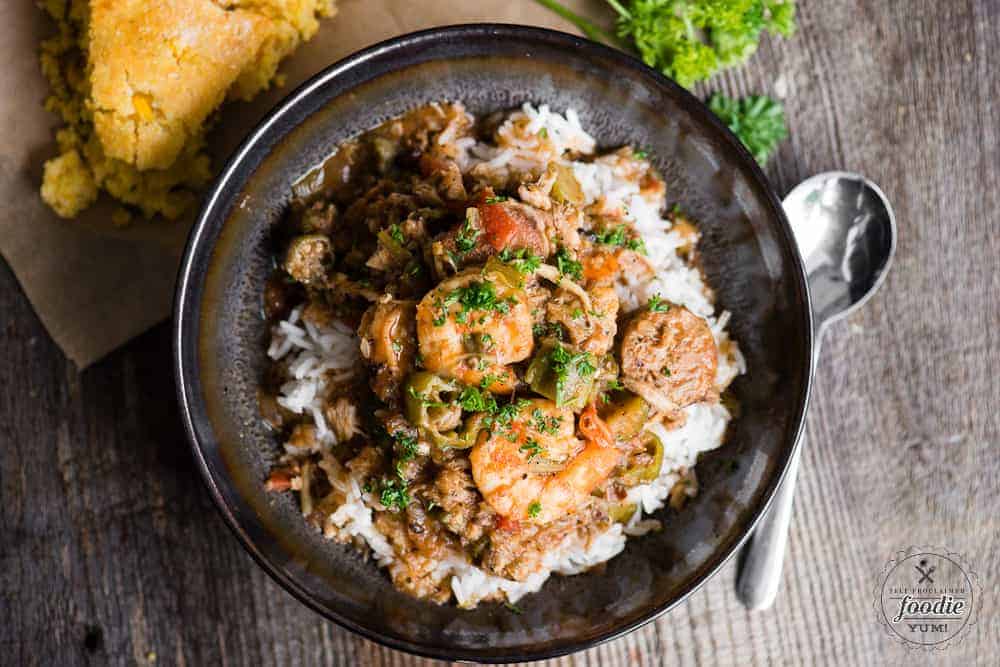 The Roux is important.
To make roux, you typically combine equal parts of flour and fat and you cook it long enough to make the flour golden brown.
The roux in a gumbo is different, however, in that you cook it much longer to really develop the flavor.
Gumbo filé:
Filé powder, also called gumbo filé, is a spicy herb made from the dried and ground leaves of the North American sassafras tree. It is used in Louisiana Creole cuisine and is a necessary ingredient when making seafood gumbo.
Filé is one of the ingredients used to both thicken and flavor this recipe.
You can find filé powder at some specialty stores. You can also easily order it online.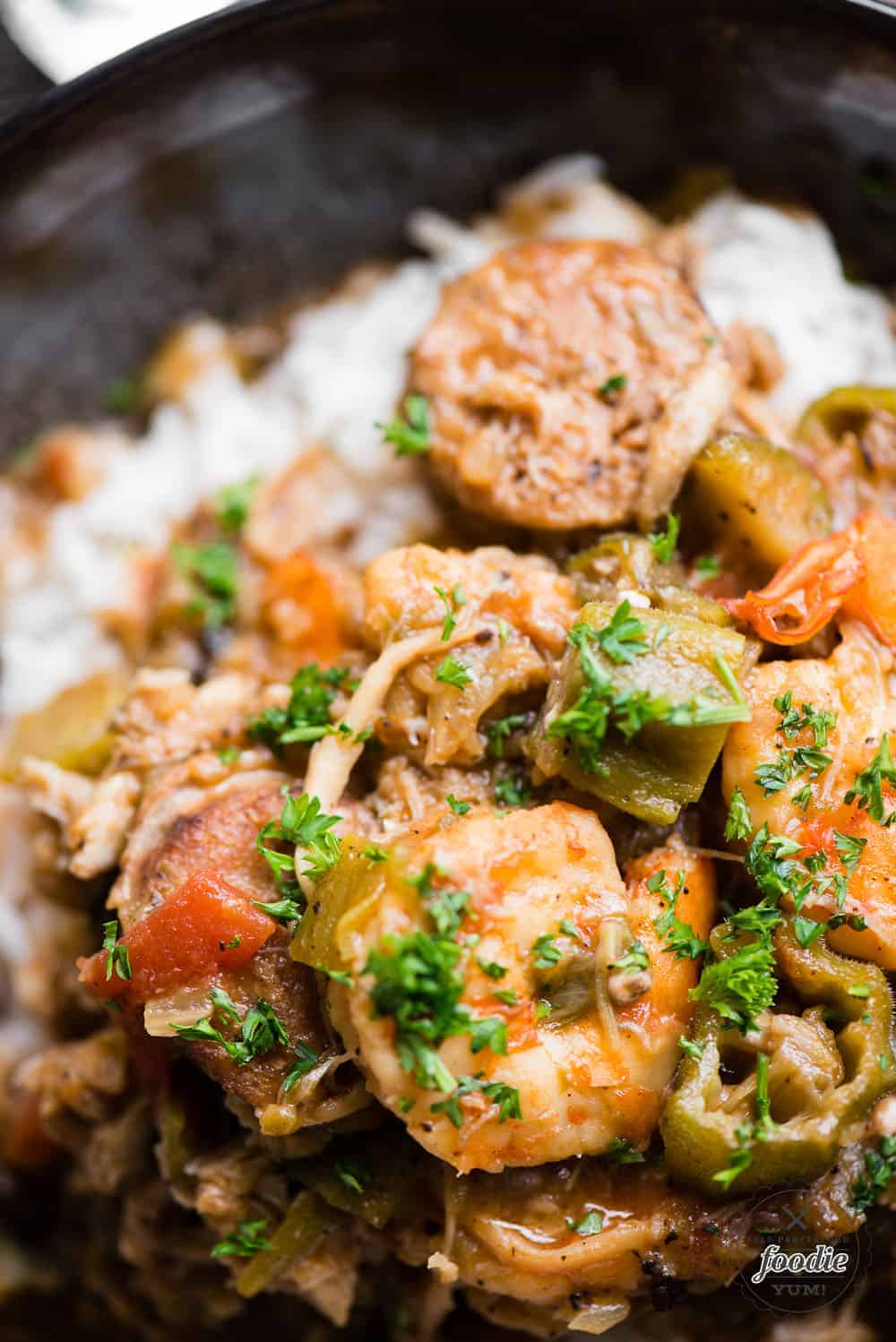 What to serve with gumbo:
This meal is typically served over rice.
I recommend cooking a medium or long grain white rice. I also recommend cooking the rice with the least amount of water so that it's not very soft and can hold up well against the sauce. If you've never used your Instant Pot to cook rice, it works perfectly!
Though not as common as rice, you can also serve it with grits.
You can't go wrong with a batch of sweet and spicy jalapeno cornbread either.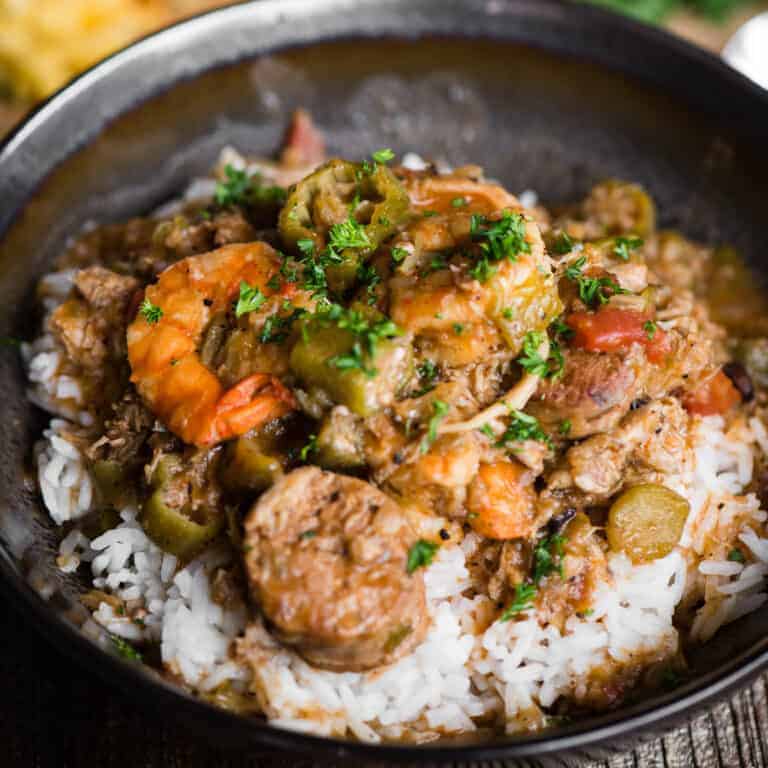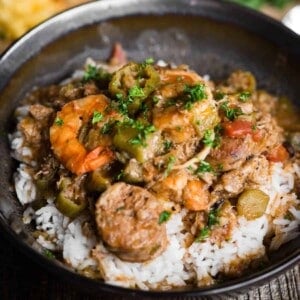 Seafood Gumbo
Seafood Gumbo, with shrimp, crab, chicken Andouille sausage, and okra is an spicy Cajun inspired meal served over rice or grits. This recipe is not super easy as it takes time to cook to properly develop all of the flavors. This recipe all starts with a dark and rich roux made from bacon drippings.
Print
Pin
Rate
Hover to scale:
8
servings
Ingredients
½

cup

all purpose flour

½

cup

bacon drippings

1

medium onion

1

small

(or half of a large bell pepper, stem and seeds removed)

3

stalks celery

2

cloves

garlic

¾

pound

chicken Andouille sausage

((or pork Andouille sausage), sliced into ¼ inch thick pieces  )

1 ½

quarts

beef broth

1

teaspoon

sugar

1

tablespoon

hot pepper sauce

(Tobasco)

½

teaspoon

Cajun seasoning

2

bay leaves

 ½ teaspoon dried thyme

1

cup

diced tomatoes

1

tablespoon

tomato paste

10

ounces

frozen okra

1 ½

pounds

uncooked shrimp

(peeled and deveined)

8

ounces

lump crabmeat

(I used frozen)

1

tablespoon

Worcestershire sauce

2

teaspoons

gumbo file powder

salt

(amount varies by preference)
Instructions
To make roux, whisk together flour and bacon drippings in a dutch oven and cook in 300 degree oven for 90 minutes, whisking every 15 minutes or so. This temperature should be hot enough to develop a rich dark roux without burning it, but if it smells like it's burning, reduce the temperature.

While roux is cooking, pulse onion, bell pepper, celery, and garlic in a food processor. You want the cut pieces to be small as if you were dicing them with a knife.

Once roux is done, transfer dutch oven to your stove top. Add onion mixture and sausage. Cook over medium low heat. You want to cook the vegetables and sausage while not burning the roux. Stir occasionally. Cook until vegetables are tender, about 15 minutes.

Slowly add beef broth to mixture in dutch oven. Scrape bottom of pan to loosen anything that stuck during the cooking process. Stir well to combine and bring to a simmer. Add sugar, hot pepper sauce, Cajun seasoning, bay leaves, thyme, tomatoes, tomato paste, and okra. Reduce heat to a simmer and cook for one hour.

Add shrimp, crab meat, gumbo file powder, and Worcestershire sauce. Cook for an additional hour over extremely low heat.

Add salt to taste. I never specify the amount because I feel it's based on personal preference, but start out with a small amount, taste, and continue adding until the flavor is right.

Serve gumbo over a medium or long grain rice or grits.

Store in refrigerator for up to 3 to 5 days or freeze in air tight container.
NUTRITION INFORMATION
Calories:
410
kcal
|
Carbohydrates:
14
g
|
Protein:
35
g
|
Fat:
23
g
|
Saturated Fat:
8
g
|
Cholesterol:
272
mg
|
Sodium:
1708
mg
|
Potassium:
601
mg
|
Fiber:
3
g
|
Sugar:
4
g
|
Vitamin A:
980
IU
|
Vitamin C:
40
mg
|
Calcium:
203
mg
|
Iron:
4
mg
This recipe was originally published in April 2019 and has been updated with helpful information, ingredient and process photos, as well as recipe tips. Don't worry - the recipe hasn't changed!