When it comes to comfort food that warms the heart and delights the palate, few dishes can rival the classic Southern charm of Cheesy Shrimp and Grits.
This iconic dish has its roots deeply embedded in the American South, capturing the essence of its culinary traditions and blending them into a harmonious and flavorful concoction.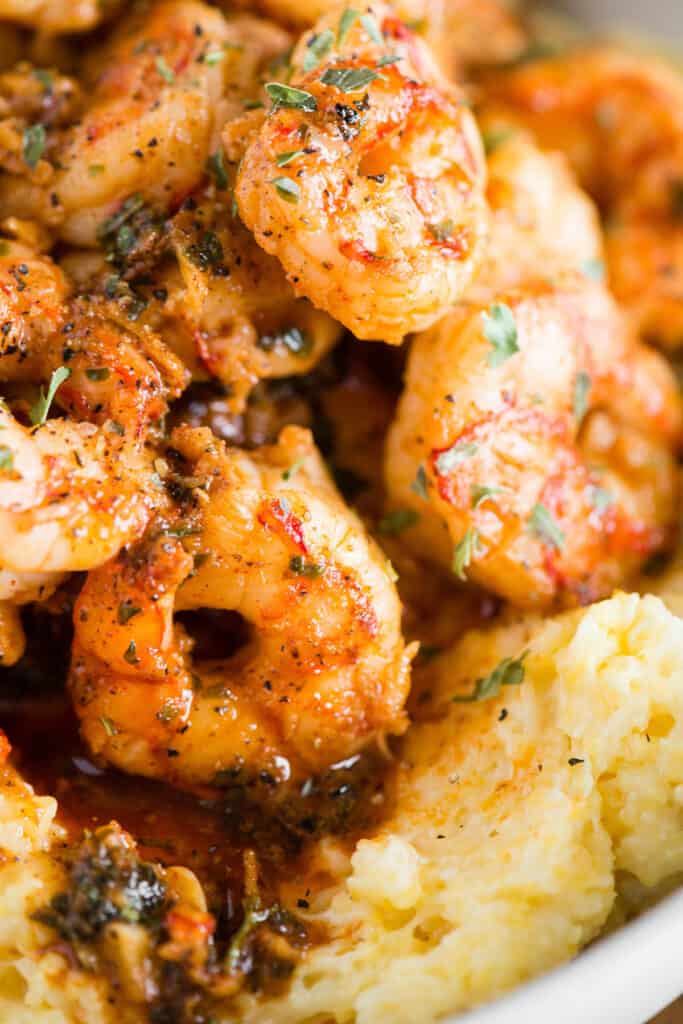 If you're seeking a delightful gastronomic adventure that marries creamy grits, succulent shrimp, and bold creole seasoning and flavors, then this dish is a must-try.
If you love the flavors of my Cajun Shrimp Pasta, I'm confident you'll love this recipe too!
Why You Should Make It
Authentic Southern Flavors: If you've ever wanted to experience the true essence of Southern cuisine, Shrimp and Grits is your passport to flavor. It encapsulates the rich history and cultural diversity of the American South, bringing together ingredients and techniques from places like New Orleans and North Carolina.
Versatility: While this dish is often enjoyed as a hearty dinner, it's a versatile recipe that can be savored at any time of day. From a hearty breakfast shrimp dish to a soul-warming dinner, the combination of creamy grits and flavorful shrimp knows no bounds.
Flavor Explosion: The marriage of creamy, cheesy grits with the bold and spicy Cajun seasoning covered shrimp creates an explosion of flavors in every bite. The contrast between the creamy base and the savory shrimp mixture is a culinary experience like no other.
Customizable: While the recipe provides a solid foundation, there's room for personal creativity. Feel free to adjust the spice levels, experiment with different types of corn for the grits, or even add ingredients like andouille sausage or bacon for an extra layer of depth.
Heartwarming Comfort: Cheesy Shrimp and Grits isn't just an amazing recipe — it's a comforting embrace that soothes the soul and satisfies the senses. Whether you're indulging alone or sharing it with loved ones, this dish is sure to create memorable moments.
Ingredients Needed
Exact quantities are listed in the recipe card below, but here is a summary.
For the cheese grits: Seafood stock, white wine, water, salt, grits, heavy cream, butter, sharp cheddar cheese.
For the shrimp: large uncooked shrimp, olive oil, pepper, garlic, parsley, paprika, Worcestershire sauce, hot sauce, lemon juice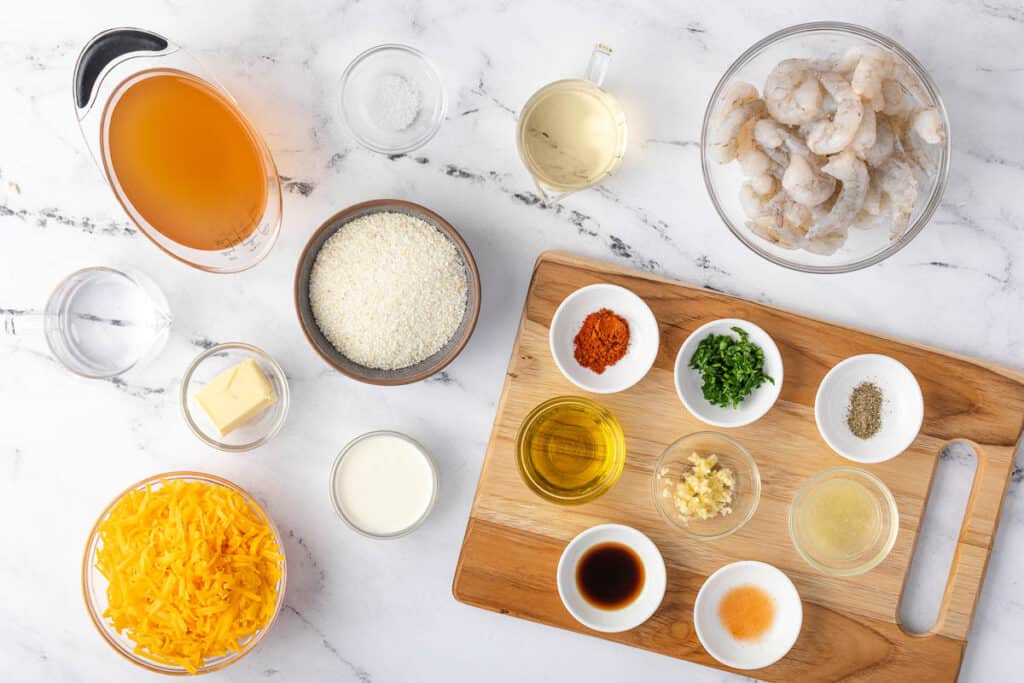 How to make Shrimp and Cheese Grits
Detailed step by step instructions are listed in the recipe card below, but here is a summary.
Cook the grits
Heat liquid: Combine seafood stock, wine, water, and salt in a medium saucepan and bring the mixture to a boil.
Add grits: Whisk in the grits and continue to stir as they cook.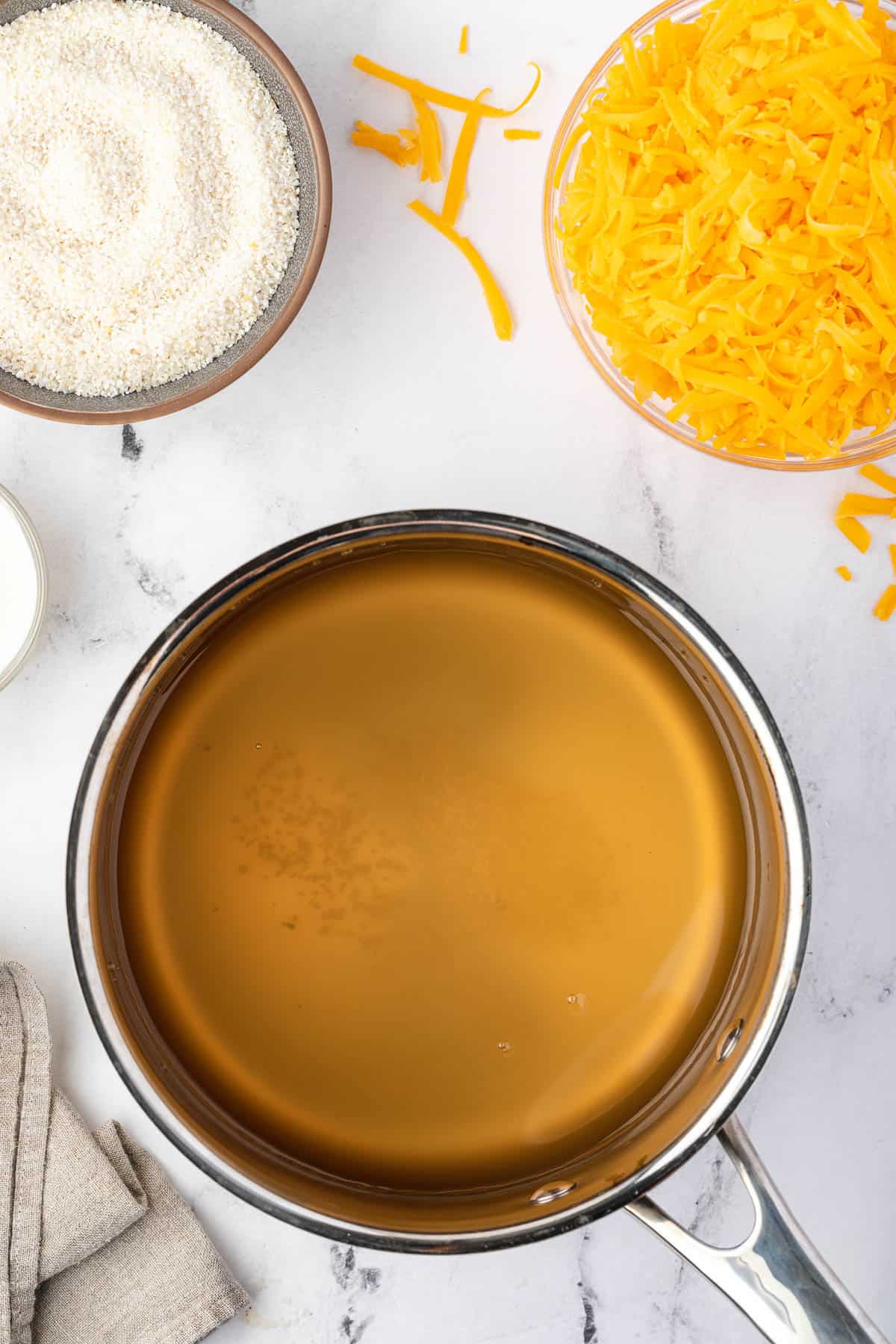 Cook the grits over medium-high heat. Continue to stir them periodically until they have thickened and the grits are tender- about 5-10 minutes total.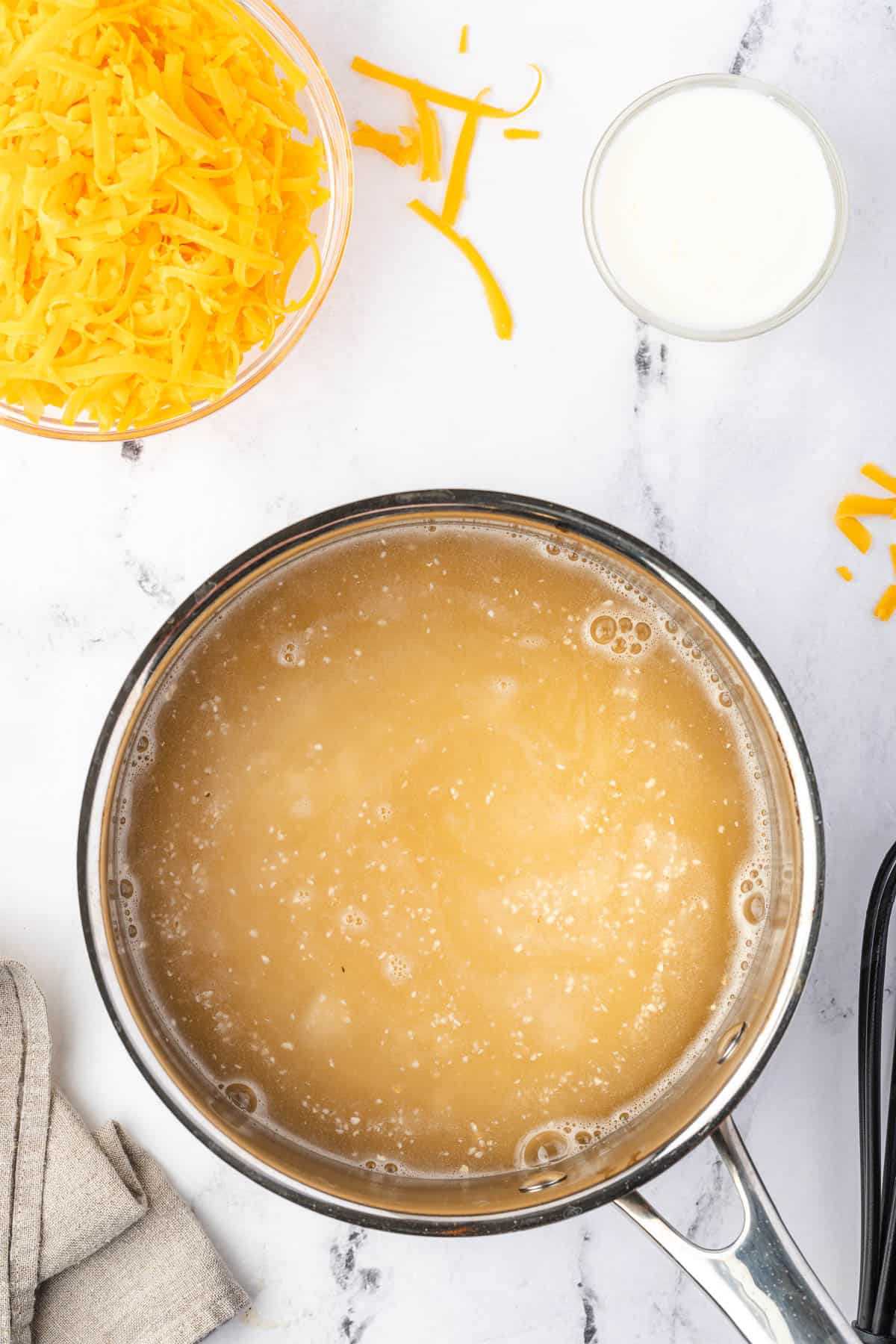 Add the heavy cream and cheddar cheese: Once the grits are done, add the heavy cream and grated sharp cheddar, stir the mixture well, cover with a lid, and remove the pan from the heat.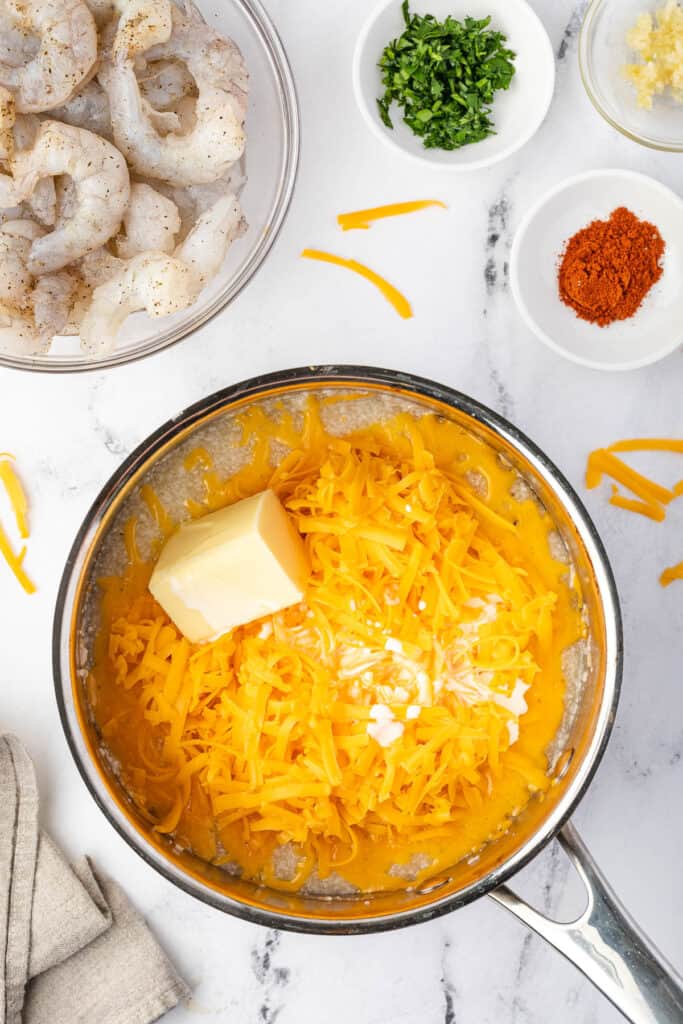 Cook the shrimp
Heat pan: Add oil to large sauté pan and add the shrimp in a single layer.
Cook shrimp: Cook until they start to turn golden brown, about 3 minutes, then turn and cook for an additional 2 minutes.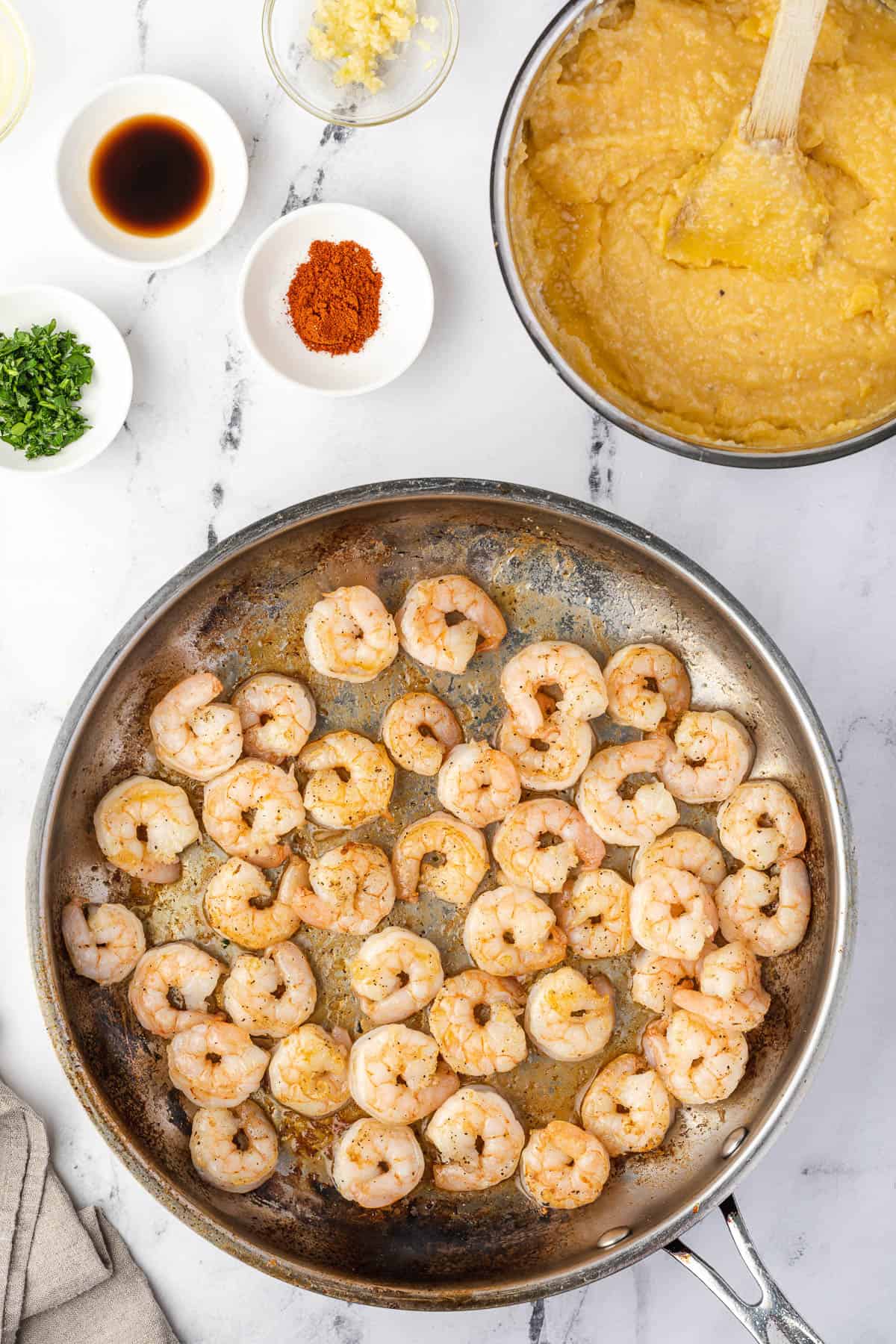 Create sauce: Add remaining ingredients to shrimp, stir, and remove from heat.
To serve, spoon shrimp with sauce over warm cheese grits.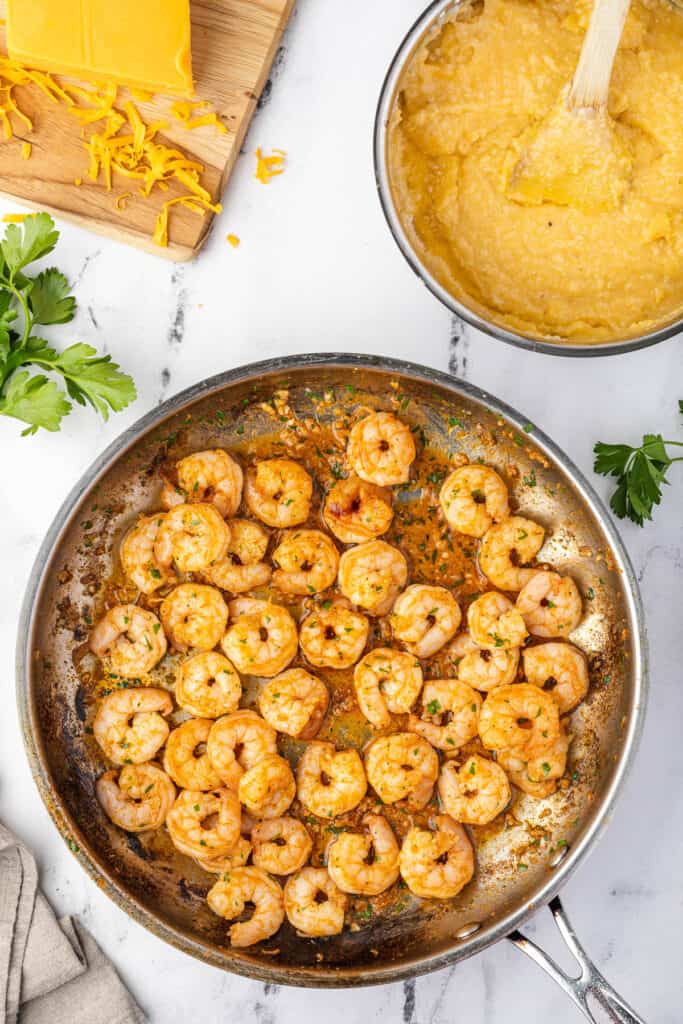 Cooking Tips for Best Results
Prep the ingredients: Since both shrimp and grits are quick to cook, be sure to prepare and measure all of the ingredients before cooking.
Serving recommendations: Shrimp and grits only need a nice green vegetable to round out the meal. If you want to add a nice Southern flare, you can't beat Collard Greens with Bacon. Wilted Garlic Spinach or Creamed Spinach are a nice addition. A simple green salad always works too.
Reheating and storage: Shrimp are best if eaten when cooked. If there are leftovers, store in an air tight container and consume within a few days. To reheat, do so gently. You will only want to warm the leftover shrimp and not cook it, so low power in the microwave in 1-minute increments should do the trick.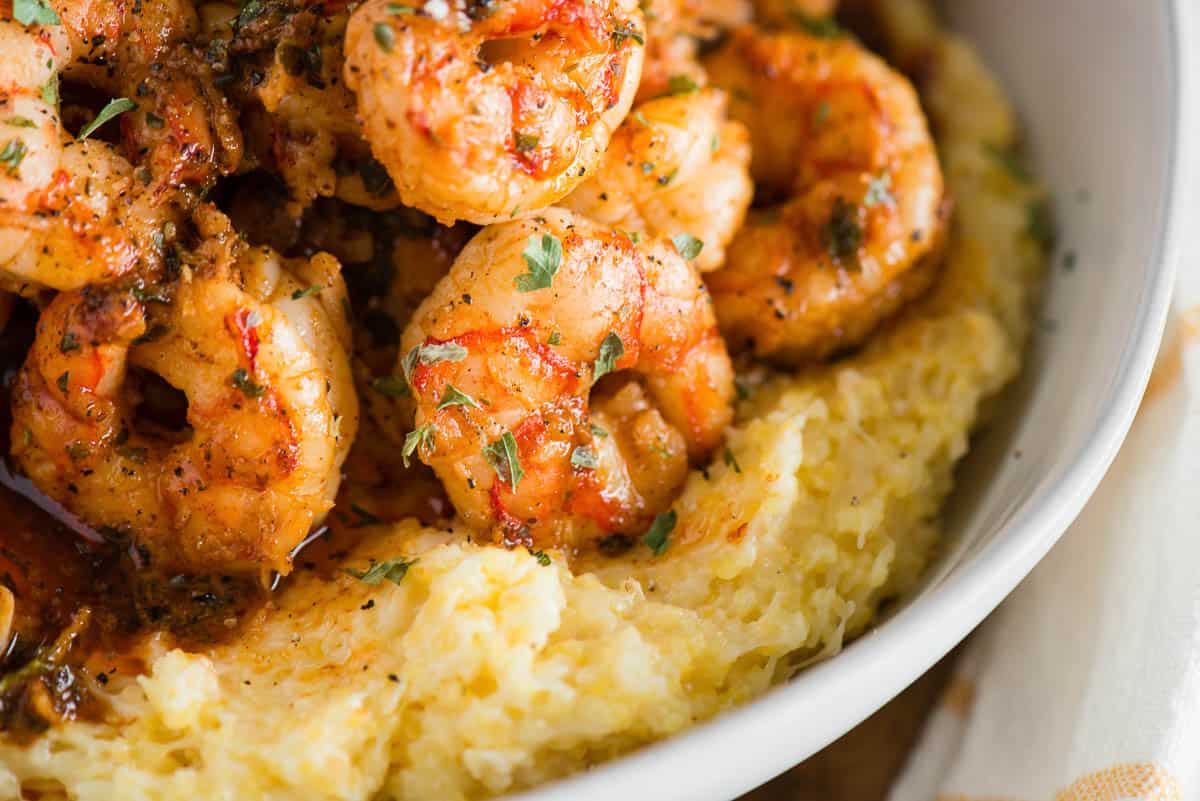 ​Ingredient Substitutions
Sometimes, substitutions are needed based on ingredient availability or dietary restrictions. The following recipe modifications an be made if needed.
For Shrimp
If you prefer a different protein, you can use cooked chicken, sliced sausage (like andouille), or even sautéed mushrooms for a vegetarian option.
For Grits
Cornmeal: If you can't find white grits, you can use coarse cornmeal instead. The texture may be a bit different, but it's a close substitute.
Polenta: Similar to grits, polenta can be used as a replacement. It's often smoother in texture but still provides a corn-based element.
Seasonings and Flavorings
Spices: Adjust the spice blend to your liking. You can use varying amounts of chili powder, cumin, garlic powder, white pepper, or cayenne pepper to add a different flavor profile.
Seafood stock: Chicken broth or chicken stock can be used as a substitute for seafood stock if needed. You can also make your own homemade seafood stock by cooking the shrimp shells in water with a squeeze of lemon.
White wine: A squeeze of lemon can be added to the grits instead.
Dairy and Creaminess
Heavy cream: Whole milk can be used in place of the heavy cream. Because milk has much less fat than cream, you can increase the decadence by adding a bit of bacon grease.
Dairy-Free Options: Because of the heavy cream, butter, and cheddar cheese, this recipe can only be made dairy free if you're willing to completely transform it. If you're dairy-free, you can use full fat coconut milk to make the grits creamy. Bacon fat can be used in place of the butter. The cheese can be omitted or a dairy free cheese can be used. These modifications will drastically change the taste and texture of the original recipe, however.
Toppings and Garnishes
Fresh Herbs: If you don't have parsley, try using other fresh herbs like thyme, basil, or cilantro.
Sautéed Vegetables: Instead of the garnishes, sautéed spinach, roasted red peppers, or caramelized onions can add a delicious twist.
Remember, while substitutions can be convenient, they may alter the overall taste and texture of the dish. Feel free to get creative and adapt the recipe to your taste preferences and dietary needs.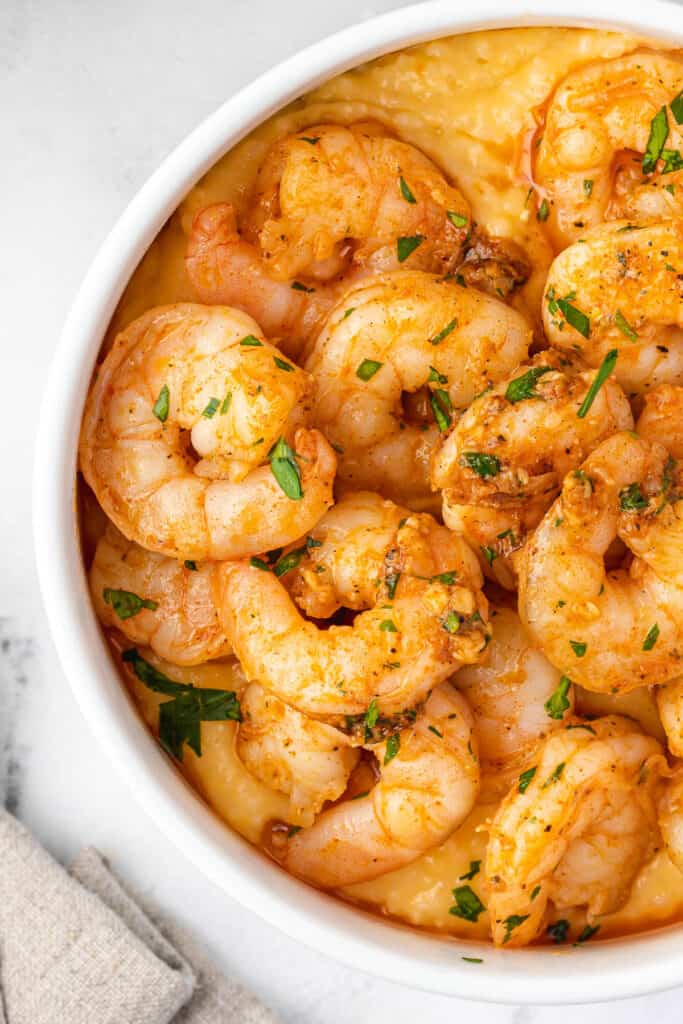 FAQs
What are grits?
Grits are a dish made from ground corn kernels that are boiled to a porridge-like consistency. They're a staple in Southern cuisine. Grits are most often made from white corn, but can also be made from yellow corn depending on the region.
What is the best shrimp for this dish?
Wild caught, uncooked, fresh (or frozen and thawed), deveined, and peeled shrimp work well. Medium to large sizes are commonly used for shrimp and grits.
Can I use instant or quick grits?
While instant grits are quicker to prepare, stone-ground grits or old-fashioned grits offer better flavor and texture for this dish.
Can I add additional ingredients to the dish?
Absolutely. Sausage, bacon, mushrooms, bell pepper, and green onions are common additions that can enhance the flavor.
Can I make this dish ahead of time?
While the grits are best made fresh, you can prep the shrimp and other components ahead of time and assemble just before serving.
What's the best way to serve shrimp and grits?
Serve the creamy grits on a plate or bowl and top them with the cooked shrimp. Garnish with chopped herbs, like parsley or green onions.
Is shrimp and grits a breakfast or dinner dish?
It's versatile and can be enjoyed for breakfast, brunch, or dinner. In the South, it's commonly served as a hearty meal any time of day.
Are there regional variations of shrimp and grits?
Yes, different regions have their own twists on the dish. Some variations include fresh tomatoes, tomato-based sauces, spicy seasonings, or different types of seafood.
What beverages pair well with shrimp and grits?
Iced tea, white wine, or a light lager are popular choices that complement the flavors of shrimp and grits.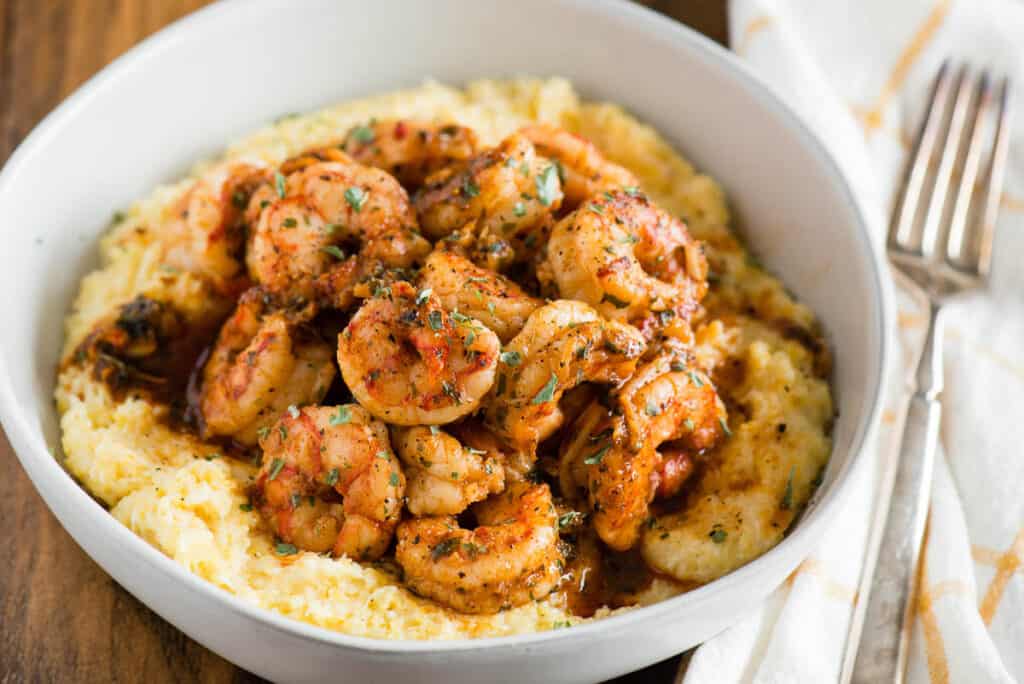 If you've made this or any other recipe on my site, let me know in the comment section how it turned out. I love hearing from my readers!
You can also follow along on PINTEREST, FACEBOOK and INSTAGRAM to see more amazing recipes to satisfy any foodie craving!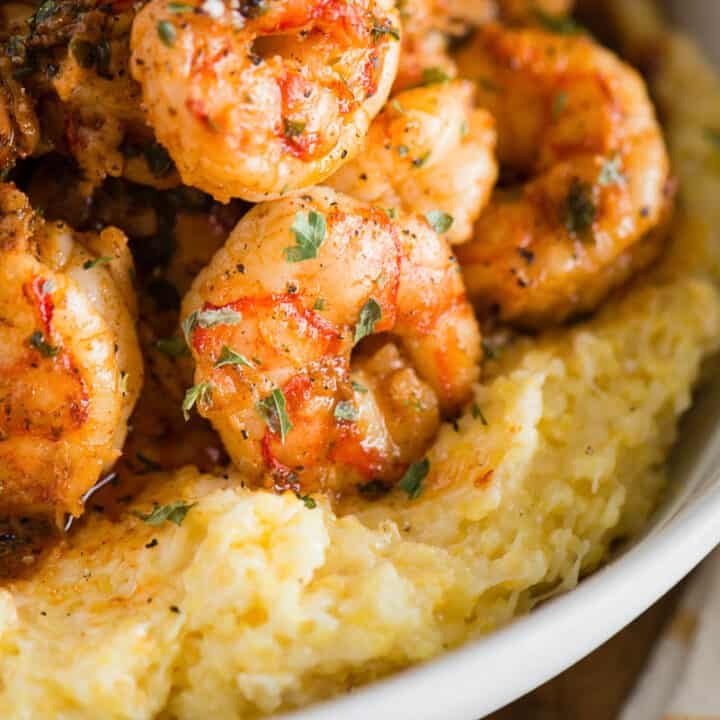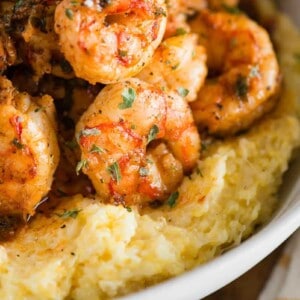 Cheesy Shrimp and Grits combines succulent tender shrimp cooked to perfection in a tangy spicy sauce over creamy cheesy polenta. YUM!
Ingredients
Grits:
15

ounces

seafood stock

1/2

cup

white wine

1/2

cup

water

1/2

tsp

Kosher salt

1

cup

grits

I use Bob's Red Mill

3

tbsp

heavy cream

3

tbsp

unsalted butter

2

cups

sharp cheddar cheese

shredded
Instructions
Heat liquid for grits: In a medium saucepan, bring the stock, white wine, water, and salt to a boil.

Cook grits: Whisk in the grits and cook over moderately high heat. Continue to stir periodically until thickened and the grits are tender- about 5-10 minutes total. Add the cream, butter, and cheese and gently stir. Cover and remove from heat. Set aside.

Cook shrimp: To cook the shrimp, heat oil (or bacon grease if available) in a large skillet over medium-high heat. Coat shrimp with black pepper and cook in skillet until they start to turn golden brown for approximately 3 minutes. Once turned, stir in remaining ingredients to create a sauce and cook for an additional 2 minutes or until they are fully cooked.

To serve, spoon the warm cheesy grits into a bowl and top with shrimp with a bit of sauce. Serve hot and enjoy!
Nutrition
Calories:
711
kcal
,
Carbohydrates:
35
g
,
Protein:
43
g
,
Fat:
41
g
,
Saturated Fat:
21
g
,
Cholesterol:
383
mg
,
Sodium:
1886
mg
,
Potassium:
344
mg
,
Sugar:
1
g
,
Vitamin A:
1325
IU
,
Vitamin C:
7.3
mg
,
Calcium:
620
mg
,
Iron:
3.7
mg
Nutrition information is automatically calculated, so should only be used as an approximation.
This recipe was originally published in May 2019 and has been updated with helpful information, ingredient and process photos, as well as recipe tips. Don't worry – the recipe hasn't changed!