This vibrant and delicious Pomegranate Cosmopolitan made with vodka and Grand Marnier is easy to make and will be the talk of any holiday party.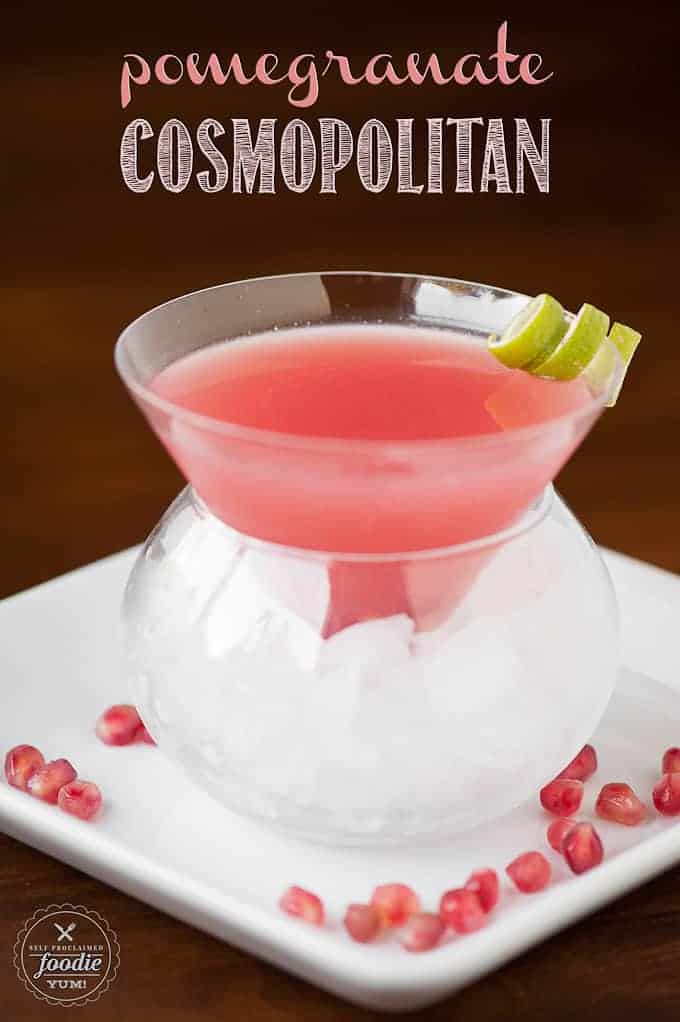 I was trying to think of some good winter cocktails. Sure, anything with champagne is a great choice, not just for New Years, but for the middle of the day when the kids are at school. Did I just write that? Whoops, must be the cosmo talking. I love fresh pomegranate. Not only is it a super food, but its one of like 3 fruits that are in season this time of year and they totally absorb alcohol like any good fruit floating in a boozy paradise should. That's why I used them two ways for this recipe – in the simple syrup and floating in the drink.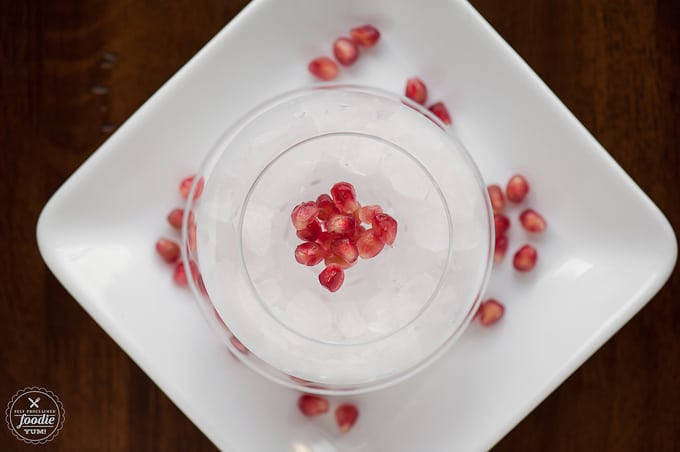 You can buy fresh pomegranate seeds already removed but they just cost a lot more than if you'd buy the whole fruit. Plus, I think they just taste better when I seed them myself. The trick is to score the outside. Then, fill up a big bowl of water and hold the pomegranate under the water and break those chunks apart. Then, use your fingers to remove the seeds. The seeds will sink to the bottom and all the white pith will float. Fun fact for the day.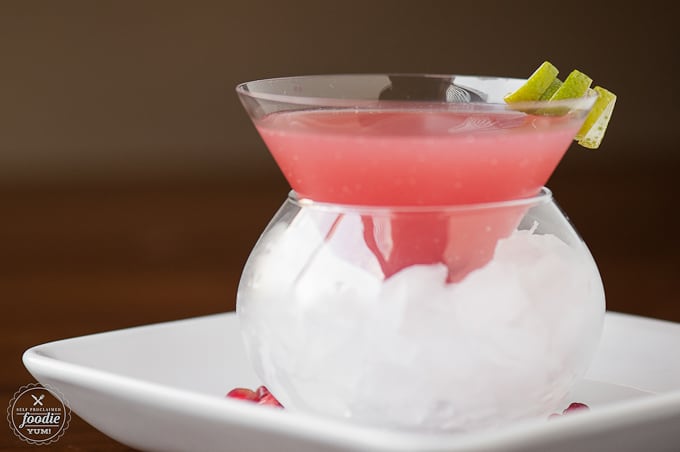 You like my martini glasses? We got them from Crate and Barrel over a year ago and have used them like once. Why? I don't know. They worked great because they kept mama's boozy drink ice cold and I was less likely to spill it after my second or third drink because the glass wasn't teetering on a thin stem. WIN!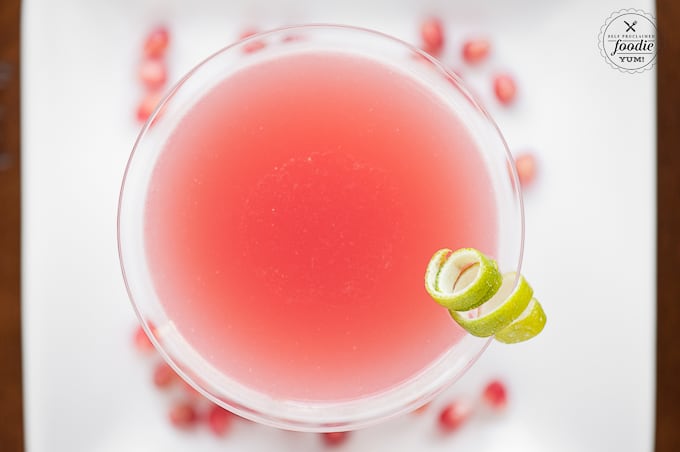 My kids will gobble up pomegranate seeds like they're candy (my foodie kids are just awesome like that) but I've never been in love with the actual seed part. BUT – I realized that after soaking in a bath of delicious vodka and Grand Marnier and softened by the acid in the lime juice, those pesky little seeds soften up and the flesh of the fruit absorb the alcohol. Oh yes, it was delicious.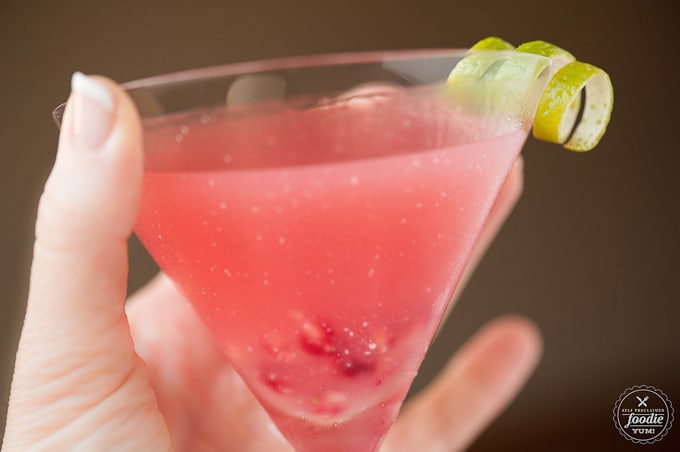 And check out how I remove the seeds from pomegranates in the video below: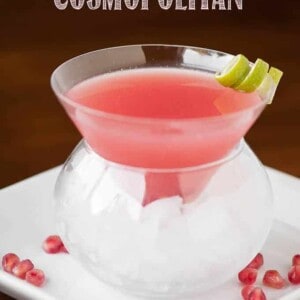 This vibrant and delicious Pomegranate Cosmopolitan made with vodka and Grand Marnier is easy to make and will be the talk of any holiday party.
Ingredients
Pomegranate Simple Syrup:
Cocktail:
4

ounces

vodka

2

ounces

Grand Marnier

2

ounces

pomegranate simple syrup

1

ounce

lime juice

pulp free
Garnish:
Lime peel

Additional fresh pomegranate seeds
Instructions
In a small pot over medium heat, dissolve the sugar in the water. Once all sugar has dissolved, remove from heat and add pomegranate seeds. Run through blender, then strain throw fine mesh strainer, keeping the liquid and discarding the solids. Chill in refrigerator until ready to use.

To make the cocktail, combine vodka, Grand Marnier, pomegranate simple syrup, and lime juice. You can shake them in a cocktail shaker with ice, or you can put them in an airtight container and store in the freezer until ready to serve (that's what I did). If you store in the freezer, just give it a good shake before adding to glass.

Serve in a martini glass and garnish with lime zest and more pomegranate seeds.
Nutrition
Calories:
429
kcal
,
Carbohydrates:
64
g
,
Protein:
1
g
,
Fat:
1
g
,
Saturated Fat:
1
g
,
Sodium:
23
mg
,
Potassium:
115
mg
,
Fiber:
2
g
,
Sugar:
61
g
,
Vitamin C:
8
mg
,
Iron:
1
mg
Nutrition information is automatically calculated, so should only be used as an approximation.
Love festive holiday drink and cocktail recipes?
Then you'll definitely want to make these tasty liquid concoctions: