Raspberry Banana Bread uses a traditional, moist, easy banana bread recipe and incorporates freeze dried raspberries.
Perfect for breakfast or as a snack on the go, Raspberry Banana Bread is a new way to enjoy this traditional favorite recipe!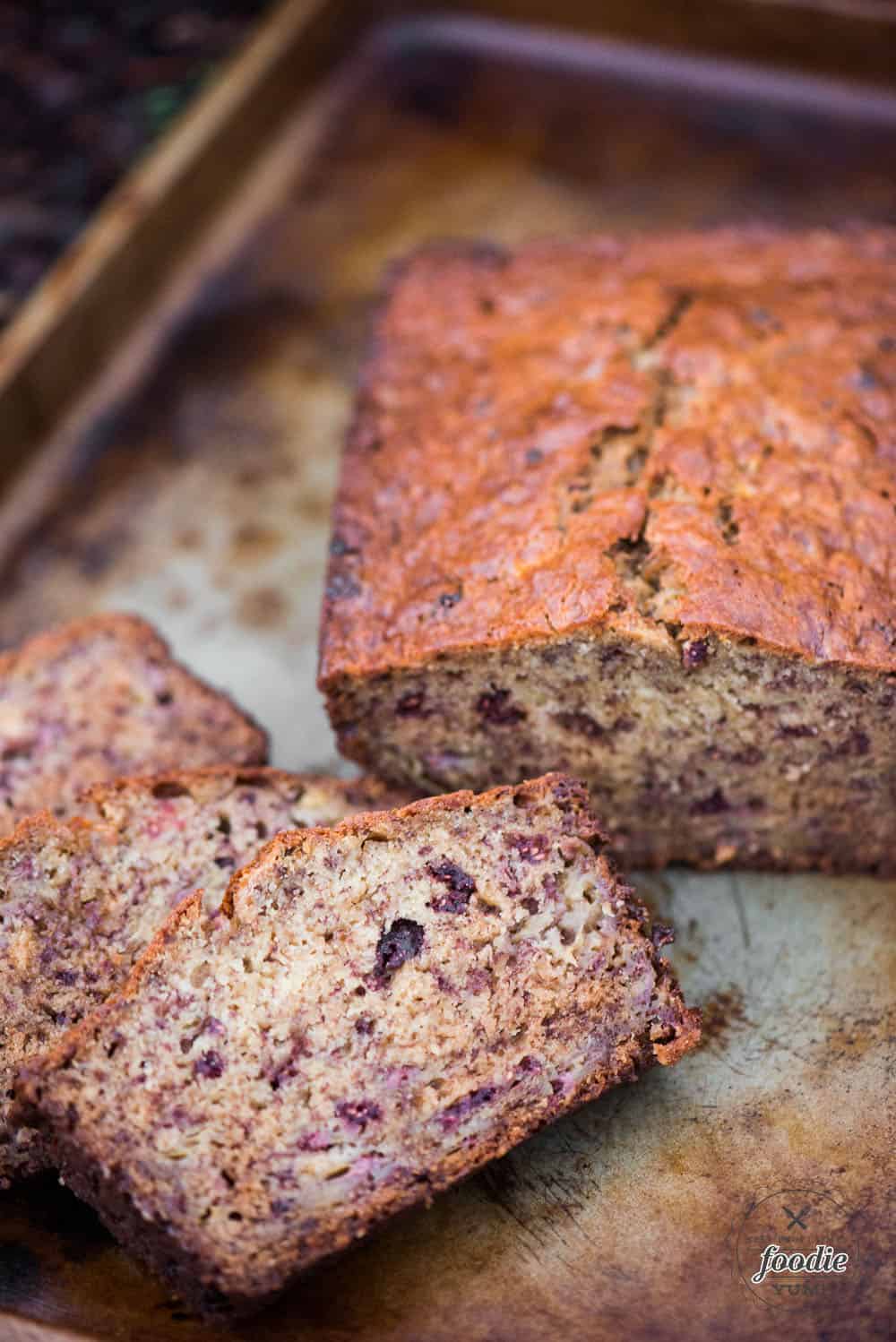 MY OTHER RECIPES
Raspberry banana bread is such a nice change from your basic banana bread. Plus, it's so easy to throw freeze dried fruit into most any recipe! I love using freeze dried fruit in things like Strawberry Lemonade Baked Donuts, Blueberry Cream Cheese Frosting, and Strawberry Chocolate Chip Cookies because you get the full fruit flavor without changing the consistency of the batter.
I'm also a huge fan of baking with bananas. Mostly because I buy the big bunch of bananas at Costco and we always seem to have a few that don't get eaten before they get over ripe. I swear my family doesn't eat the bananas when they're yellow because they want me to bake with them. Some of my favorite banana recipes that aren't banana bread are my Banana Upside Down Cake, Banana Cupcakes, Banana Mac Pancakes with Coconut Syrup, and the mouthwatering Brown Butter Banana Bars.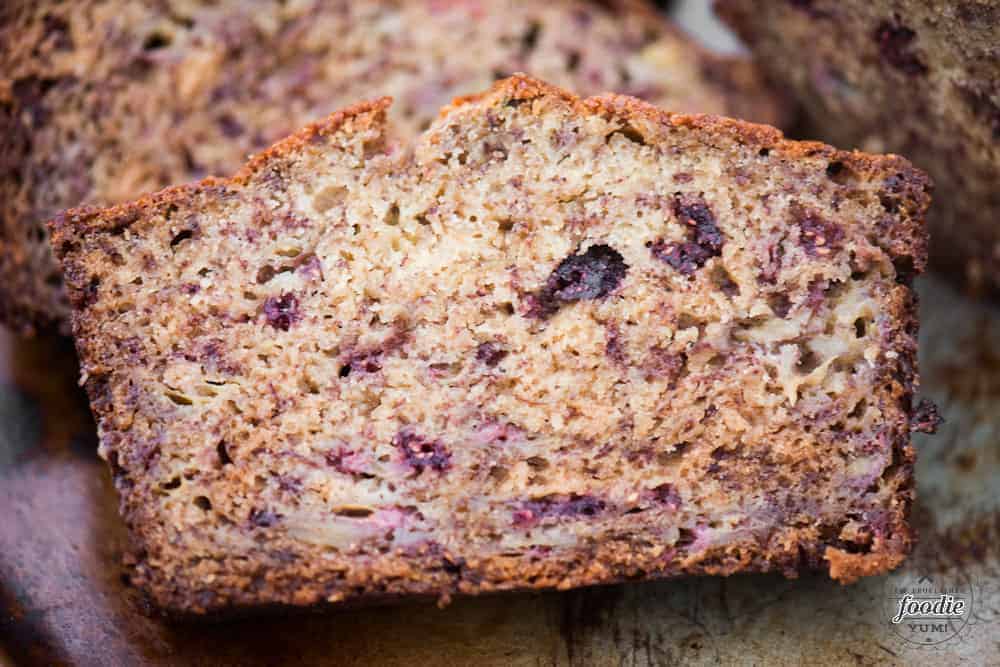 How do you make banana bread?
I've made many variations of banana bread. Some have turned out beautifully and some have failed. The full recipe follows, but here are my tips for making a moist, delicious, homemade banana bread:
Combine the dry ingredients in a large bowl. You do this so that the baking soda and/or baking powder and salt are evenly distributed throughout the flour.
When baking, always beat the egg in a separate dish before combining it with the other wet ingredients. I find that when I don't do this, the egg never fully mixes in and I get chunks of yolk and egg white in the batter.
When you combine the wet ingredients with the dry, do not overly mix. You want to mix the batter just to the point where all of the ingredients are fully incorporated.
Grease your pan well. I prefer a thick layer of butter. You can also use parchment paper for easy removal from the pan, but butter helps form a delicious crisp crust on the outside.
Don't open the oven door until you think the banana bread is done cooking! Also, be sure a toothpick inserted into the center comes out clean. If you take it out too early, the banana bread will sink when it cools.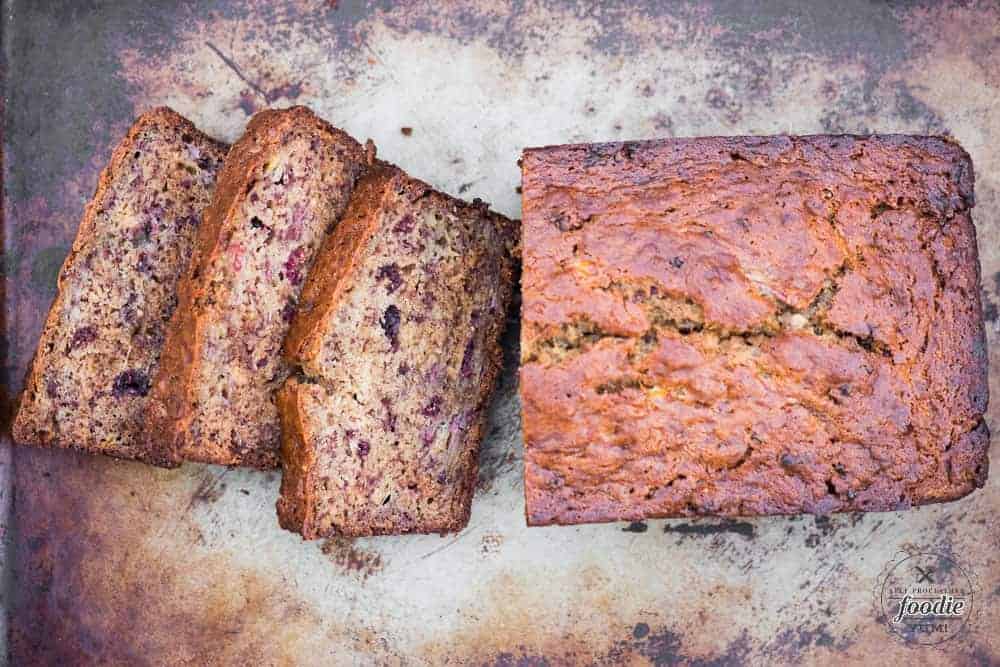 Kitchen tools needed to make banana bread:
Glass nesting bowls: Every good recipe requires a good set of stackable nesting bowls. This is the set I bought and I love them! Well made, great price, sturdy – perfect!
Bread pans: I love that these come in a two pack because if a recipe says that it only makes one loaf, I usually double it (like I did the second time I made this recipe!
Silicone spatula: Any time you're working with a batter, you'll need a good quality scraper. These are the ones I use because they do the job right and don't leave a nasty silicone taste when I like the batter off at the end!
Flexible Measuring Cups – My sister and I first found these at a cooking class and we thought they were just the best invention. Any time you are measuring and/or pouring liquid, these are simply the best to have on hand. They make a great gift for your favorite cook, too!
Ingredients
2 cups all purpose flour
1 teaspoon baking soda
1/4 teaspoon salt
1/2 cup butter, softened
3/4 cup brown sugar
2 eggs, slightly beaten
2 1/2 cups ripe bananas, mashed
1 teaspoon vanilla
1.2 ounces freeze dried raspberries (Trader Joe's recommended)
Directions
Preheat oven to 350oF. Grease a 9x5 loaf pan.
In a large bowl, combine dry ingredients (flour, baking soda, salt).
In a separate bowl, cream together butter and sugar until light and fluffy. Stir in beaten eggs, mashed banana, and vanilla.
Combine this liquid mixture with the dry ingredients, stirring just enough to mix. Fold in freeze dried raspberries.
Bake in preheated oven until a toothpick inserted into the middle comes out clean. Transfer pan to a cooling rack and when bread is cool enough to handle, remove from pan and allow to finish cooling on wire rack.
Slice and serve. Tightly wrap an extra raspberry banana bread to keep fresh. Once entirely cooled, bread freezes well if wrapped tightly.
Recipe Notes