Pumpkin Banana Bread with Walnut Streusel topping celebrates the best of fall. The pumpkin and banana make it the most moist banana bread ever!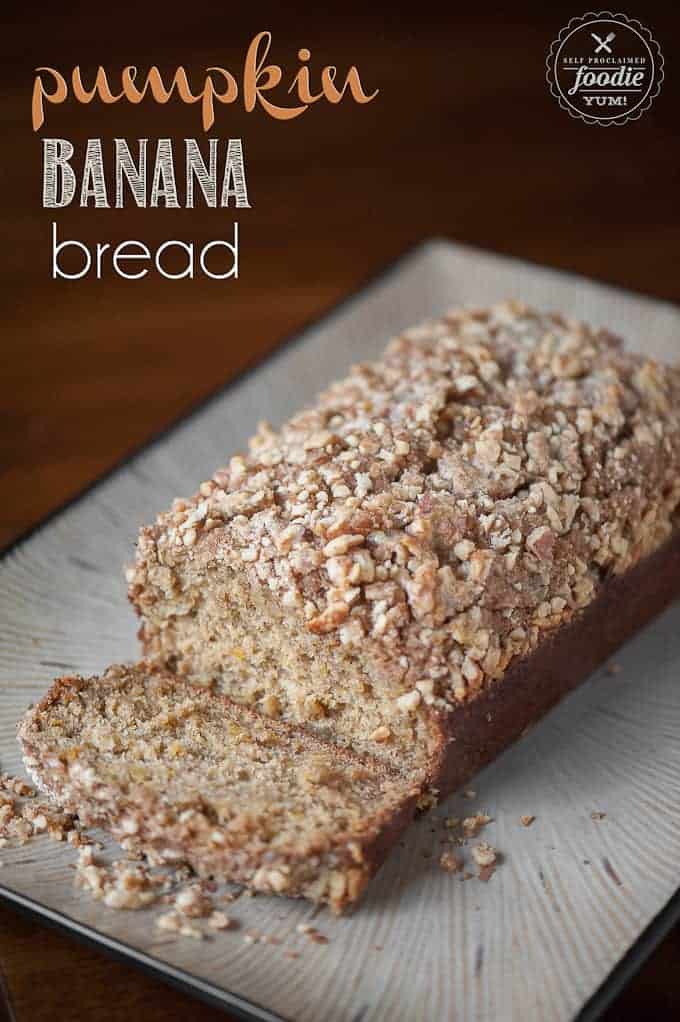 Pumpkin Banana Bread with Walnut Struesel Topping might just satisfy whatever fall craving you have. If sweet cinnamon goodness is what you're looking for, then look no further than everyone's favorite Granny's Monkey Bread, but if you're craving a moist banana bread, this will satisfy your cravings! I can't seem to get enough pumpkin this time of year!  Whether you roast your own or use canned pumpkin, the recipe possibilities are endless. I've made everything from a pumpkin pie martini to pumpkin hazelnut pancakes to pumpkin whoopie pies. Why does it have to taste so darn good?  Why???

MY OTHER RECIPES
I was so surprised with this pumpkin banana bread recipe was because it turned out so amazingly good – not only because of the combination of pumpkin and banana, but because I completely made the recipe for pumpkin banana bread up and it actually turned out!  It was a perfectly moist banana bread because of the pumpkin and perfectly sweet because of the streusel topping.  Next time I make this I'll probably try pouring half the batter in the pan, then adding the streusel topping layer, then more pumpkin banana bread batter, then the rest of the struesel topping on the top.  That way no pieces will escape when I'm taking my unreasonably large bite!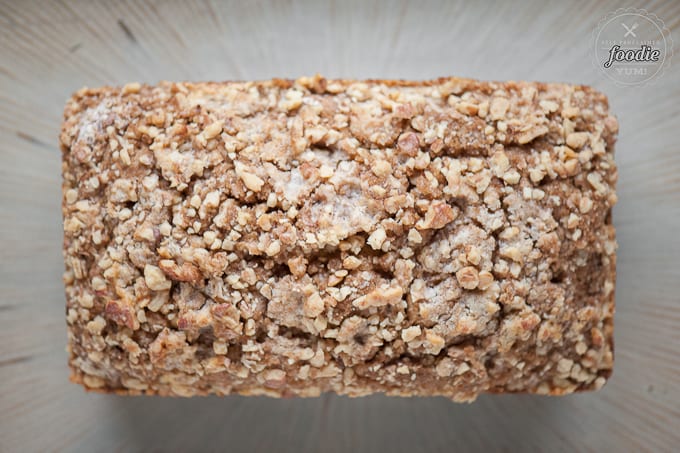 How do I make Streusel Topping?
Streusel topping in typicallly a mixture of flour, butter, sugar, cinnamon and salt. You can add more crunch with nuts like I did for this pumpkin banana bread recipe.
The trick is to use a pastry blender to mix the streusel topping ingredients together so that all of the dry ingredients have butter on them, but you still want small pieces of butter so that it will melt as the streusel topping cooks.
My rule of thumb is to always use equal amounts of sugar, flour, and butter in the streusel topping. It yields the best texture and flavor.
Streusel topping is a great addition to coffee cake, muffins, or any kind of moist banana bread recipe like this one.
How do you make moist banana bread?
No one wants a dry quick bread. There are a few tricks to keep in mind when you're trying to make super moist banana bread.
Use lots of mashed banana. Any time I try out a new banana bread recipe, I usually add even more mashed banana than I probably should and it always turns out.
Canned pumpkin or homemade roasted pumpkin will add a tremendous amount of moisture to anything you bake. I've added canned pumpkin to cakes and cookies and they were insanely moist.
Vegetable oil makes every baked good super moist. I will often use applesauce or melted butter in its place, but if you're really looking for a moist banana bread, you're going to want to use vegetable oil.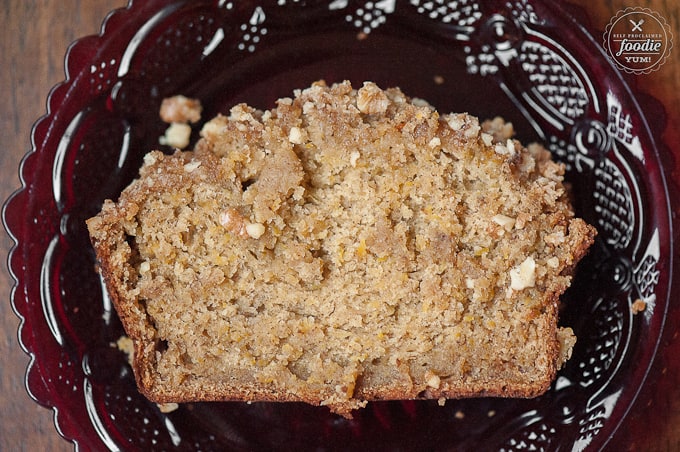 Kitchen tools used to make this Pumpkin Banana Bread with Walnut Streusel Topping:
Stand mixer: This is a kitchen must-have. I use mine almost any time I bake. It's one of the few appliances I will allow to always remain on the counter rather than be put away.
Silicone spatula: Any time you're working with a batter, you'll need a good quality scraper. These are the ones I use because they do the job right and don't leave a nasty silicone taste when I like the batter off at the end!
Bread pans: I love that these come in a two pack because if a recipe says that it only makes one loaf, I usually double it (like I did the second time I made this recipe!
Fall is not complete until you make a batch of Pumpkin Banana Bread with Walnut Streusel. Its better than any pumpkin or banana bread you've ever had!
Ingredients
Pumpkin Banana Bread
3 ripe medium bananas, mashed (about 1 cup)
1 1/2 cups roasted pumpkin puree
2 eggs, eggs
1/4 cup vegetable oil
1 teaspoon vanilla
1/2 cup brown sugar
1/2 cup white sugar
2 1/2 cups all-purpose flour
1 teaspoon baking powder
1 teaspoon baking soda
1/2 teaspoon salt
3 teaspoons pumpkin pie spice
Streusel Topping
3 tablespoons all-purpose flour
3 tablespoons brown sugar
1/2 teaspoon pumpkin pie spice
3 tablespoons cold unsalted butter, cut into small pieces
1/2 cup walnut pieces, small to crushed in size
Directions
Preheat oven to 350 degrees F. Grease loaf pan with butter.
In bowl of stand mixer, combine mashed banana and pumpkin puree until well mixed. Add eggs, oil, vanilla, brown sugar, and white sugar. Mix well on low speed. Scrape sides and mix again.
In a separate bowl, combine flour, baking powder, baking soda, salt, and pumpkin pie spice. While mixer is running on low, spoon flour mixture in and continue to add until all ingredients have been combined. Do not over mix. Pour into prepared pan.
To make the streusel, combine flour, sugar, butter, pumpkin pie spice, and walnut pieces. Toss with fork to evenly distribute butter chunks. Sprinkle mixture over batter.
Bake in preheated oven for 55 minutes. Allow to cool in pan until cool enough to handle, then transfer to a cooling rack. Wrap tightly to store.