You will love this moist and delicious Pumpkin Streusel Coffee Cake for breakfast. It makes the perfect start to a cool and crisp Fall morning.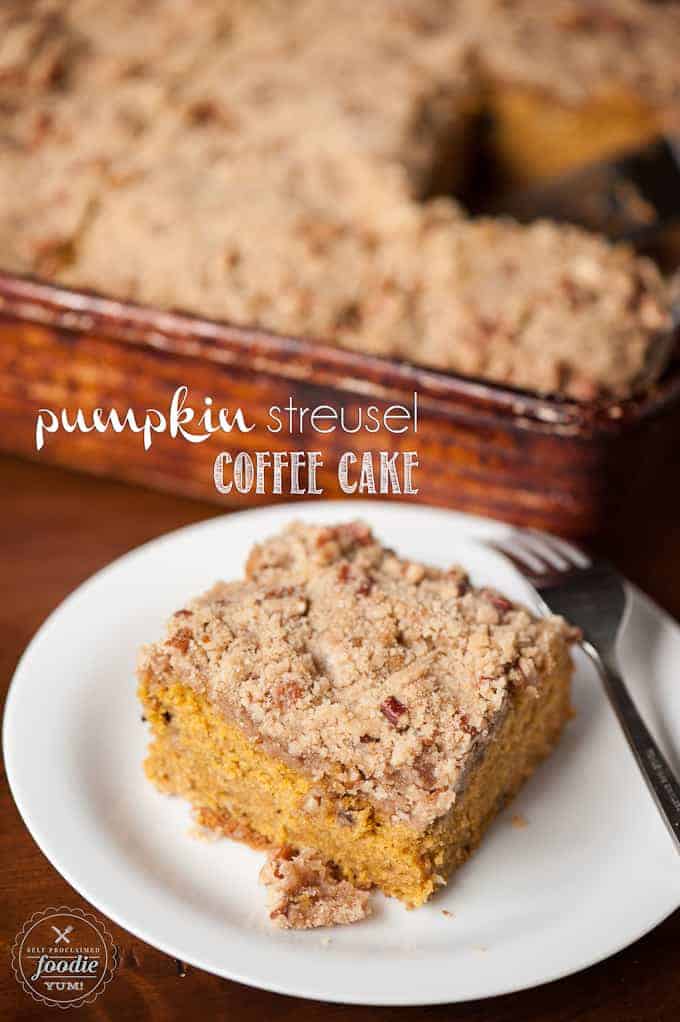 Oh yes. This was good. I was a little unsure of how it would turn out. Would it be too pumpkin-y? Not pumpkin-y enough? Would it be dry? Would it be moist? I can tell you with 100% certainty that this coffee cake of the fall variety turned out wonderfully, and tasted even better the next day after being oxygen deprived in my freezer bag.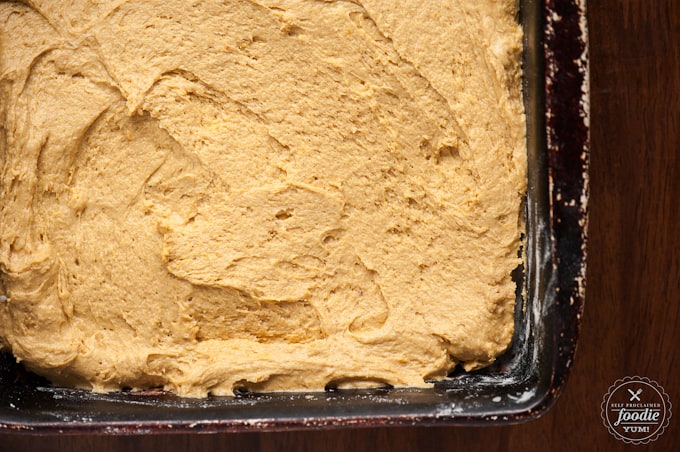 Any good cake starts with a good batter. I now use a mixing method taught to me by my insanely talented cake creator friend, Liz, which is pretty counter intuitive to all cake making directions you and I have probably ever followed. The basic steps are to incorporate all of the dry ingredients, including the sugar. Then you mix in the butter to basically coat the dry ingredients. Then you add about half of your liquid ingredients and mix the hell out of it so that it is light and fluffy. Then finally, you add your remaining liquid ingredients and mix just until combined.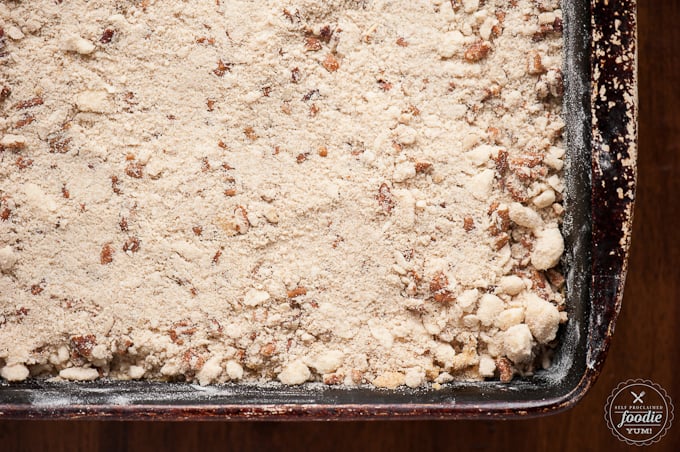 I love streusel topping. As in, I could probably eat a bowl of it on its own. Sugar + flour + butter = heaven for me. Add in some pecans and cook it on a yummy cake and I'm sold!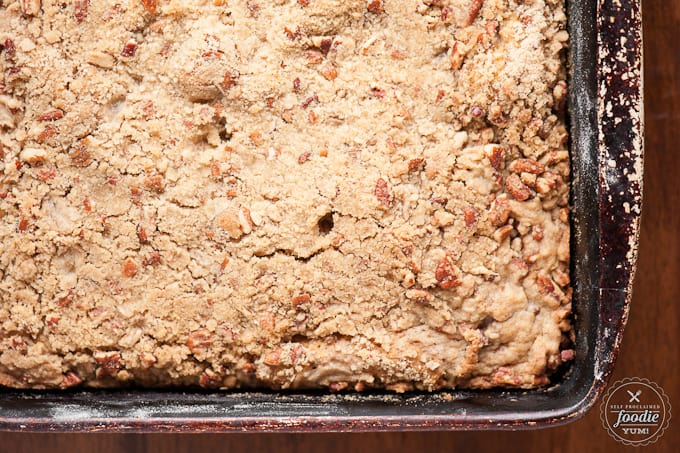 I cut my cake into 9 pretty large squares, but I usually only ate half a square at a time. I totally understand why they call this stuff coffee cake. Not only does it go incredibly well with a cup of coffee, but its pure justification to eat cake first thing in the morning.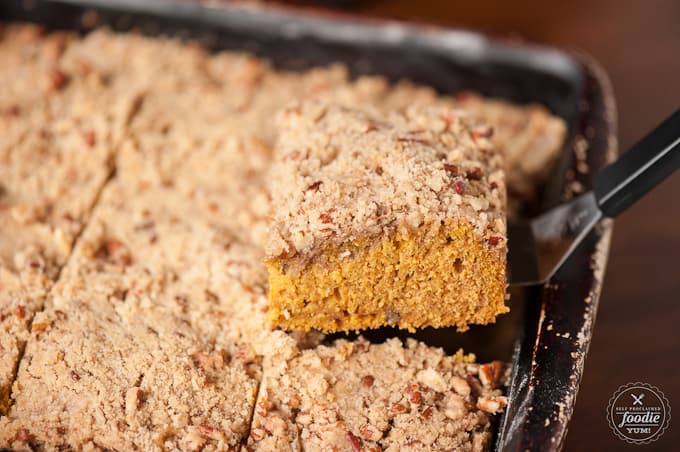 Each piece will lift perfectly out of the pan. I'm always worried about it falling apart, but when I get to eat the scraps of the mess I just made, I usually forget that I was worried. Fortunately for people other than me, I was able to serve ups some perfect not-so-little squares.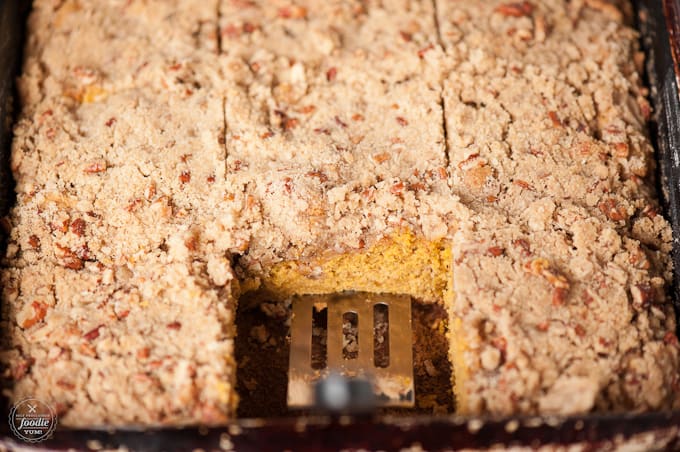 If you're looking for the perfect fall inspired breakfast cake, this recipe will certainly have you covered!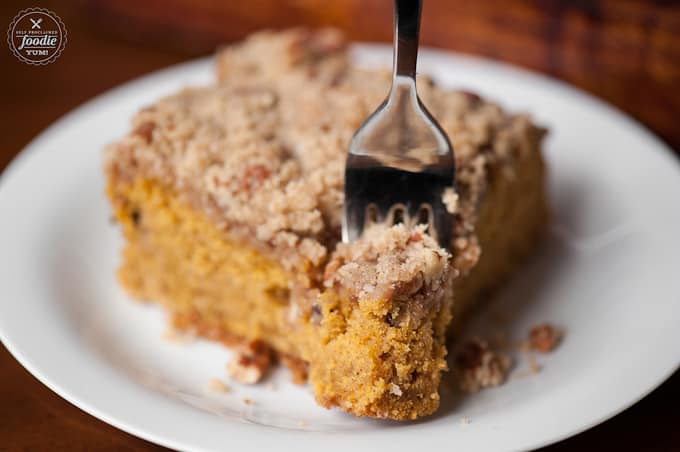 Pumpkin Streusel Coffee Cake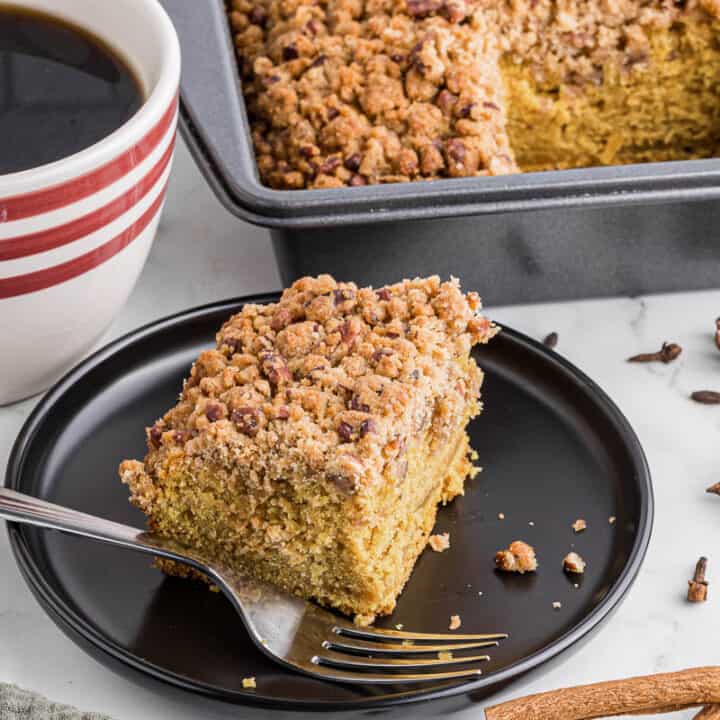 You will love this moist and delicious Pumpkin Streusel Coffee Cake for breakfast. It makes the perfect start to a cool and crisp Fall morning.
Instructions
Preheat the oven to 350°F. Grease and lightly flour a 9 inch square baking pan. Set aside.

Make the crumb topping first. In a small bowl, toss brown sugar, flour, pecans, spice, and salt together. Add the melted butter and combine using a pastry blender or a fork. Mix to create clumps and crumbs. Set aside.

To make the cake, combine flour, brown sugar, baking soda, baking powder, salt, and pumpkin pie spice in the bowl of your stand mixer. With the paddle attachment on and speed on low, slowly add pieces of the butter until you've added the entire cube. Increase speed taking care to not make a huge mess, and mix until your dry mixture is well coated in the butter.

In a separate bowl, whisk the pumpkin, maple syrup, buttermilk and egg together until combined.

With the mixer running on low, pour half of the wet ingredients into the dry ingredients. Increase speed to medium and mix well until light and fluffy, about a minute. Add remaining liquid mixture and mix just until combined. Batter will be very thick. Add to prepared baking dish. Spread to make an even surface.

Pour half of the crumb topping evenly on top and gently swirl to incorporate some of it into the batter. Then add the remaining struesel topping and press down into the batter.

Bake the cake for 30-40 minutes. Check the cake's doneness by inserting a toothpick into the center. If the toothpick comes on clean with a moist crumb or two, the cake is done. If the toothpick has wet batter on it, bake the cake for 5 more minutes.

Store cake in air tight container. I kept it in a gallon sized freezer bag with all the air squeezed out and it was even better the next day!
Nutrition
Calories:
521
kcal
,
Carbohydrates:
69
g
,
Protein:
6
g
,
Fat:
25
g
,
Saturated Fat:
12
g
,
Cholesterol:
66
mg
,
Sodium:
303
mg
,
Potassium:
233
mg
,
Fiber:
2
g
,
Sugar:
36
g
,
Vitamin A:
4820
IU
,
Vitamin C:
1.3
mg
,
Calcium:
83
mg
,
Iron:
2.8
mg
Nutrition information is automatically calculated, so should only be used as an approximation.