Air Fryer Chicken Wings are the easiest and most delicious chicken wing recipe! Crispy on the outside and moist and flavorful on the inside. YUM!
Easy game day appetizers just don't get any better than perfectly cooked chicken wings, and the air fryer is one of the easiest and best ways to get the best results!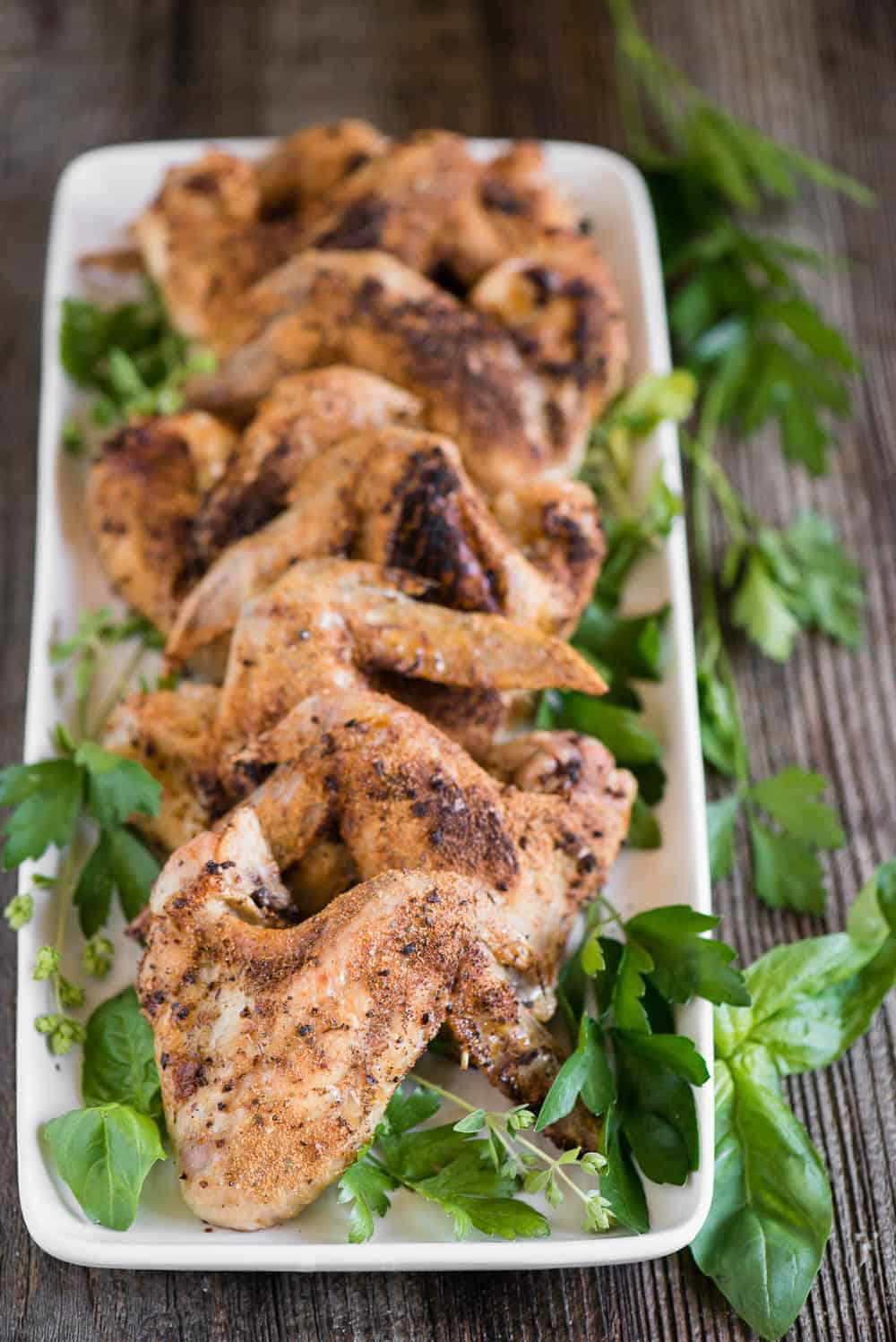 I'm a huge fan of chicken wings, but only if they're cooked to perfection. I can't even begin to tell you how many times I've ordered wings at a restaurant and they were gross. Either the fat wasn't fully rendered leaving a gooey chewy layer on the outside (gross) or they were over cooked and dry inside.
The perfect wing is a result of the following:
Just the right amount of seasoning and/or sauce. I'm particularly fond of my Spicy Ranch Chicken Wings, which could also be made in the air fryer.
All of the fat from the skin has been perfectly rendered leaving only a super thin and crispy outside
The meat is incredibly tender and falls right off the bone
Using the air fryer works!
Ingredients needed:
I'll tell you one thing you don't need: oil. The fat to meat/bone ratio in wings is downright perfect. No additional oil is needed!
To make these wings, all I did was coat my wings with my favorite garlic herb seasoning blend. That's it. I could have easily gotten away with just salt, or no seasoning at all if I wanted to use a dipping sauce like my Whiskey BBQ Sauce or Carolina Mustard Barbecue Sauce.
This is one of the main reasons why this wing recipe is so easy to make.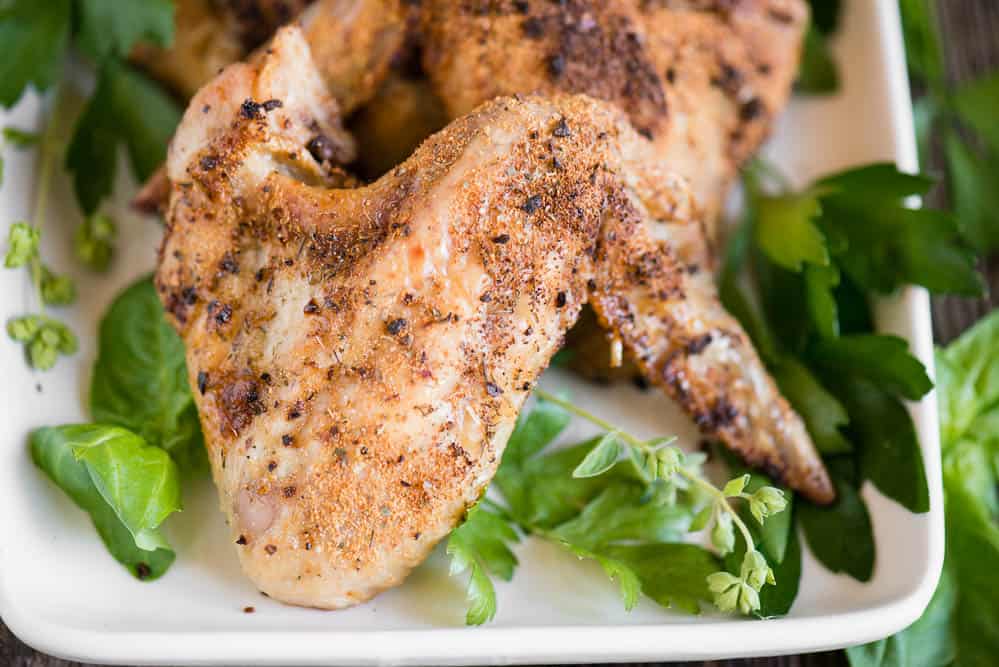 How to make this recipe:
There are just a few tips and tricks to get perfect results when making this recipe.
Don't over crowd your wings. You do not want them overlapping or touching.
Season your wings all over. Don't worry - all that flavor will get cooked in.
Cook your wings at 400 degrees F for about 15 minutes. If you want them all over crispy, you can open the drawer half way through your cooking and flip them over. If you aren't sure if they're completely done, you can check the internal temperature with a thermometer.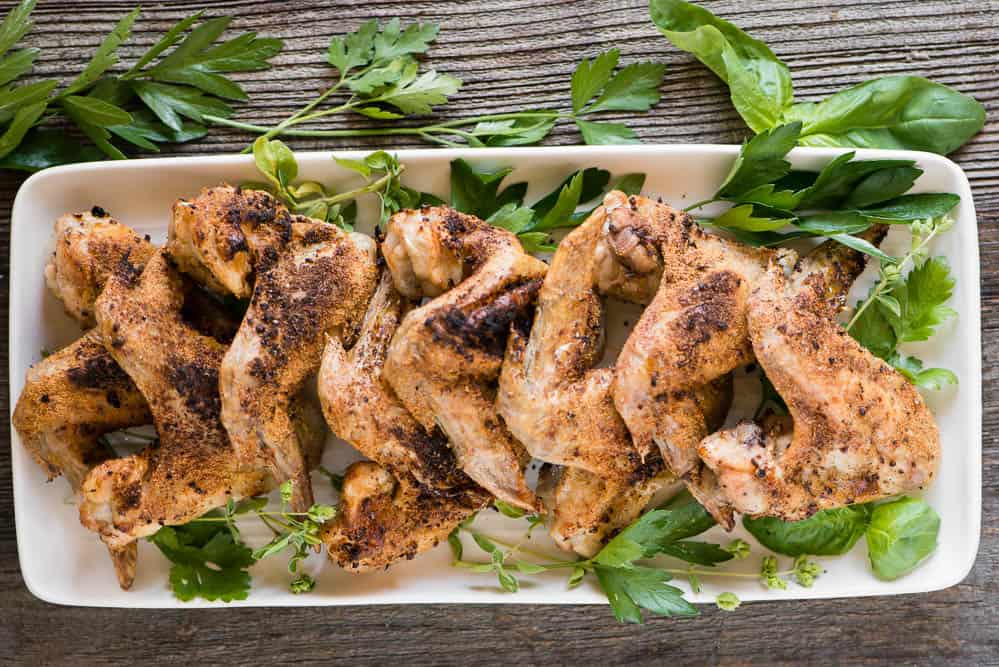 Serve these along with other game day grub favorites like Cheesy Chipotle Fries.
Full Recipe Instructions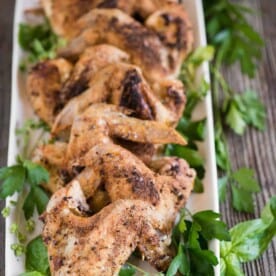 Ingredients
2

pounds

chicken wings

(skin on, 8 whole wings)

½

teaspoon

garlic herb blend
Instructions
Sprinkle the garlic herb seasoning on both sides of the chicken wings.

Place half the wings in a single layer in your air fryer. Cook at 400 degrees F for about 15 minutes. Skin should be golden brown and very crispy. Internal temperature should read at least 165 degrees F when done. Repeat with other half of wings.
NUTRITION INFORMATION
Calories:
371
kcal
|
Carbohydrates:
1
g
|
Protein:
28
g
|
Fat:
28
g
|
Saturated Fat:
8
g
|
Cholesterol:
166
mg
|
Sodium:
421
mg
|
Potassium:
347
mg
|
Vitamin A:
130
IU
|
Calcium:
14
mg
|
Iron:
1.1
mg