Air Fryer Chicken Thighs are an incredibly quick and easy to make. They are crisp on the outside, moist on the inside, and packed full of flavor! All you need for perfectly cooked fried chicken are boneless skin-on chicken thighs and seasonings.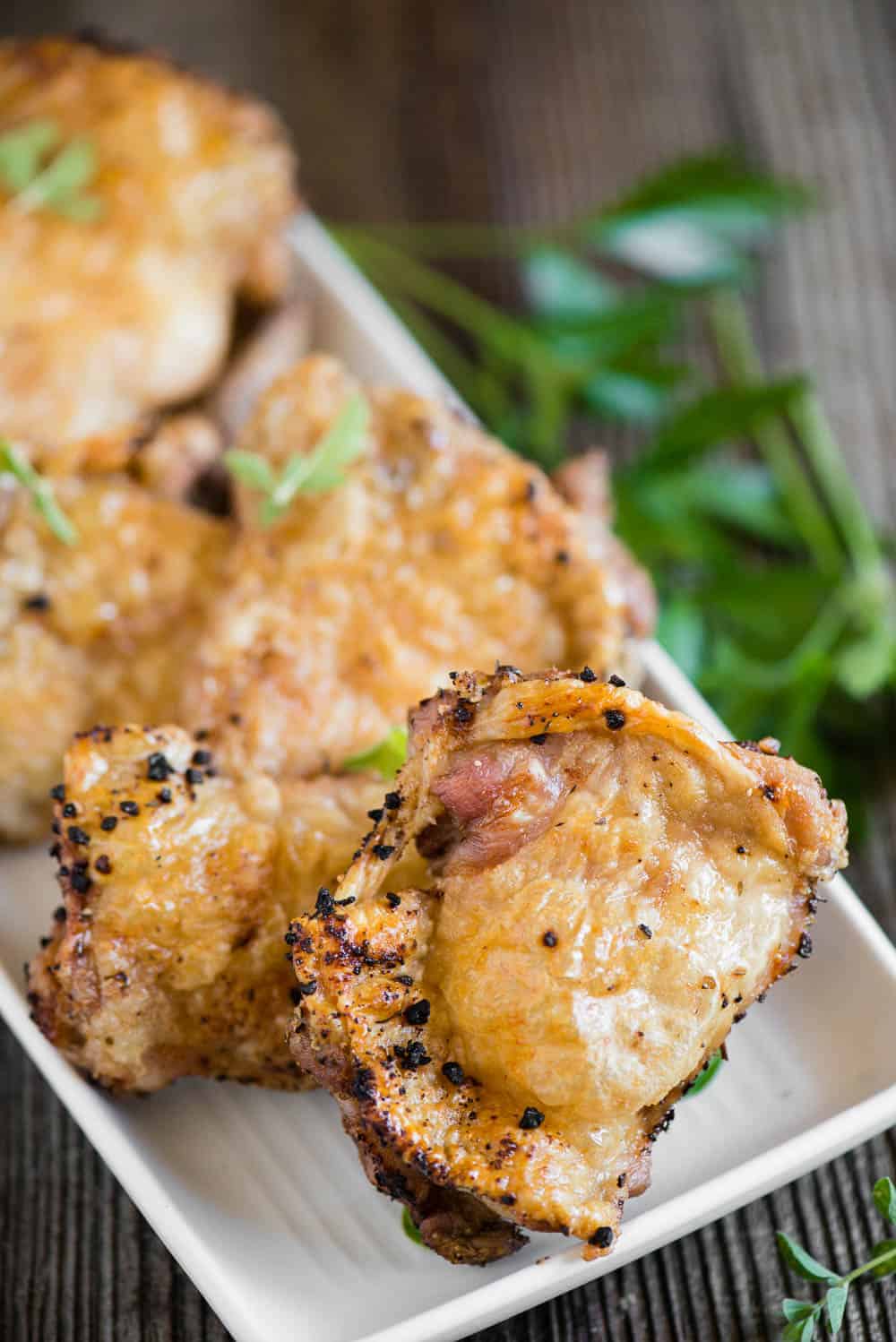 Why this recipe works:
Whether you are looking for an alternative to deep frying, or just love a tasty piece of chicken, you will love how incredible these mouthwatering chicken thighs turn out in the air fryer!
This is by far the quickest and easiest way to make perfectly cooked fried chicken.
All of the fat and skin on the chicken thighs gets completely rendered and crispy.
Not only was I completely blown away by how quick and easy these were to make, but it was some of the best "fried" chicken I have ever eaten!
Ingredients needed to make air fryer chicken:
Okay, this is going to blow your mind.
chicken thighs
salt
garlic herb seasoning (you could even skip this if you want a two ingredient meal!)
No oil needed. Not even a little bit.
Because chicken thighs have such a thick layer of skin and the dark meat is so tender, all of the fat melts right into the juicy and tender meat and you're left with a completely crisp outside.
Could you go crazy and do a buttermilk soak and coat the chicken prior to cooking. Much like I do for my traditional fried chicken? Sure. Do you need to? Nope.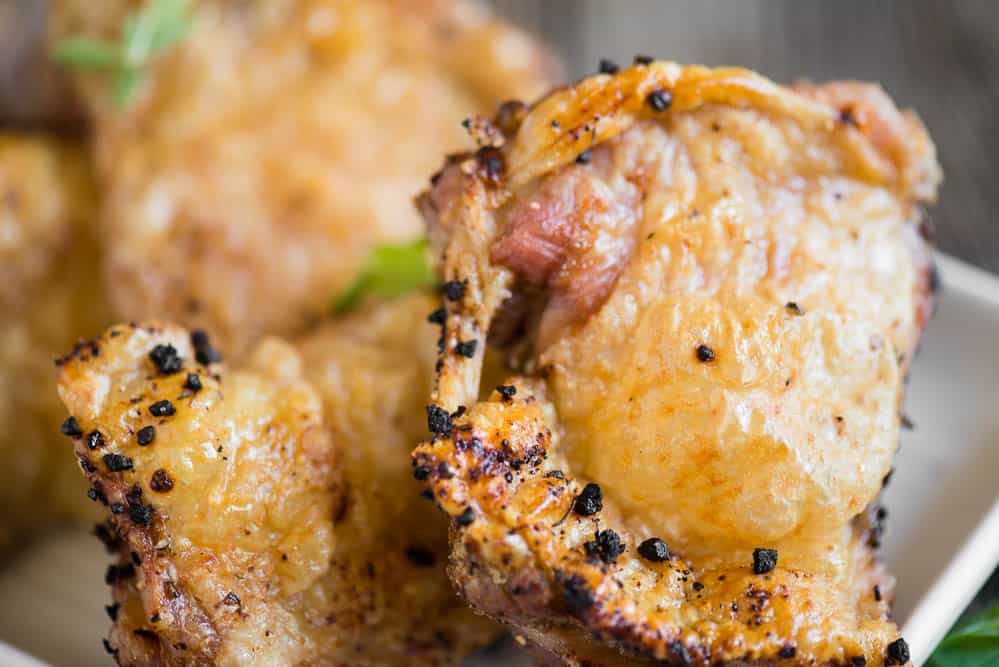 How to make this recipe:
This recipe is so insanely easy to make, you'll be blown away.
Use a meat tenderizer or a rolling pin to flatten the chicken thighs so that they are all the same thickness.
Sprinkle the garlic herb seasoning on the meat side and the salt on the skin side.
Please the boneless seasoned chicken thighs in the air fryer basket, skin side up. Cook the chicken at 400°F for 18 minutes.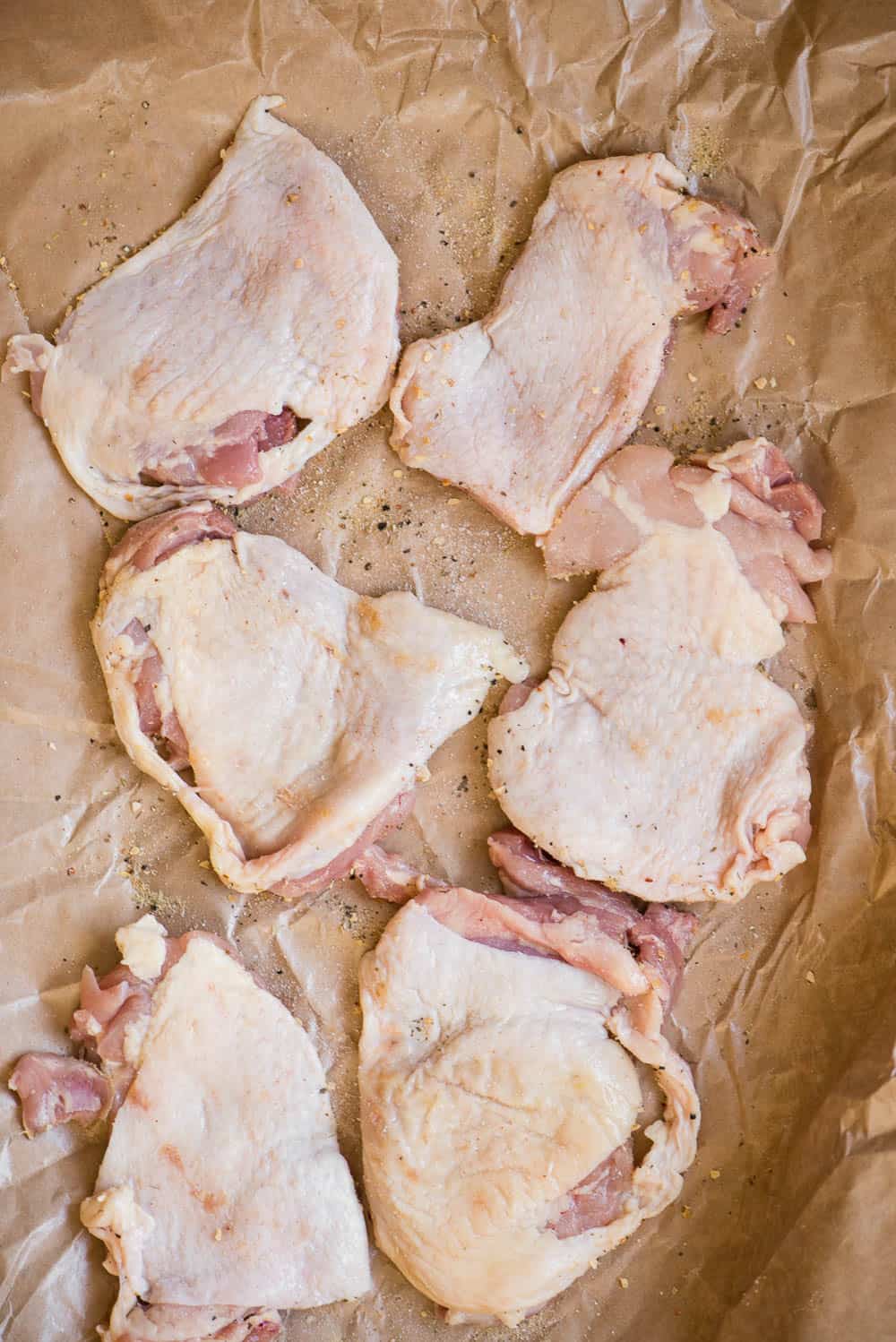 Recipe tips for best results:
Seasonings – Any kind of seasonings or herbs will turn black in your air fryer. Salt won't. That is why I put the salt on the top of the skin and the seasonings directly on the bottom of the chicken. This will keep your skin perfectly golden brown while still infusing all that wonderful flavor.
Thickness – Your chicken will turn out best if it's of even thickness. The best way to accomplish this is to use a meat tenderizer or a rolling pin to flatten the thighs out to be the same thickness.
Quantity – I was able to fit 3 thighs in my air fryer. If you can fit more, go for it. Just be sure they're in a single layer.
How long to cook chicken thighs in air fryer – Cooking time may vary depending on the thickness and starting temperature of your chicken. Just be sure the internal temperature reads at least 165°F before serving. Pro tip: use a high quality meat thermometer.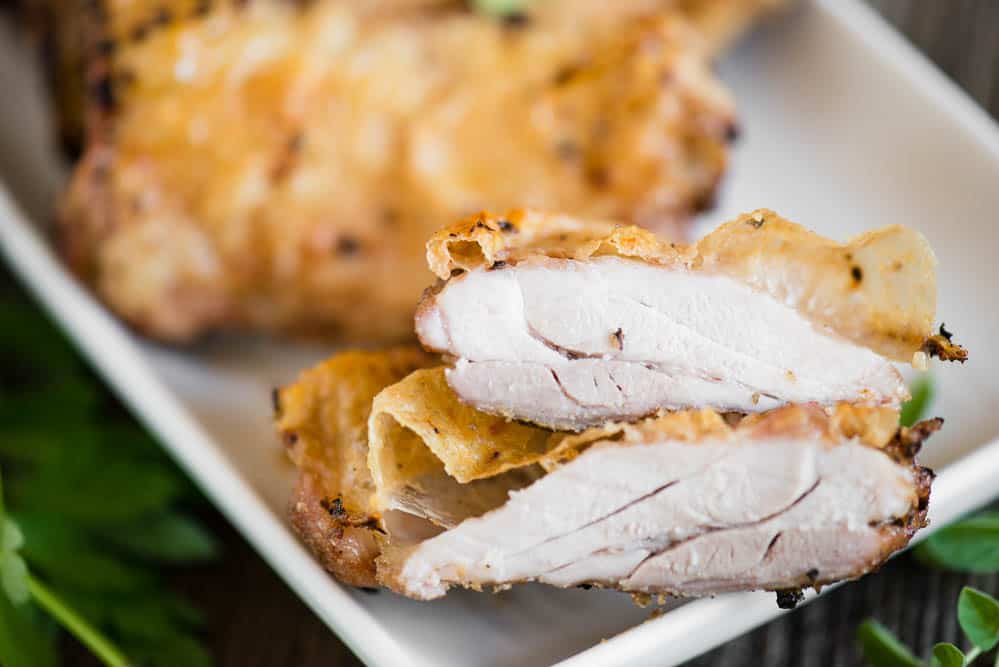 Reheating directions:
One of the problems with cooking in the air fryer is that it's difficult to cook large meals. For example, to feed my family, I had to do two rounds of chicken.
If you are having to make multiple batches, loosely tent the cooked chicken on a plate with aluminum foil. This should keep them warm while the other chicken is cooking. You can also pop them back in the air fryer for 2 minutes just to heat them up real quick while the second batch is resting.
If you are cooking a lot of chicken ahead of time for meal prep, my favorite way to reheat this chicken is on a baking sheet, uncovered, in the oven or toaster oven. Because they are so thin, they reheat quickly and taste amazing leftover.
This chicken is also fantastic when served cold. It makes a great addition to things like a homemade cobb salad or a chicken salad sandwich.
Air fryer recipes:
Looking for other great recipes to make in your air fryer? Once you've figured out which Air Fryer to buy, try these favorites:
If you've made this or any other recipe on my site, let me know in the comment section how it turned out. I love hearing from my readers!
You can also follow along on PINTEREST, FACEBOOK and INSTAGRAM to see more amazing recipes to satisfy any foodie craving!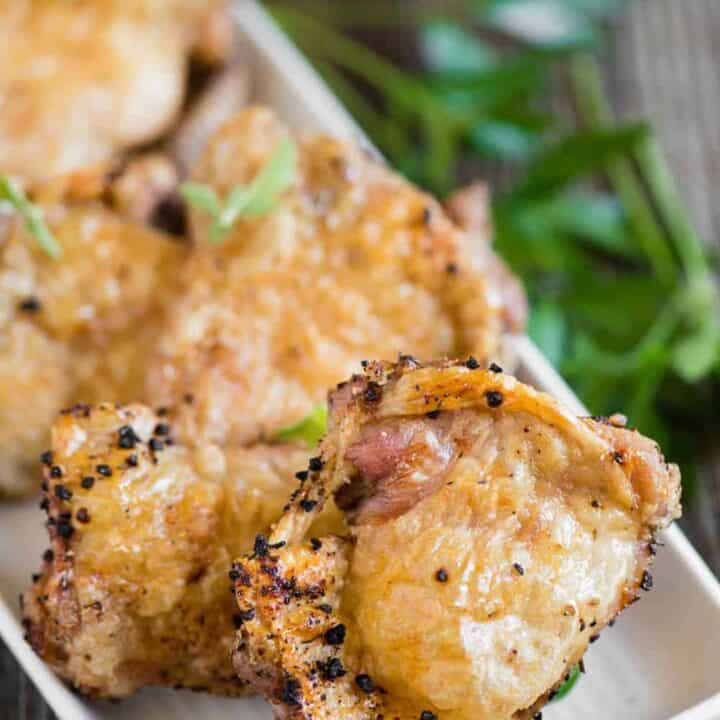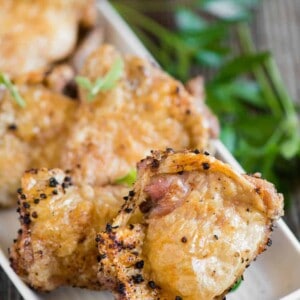 Air Fryer Chicken Thighs are an incredibly quick and easy to make. They are crisp on the outside, moist on the inside, and packed full of flavor!
Instructions
Use a meat tenderizer to pound any thick parts of the chicken thigh so that they are as close to uniform thickness as possible.

Sprinkle the garlic herb seasoning on the meat side of the chicken thighs and the salt on the skin side.

Place chicken thighs, skin side up, in a single layer in your air fryer. Cook at 400 degrees F for about 18 minutes. Skin should be golden brown and very crispy. Internal temperature should read at least 165 degrees F when done.
Nutrition
Calories:
371
kcal
,
Carbohydrates:
1
g
,
Protein:
28
g
,
Fat:
28
g
,
Saturated Fat:
8
g
,
Cholesterol:
166
mg
,
Sodium:
421
mg
,
Potassium:
347
mg
,
Vitamin A:
130
IU
,
Calcium:
14
mg
,
Iron:
1.1
mg
Nutrition information is automatically calculated, so should only be used as an approximation.
This recipe was originally published in May 2018 and has been updated with helpful information, ingredient and process photos, as well as recipe tips. Don't worry – the recipe hasn't changed!