Open-faced Chicken Salad Sandwich makes for a delicious lunch!
This Chicken Salad recipe comes together in minutes with cooked chicken, mayo, tart apple, crisp celery, and pecans for that extra crunch. Served open-faced on a single piece of bread gives you the same satisfaction of a sandwich with fewer carbs!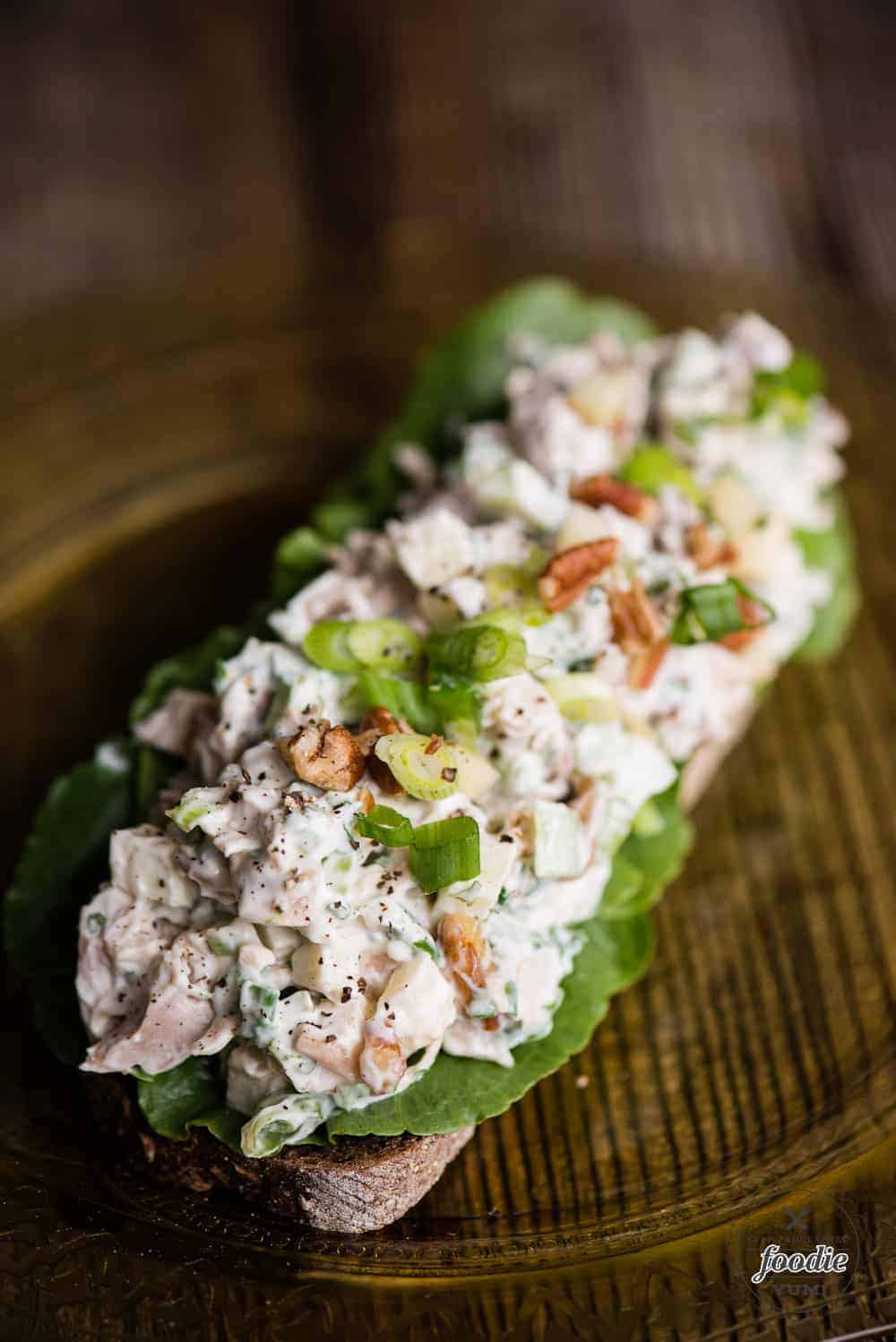 MY OTHER RECIPES
Chicken Salad Sandwiches make a regular appearance in our house. Everyone seems to love them. My kids and husband love the way they taste, as do I, but I love the convenience of mixing up a big batch and having it ready to go for a few days. One of the easiest tricks in the book is to pick up a rotisserie chicken when you're grocery shopping. Sometimes that's what I do too. You can also sometimes buy cooked chicken strips in the same area that meat is sold.
But what I usually prefer doing is cooking a whole chicken in the Instant Pot or crockpot and then using the meat. That way, I can throw the skin and bones along with some onion, carrot, celery, garlic, and water right back in to make an amazing bone broth.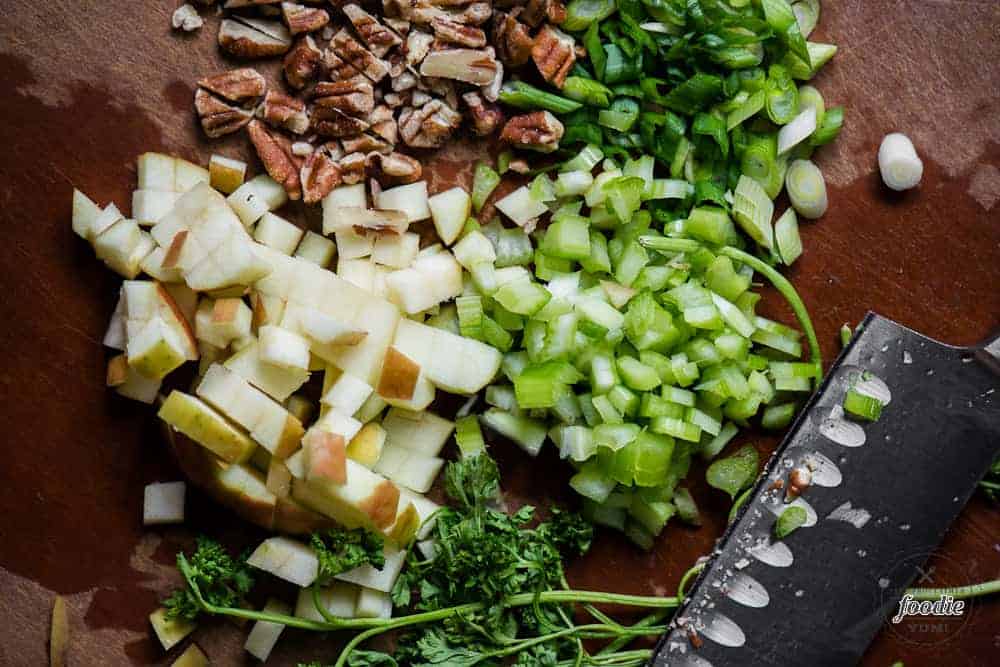 What do you put in a chicken salad?
Well, that's entirely up to you. By definition, chicken salad is any salad where chicken is the main ingredient. When I think of chicken salad, however, I think of a mixture that I can scoop up with a cracker or put on bread to make a chicken salad sandwich. To do this you need a few ingredients to pull it together. First you'll want to start with fresh fruits and vegetables. Some great options are tart apples or crunchy grapes. I also prefer the crunch of celery and the flavor from green onions, but if you want more of a punch you can use red onion or jalapeno.
I love lots of crunch so I usually throw in a handful of nuts. Walnuts, pecans, or cashews work really well. Fresh herbs like parsley or thyme really compliment the chicken. Last, but not least, you need something to hold it all together. I prefer mayonnaise, but if you're looking for a chicken salad recipe without mayo, you can always use greek yogurt, olive oil, or even buttermilk.
I'm not a fan of sweet and chewy in my chicken salad, but I know a lot of people who like to add dried cranberries or raisins.
How to make Chicken Salad:
If you're looking for the best chicken salad recipe, you may have found it. I may be a bit biased because this is how I prefer to make my chicken salad sandwiches, but you might find it's your favorite as well.
Every good chicken salad recipes starts with cooked chicken. Like I mentioned above, you can either buy it already cooked or make it yourself. You can choose to shred the chicken or cut it into bite sized pieces. Just toss it in a big bowl.
Next you'll want to chop up your fruits and veggies, as well as the nuts if they're too big. Useful kitchen tools make all the difference, and I can't recommend having a high quality knife set along with some fantastic cutting boards enough!
Finally, you'll want to stir in the mayo, or a substitute. You can measure it out, or you can just eyeball it and scoop some out with a spatula.
Stir everything together and scoop it on top of a bed of lettuce and a piece of toast. YUM!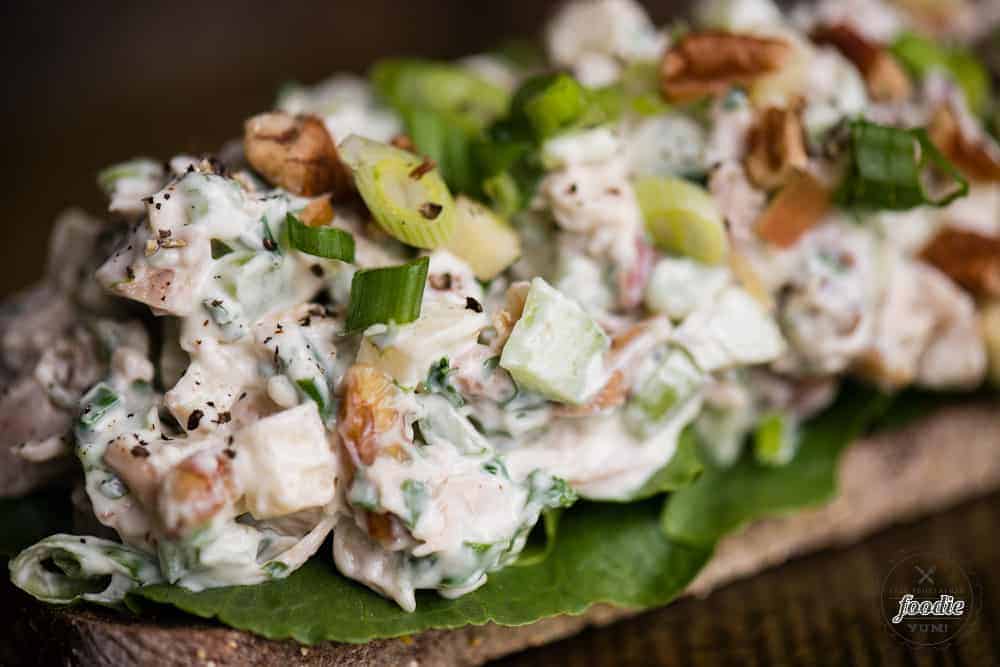 More chicken salad questions answered:
How many days can you keep homemade chicken salad? Chicken salad should be kept refrigerated and not left out more than 2 hours. If properly refrigerated, chicken salad should last 3 to 5 days. Ours never lasts that long because we eat it!
Can you freeze a chicken salad? Well, did you know mayonnaise separates when frozen? That means when it thaws, the consistency will be the same. Also, you purposely add crunch to your chicken salad recipe by adding apple and celery. If you freeze the fruit and veggies in liquid, it will simply not be the same when it thaws. My recommendation is to NOT freeze chicken salad. What you can do, however, is put shredded chicken in the freezer to easily whip up a fresh batch of chicken salad at a later date.
What can you do with chicken salad? Besides eat it straight, on crackers, or on toast? Your guess is as good as mine!
Ingredients
4 cups cooked chicken, chopped
3 green onions, with the whites and start of the greens sliced
2 stalks celery, chopped
2 sprigs parsley, stems removed, diced
1 small apple, chopped (skin on, honey crisp or pink lady recommended)
1/2 cup raw pecans or cashews
1 teaspoon thyme
1 cup greek yogurt or mayonnaise (or a combination of both)
Directions
Combine all ingredients except the yogurt/mayonnaise in large bowl and stir to combine.
Add yogurt and/or mayonnaise and mix well.
Season with salt and pepper, if desired.
Serve on a slice of toast with lettuce