Oven baked and perfectly seasoned Potato Wedge Fries are easy to make and are a great appetizer or side for your burger or dog.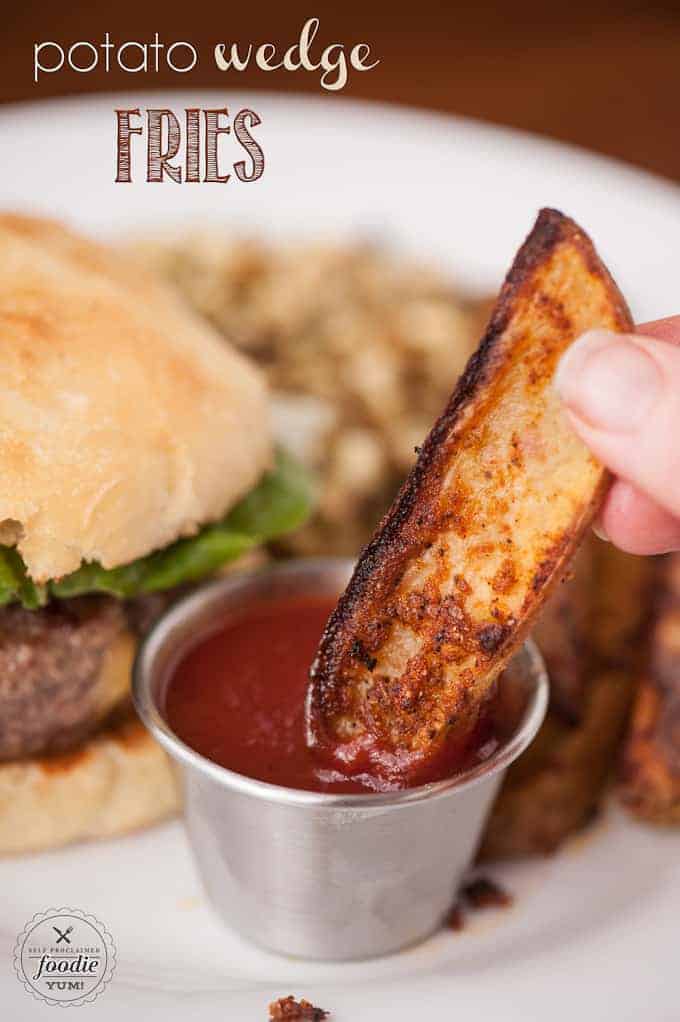 I sure do love me some fries. There's something wonderfully delicious about oven roasted fries versus traditional deep fried fries. Don't get me wrong – I love my trans fats (I'm only partially kidding), but if you ask me what my personal favorite is I will tell you its a perfectly seasoned, crisp-on-the-outside soft-on-the-inside oven baked fry.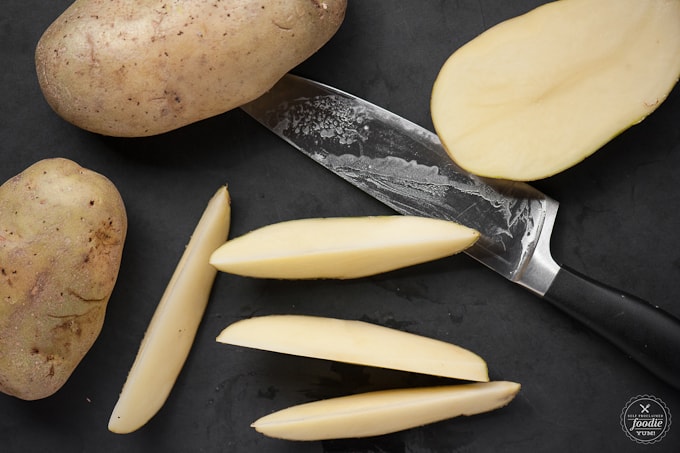 I traditionally make my oven baked fries thinner and love to add lots of garlic and herbs, but this time I was in the mood for thick cut fries, and I had these perfect organic jumbo sized golden potatoes that were just begging to be cut into wedges and turned into jo-jos. Do you call them jo-jos in your house? I don't even know if that's a real thing, but that's what we call these fries.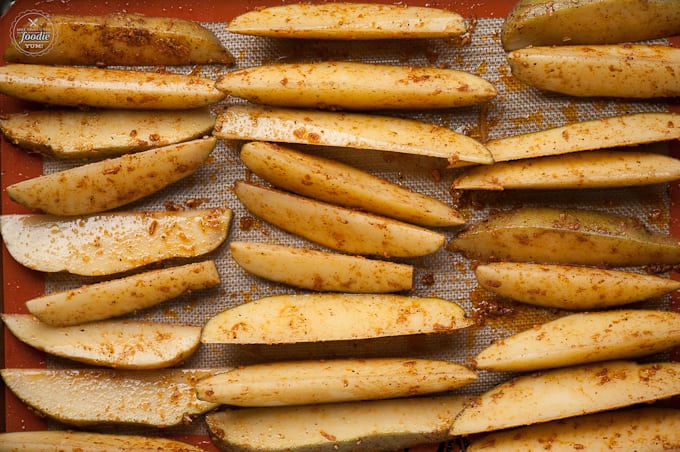 Just a bit of oil and the right seasonings are all you need along with a really hot oven and some kind of non-stick surface on your baking sheet.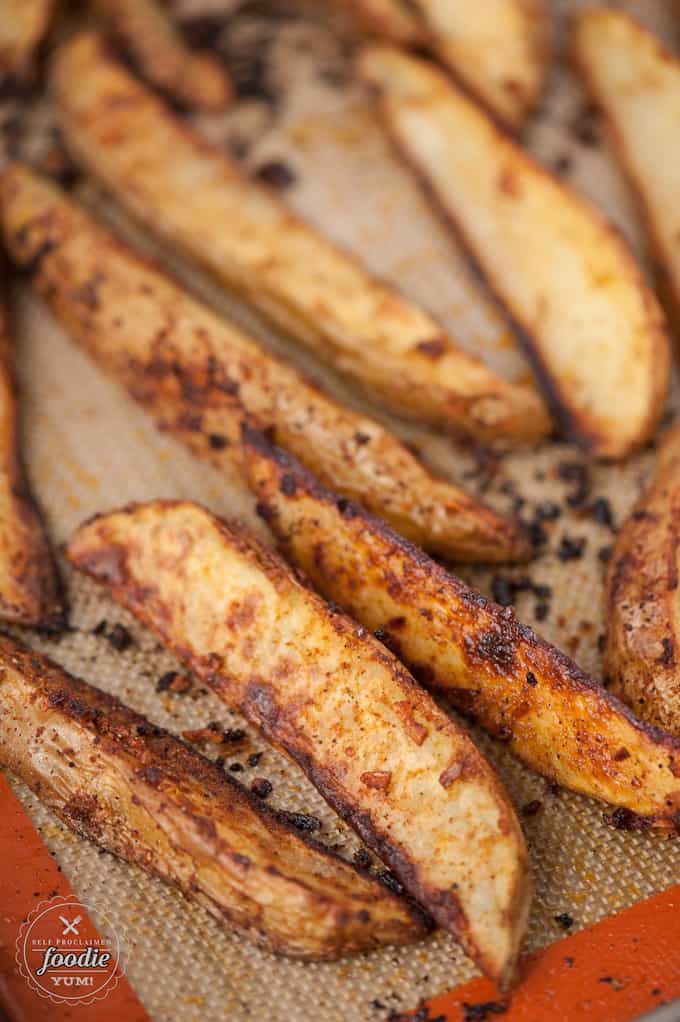 Nothing goes better with fries than an outstanding burger, and for this particular dinner I made stuffed bacon jalapeno cheddar burgers with homemade potato buns and sauteed corn off the cob. Oh yes – it was a good as it sounds. No need to feel jealous… just make it yourself!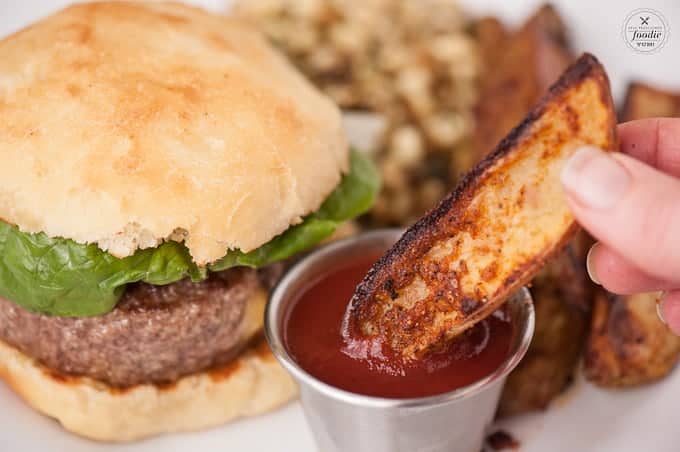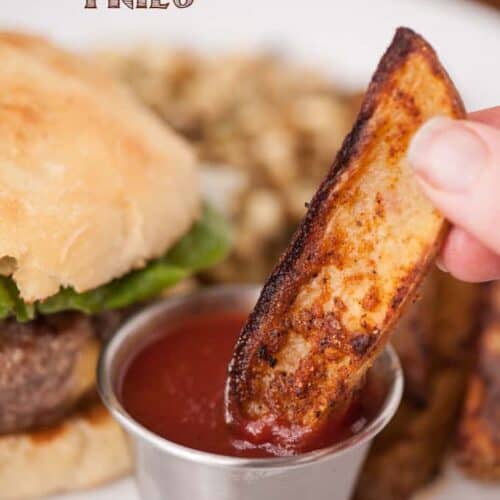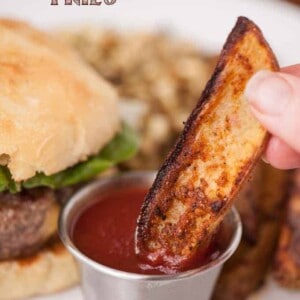 Oven baked and perfectly seasoned Potato Wedge Fries are easy to make and make a great side for your burger or dog.
Instructions
Preheat oven to 400 degrees F.

Wash and dry potatoes. Cut in half lengthwise and then cut each half into 4-6 wedges, depending on size of potato.

Use a gallon sized sealable plastic bag to combine olive oil with spices. Add potatoes, seal bag, and squeeze until all wedges are coated with mixture.

Using a large jelly roll pan covered in a silpat, parchment, or foil to prevent sticking, lay out potato wedges into a single layer. Bake in a preheated oven for 45-50 minutes until soft and slightly brown, turning once after about 30 minutes of cooking time.
Nutrition information is automatically calculated, so should only be used as an approximation.