Barbecue sauce, the soul of a Southern BBQ feast, comes in various forms and flavors. From the rich and smoky tomato-based sauces of Kansas City to the sweet and tangy offerings of the Carolinas, there's something special about the diverse world of BBQ sauces.
This easy recipe shows you how to make the most tangy and delicious Carolina Mustard BBQ Sauce, also known as South Carolina Mustard BBQ Sauce, and explore why this mustard-based BBQ sauce should find a place with your favorite grilling and barbecue recipes.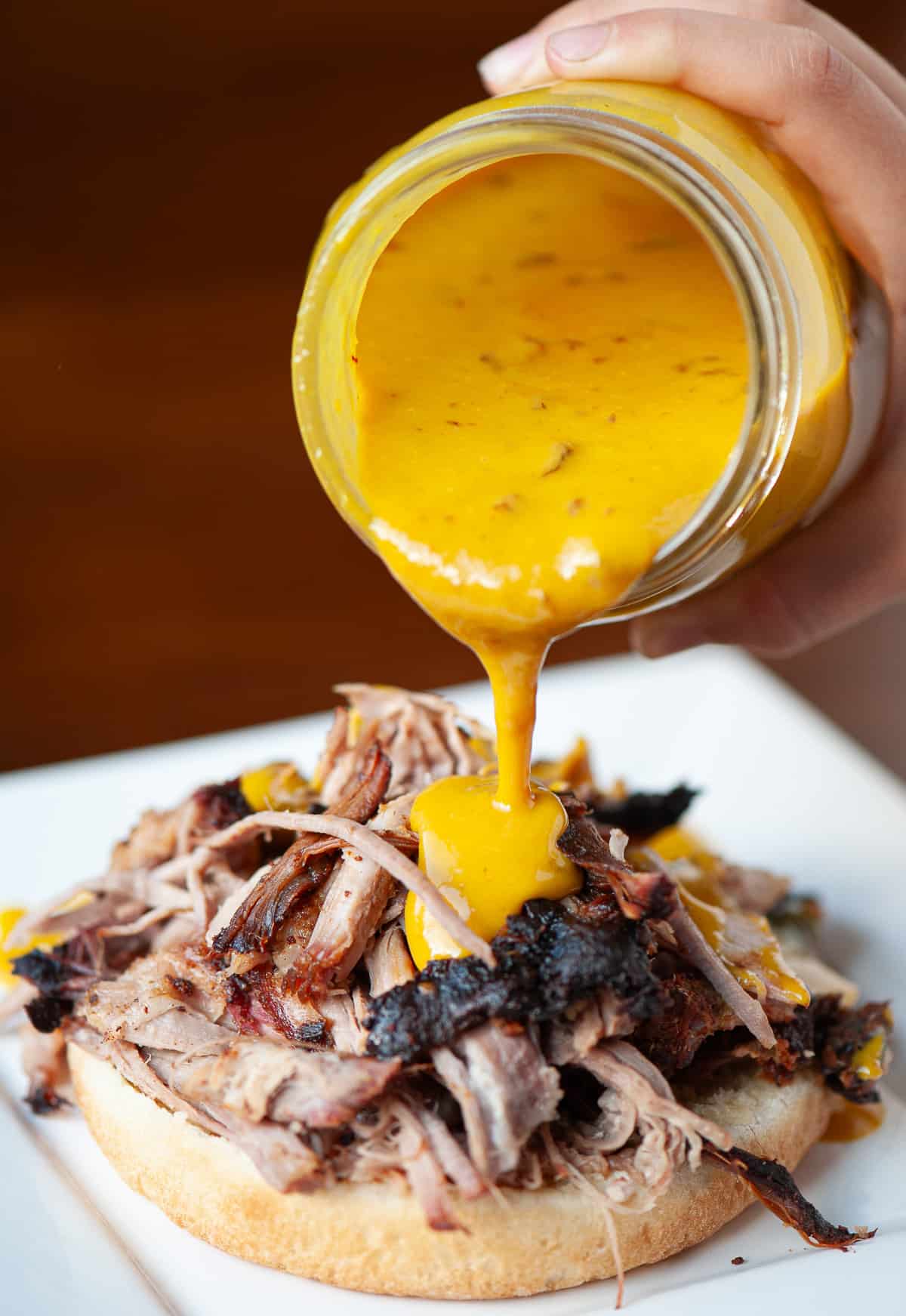 Carolina's Mustard BBQ Sauce Tradition
The roots of mustard-based barbecue sauce can be traced back to South Carolina. This state has a rich history when it comes to barbecue, influenced by the German immigrants who brought their love for mustard with them.
The result? A tangy, golden sauce that perfectly complements smoked or grilled meats.
Key Ingredients
Yellow Mustard: The main ingredient, yellow mustard, provides the sauce with its distinctive color and tangy kick.
Honey and Brown Sugar: These sweet ingredients balance the tanginess of the mustard, creating a harmonious blend of flavors.
Apple Cider Vinegar: Adding a touch of acidity and fruity notes, apple cider vinegar is a crucial element in this recipe.
Chipotle Pepper in Adobo: For a hint of smokiness and a touch of heat, chipotle peppers in adobo sauce are a secret weapon.
Ketchup: Though not a traditional Carolina ingredient, ketchup adds depth and richness to the sauce.
Worcestershire Sauce: This umami-rich sauce contributes to the savory complexity of the mustard sauce.
Garlic and Black Pepper: Garlic powder and black pepper provide layers of flavor and a little kick to the sauce.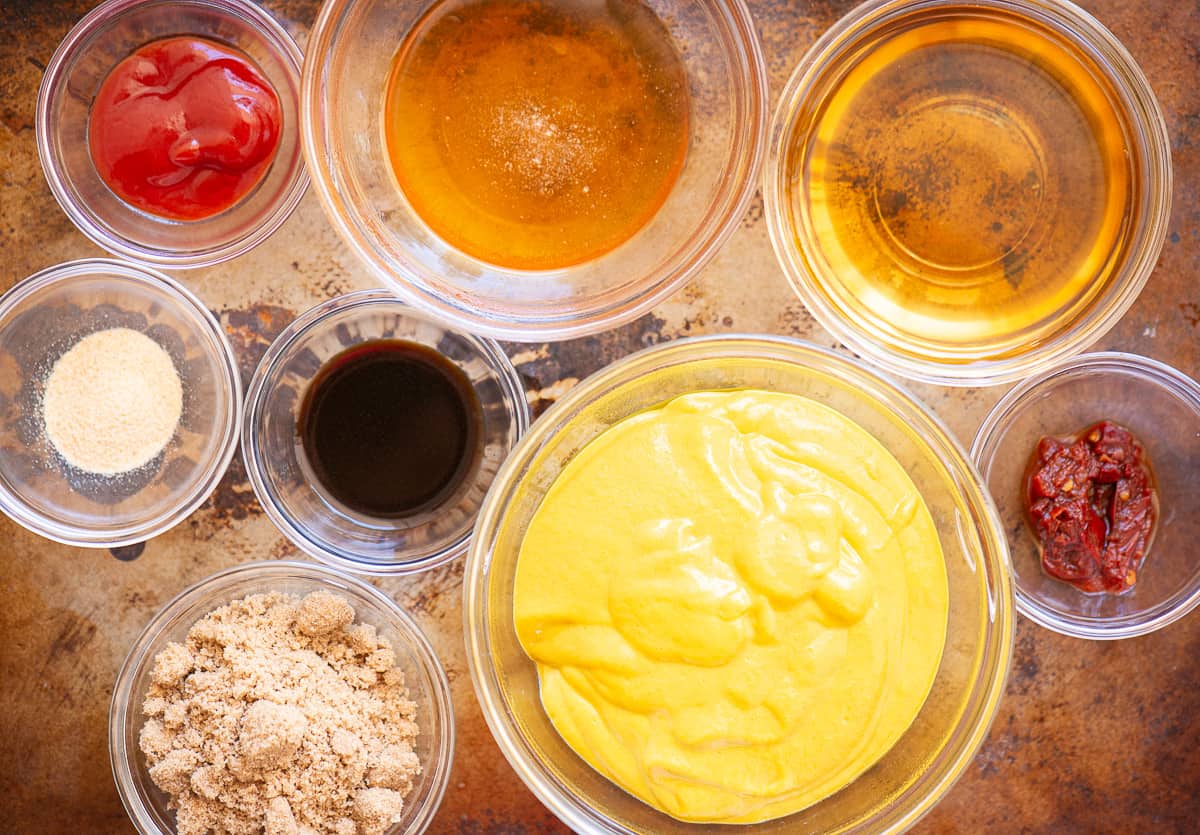 Why This Recipe Works
No Cooking Required: One of the fantastic aspects of this mustard sauce recipe is its simplicity. Unlike other BBQ sauces that require simmering for hours, this sauce is a breeze to make. Simply mix the ingredients together, and you're good to go.
Tangy and Sweet: The combination of yellow mustard, honey, and brown sugar creates a sauce that's both tangy and sweet. It's the perfect balance that tickles your taste buds.
A Touch of Heat: With the addition of chipotle peppers in adobo and black pepper, this mustard-based BBQ sauce has a touch of heat that's sure to please spice lovers.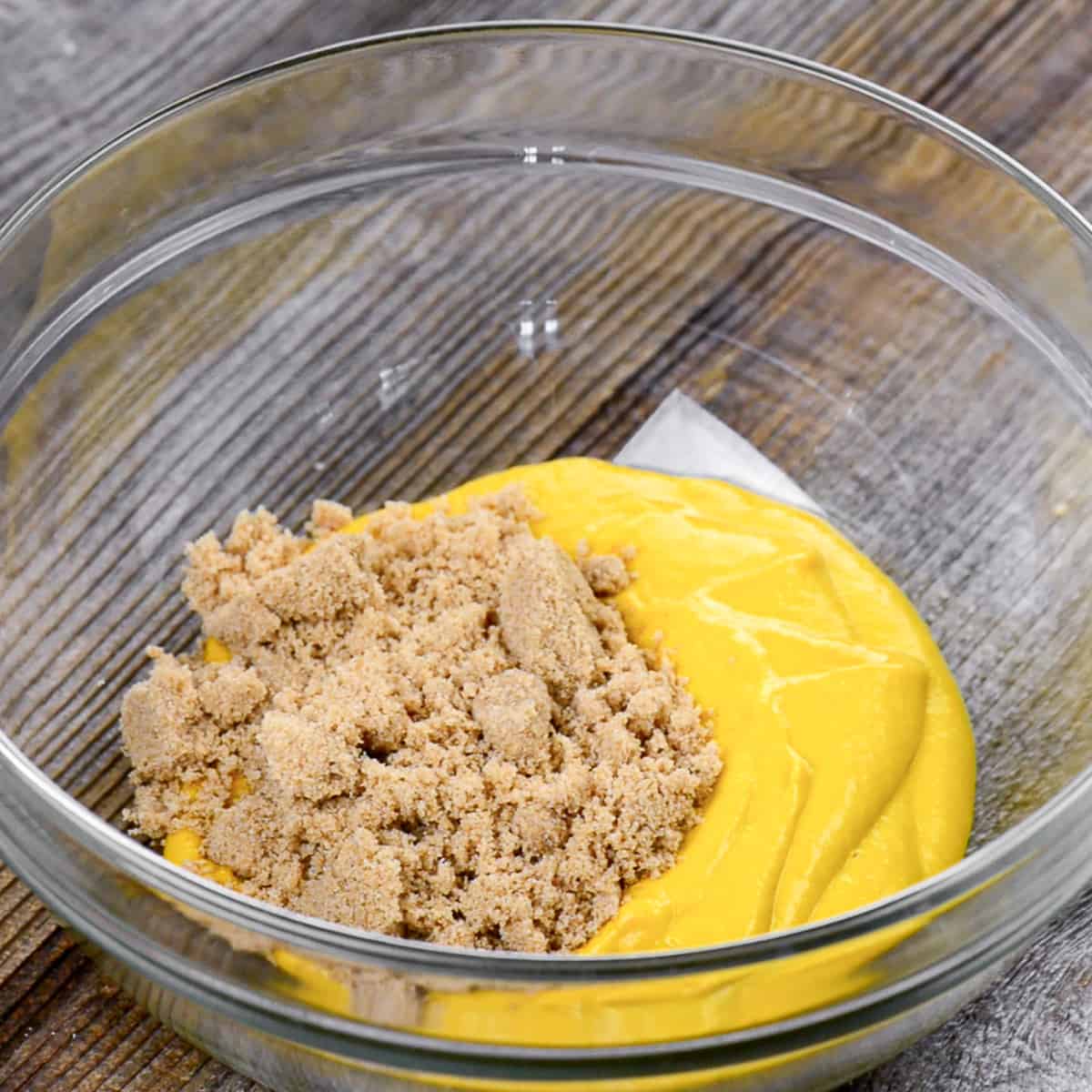 What Does It Taste Like?
Carolina Mustard BBQ Sauce has a unique flavor profile.
It's tangy, slightly sweet, with a touch of smokiness and heat.
The mustard base gives it a bold and zesty character that sets it apart from a traditional tomato-based sauce.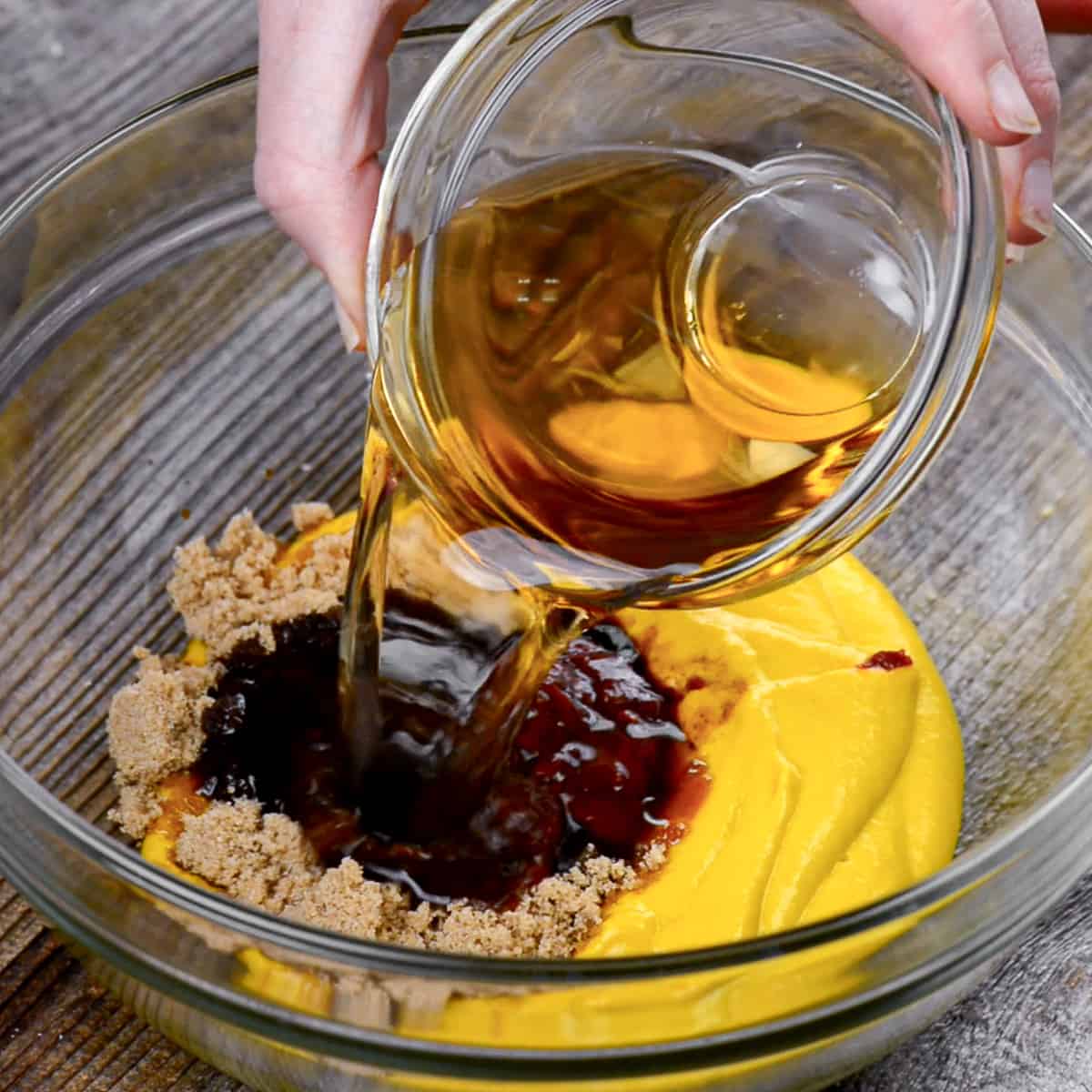 Why You Should Make It
Versatility: This mustard-based BBQ sauce isn't just for pulled pork sandwiches; it goes well with a variety of grilled meats, from chicken and ribs to pork chops.
Authenticity: If you're looking to capture the essence of traditional Carolina BBQ, making your own version of this mustard sauce is the way to go.
Customization: Feel free to tweak the recipe to suit your taste. You can adjust the sweetness, heat, or smokiness to create your personal favorite.
Easy to Store: Once prepared, you can store this sauce in an airtight container for future use. It only gets better with time, allowing the flavors to meld together.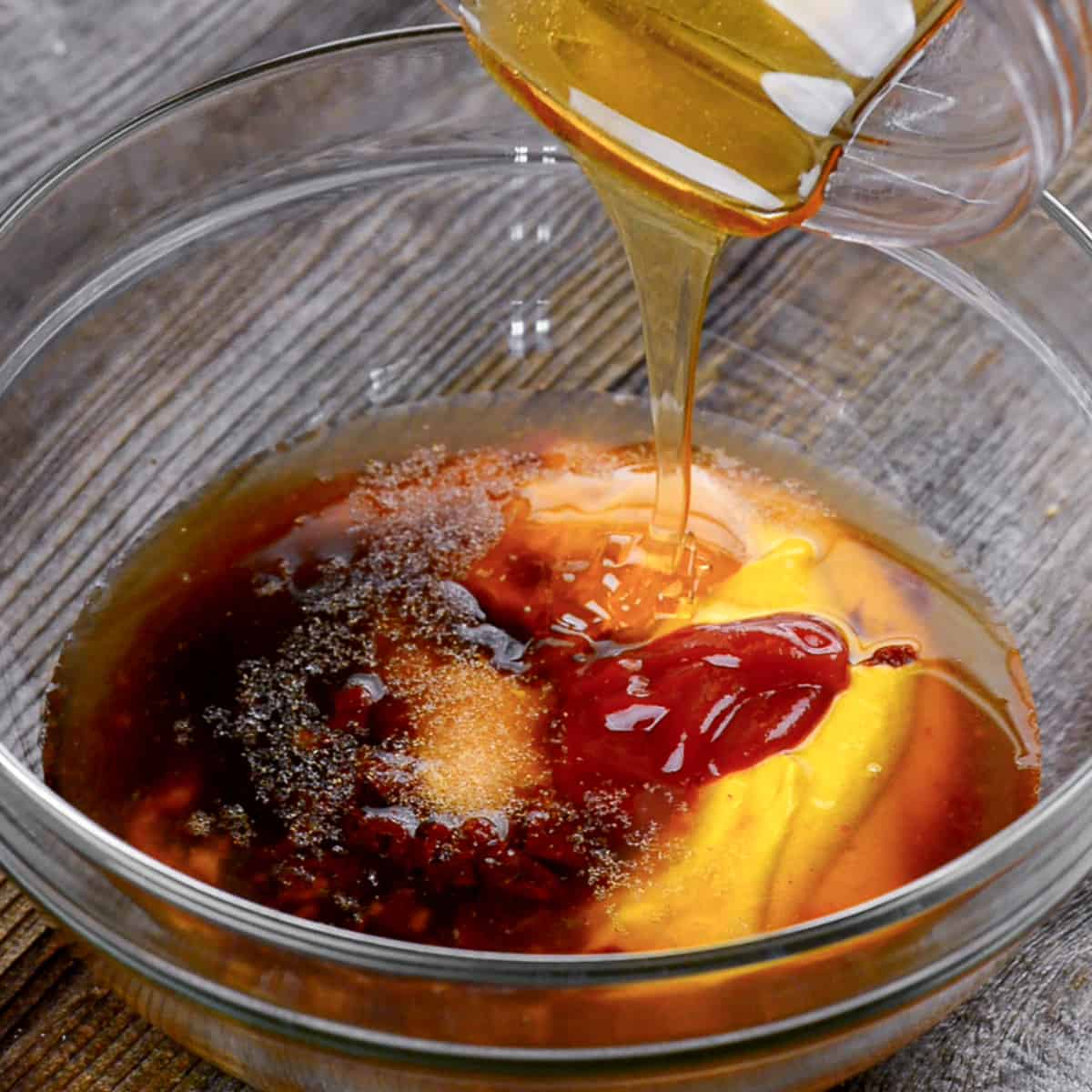 Ingredient Substitutions and Additions
If you are needing to make a change to accommodate dietary restrictions or ingredients on hand, these options might work. Because they may alter the flavor of the mustard barbecue sauce, I recommend only making changes if necessary.
Honey Substitutes
Maple Syrup: If you're looking for a vegan alternative to honey, maple syrup can provide a similar sweetness and depth of flavor.
Agave Nectar: Another vegan option, agave nectar, can be used to replace honey in equal amounts.
Brown Sugar Substitutes
Coconut Sugar: For a lower glycemic index option, you can substitute coconut sugar for brown sugar in a 1:1 ratio.
Stevia or Erythritol: If you're watching your sugar intake, you can use stevia or erythritol as sugar-free alternatives. Start with a small amount and adjust to taste.
Apple Cider Vinegar Variations
White Wine Vinegar: If you don't have apple cider vinegar on hand, white wine vinegar can be a suitable replacement. It will lend a slightly different flavor but still works well.
Rice Vinegar: Rice vinegar has a milder taste and can be used as a substitute, especially if you prefer a less tangy sauce.
Chipotle Peppers in Adobo Alternatives
Smoked Paprika: If you want to maintain the smokiness without the heat, smoked paprika is an excellent choice. Use it in place of chipotle peppers for a smoky flavor profile.
Red Pepper Flakes: For heat without the smokiness, red pepper flakes can be added to taste.
Ketchup Options
Tomato Sauce: In a pinch, tomato sauce can be used as a ketchup substitute. It's slightly less sweet but still provides the tomato base.
Tomato Paste: For a thicker consistency and intense tomato flavor, consider using tomato paste, but dilute it with a little water.
Worcestershire Sauce Alternatives
Soy Sauce or Tamari: If you're vegetarian or looking for a gluten-free option, soy sauce or tamari can provide a savory umami element.
Coconut Aminos: For a soy-free, gluten-free alternative, coconut aminos work well as a Worcestershire sauce substitute.
Garlic Powder Variations
Fresh Garlic: If you prefer fresh garlic flavor, substitute minced or finely grated fresh garlic cloves for garlic powder. Use about one clove per 1/4 teaspoon of garlic powder.
Additional Dietary Considerations
Low Sodium: Reduce the amount of salt or opt for low-sodium versions of soy sauce or Worcestershire sauce to lower the sauce's sodium content.
Gluten-Free: Ensure that your Worcestershire sauce and soy sauce (if used) are gluten-free for a gluten-free version.
Vegan: To make the sauce entirely vegan, use maple syrup instead of honey and choose a vegan Worcestershire sauce.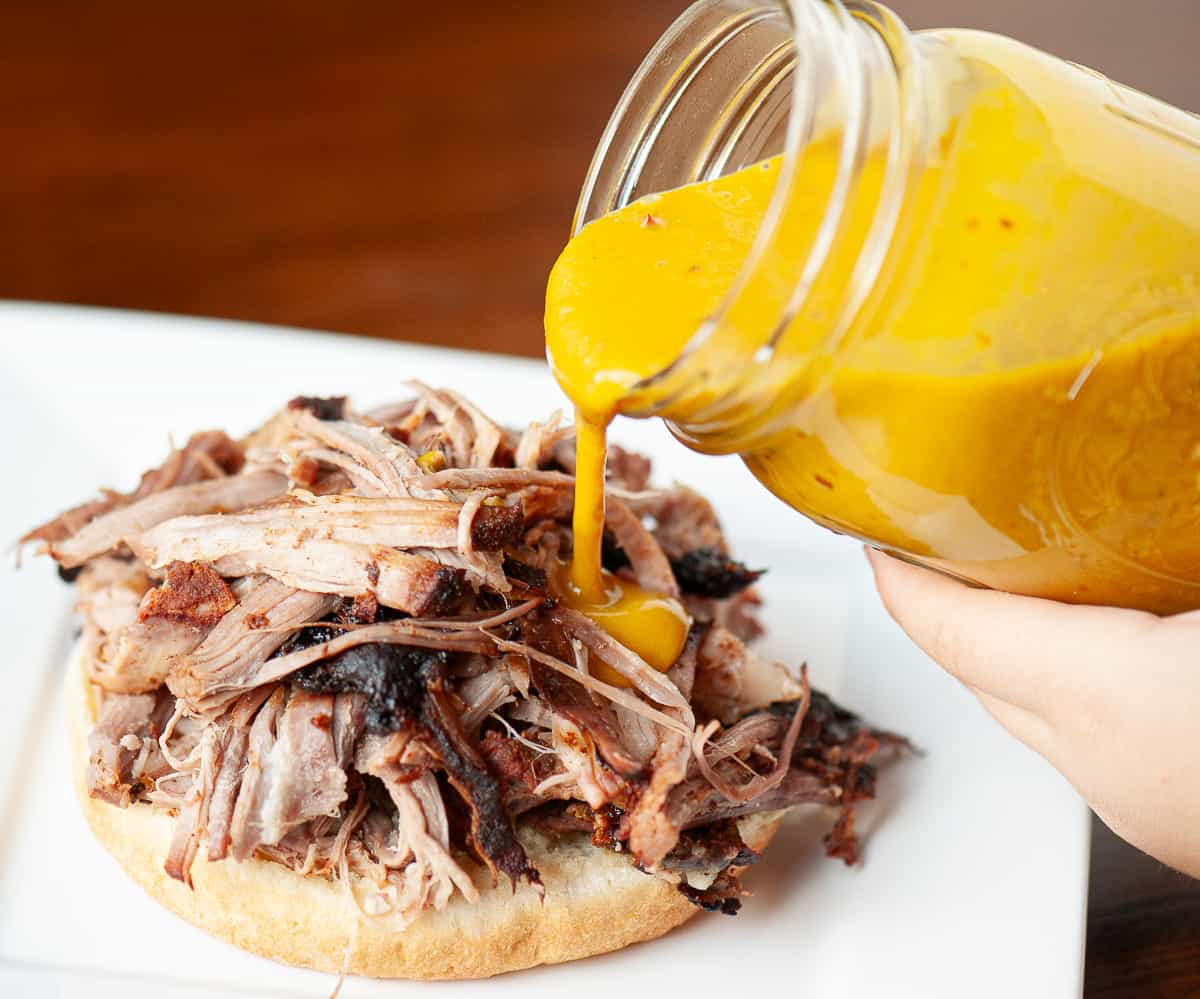 Serve This Sauce With
If you enjoy making your own sauces, you may want to also make my Whiskey BBQ Sauce.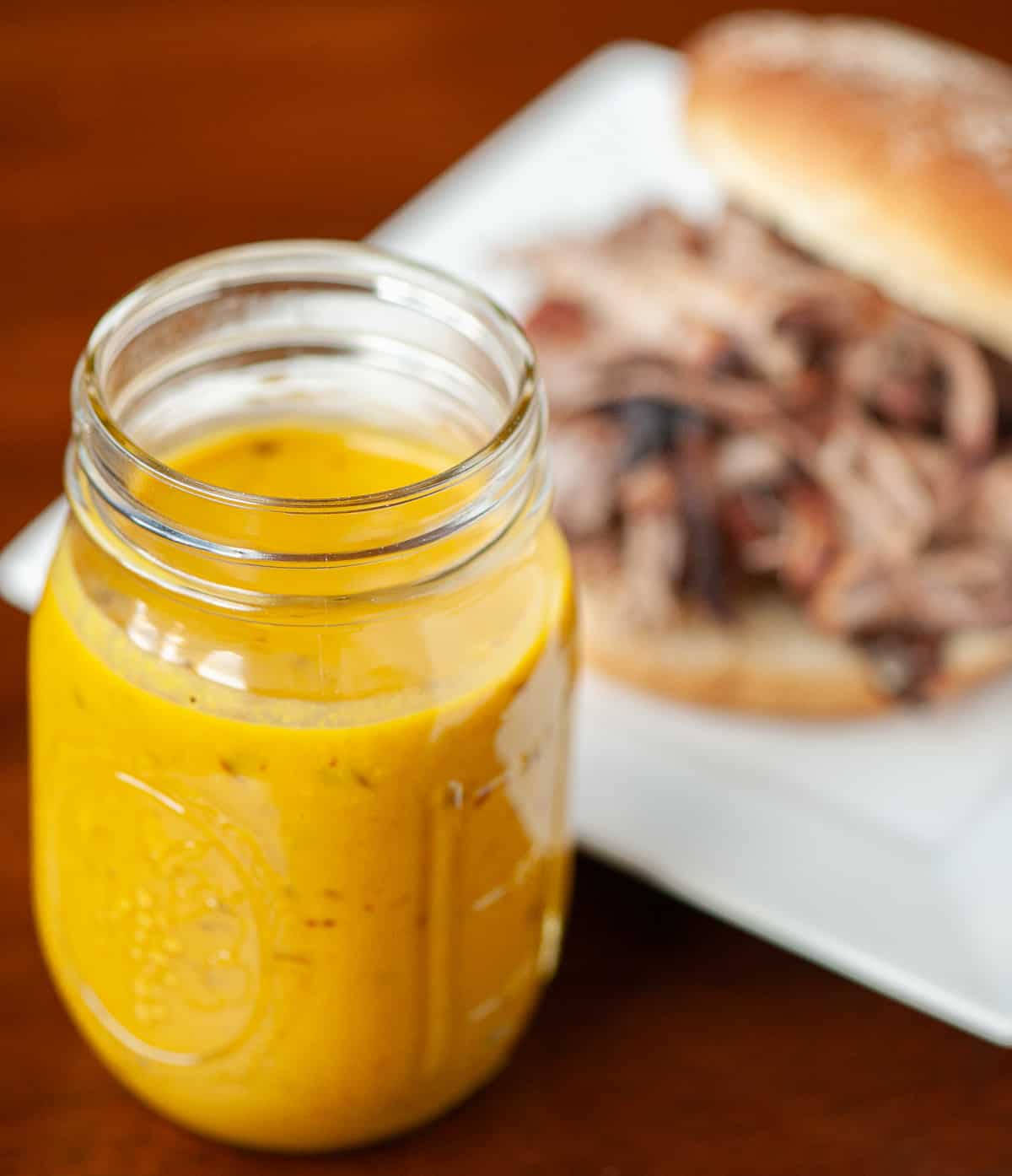 In the world of barbecue, Carolina Mustard BBQ Sauce stands as a testament to the diversity and creativity of regional flavors.
Whether you're a fan of South Carolina barbecue or simply looking to try something new, this mustard-based BBQ sauce is a must-try.
So, the next time you fire up the grill, consider adding a touch of Carolina gold to your favorite meats and savor the magic of homemade mustard BBQ sauce.
Carolina Mustard Barbecue Sauce Recipe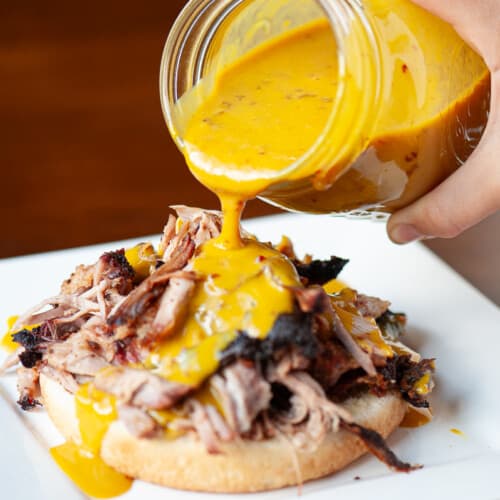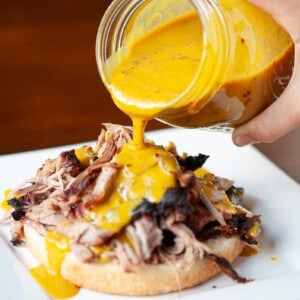 Carolina Mustard Barbecue Sauce is the easiest homemade BBQ sauce recipe you'll find! This mustard BBQ sauce is so easy to make, spicy, and flavorful!
Instructions
Mix all ingredients well.

For best results, refrigerate in an airtight container overnight to allow the flavors to develop.

To serve, warm in a pot over very low heat and use on grilled meats like pulled pork or chicken.
Nutrition
Calories:
57
kcal
,
Carbohydrates:
12
g
,
Protein:
1
g
,
Sodium:
269
mg
,
Potassium:
52
mg
,
Sugar:
10
g
,
Vitamin A:
40
IU
,
Vitamin C:
0.4
mg
,
Calcium:
16
mg
,
Iron:
0.4
mg
Nutrition information is automatically calculated, so should only be used as an approximation.
This post was originally created in April 2015 and has been updated with photos and helpful information. Don't worry – I didn't change the recipe!