Beef stir fry, loaded with tons of fresh vegetables and a tasty sauce, is a quick and easy dinner best cooked in a wok that your family will love.
Beef Stir Fry is one of my family's favorite recipes. It has everything you want in a dinner – protein, loads of veggies, and great flavor! This is one of my favorite Asian inspired dinner recipes, along with Pork Fried Rice  and Chicken Pad Thai.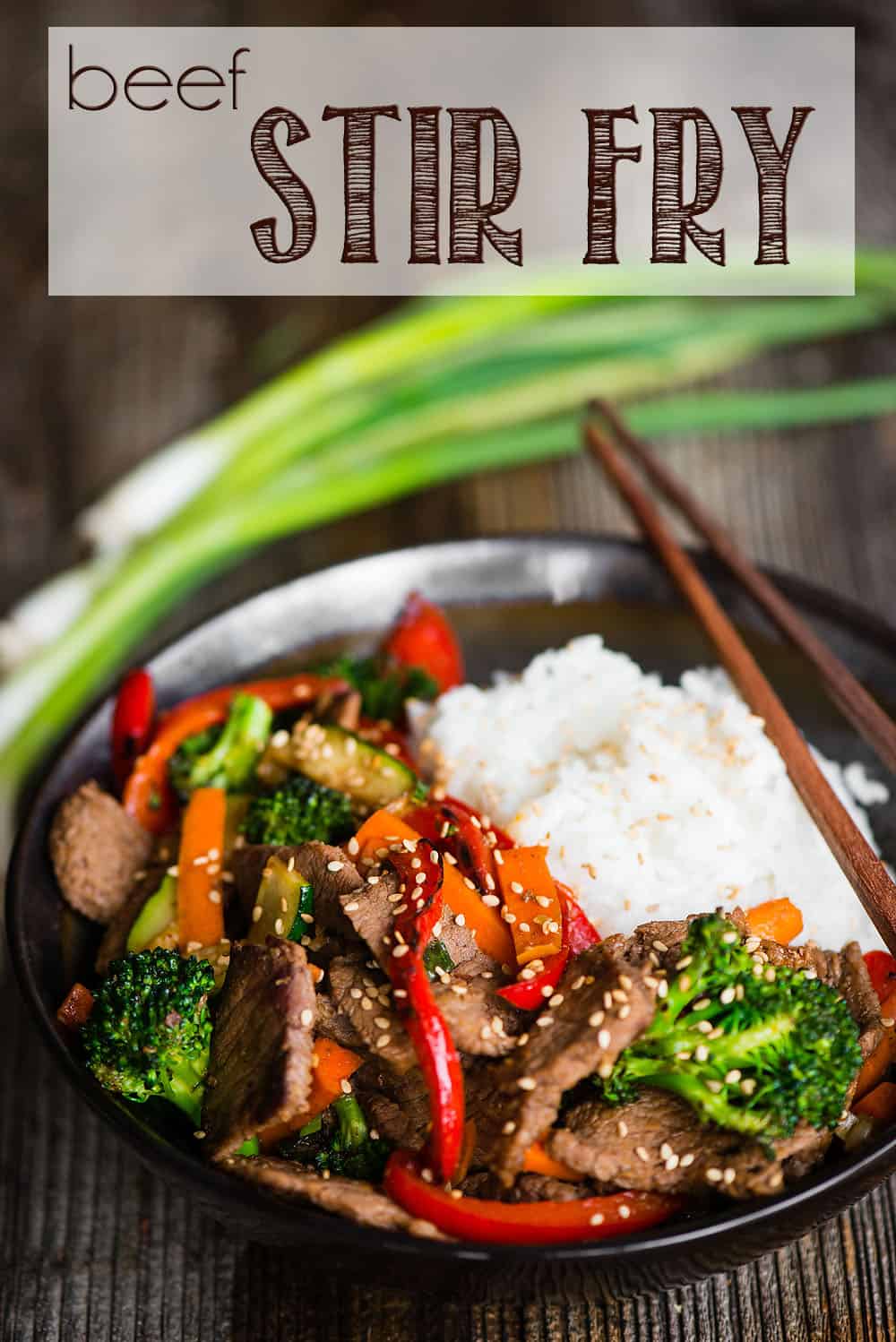 BEEF STIR FRY
Beef Stir-Fry with broccoli and rice and everything nice is so. Darn. GOOD.
I recently purchased an electric wok. I love it. You have no idea how much I love it.
The beauty of a wok is that the heat goes all the way up the side walls. This is what creates that super fast and quick cooking.
Wok cooking is perfect for stir fry recipes because you want your meat and vegetables to be just cooked enough but also to get a really nice sear on them.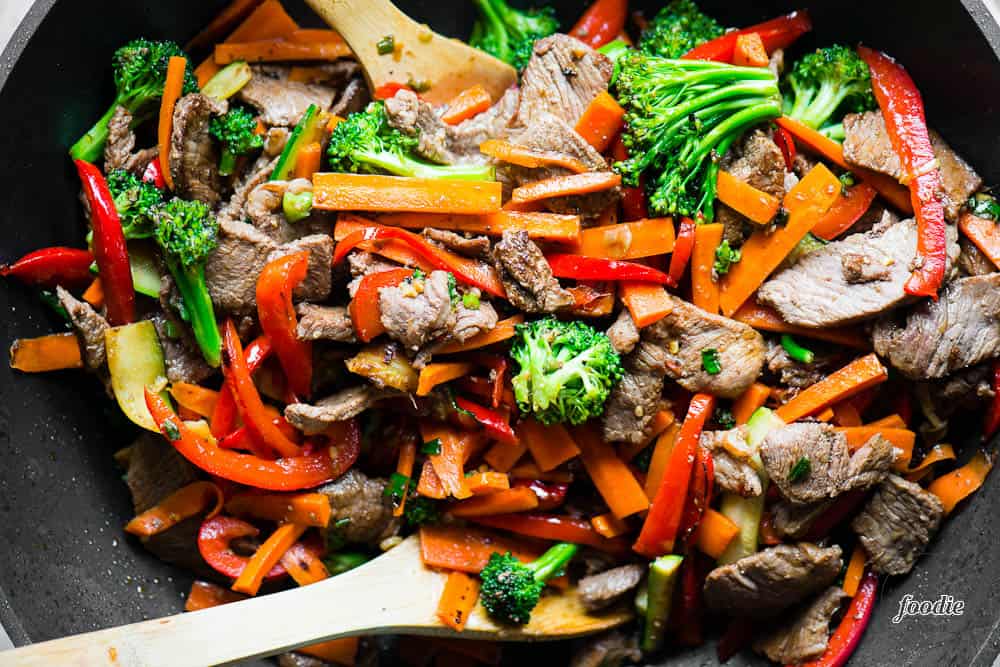 What kind of beef do you use for stir fry?
I prefer to use a sirloin steak. You can certainly use any kind of steak that is a higher quality cut than a sirloin, but since you're going to slice it thin and cook it fast, you should save your money.
A sirloin steak will taste just as good as a premium cut when cooked this way at a fraction of the price.
How do I make stir fry meat tender?
There are many ways you can make meat tender. One method is to pound it flat with a meat tenderizer. You can also marinate it so that the tissue breaks down a bit during the cooking process.
In order to make this recipe quick and easy, the only thing I did to ensure really tender meat was to slice it very thin against the grain.
A simple trick to make your slicing easier is to have your meat partially frozen. It needs to be thawed enough to easily get the knife through, but cold enough to hold up against the knife, thus making it easy to slice.
Cutting against the grain will give you the most tender bites of steak.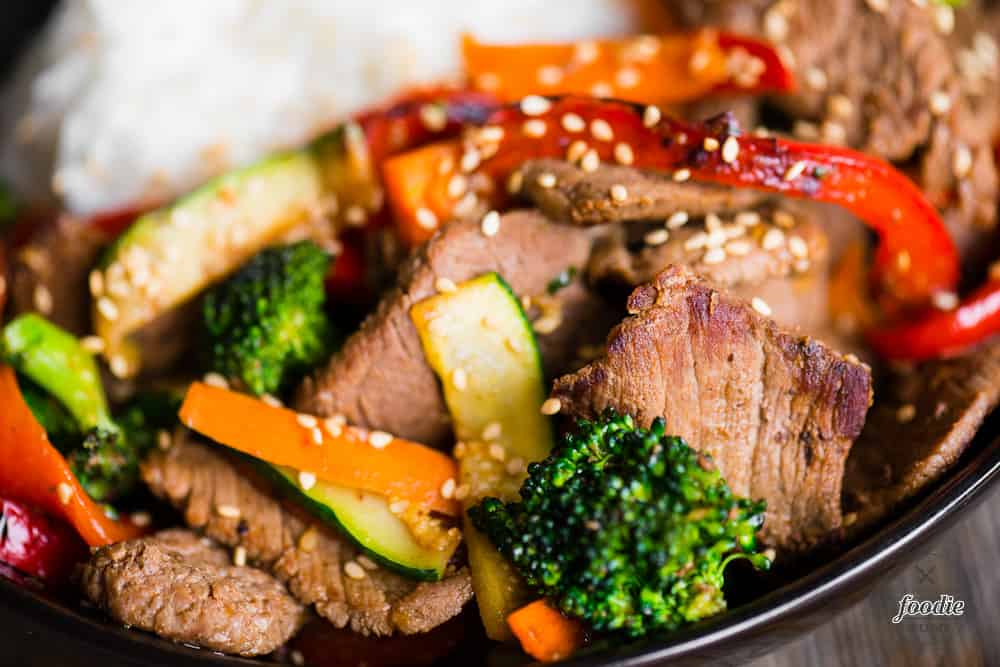 What is the secret to a good stir fry sauce?
Fish sauce.
I know some people have been cooking with fish sauce their entire lives, but it's newly adapted in our family.
Admittedly, the thought of using fish sauce is not super appealing to me, but it truly does enhance the flavor of Asian dishes. Give it a try!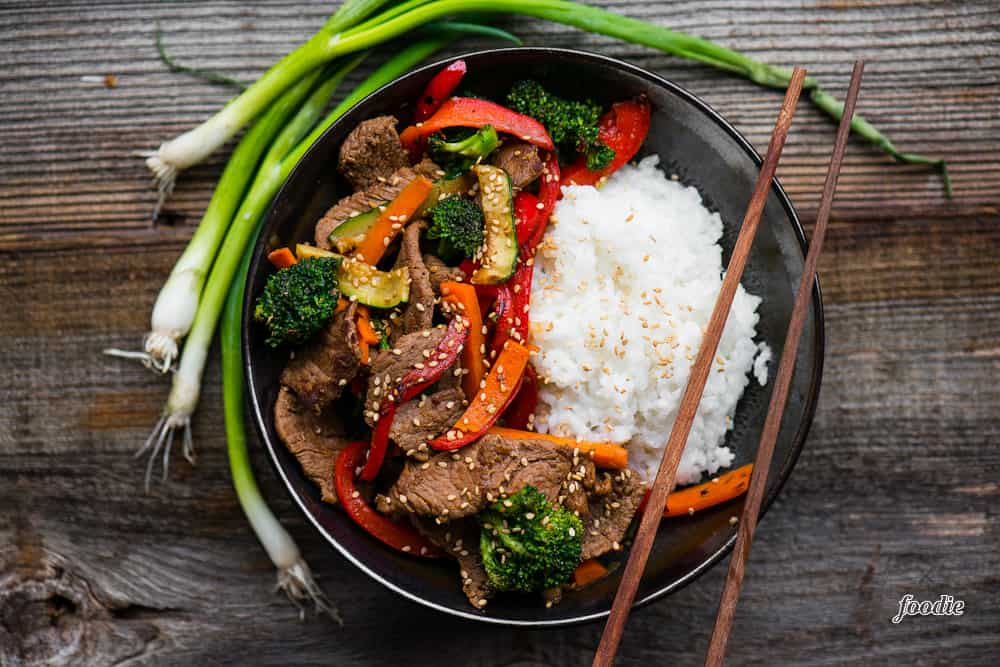 Favorite Asian dinner recipes:
My entire family loves all of these tasty and easy dinner recipes, and I'm confident you will too!
Watch my recipe video for Beef Stir Fry below!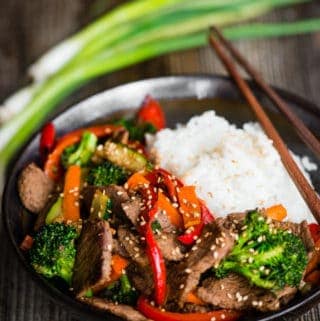 Beef Stir Fry
Beef stir fry, loaded with tons of fresh vegetables and a tasty sauce, is a quick and easy dinner best cooked in a wok that your family will love.
Print
Pin
Rate
RECIPE VIDEO
Ingredients
2

tbsp

vegetable oil

or other high heat oil

1

pound

beef sirloin

cut into thin strips, see note

2

cups

broccoli

fresh florets

1

red bell pepper

cut into thin strips

2

large

carrots

peeled and cut into thin strips

1

small

zucchini

thinly sliced

2

green onions

thinly sliced

1

tsp

garlic

minced

1/2

tsp

ginger

freshly grated

1/2

tsp

red pepper flakes

2

tbsp

soy sauce

2

tbsp

fish sauce

2

tbsp

sesame seeds

toasted
Instructions
Throughout entire recipe, do not overcrowd your wok. You're better off cooking in small batches, setting aside, and combining everything at the end. You want everything to have a nice sear on it but not be soggy and overly cooked.

Ensure meat and all vegetables are cut prior to cooking.

Heat vegetable oil in a large wok or skillet over high heat. When oil is near it's smoking point, cook and stir beef until browned, 3 to 4 minutes. It will continue cooking later, so it doesn't need to be fully cooked at this point. You just want a nice sear on it.

Transfer beef to a plate. Add broccoli, bell pepper, carrots, zucchini, and green onion to the center of the wok. Cook and stir vegetables for 2 minutes. Add garlic, ginger, and red pepper flakes and stir well.


Add beef into vegetables and season with soy sauce, fish sauce, and sesame seeds. Continue to cook and stir until vegetables are tender, about 2 more minutes.

Serve hot over rice or noodles.
Notes
Slicing meat that is partially frozen or very cold is easiest. Slice against the grain to get the most tender bite.
Nutrition
Calories:
279
kcal
|
Carbohydrates:
11
g
|
Protein:
28
g
|
Fat:
13
g
|
Saturated Fat:
7
g
|
Cholesterol:
62
mg
|
Sodium:
1324
mg
|
Potassium:
863
mg
|
Fiber:
3
g
|
Sugar:
5
g
|
Vitamin A:
7420
IU
|
Vitamin C:
87.4
mg
|
Calcium:
113
mg
|
Iron:
3.7
mg