Perfect Cashew Chicken combines tender bite-sized pieces of chicken with cashew pieces in a flavorful Asian sauce is better than takeout!
This simple Chinese-American recipe is a favorite dinner option in our house. The tasty sauce is a combination of garlic, rice vinegar, hoisin sauce, soy sauce, fish sauce, and toasted sesame oil makes all the difference!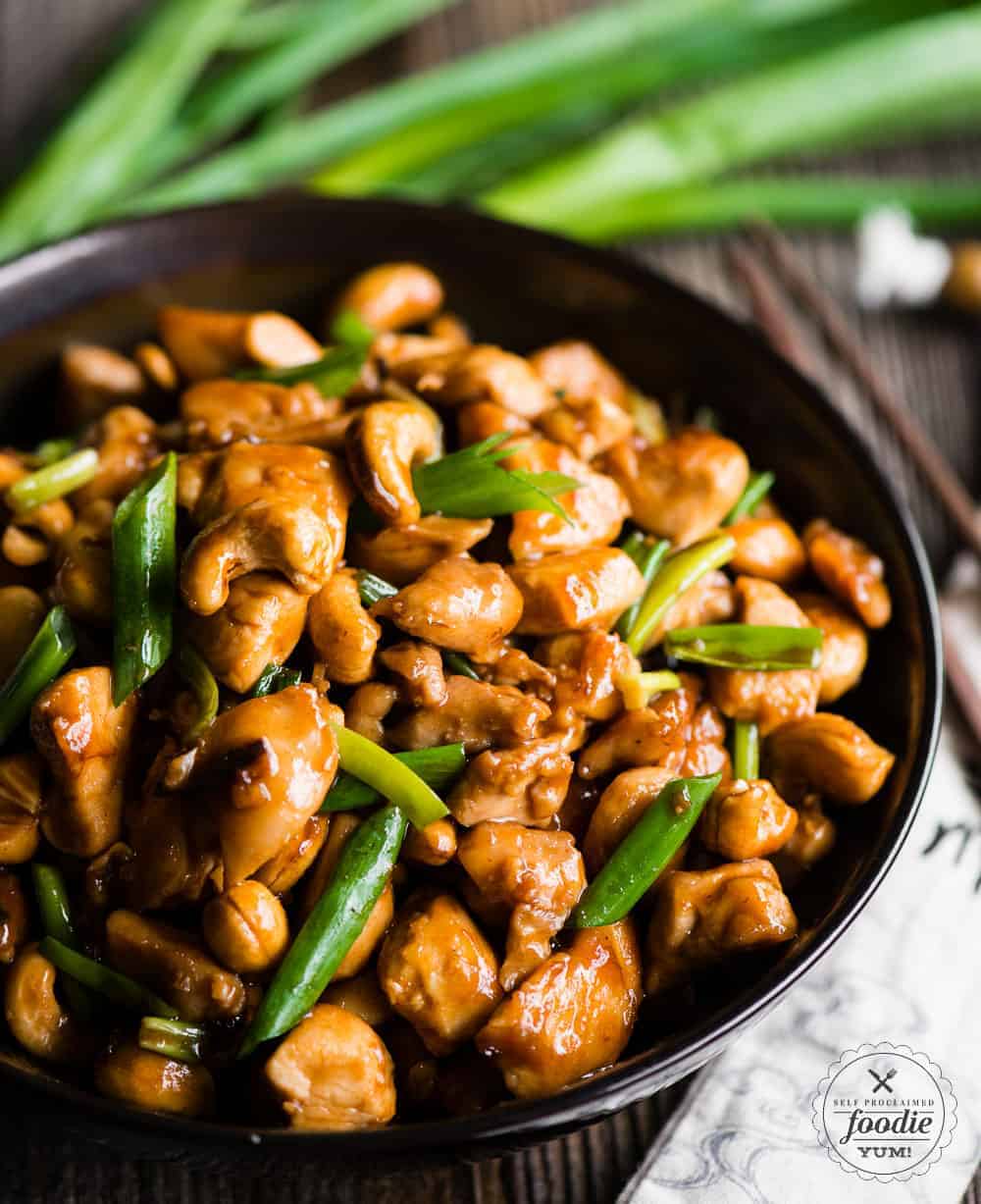 You'll find a lot of recipes out there for Cashew Chicken, but there are a few things that make this recipe qualify as Perfect Cashew Chicken. I'll explain why this is the recipe you'll want to try further down in the post.
My family loves Asian food. In fact, loves might be an understatement. Alas, not that we've moved away from the suburbs to our own mini-farm, good quality Chinese take-out is not longer an option. I have to make all the food on my own or get in the car and drive 40 minutes one way. Let me tell you - my husband much prefers the home cooked meals as opposed to the restaurant bills.
Once we moved out here, I invested in a good quality wok and started cooking more Asian recipes. My favorites have been Pork Fried Rice, Hunan Chicken, and Beef Stir-Fry. Plus, the Shrimp Summer Rolls have proven to be especially satisfying on hot summer days.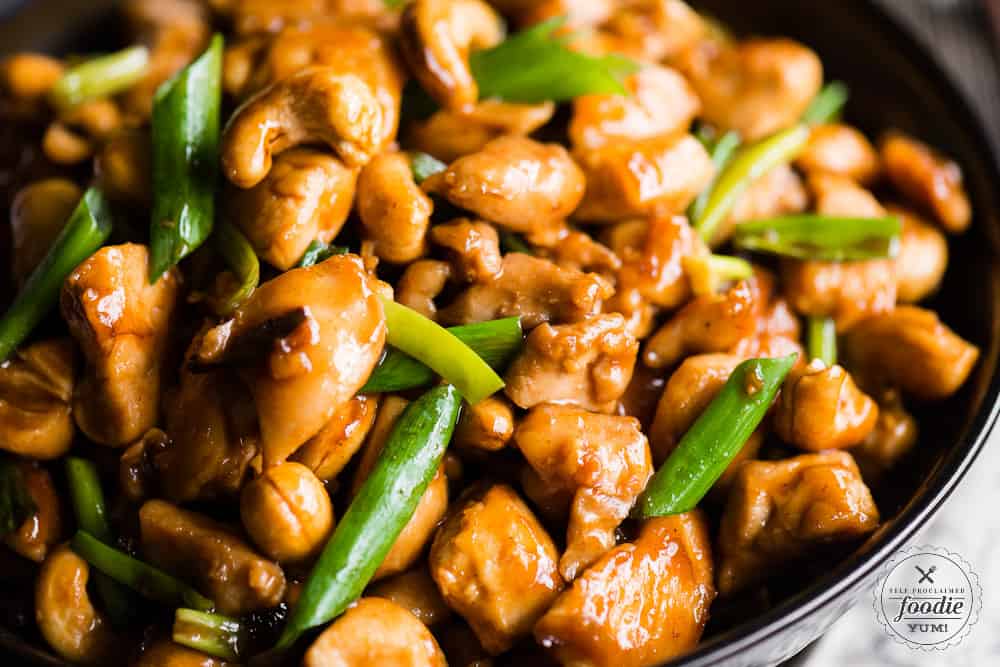 Why this is the Perfect Cashew Chicken recipe:
I recommend using raw cashews and toasted them in the oven. This really enhances their flavor and adds to their crunchy texture. Pre-roasted nuts have nothing on nuts you roast in your own oven.
My recipe recommends you cook the chicken in batches. When the chicken is pre-cut into small pieces and you're cooking over high heat, this takes very little time and gives a great golden brown crispy texture to the outside without having to use too much oil.
I hate recipes that call for green onions, or scallions, and have you only use the white or green parts. This recipe uses the entire green onion, only the white part is sauteed up with the chicken and the green part is sliced up and tossed in at the end. No waste and so much flavor!
The sauce truly makes this recipe outstanding. I'm a new passenger on the fish sauce train, but I have to admit it really does enhance the flavor. Hoisin sauce and soy sauce are no brainers in that they add that dark Asian saucy flavor we all know and love. The toasted sesame oil is one of my favorite additions to Chinese food and always add it near the end to preserve the flavor as much as possible.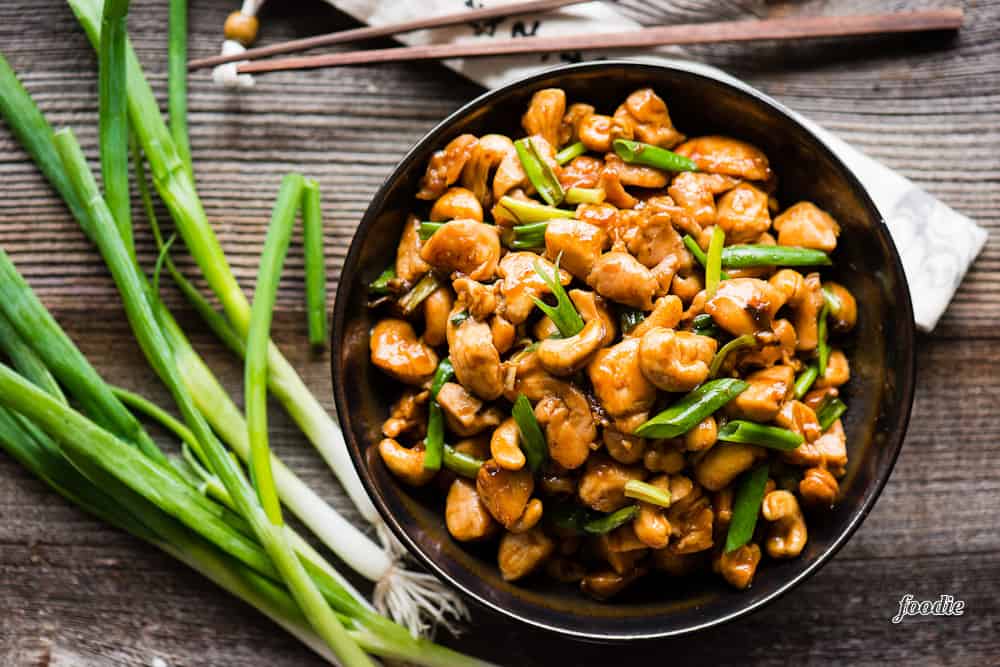 Serve this recipe on a bed of steamed short grain rice and you've got an outstanding meal. Add a little more green to your plate with some steamed broccoli and you'll be satisfying all of your senses!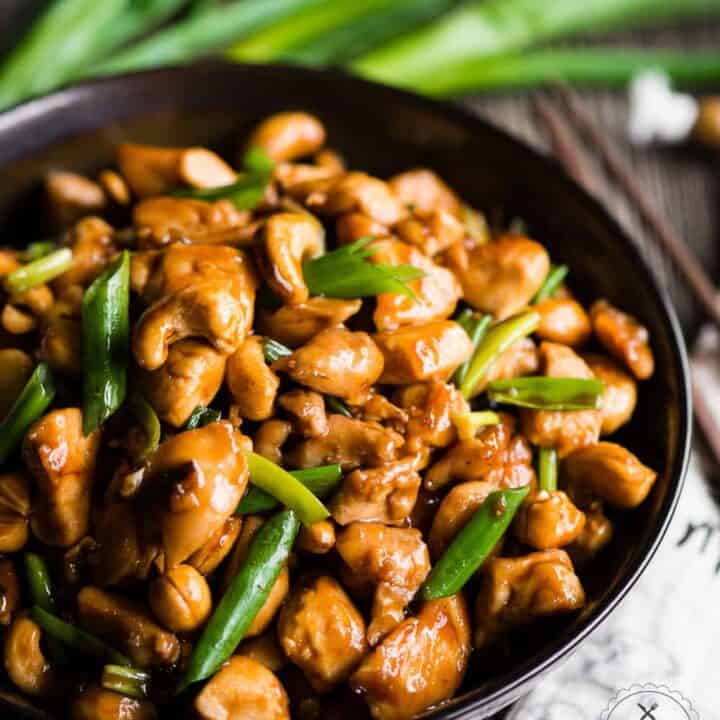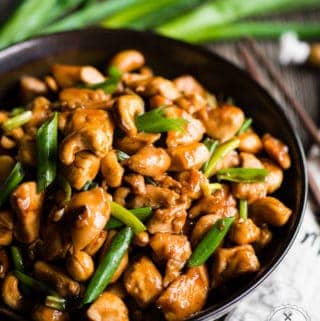 Perfect Cashew Chicken
Perfect Cashew Chicken combines tender bite-sized pieces of chicken with cashew pieces in a flavorful Asian sauce is better than takeout!
Print
Pin
Rate
Hover to scale:
6
servings
Ingredients
1

cup

cashews

(raw and unsalted)

1 ½

pounds

chicken

(boneless skinless breast and/or thigh meat, cut into small 1-inch pieces )

8

green onions

(ends trimmed)

2

tbsp

avocado oil

1

tbsp

garlic

(minced)

2

tbsp

rice vinegar

4

tbsp

hoisin sauce

1

tbsp

soy sauce

1

tbsp

fish sauce

½

tsp

toasted sesame oil
Instructions
Preheat the oven to 300°F.

Place the cashews on a baking sheet in a single layer. Toast in the oven until fragrant, stirring once, about 15 minutes.

Slice green onions in half (white vs green) and separate. Cut into one inch pieces, but keep the whites separate from the greens.

Heat half of the avocado oil in a wok over high heat. When oil is almost at its smoke point, add half of the chicken. Continue to stir it around just enough to allow browning on all sides. The goal is to give it a nice brown without cooking it all the way through. Transfer to a plate.

Heat remaining avocado oil in wok and when it is hot, add remaining chicken along with the white pieces of the green onion. Allow to brown while occasionally stirring. During last minute or so, add the garlic. Once this half of the chicken has browned, add first batch back to the wok and reduce heat to medium.

Add rice vinegar, stir, and cook until evaporated. Add hoisin, soy, and fish sauce. Stir well and allow to cook until all chicken pieces are fully cooked through. This shouldn't take more than a minute. Turn off heat and stir in roasted cashew pieces, remaining green onions, and toasted sesame oil.

Serve with steamed broccoli and rice.
NUTRITION INFORMATION
Calories:
441
kcal
|
Carbohydrates:
13
g
|
Protein:
26
g
|
Fat:
31
g
|
Saturated Fat:
7
g
|
Cholesterol:
85
mg
|
Sodium:
660
mg
|
Potassium:
428
mg
|
Fiber:
1
g
|
Sugar:
4
g
|
Vitamin A:
320
IU
|
Vitamin C:
5.3
mg
|
Calcium:
38
mg
|
Iron:
2.9
mg