Hunan Chicken is an Asian stir fry recipe that combines thinly sliced chicken breast, tons of vibrant vegetables, and a flavorful sauce. You can control the spice level with the amount of chili paste you add. This easy dinner recipe tastes fantastic over rice.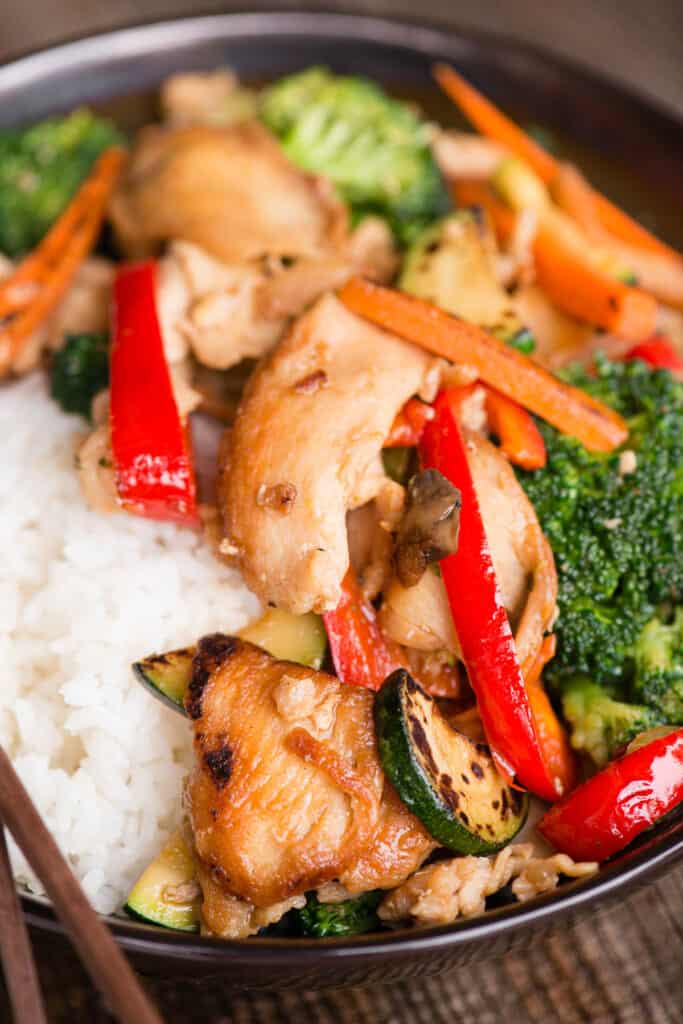 Why this recipe works:
Quick and easy Asian stir fry are an absolute favorite in my family and this colorful and vibrant meal was delicious. Chinese Hunan cuisine is known for it's spicy flavors and vibrant colors. You'll find that so many recipes and ingredients vary greatly, but this one is delicious and easy to make.
Tender flavorful chicken: Because the chicken is sliced extremely thin, covered in a cornstarch marinade paste, and then seared, every bite is delicious!
So many veggies: They not only add the best flavor, texture, and color, but they make this a dinner you can feel good about.
Tasty Hunan sauce: A handful of ingredients that you might already have on hand come together for a flavorful sauce that smothers the perfectly cooked chicken and vegetables.
Prepare the chicken:
The first thing you need to do prior to making Hunan chicken is to slice the chicken breast and then cover it in the marinade.
How to thinly slice chicken: This recipe works best if the chicken is sliced extremely thin. Some might consider it shaved. To easily do this, use chicken breasts that are partially frozen. You want to use a very sharp knife as well.
Hunan chicken marinade: This recipe uses a combination of cornstarch, soy sauce, toasted sesame oil, rice wine vinegar, and baking soda. This combination not only makes the chicken tender and flavorful, but it helps give the chicken a nice sear when it hits the hot wok pan.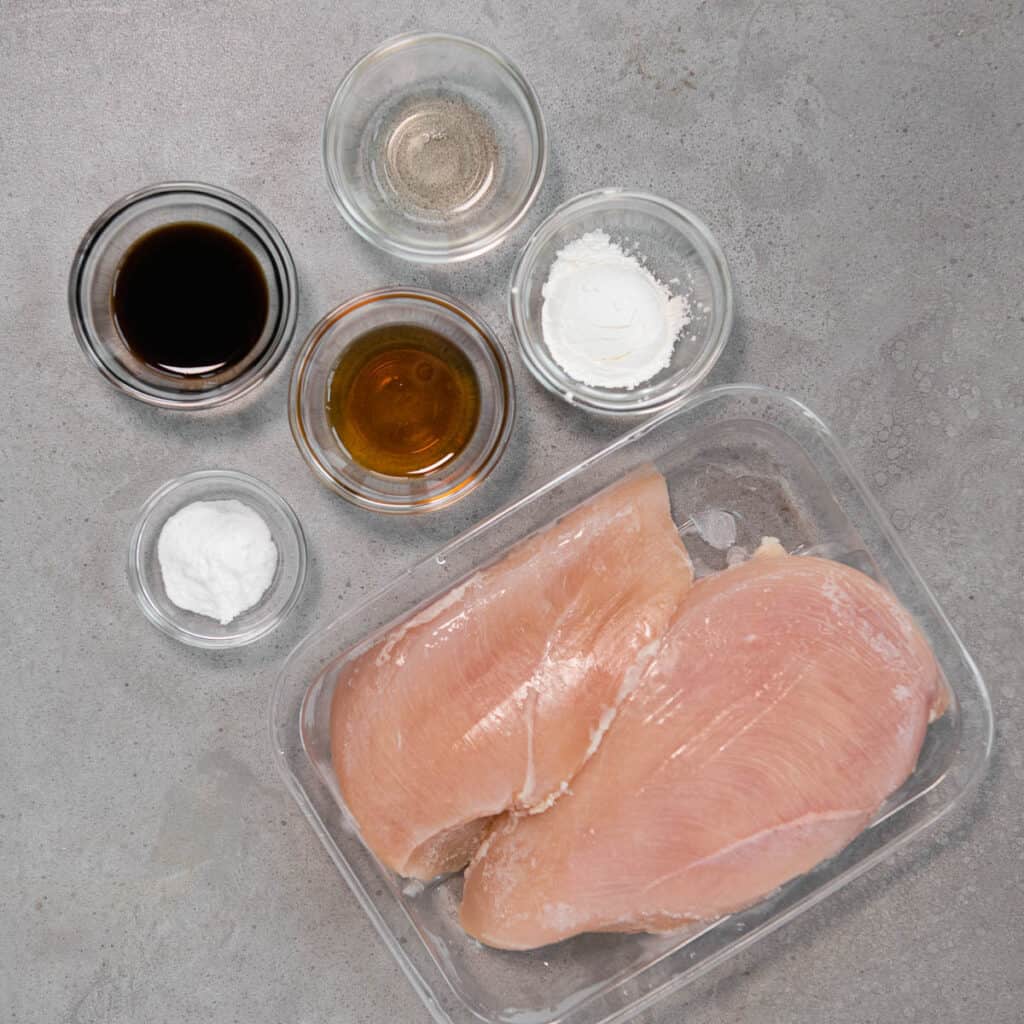 Hunan chicken sauce ingredients:
Chicken broth: Store bought or homemade chicken broth work great.
Cornstarch: Help thickens the sauce.
Soy sauce: I use regular but you can use low sodium if you prefer.
Oyster sauce: This really enhances the flavor.
Rice wine vinegar: For a little zing.
Brown sugar: To help balance the spice and salt.
Chili paste: I use Sambal Oelek and the amount I used created a very mild spice. If you want your Hunan sauce to be spicy, you can add more chili paste to the sauce or add a scoop to your serving.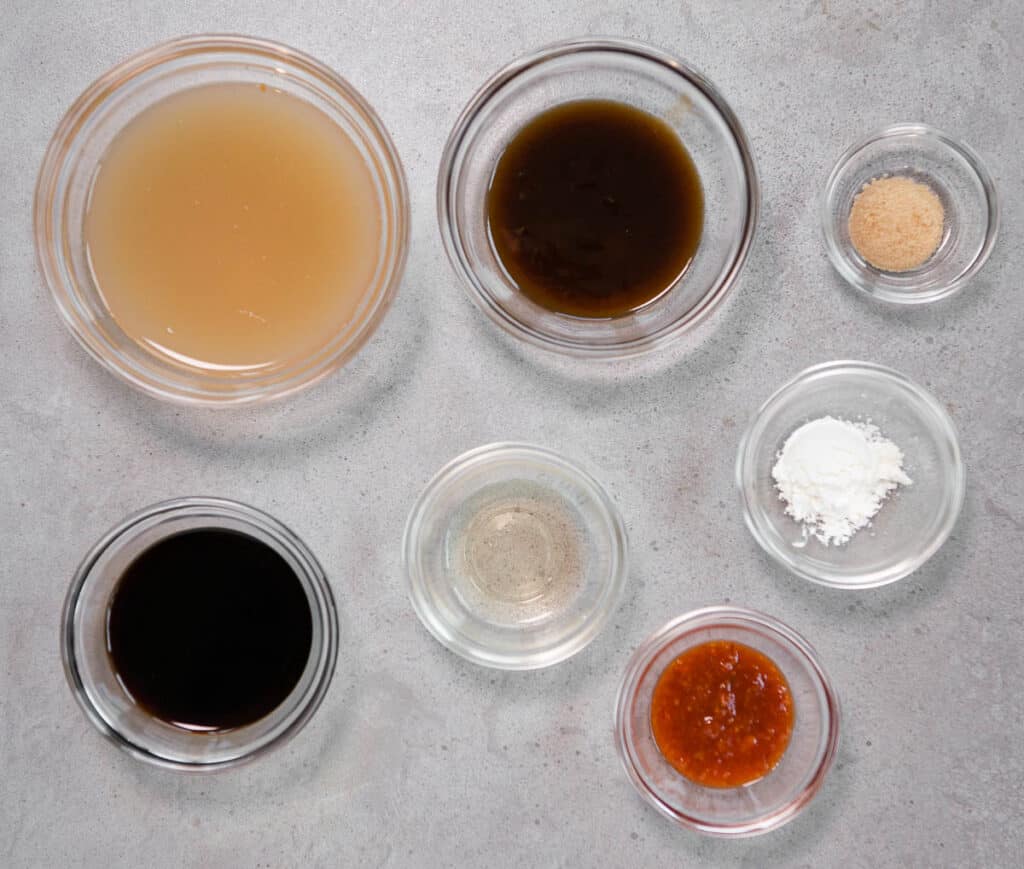 Stir fry ingredients:
Hunan chicken can be made with a variety of vegetables. I chose to use what I had on hand but also a variety that would give a vibrant burst of color. Feel free to modify however you wish.
Broccoli: Use fresh and not frozen and cut the florets into bite sized pieces.
Carrots: Peeled and cut into thin sticks.
Red bell pepper: Stemmed, seeded, and cut into strips.
Zucchini: Small zucchini, sliced in half lengthwise and then chopped into slices.
Yellow onion: Cut into slices.
Garlic and ginger: I love using frozen cubes of minced ginger and garlic.
Celery: Sliced thin on a bias.
Stir fry oil: Any kind of oil that can tolerate high heat will work.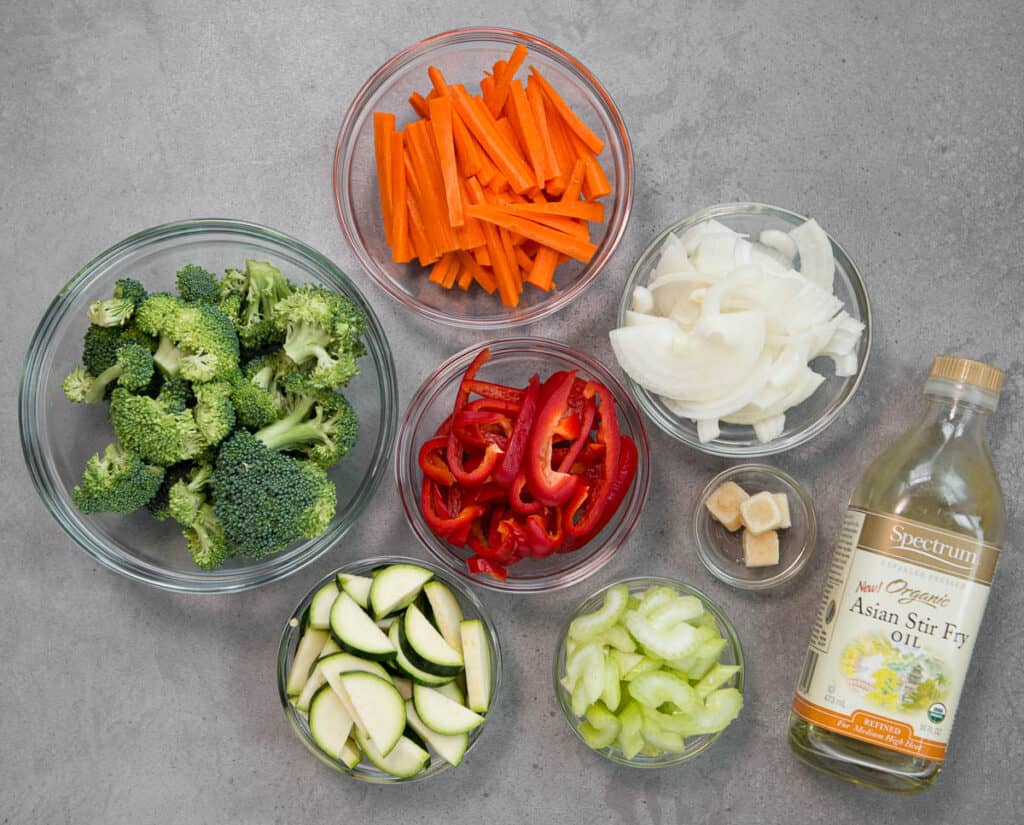 How to make Hunan Chicken:
Prior to cooking the recipe, you will need to marinate the sliced chicken in the refrigerator, mix together the sauce ingredients, and prepare all of the vegetables. This is a fast cooking wok stir fry, so you'll want to have all of your ingredients prepared ahead of time.
Sear the chicken: Heat oil over medium high heat in a wok pan and cook the chicken breast slices. Once done, transfer to a separate plate.
Stir fry the vegetables: Add the remaining oil to the pan and once it's hot, you can add the vegetables. Stir only to prevent burning.
Hunan chicken: Once the chicken and vegetables are cooked, add everything back to the pan and add the Hunan sauce. Stir to combine and allow to cook for a bit until the sauce thickens.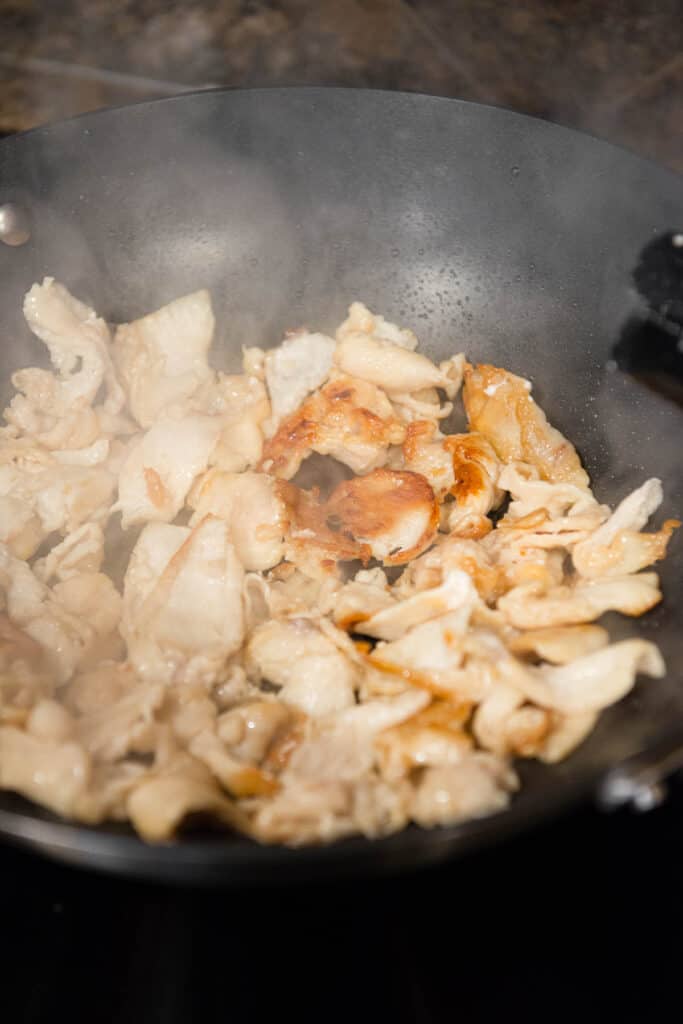 Cooking tips for perfect results:
Cooking pan: I recommend using a non-stick wok pan but you can use a large skillet if needed.
Stir fry cooking tips: For the best Hunan Chicken stir fry results, you want to cook the food hot and fast. When cooking both the chicken and vegetables, avoid over crowding in the pan. Cook in small batches if you need. To get the best sear, allow the food to cook undisturbed and toss occasionally to promote even cooking and avoid burning.
Serving recommendation: This recipe is great when served over steamed short grain white rice.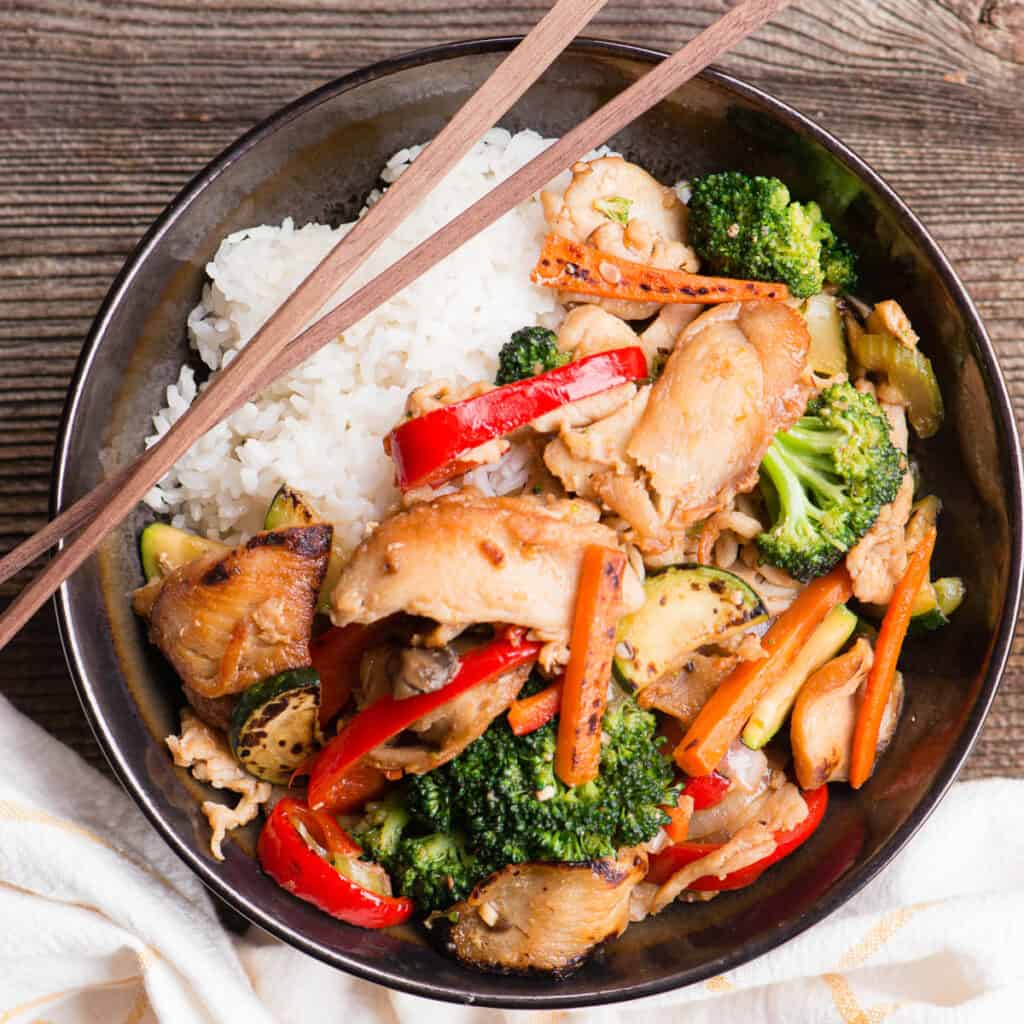 Other Asian stir fry recipes:
My family loves it when I break out the wok pan for dinner! If you love quick and easy Asian inspired stir fry recipes, you'll want to try these favorites.
If you've made this or any other recipe on my site, let me know in the comment section how it turned out. I love hearing from my readers!
You can also follow along on PINTEREST, FACEBOOK and INSTAGRAM to see more amazing recipes to satisfy any foodie craving!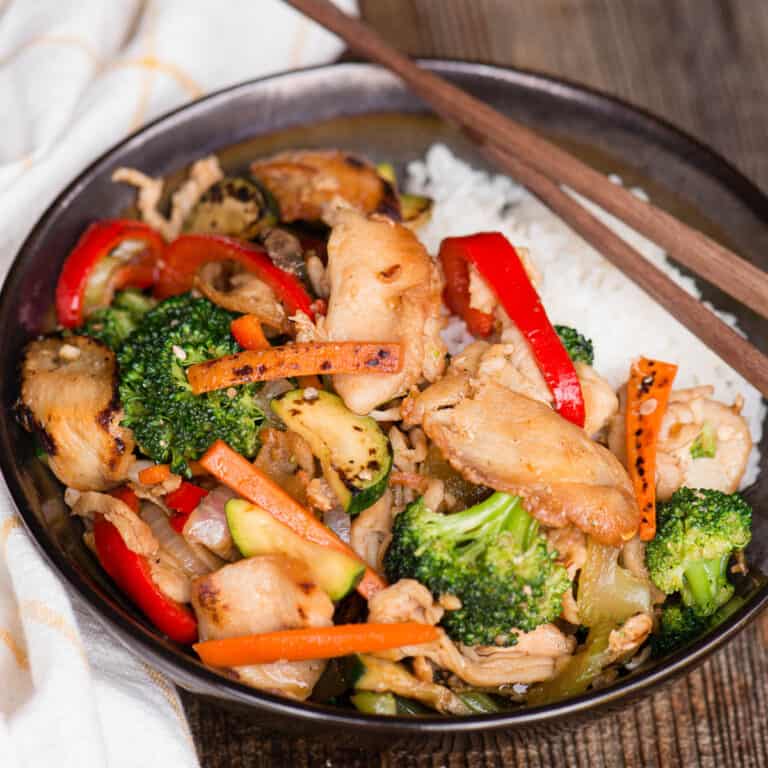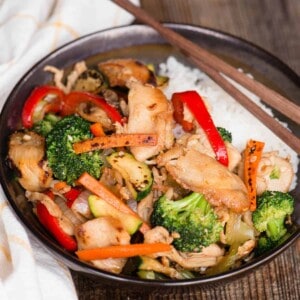 Hunan Chicken is an Asian stir fry recipe that combines thinly sliced chicken breast, tons of vibrant vegetables, and a flavorful sauce.
Ingredients
Hunan chicken stir fry:
3

tablespoons

stir fry oil

divided

1/2

large

yellow onion

sliced

1

small

zucchini

sliced into rounds and then in half

4

ounces

mushrooms

sliced thinly

1

small

red bell pepper

stem and seeds removed, sliced thin

3

cups

broccoli florets

cut into bite sized pieces if large

3

stalks

celery

sliced thin at a diagnol

2

medium

carrots

peeled and sliced into matchsticks

3

cloves

garlic

minced

1

teaspoon

ginger

minced
Instructions
Add the marinade ingredients in a large ziplock bag with the air squeezed out or in a bowl. Add the sliced chicken, stir if in bowl or squeeze if using bag. There won't be any excess liquid and will be more like a paste. Try to coat the chicken with the paste as much as possible. Refrigerate for at least 30 minutes.

While the chicken is marinating, mix the sauce ingredients together in a small bowl.

Add one tablespoon of the oil to a wok (recommended) or a large sauté pan. Heat on medium-high heat. Once the oil is hot, add the chicken slices in a single layer. You may need to do this in batches to ensure proper spacing. Cook, undisturbed, until the chicken begins to brown on the bottom. This will take several minutes. Use tongs to turn chicken and brown the other side. Just before done, give the chicken a toss to ensure they are all evenly cooked. Transfer to a separate plate.

Add the remaining oil to the hot pan. Now you will cook the veggies. You can add them all at once, but I prefer to do them in smaller batches so that they get a nice sear without overly cooking them. Either way, you'll want to add the veggies (all but garlic and ginger) to the hot pan, stir only to prevent burning, and then transfer them to a separate dish once done. With the last group of vegetables, add the garlic and ginger (they only need to cook for about a minute).

Add the sauce and chicken to the pan with all of the vegetables and toss to coat, cooking 1-2 more minutes until the sauce has thickened. Serve over rice.
Nutrition
Calories:
279
kcal
,
Carbohydrates:
13
g
,
Protein:
28
g
,
Fat:
13
g
,
Saturated Fat:
2
g
,
Cholesterol:
73
mg
,
Sodium:
1102
mg
,
Potassium:
887
mg
,
Fiber:
3
g
,
Sugar:
5
g
,
Vitamin A:
4230
IU
,
Vitamin C:
67
mg
,
Calcium:
52
mg
,
Iron:
1
mg
Nutrition information is automatically calculated, so should only be used as an approximation.