Summer Rolls, with poached shrimp, vermicelli noodles, fresh vegetables, and herbs, are wrapped up tightly in rice paper wrappers and served with homemade peanut dipping sauce. They are downright delicious.
These Vietnamese summer rolls are actually very simple to make and can be enjoyed as an appetizer, snack, or light lunch.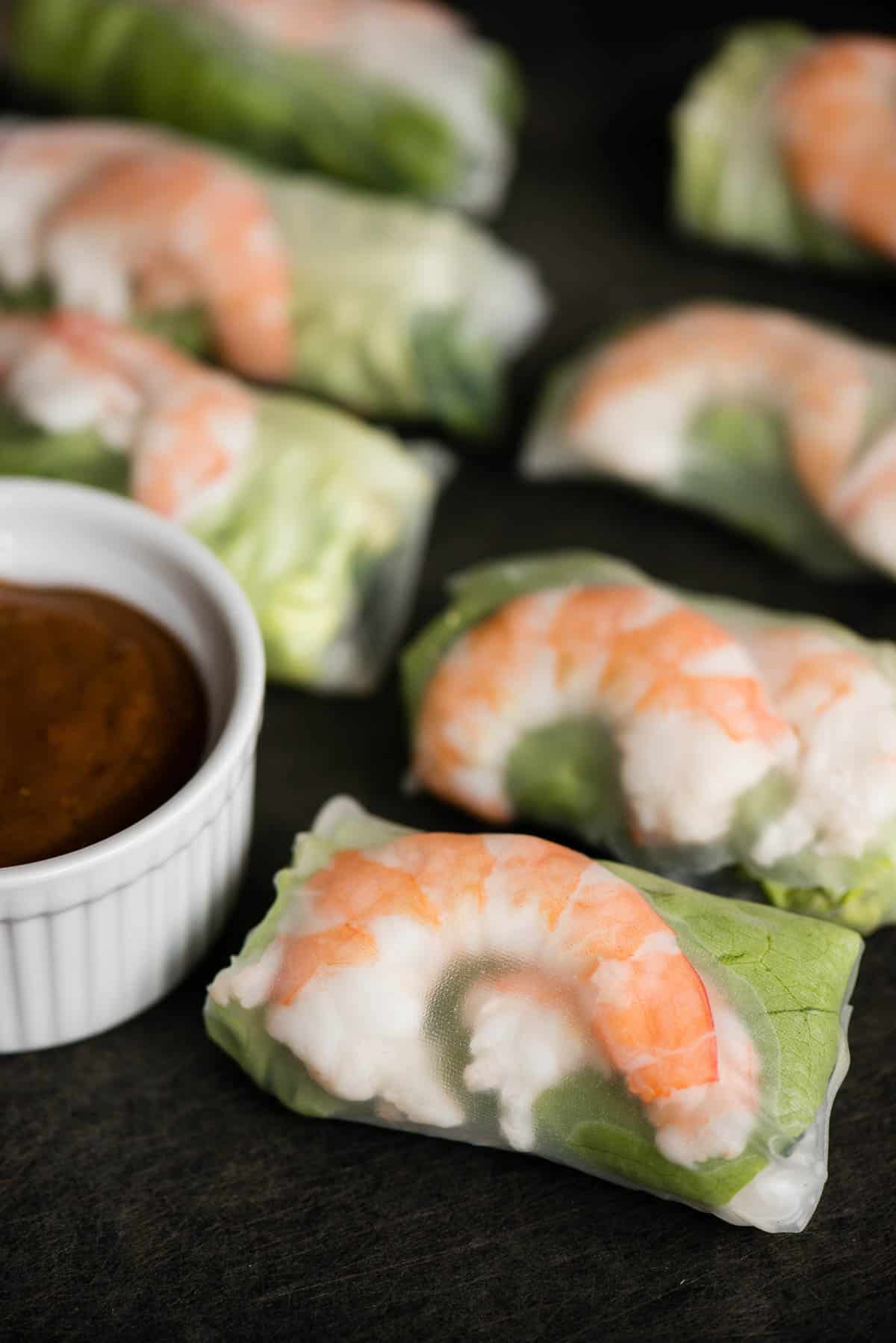 😍 Why This Recipe Works So Well
Shrimp Summer Rolls are the very thing that I could eat every single day. I really don't think I'd get tired of them. Like ever.
Each bite has a little bit of everything. There's just something so appealing to me about those chewy rice wrappers holding everything together. Once your teeth tear through the outside, you come face to face with tender shrimp, loads of fresh herbs and vegetables, and rice noodles. The fresh flavors create a mouth-watering combination.
Easy to follow step-by-step instructions. If you didn't grow up eating homemade Vietnamese summer rolls, you might not know what ingredients to use or how to roll them. I have easy-to-follow instructions with photos below.
Make them your own! My summer roll recipe uses my favorite ingredients, but you can easily modify them to your liking.
🍤 Ingredients Needed
A basic summer roll consists of protein (usually meat), crunchy vegetables, herbs, and some kind of carb (crispy wonton, rice vermicelli noodles, etc.), wrapped in lettuce and then wrapped in rice paper.
My version of these fresh summer rolls uses fresh shrimp, vermicelli rice noodles, butter lettuce, cucumber, bean sprouts, fresh mint, Thai basil, cilantro, and rice paper sheets.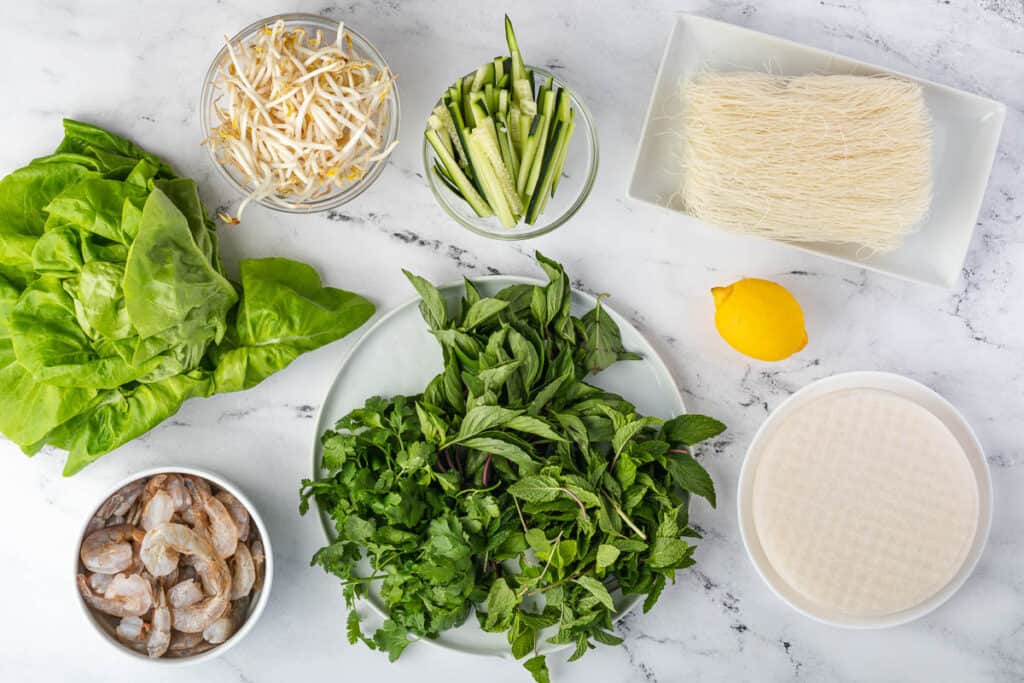 ✔️ How to Make Homemade Summer Rolls
Full instructions with ingredient quantities are listed in the recipe card below. Here is a visual summary that is easy to follow.
Prep the ingredients
Ensure you have all of your ingredients prepared before assembly. I like to use a large cutting board and have everything out in piles. Plan out how many summer rolls you'll be making and visualize how much of each ingredient you'll need. The goal is to not run out of any ingredients and not be left with any extra at the end. For as many rolls as you plan to make, ensure you have a good size piece of lettuce washed and ready to go.
Cook the shrimp and vermicelli noodles
If using pre-cooked shrimp, slice lengthwise. For the most flavor, you can use raw shrimp in its shell. If using raw shrimp, you will heat a pot of water with lemon and salt. Once it boils, you will poach the shrimp over high heat with lemon and salt for just a few minutes until the shrimp is pink and slightly firm. Then, you will immediately transfer the shrimp to a bowl of ice water to stop the cooking process. Each shrimp will need to be sliced lengthwise.
To cook vermicelli, place it in salted boiling water for 2-3 minutes. You will then drain the noodles and immediately rinse them well with cold water. To prevent sticking, you will place the noodles in a bowl of cold water until you are ready to use them in the rolls.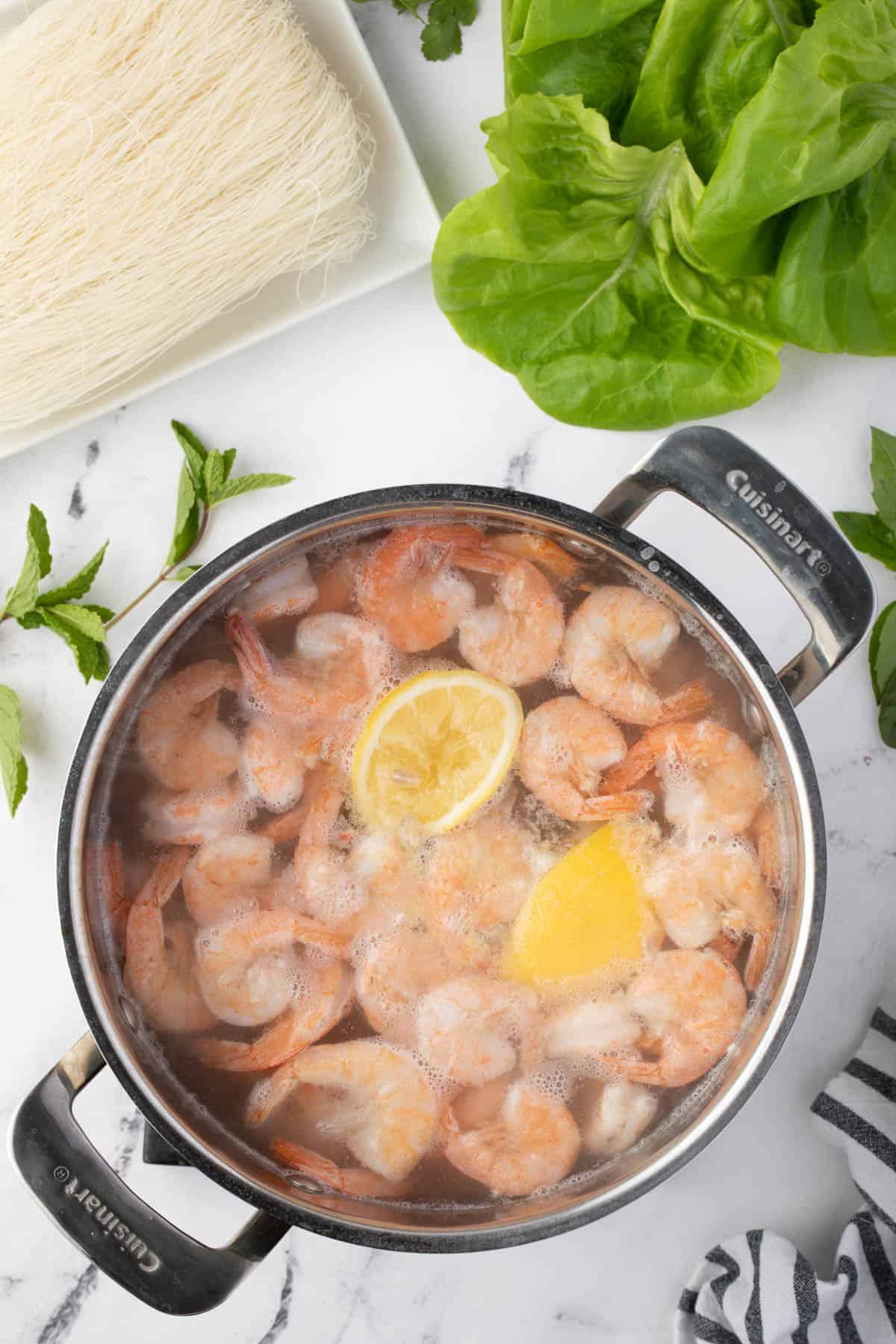 Prepare the filling
Place the lettuce pieces on a flat clean work surface. Place small amounts of herbs and vegetables onto the center of each lettuce leaf. Grab a small handful of rice noodles from the bowl, shake off any excess water, and place them on top of each piece of lettuce.
Roll into a tight cylinder with the ends of the lettuce tucked so that it fully wraps around the filling. Set each one seam side down. Place two shrimp halves on top of each lettuce roll.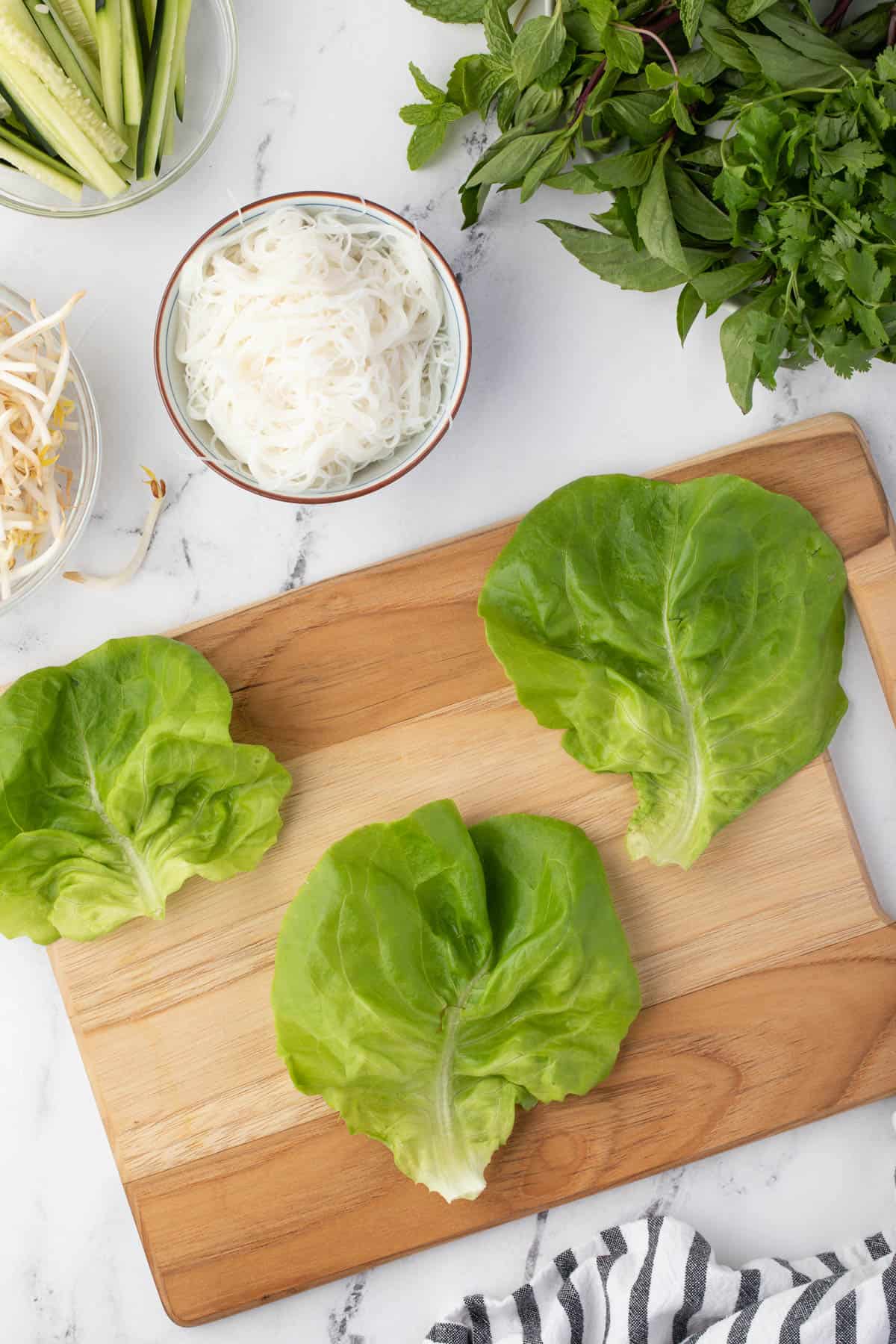 Wrap with rice paper
To soften the rice paper, place a single sheet in a shallow dish of warm water. Remove the rice paper when it is soft enough to be pliable. It will continue to soften even after you take it out of the water, so be sure to remove it promptly, otherwise it will tear.
Place the softened rice paper on a small plate that is sized so that the ends hang over the edge of the plate. This makes them easy to grab. Place the lettuce roll and shrimp on the center of the rice paper, shrimp side down. Wrap the bottom of the rice paper up over the top of the roll, tuck in the sides, and continue rolling until it's sealed. It takes a little practice to make them pretty and tightly rolled, but you'll get the hang of it.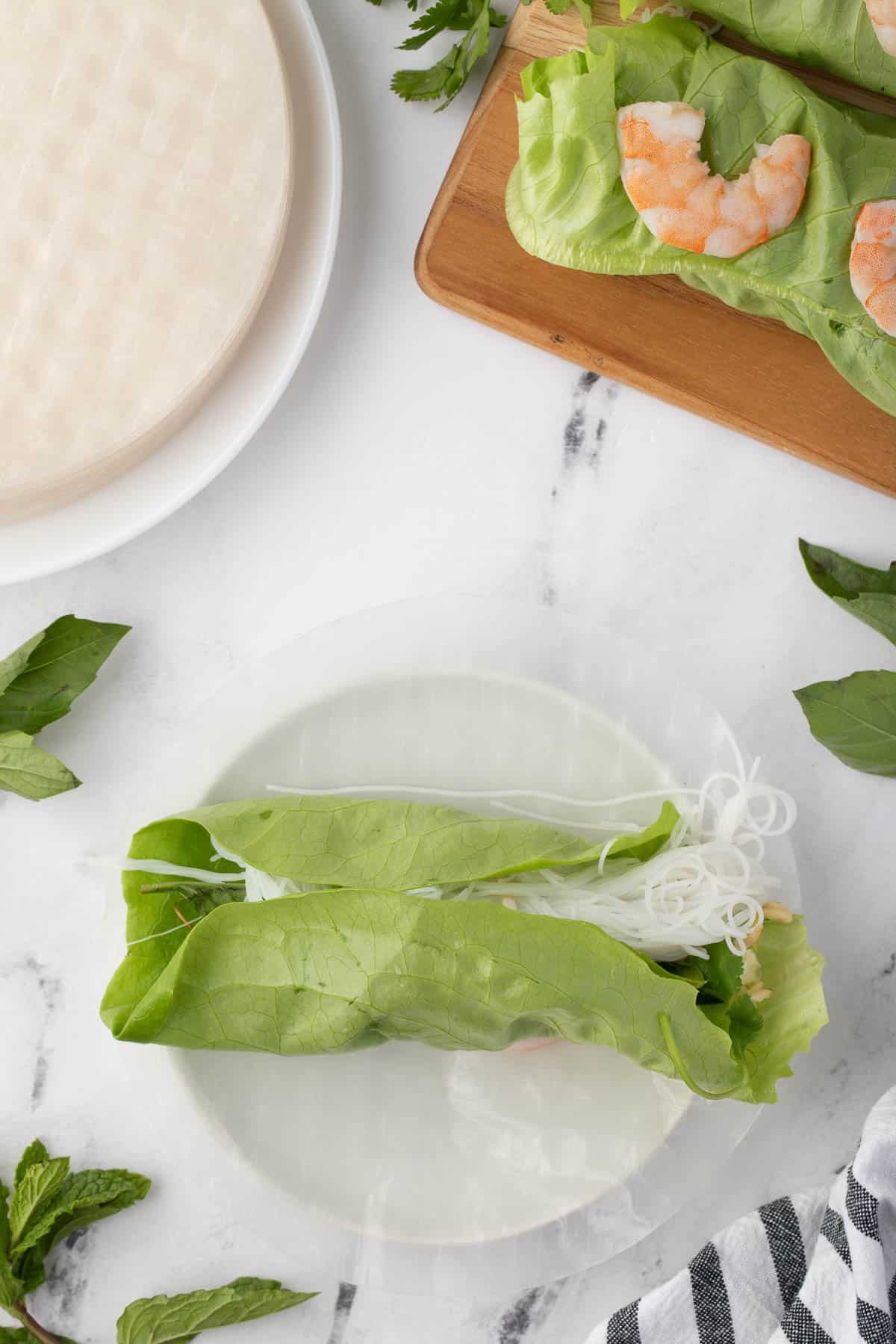 🥬 Ingredient Variations
Vegetables: I chose to add julienne sliced cucumber and bean sprouts. Julienned carrots or peppers would be a nice addition as well, especially given the flavor, texture, and color they would add.
Lettuce: You also need lettuce to wrap everything up before rolling in the rice paper. I use butter lettuce because I think butter lettuce is one of the best-tasting varieties, plus the texture is tender and crunchy. Any kind of leafy greens will work, however, and Romaine lettuce is another popular choice.
Recommended herbs: Cilantro can easily be omitted or replaced if it's not your favorite. I enjoy the fresh taste it delivers. If there's one herb that's essential in a shrimp summer roll, it has to be mint. There is no other herb that brings forth such vibrant freshness. Not only does it taste fantastic, but it compliments all of the other ingredients. Thai Basil, which is different than the standard basil you most often see at the grocery store, is the type of basil I use in these rice paper rolls. Thai basil leaves are small. The smell and taste have a slight anise, licorice-like, flavor.
Protein: I've always enjoyed my summer rolls with shrimp. They are often also made with pork belly or ground pork. You can also make vegetarian summer rolls by using tofu.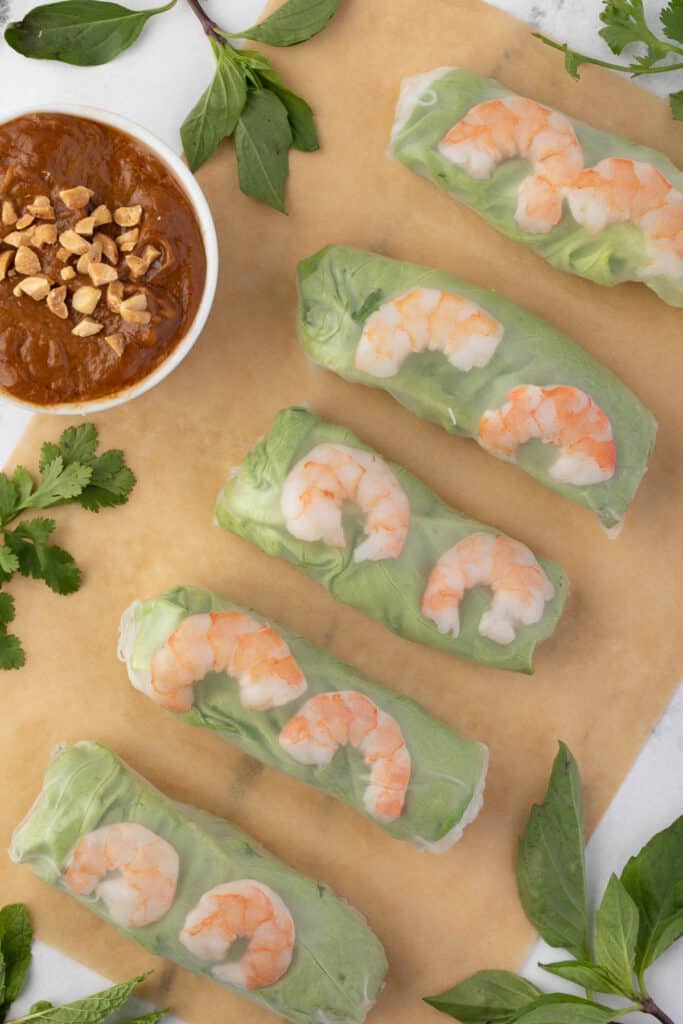 🥣 Summer Roll Dipping Sauce
The best dipping sauce to accompany these delicious homemade rolls is my homemade peanut sauce. The ingredients include peanut butter, soy sauce, dark brown sugar, rice vinegar, toasted sesame oil, fresh garlic, and chili paste. Whether you use crunchy or creamy peanut butter is a matter of preference, but I highly recommend adding crushed peanuts to the top of the sauce just before serving. If you're in the mood for a spicy peanut sauce, you can increase the amount of chili paste used.
An easier version of peanut sauce can be as simple as combining equal parts of smooth peanut butter, hoisin sauce, and pineapple juice.
Other ingredients you might consider mixing in are lime juice, fish sauce, maple syrup, or even coconut milk.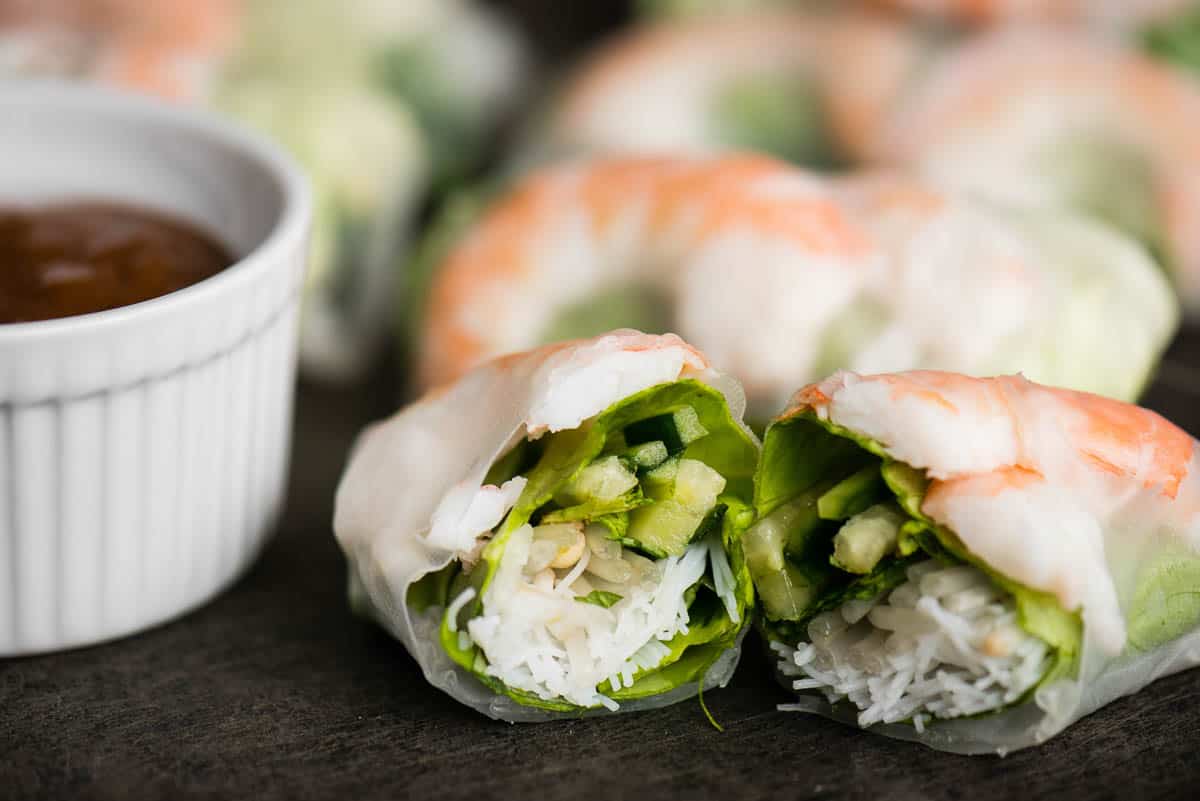 ❓ FAQs
What is the difference between a spring and summer roll?
Vietnamese spring rolls are deep fried and a summer roll is not. Spring roll wrappers are much more dense than rice paper.
A summer roll is wrapped in rice paper that you must moisten in order to soften it enough to wrap around the filling ingredients. It then it sticks to itself to seal.
How do you prevent summer rolls from sticking together?
Freshly made summer rolls will stick to whatever surface you set them on, so I advise setting them on parchment paper, a clean damp towel, or a damp paper towel until you're ready to serve. They will stick to each other, as well, so keep them separated.
How long do they stay fresh?
Summer rolls are best consumed right away and should be eaten soon after making them. If refrigerated, the vegetables may release liquid.
Can summer rolls be made in advance?
Summer rolls should not be made more than one day in advance. You can, however, prepare them in the morning to enjoy later in the day.
How do you prevent summer rolls from drying out?
Each roll would need to be wrapped individually in plastic wrap. You can also place a damp towel over the top and store them in an airtight container to prevent drying.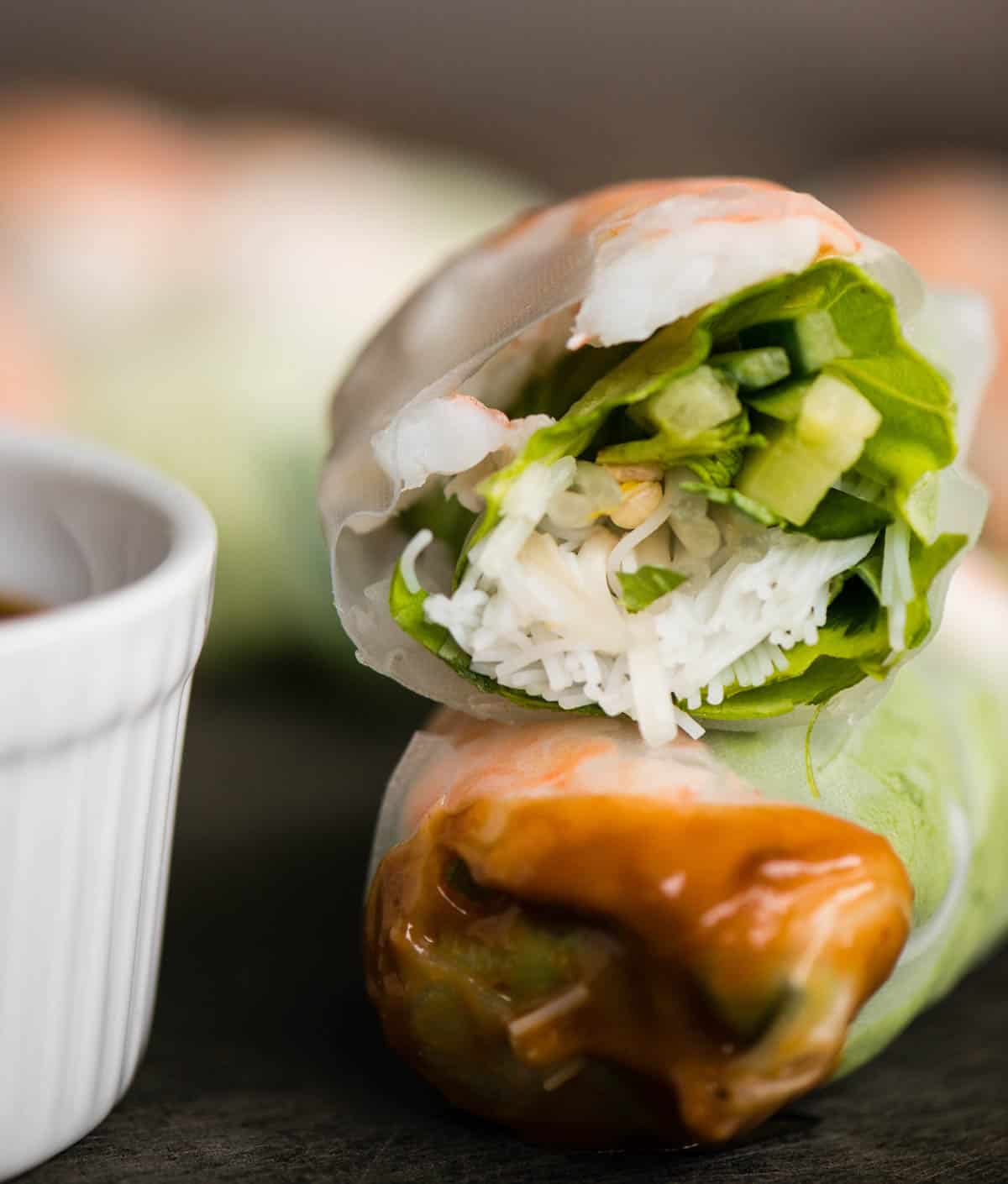 If you've made this or any other recipe on my site, let me know in the comment section how it turned out. I love hearing from my readers!
You can also follow along on PINTEREST, FACEBOOK and INSTAGRAM to see more amazing recipes to satisfy any foodie craving!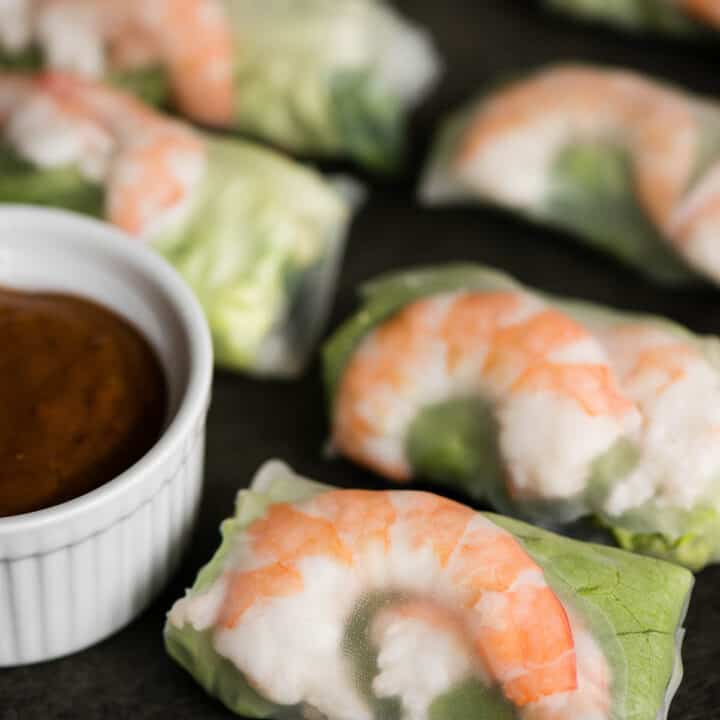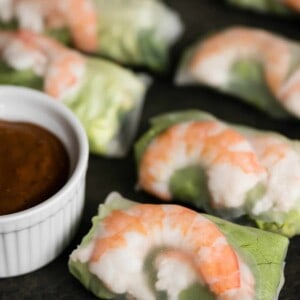 Summer Rolls, with poached shrimp, vermicelli noodles, fresh vegetables and herbs, wrapped up tightly in rice paper and served with homemade peanut sauce are downright delicious. They are actually very simple to make and are quite addicting. Impress your friends and family by making these tasty Summer Rolls!
Ingredients
16

large

shrimp

1

large

lemon

cut in half

1

tablespoon

salt

if shrimp is uncooked

2-3

ounces

vermicelli rice noodles

16

whole

butter lettuce leaves

1

seedless cucumber

julienne sliced

2

cups

bean sprouts

1

cup

fresh mint

stems removed

1

cup

fresh Thai basil

stems removed

1

cup

fresh cilantro

woody stems removed

16

rice paper wrappers

4.7 ounce package

peanut dipping sauce

link to recipe below
Instructions
Assembly of these rolls is easy if you have all of the ingredients washed, cut, cooked, and ready to wrap ahead of time.

If using pre-cooked shrimp, slice lengthwise. If using raw shrimp, cut lemon in half and squeeze into a pot of water. Add lemon halves and salt to water and bring to a boil. Boil shrimp for about 3 minutes until pink and slightly firm. Immediately transfer to bowl of ice water. Remove and discard shell and devein. Slice lengthwise.

To cook vermicelli, cook in salted boiling water for 2-3 minutes. Drain and immediately rinse well with cold water. Store in bowl of cold water until ready to use.

Place all of your lettuce on flat surface. Top with equal portions of bean sprouts, cucumber, herbs, and drained vermicelli rice noodles. Roll up and place seam side down. Top with two shrimp halves.

Place a small plate in front of you. Dip each rice paper in a bowl of warm water. You want it to soften just enough so that it's pliable. It will continue to soften after you take it out of the water. Place it on the plate with the edges hanging off. Place the shrimp and the lettuce roll on the rice paper, shrimp side down. Take the edge closest to you and fold it over the lettuce roll, making it as tight as you can without it tearing. Fold the ends over to seal. Then take the final edge and roll it over towards you to seal the summer roll.

Place wrapped rolls on parchment paper until ready to serve to avoid sticking.
Notes
Best if enjoyed on the same day that they are made.
Nutrition
Calories:
84
kcal
,
Carbohydrates:
15
g
,
Protein:
4
g
,
Cholesterol:
16
mg
,
Sodium:
165
mg
,
Potassium:
126
mg
,
Fiber:
1
g
,
Vitamin A:
775
IU
,
Vitamin C:
4.5
mg
,
Calcium:
38
mg
,
Iron:
1.4
mg
Nutrition information is automatically calculated, so should only be used as an approximation.
This recipe was originally published in May 2018 and has been updated with helpful information, ingredient and process photos, as well as recipe tips. Don't worry – the recipe hasn't changed!