Made without artificial food dye, these incredibly soft and delicious Red Velvet Chocolate Chunk Cookies are made with beet puree and cocoa powder.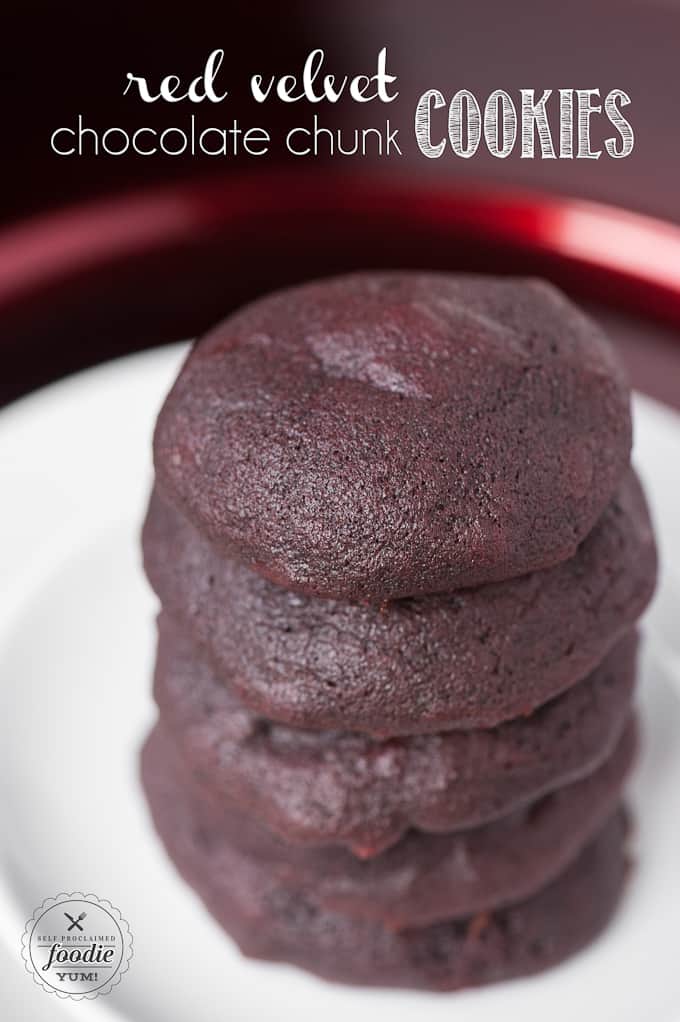 I know what you're thinking… but hear me out. I'm sure that 96% of you are thinking "Beets in cookies? Yuck." You couldn't be more wrong. You ever substitute applesauce for oil in a recipe because you're trying to make it healthier? But then you can't really taste the applesauce? This is kind of like that.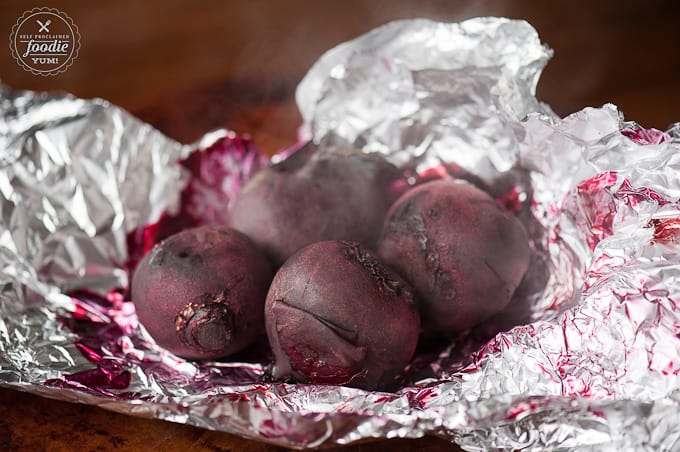 I had never eaten a beet until I was well into my 30s and had signed up for a CSA at the farmer's market where they gave me a box of produce of their choosing every week. It really forced me to step out of my comfort zone and cook/eat produce I would have otherwise never bought. That's when my love affair with beets started. My kids love them too – not just because they taste good but because 24 hours later they get to witness a science experiment in the toilet when they see a rainbow of color. Okay – waaaaay too much info, especially when I'm supposed to be writing about cookies, but all you moms out there will understand.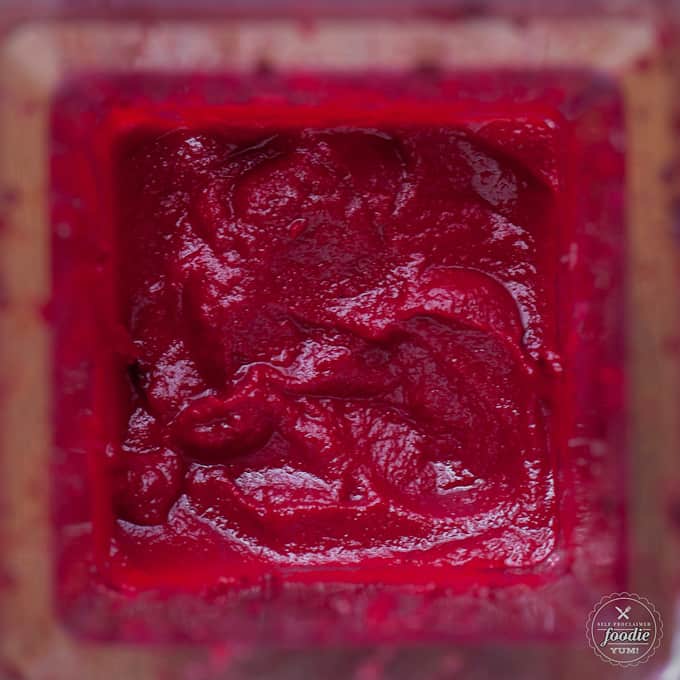 Week after week I would find beets in my CSA box and had to find creative ways to eat them. From there, I made all sorts of things like fresh beet soup, raw citrus beet salad, roasted beet and chevre crisps, heart beet (get it?) pancakes, roasted beet salad, and my not-so-green green smoothie. I dare you to find another food blog out there that posts all sorts of naughty food like me (unlike a health food blog) that has so many darn beet recipes. I just love them!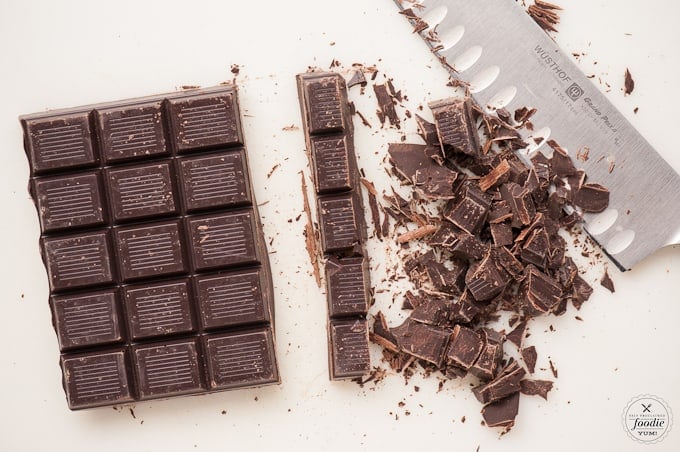 MY OTHER RECIPES
So this is how this recipe was born: I had a few beets in my frig that were meant for another round of beet soup, but I felt compelled to make a Valentine's Treat. Almost all red velvet recipes call for red food dye. I'm guilty of this one as well in my red velvet fudge – delicious but it has the coloring. I honestly didn't know if this recipe would turn out, but I took my base recipe for my faithful chocolate chip cookies and added the beet puree and some cocoa powder and, let's just say, it didn't disappoint.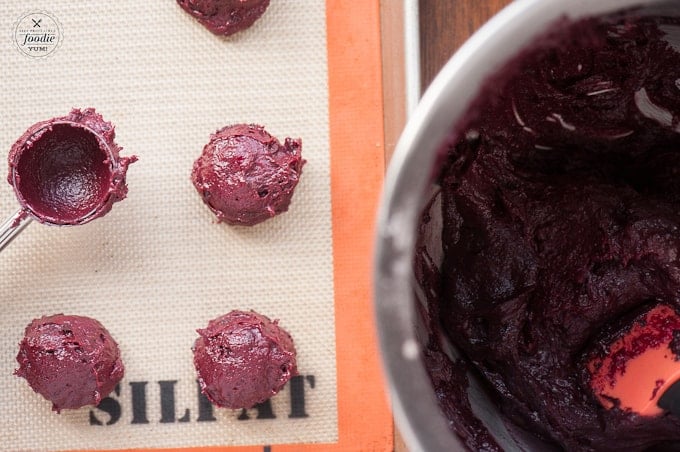 My standard cookies are rich and chewy. The addition of the beet puree makes these much more cake like. The husband and kids loved these and I was kicking myself yesterday afternoon when my 3 o'clock craving came around and I hadn't brought any into work with me.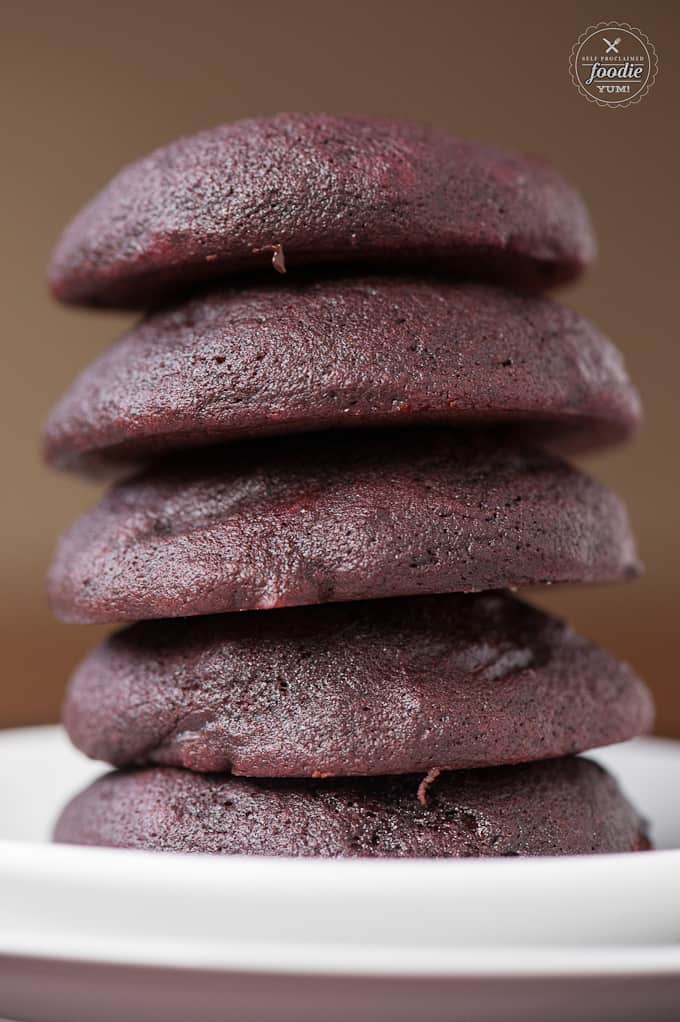 I packed a couple of cookies in each of my kids' lunches and my daughter gave one to her best friend. She said she loved it. I asked if she told her it had beet in it and her reply was "No way! I didn't want her to think it was gross before she even tried it!"  Sounds like my daughter has already started using my old tricks on others too.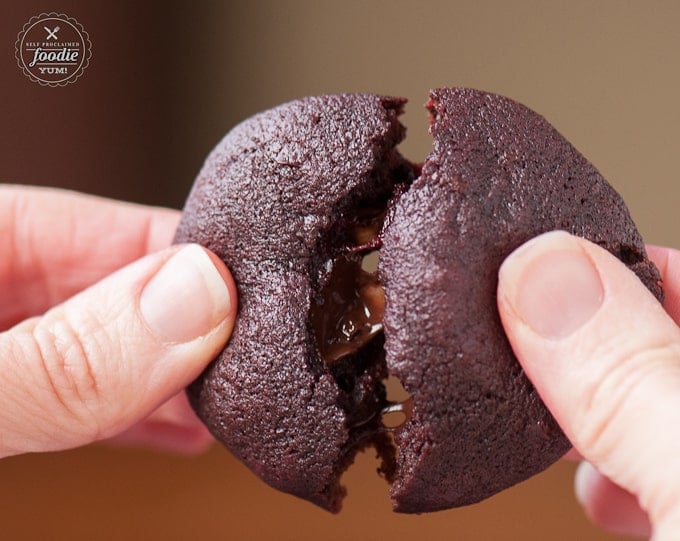 This recipe uses pure vanilla extract. Did you know you can make your own homemade vanilla extract? It makes the perfect gift too. Watch how in the video below.
Made without artificial food dye, these incredibly soft and delicious Red Velvet Chocolate Chunk Cookies are made with beet puree and cocoa powder.
Ingredients
beet puree
1

large red beet

1/4

cup butttermilk
cookies
1 1/4

cup all-purpose flour

1/4

cup cocoa powder

1/2

teaspoon baking soda

1/4

teaspoon salt

1/2

cup (1 cube) butter, softened

3/4

cup firmly packed brown sugar

3/4

cup beet puree

1

teaspoon vanilla

1

large egg

1

cup dark chocolate chunks
Instructions
Preheat oven to 400° F.
To make the beet puree, wrap the whole beet tightly in foil and cook in oven for at least an hour until soft. When cool enough to handle, remove skins. Combine with the minimum amount of buttermilk in blender to create a smooth puree.
In small bowl, mix flour, cocoa powder, baking soda, and salt.
In the bowl of your stand mixer with the paddle attached, beat butter and sugar on medium speed until well blended. Add beet puree and vanilla; mix well and then scrape sides. Mix in egg, mixing well. Add flour mixture, and beat slowly to incorporate, then faster to blend well. Stir in chocolate chunks.
Drop batter in 2-tablespoon portions about 2 inches apart onto lined baking sheets.
Bake in preheated oven until edges of cookies are brown, about 9 minutes.
Let cookies cool on pan about 5 minutes, then transfer to cooling racks with a spatula. Serve warm or cool. Store in airtight container, or freeze for longer storage.