With only a handful of ingredients, you can make your own bite-sized chocolate covered Homemade Peppermint Patties which are perfect for the holidays!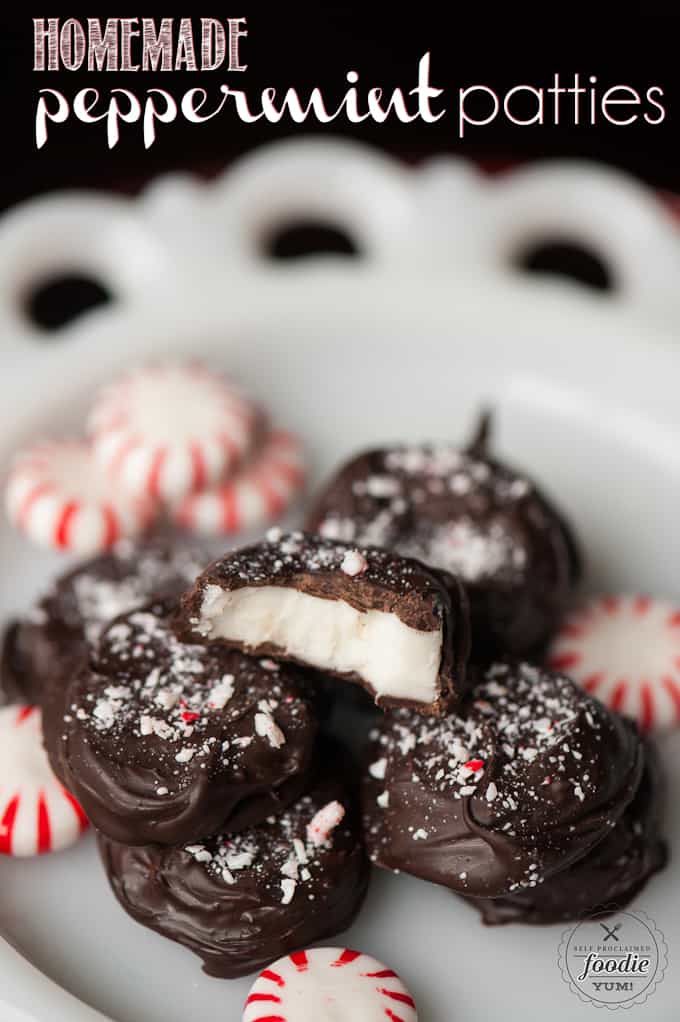 Day 8 of my 12 Days of Holidays Treats series already? Wow!

The funniest thing I have to say about this recipe is this: When I asked my husband if he wanted to try one, he made an ugly face and said "I don't like peppermint patties". Then, later on he must have forgotten what I had made because he ate one and said "Those are really good". So typical.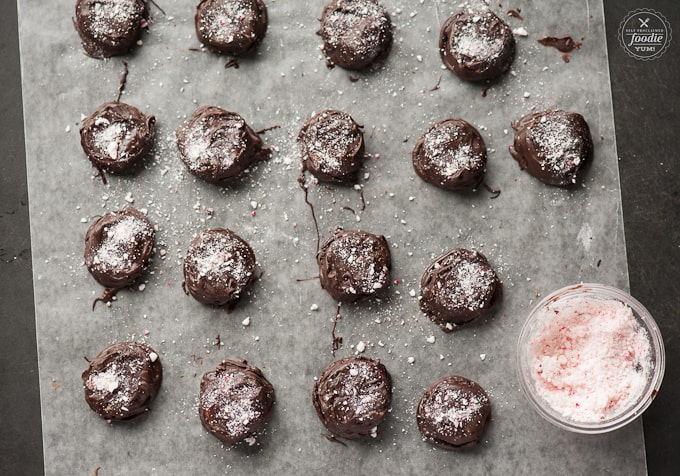 The funny story I have to go along with this recipe has to do with my video. We recently got into making food videos because all the cool kids are doing it. We've been trying really hard to knock out two videos a week – one for an old recipe and one for a new recipe. Well, this week our new recipe was these peppermint patties. Having never made them, I just assumed they'd be really easy so they'd be a perfect choice for making a video. Well, these are quite easy to make, but the chocolate part took a wee bit of finesse. You see, the first time I tried dipping one of the peppermint slices, it was at room temperature. If you put a room temperature mixture of powdered sugar, butter, and cream into a bowl of warm chocolate, what do you think happens? Well, if you guessed that it melted, you're smarter than I am. I lost about three casualties to the warm chocolate bath before I figured I had to try a different method. I ended up going with the piping method, which ended up being quite the catastrophe off camera as well because we lost the tip somewhere in the bag and melted chocolate flowed freely everywhere. Sort of funny, mostly not funny, now that I look back. Long story short, we figured out how to successfully coat them in the chocolate and I also managed to make a couple other recommendations in the recipe if you need alternative methods. Either way, these little bite sized chocolate peppermint bombs are pretty much to die for and the homemade version blows anything pre-packaged out of the water!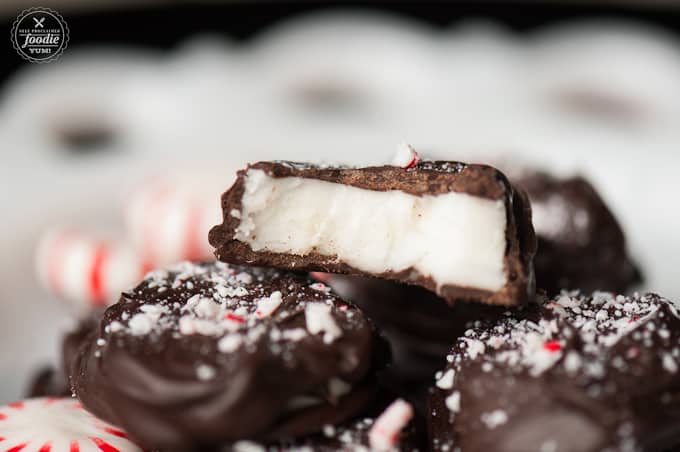 Watch the recipe video below of me making my Homemade Peppermint Patties!
Homemade Peppermint Patties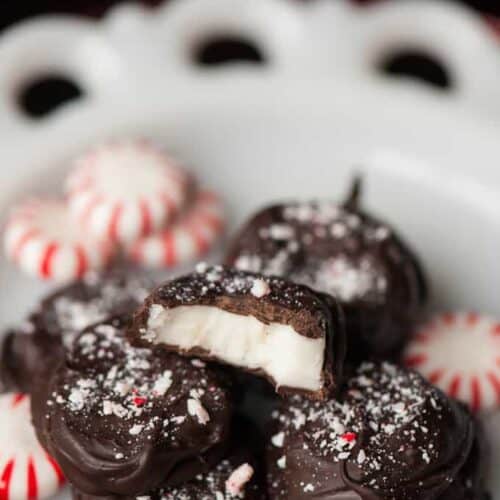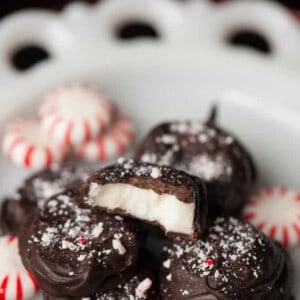 With only a handful of ingredients, you can make your own bite sized chocolate covered Homemade Peppermint Patties which are perfect for the holidays!.
Ingredients
2 1/4

cups

powdered sugar

2

tablespoons

softened butter

2

teaspoons

peppermint extract

2

tablespoons

heavy cream

12

ounces

dark chocolate

1

tablespoon

butter

optional: crushed candy canes
Instructions
Combine the powdered sugar, butter, peppermint extract, and heavy cream. Mix them with a stand mixer and paddle attachment or a hand mixer until the mixture comes together. You may need to use your hands to form the final sugar dough.

Over a long sheet of plastic wrap, form the peppermint dough into a long log, wrap tightly, and refrigerate for at least an hour.

When ready to make the candy, combine the chocolate with the butter in a bowl and microwave at half power for one minute at a time, stirring in between each minute, until the chocolate is melted.

Slice the peppermint dough into 1/4 inch thick rounds. Lay out a piece of wax paper to put your finished patty on.

I found three ways to successfully coat them in chocolate without having them melt in the bowl of chocolate. First, you can pipe the chocolate onto the wax paper, add the peppermint slice, pipe more chocolate on top, and then use a toothpick to spread if needed. Second, you can freeze the individual slices and then dip in the chocolate. Third, you can allow the slices to sit out until they dry a bit and then dip them.

While chocolate is still wet, sprinkle with crushed candy canes.

Store in airtight container or storage bag. Freezes well.
Notes
Makes about 2 dozen, serving size based off of one peppermint patty
Nutrition
Calories:
250
kcal
,
Carbohydrates:
30
g
,
Protein:
1
g
,
Fat:
13
g
,
Saturated Fat:
7
g
,
Cholesterol:
10
mg
,
Sodium:
27
mg
,
Potassium:
173
mg
,
Fiber:
2
g
,
Sugar:
24
g
,
Vitamin A:
115
IU
,
Calcium:
19
mg
,
Iron:
2.9
mg
Nutrition information is automatically calculated, so should only be used as an approximation.
Recipe adapted from Oh Nuts
To see all of 2014's holiday treats, click the links below: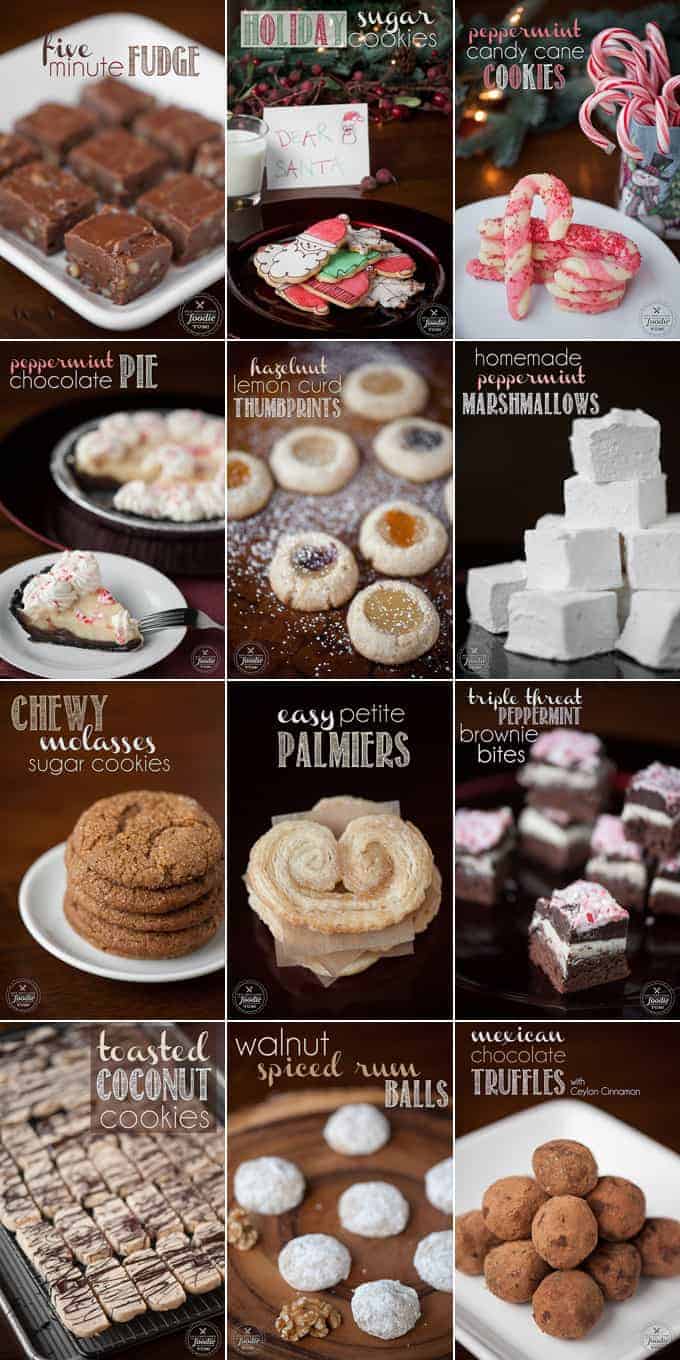 Five Minute Fudge | Holiday Sugar Cookies | Peppermint Candy Cane Cookies
Peppermint Chocolate Pie | Hazelnut Lemon Curd Thumbprints | Homemade Peppermint Marshmallows
Chewy Molasses Sugar Cookies | Easy Petite Palmiers | Triple Threat Peppermint Brownie Bites
Toasted Coconut Cookies | Walnut Spiced Rum Balls | Mexican Chocolate Truffles
To see all of 2015's holiday treats, click the links below: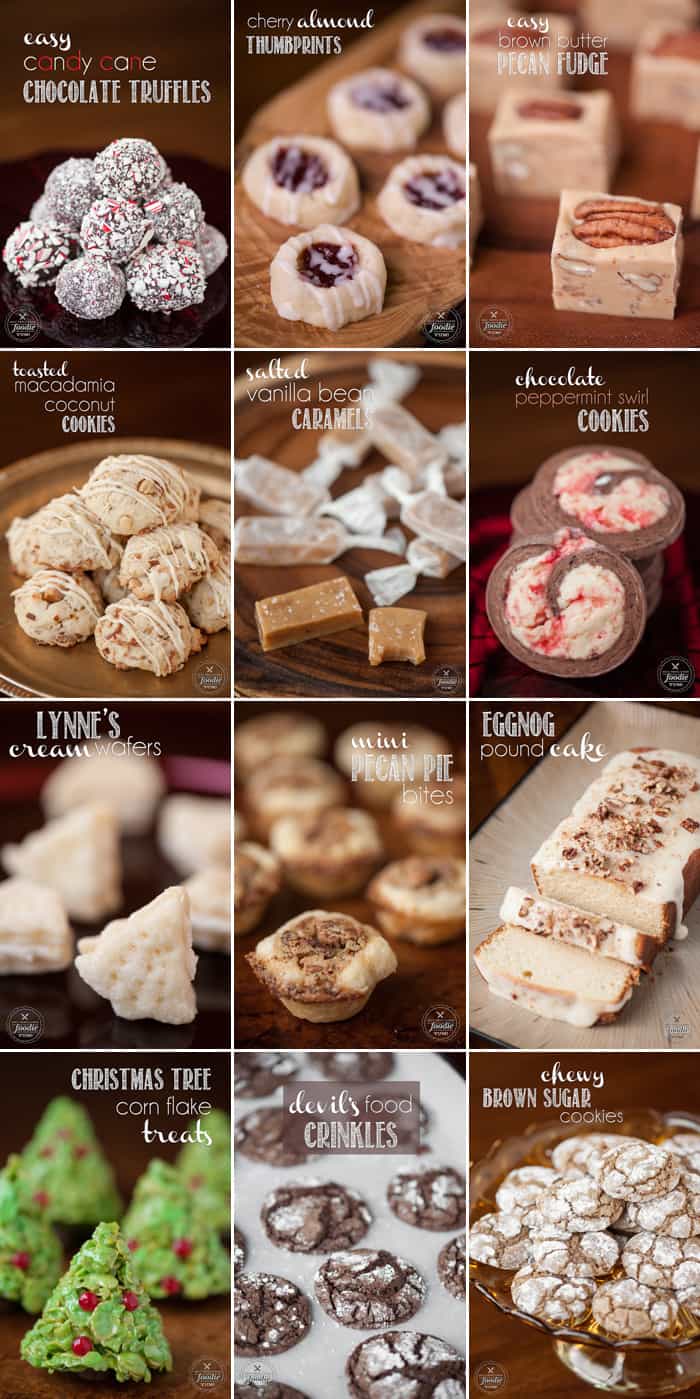 Easy Candy Cane Chocolate Truffles | Cherry Almond Thumbprints | Easy Brown Butter Pecan Fudge
Toasted Macadamia Nut Cookies | Salted Vanilla Bean Caramels | Chocolate Peppermint Swirl Cookies
Lynne's Cream Wafers | Mini Pecan Pie Bites | Eggnog Poundcake
Christmas Tree Corn Flake Treats | Devil's Food Crinkles | Chewy Brown Sugar Cookies