Falafel is one of my favorite Middle Eastern inspired street food recipes. Dried chickpeas are softened by soaking in water over night, combined with other savory ingredients, processed to a gritty-smooth consistency, and deep fried to perfection!
Serve with homemade Tzatziki sauce for the best snack or appetizer!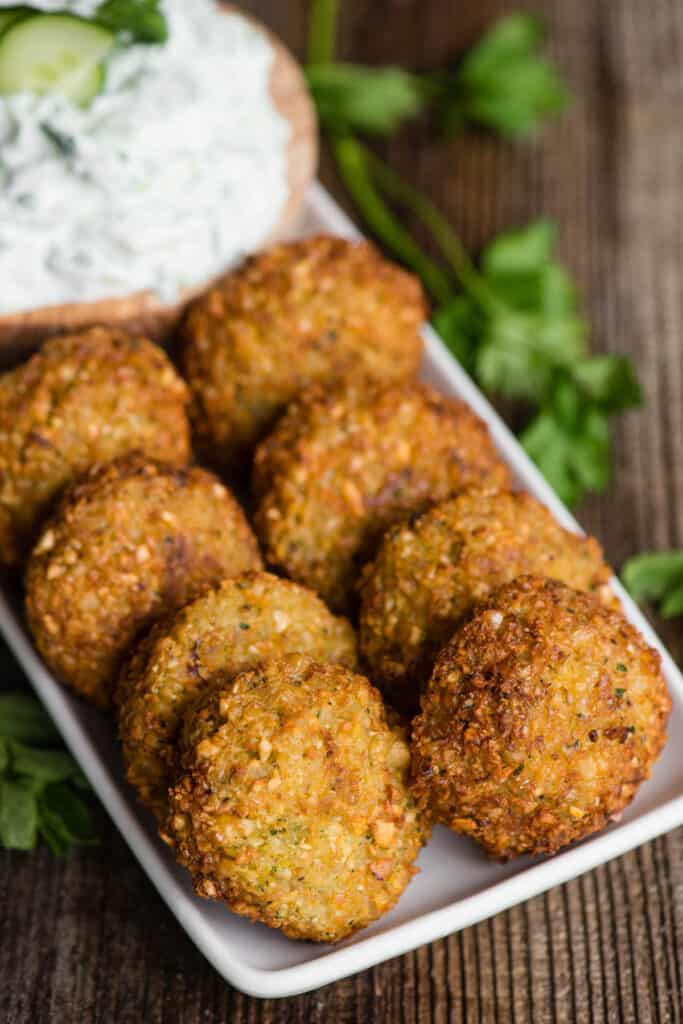 Why you will love this recipe:
Chickpeas are delicious and nutritious: I've made many recipes where chickpeas are the main ingredient including Chickpea Salad, Roasted Chickpeas, Three Bean Salad, and Homemade Hummus. If you love them as much as I do, you'll love making falafel, and it will surely satisfy any vegan comfort food craving.
They're filling: Because chickpeas, or garbanzo beans, are high in protein and fiber, they keep you feeling full, making them a great snack. Serve them with a protein packed Greek yogurt tzatziki sauce and your snack just turned into a meal!
Time consuming, but worth it: Falafel is actually quick to cook, however the process requires planning because of the time it takes to soak the chickpeas and also to refrigerate the mixture prior to frying. With a little planning, however, they are very easy to make!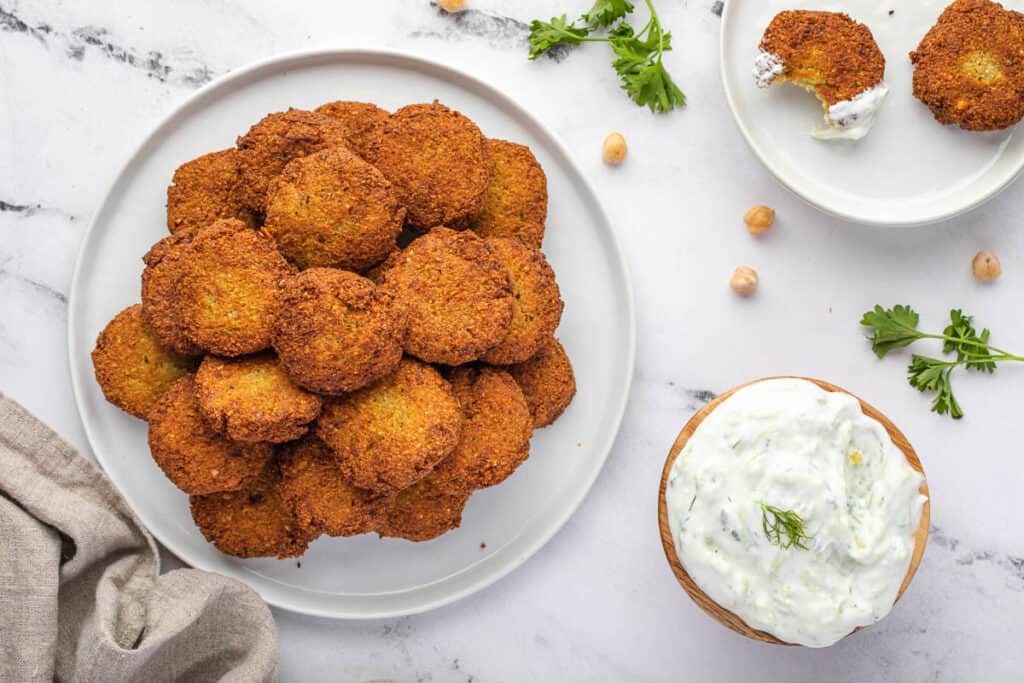 Ingredients needed to make this recipe:
Exact quantities are listed in the recipe card below, but here is a summary.
Dried chickpeas, red onion, parsley, garlic, salt, cumin, pepper, and a little bit of flour to hold everything together. Then, they are fried in oil.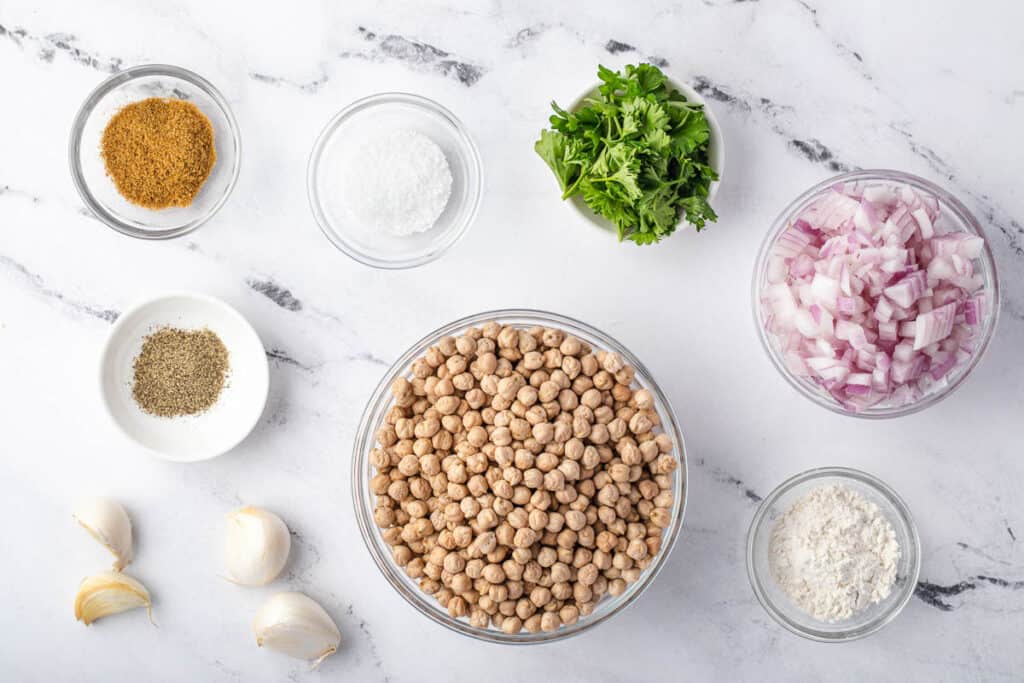 How to make this falafel recipe:
Detailed step by step instructions are listed in the recipe card below, but here is a summary.
Step 1: Soak chickpeas
Cover dried chickpeas with water and soak overnight.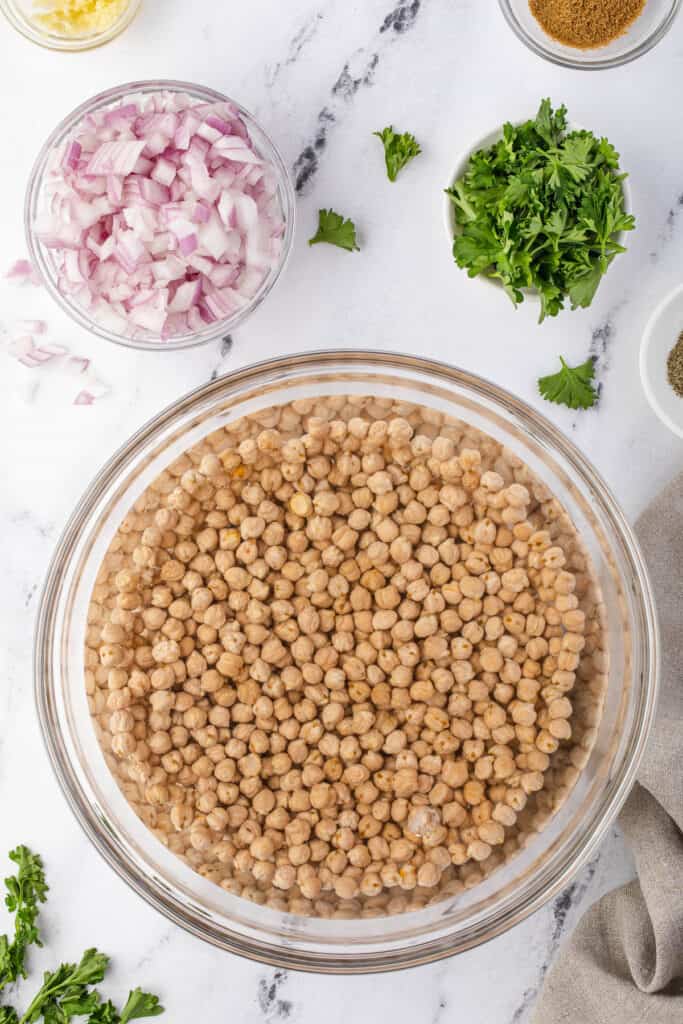 Step 2: Mix and process
Once you've soaked and softened your chickpeas, you'll process them with the other ingredients in the food processor.
The goal is to not get the mixture so smooth that it turns into a paste, but you will need it processed fine enough so that they hold their shape when being fried.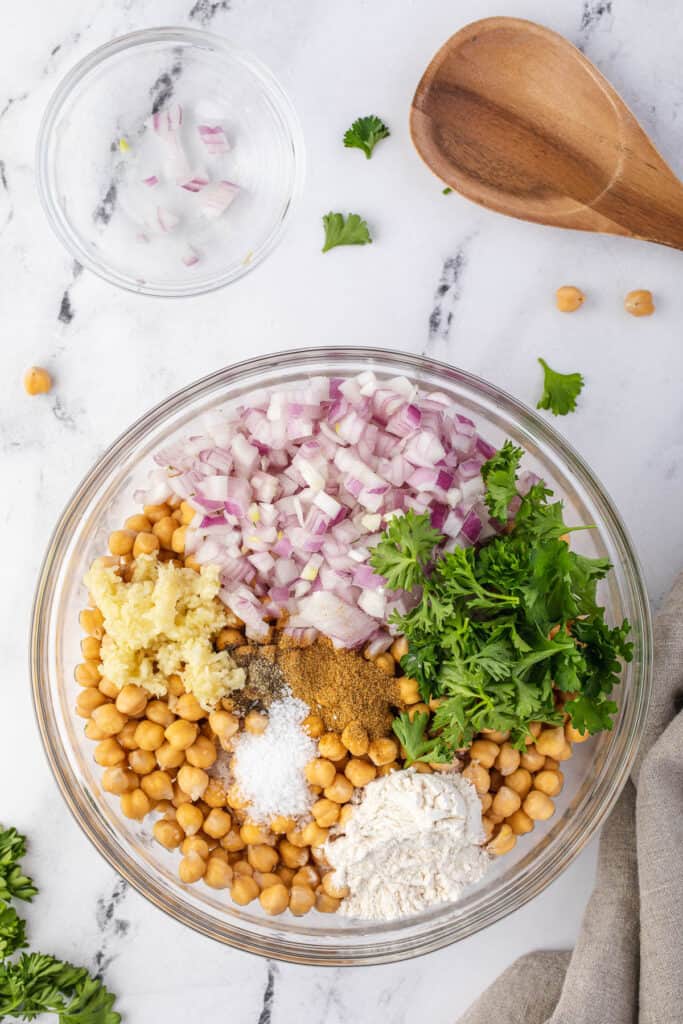 Step 3: Shape and fry
Form balls that are a couple of tablespoons in size and gently flatten.
To cook the falafel, you'll heat a generous amount of oil in a pan and cook a few at a time, flipping once. The result will be a delicious, flavorful, golden brown, crispy snack!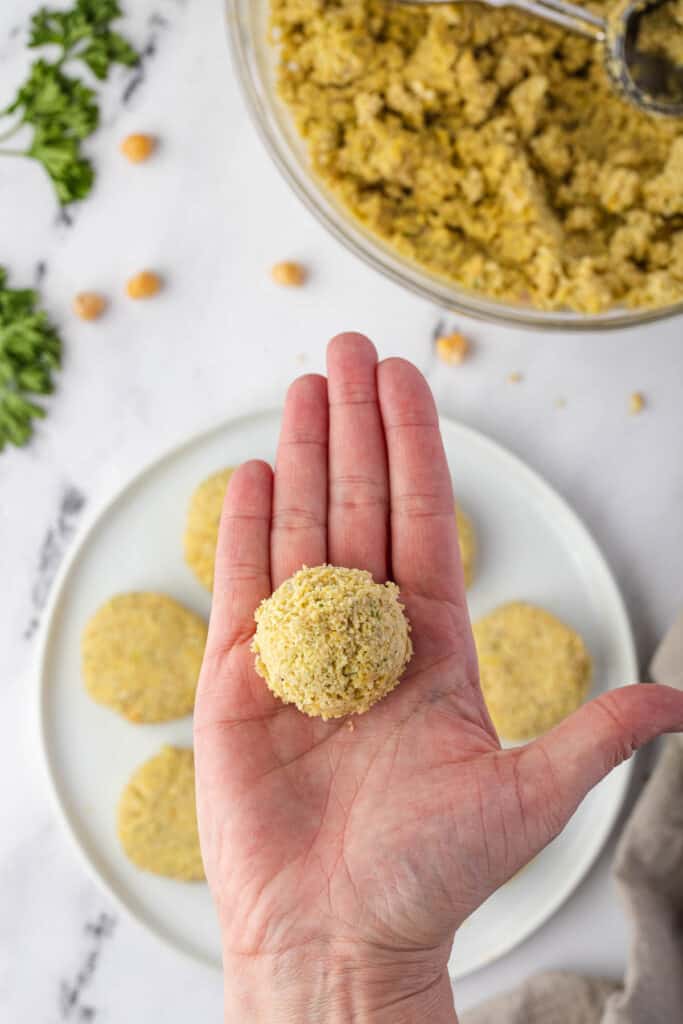 Recipe tips for best results:
Consistency of mixture: It is important that you use the food processor to grind the mixture to a consistent consistency of sand. If the chickpea pieces are too big, it will be difficult to eat, however you still want some grainy texture.
Deep frying: The trick to deep frying is to maintain a constant temperature of the oil. If you're not experienced, I recommend using a thermometer. Also, be aware that adding the cold falafel balls to the hot oil will drop the temperature.
Storage: Falafel is best if eaten fresh, but leftovers can be stored in an airtight container in the refrigerator for 3-5 days.
Reheating and leftovers: I've actually crumbled cold leftover falafel onto a salad and it was delicious! If you'd like to enjoy them warm, you can wrap them in a damp paper towel and reheat the center of the falafel in the microwave at 50% power for a minute or two and then fry them up in hot oil to make them crispy again.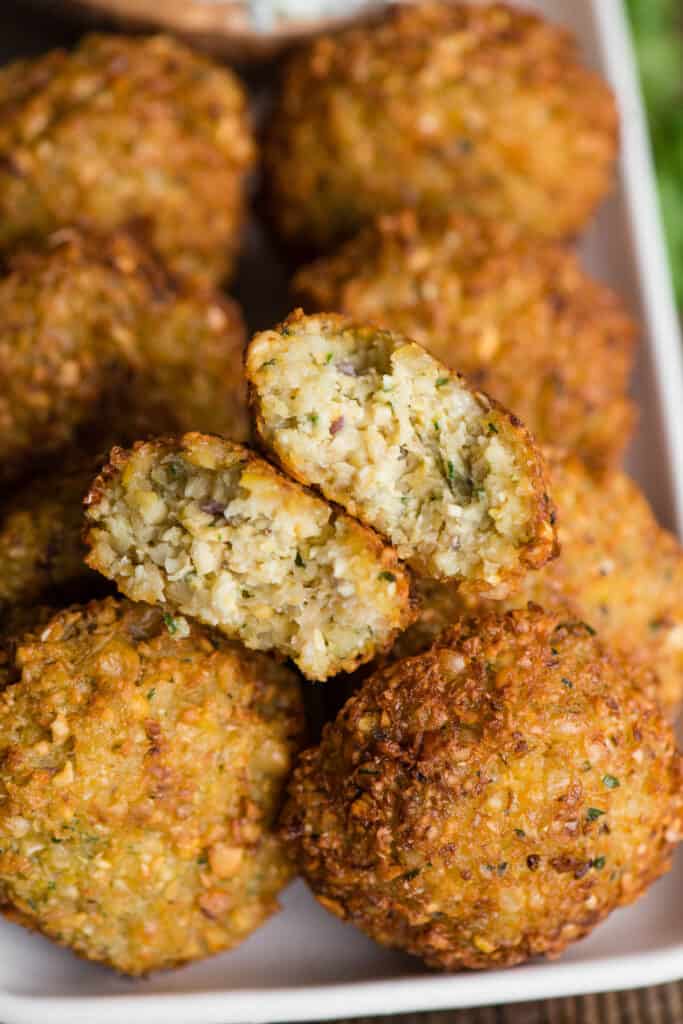 If you've made this or any other recipe on my site, let me know in the comment section how it turned out. I love hearing from my readers!
You can also follow along on PINTEREST, FACEBOOK and INSTAGRAM to see more amazing recipes to satisfy any foodie craving!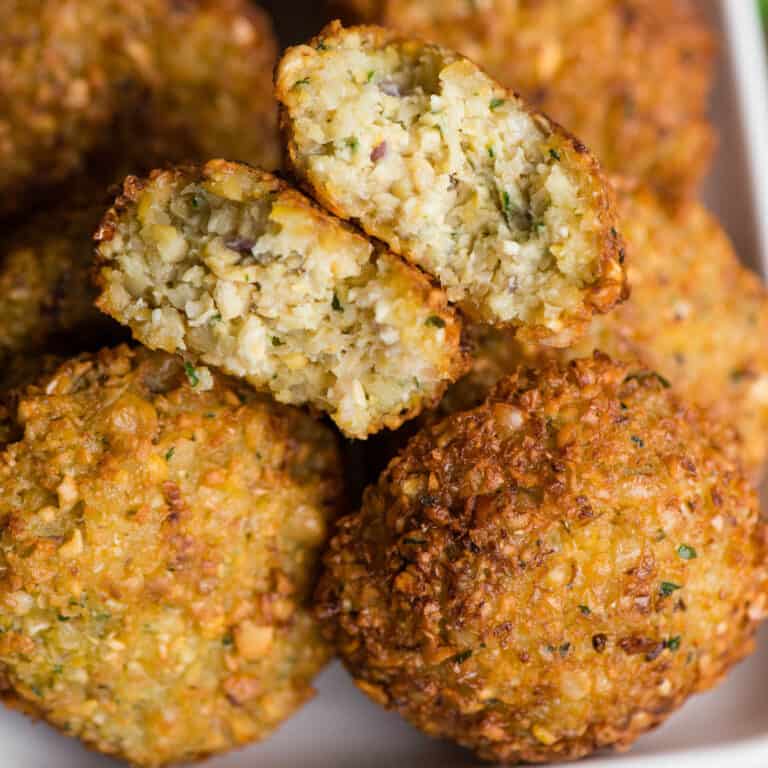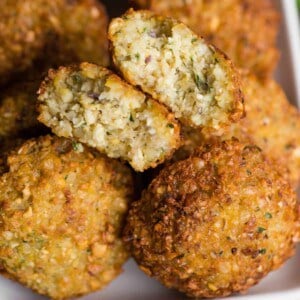 Falafel is one of my favorite Middle Eastern street food recipes. Chickpeas are combined with other savory ingredients and deep fried to perfection!
Ingredients
1

pound

dried garbanzo beans (chickpeas)

1

small

red onion

chopped

1/4

cup

parsley

fresh, stems removed

4

cloves

garlic

minced

1 1/2

tablespoons

all purpose flour

2

teaspoons

salt

2

teaspoons

cumin

1/2

teaspoon

pepper

oil for frying

Enough to have about an inch in your pan (I used avocado oil)
Instructions
Soak chickpeas: The night before making falafel, add dried chickpeas to a large bowl and cover with water. Cover bowl and let them soak overnight. They should double in size. When you're ready to make your falafel, drain chickpeas.

Mix ingredients: Add all ingredients except for oil to a large bowl and toss to combine.

Run through food processor: Working in small batches, process in food processor. The texture should be about as course as fine sand. Transfer processed mixture to a new bowl and pick out any large chunks to add to the next batch that gets processed. Continue until all ingredients are ground to the same sand-like consistency.

Let it rest: Add mixture back to original bowl, cover, and refrigerate for at least an hour.

Shape: To form the falafel balls, add a couple tablespoons of the mixture to the palm of your hand, form a ball, and slightly flatten the ball. The mixture doesn't hold together all that well, so just be gentle and steady with the pressure.

Fry: To cook falafel, add at least an inch of oil to skillet and heat to 375° F. Carefully drop formed falafel ball into the oil. I prefer to cook just a few at a time so that the oil temperature can remain steady. Cook until they turn golden brown, flipping once (about 5 minutes total). Be sure the oil is at the correct temperature before adding the next batch. Transfer cooked falafel to a paper towel lined plate to drain.
Nutrition
Calories:
246
kcal
,
Carbohydrates:
37
g
,
Protein:
11
g
,
Fat:
6
g
,
Sodium:
597
mg
,
Potassium:
541
mg
,
Fiber:
10
g
,
Sugar:
6
g
,
Vitamin A:
200
IU
,
Vitamin C:
6.3
mg
,
Calcium:
73
mg
,
Iron:
4.1
mg
Nutrition information is automatically calculated, so should only be used as an approximation.
This recipe was originally published in August 2019 and has been updated with helpful information, ingredient and process photos, as well as recipe tips. Don't worry – the recipe hasn't changed!