If you're looking for a tasty creamy coleslaw recipe that can be served to most anyone because there is no dairy nor eggs, this Creamy Vegan Coleslaw is the recipe you want!
This simple recipe combines just the right amount of vegan mayonnaise with apple cider vinegar and raw honey to make a coleslaw dressing that everyone will love. Thinly sliced cabbage smothered in this creamy dressing will have everyone coming back for seconds!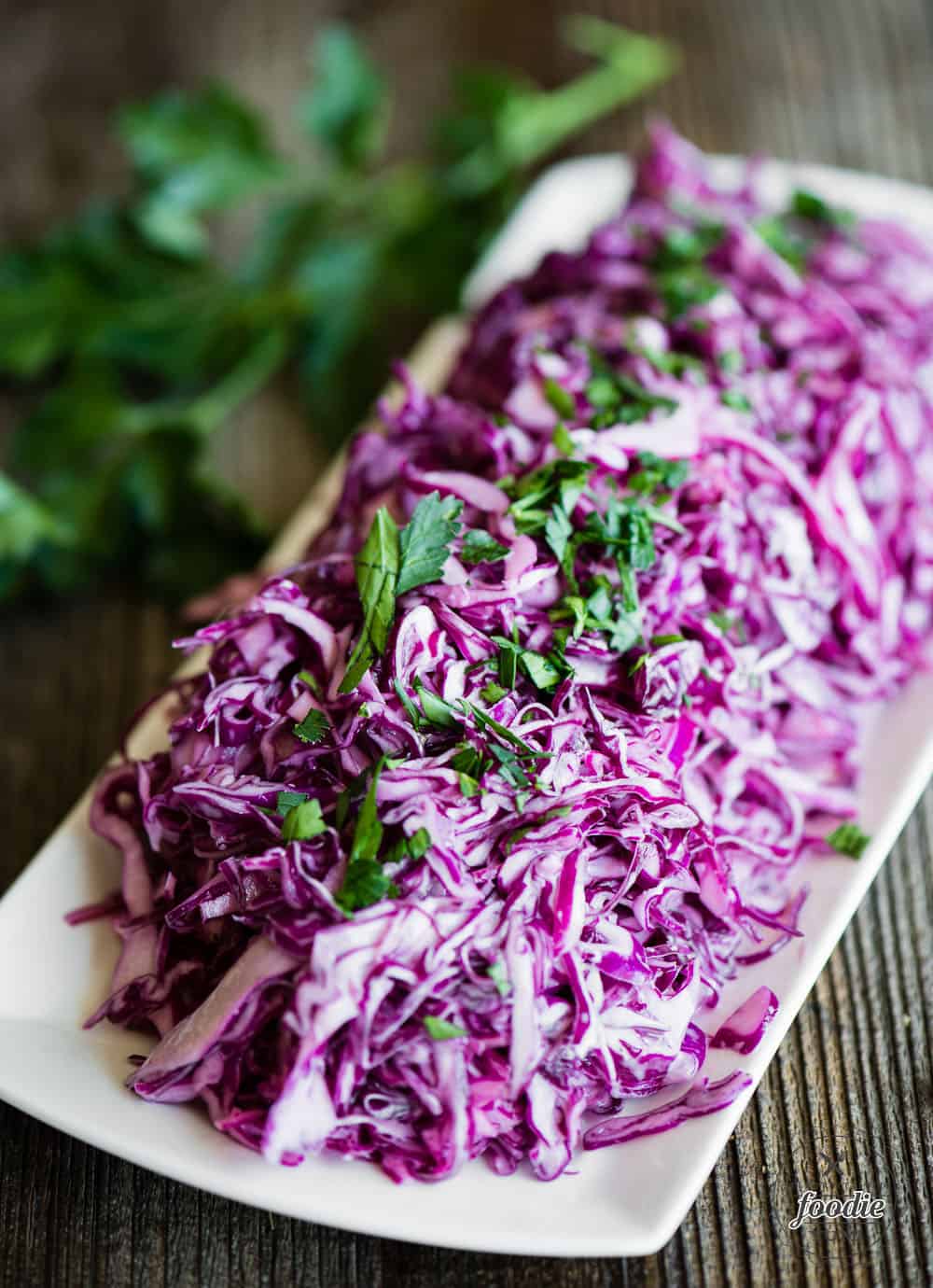 Creamy Vegan Coleslaw was shockingly good. I say shockingly because I am not a vegan. Far from it. I love my meat, dairy and eggs. I have nothing against a vegan diet, it's just not for me.
We're having to try an elimination diet in our house right now, however, and that means no dairy and eggs, amongst a ton of other (favorite) ingredients.
My whole family loves cabbage. I've made a handful of coleslaw recipes in the past that contain both milk and mayonnaise which contains eggs. I wanted to make something similar but vegan, so I started to experiment.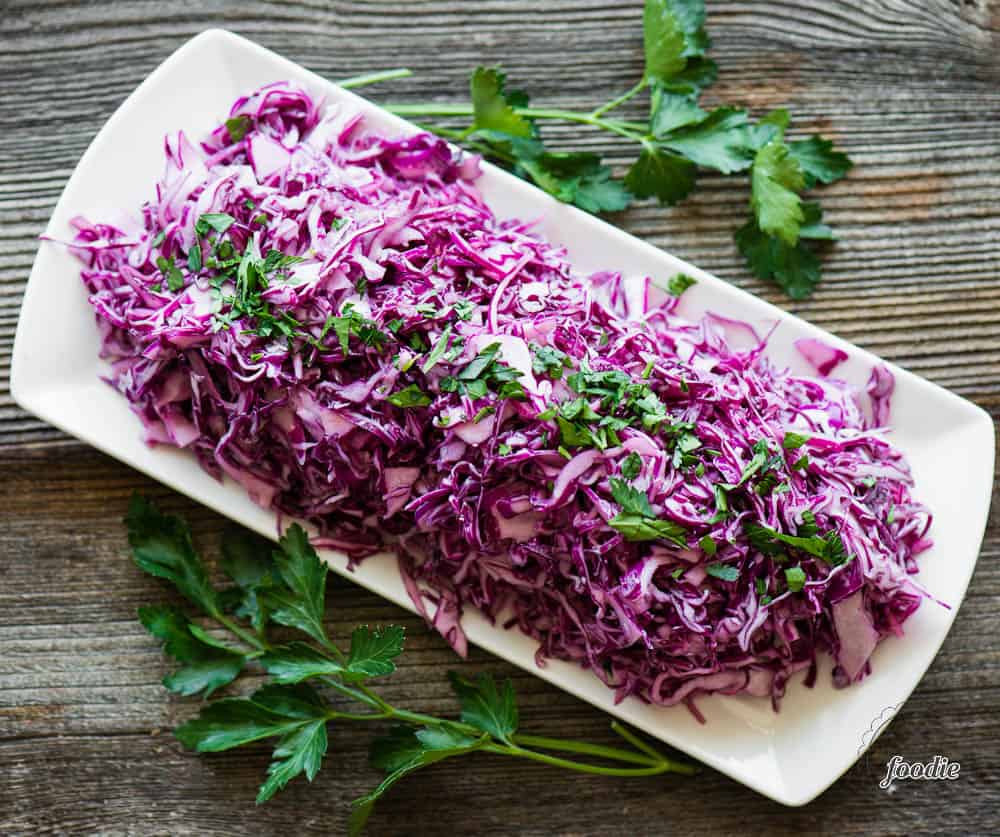 How to make the dressing:
I found that the right vegan mayonnaise was a great base for coleslaw dressing recipe. There are a few brands out there, but I found that the Trader Joe's Vegan Spread and Dressing (inspired by mayo) was the best tasting one out there.
You must add a few things to the vegan mayo to make it worthy of a coleslaw dressing.
First, it needs to be thinned out a bit. It also needs a bit of a punch or tang. Apple cider vinegar does the trick.
Second, because the apple cider vinegar packs a bit of a punch, it needs a bit of sweet added. Raw honey is perfect for this.
A little salt and pepper and you have a super delicious creamy vegan coleslaw dressing!
Best way to cut cabbage for coleslaw:
First of all, I highly recommend using a half head of cabbage unless you're planning on feeding a crowd. That, or you plan on eating coleslaw everyday for a week. Cabbage is incredibly deceiving because it's packed in so tightly.
I think cabbage tastes best in coleslaw when it's cut super thin. That way, each piece absorbs the coleslaw dressing.
You can cut cabbage super thin with a knife if you're talented and patient. I wouldn't say I'm either.
I've used a spiralizer before and had success once, but the subsequent times resulted in a big mess.
I have found that the best way to achieve very thinly sliced cabbage for coleslaw is with a mandoline. It's taken me years to build up enough confidence to use the mandoline without fear of slicing my hand in half, but I have finally gotten the hang of it.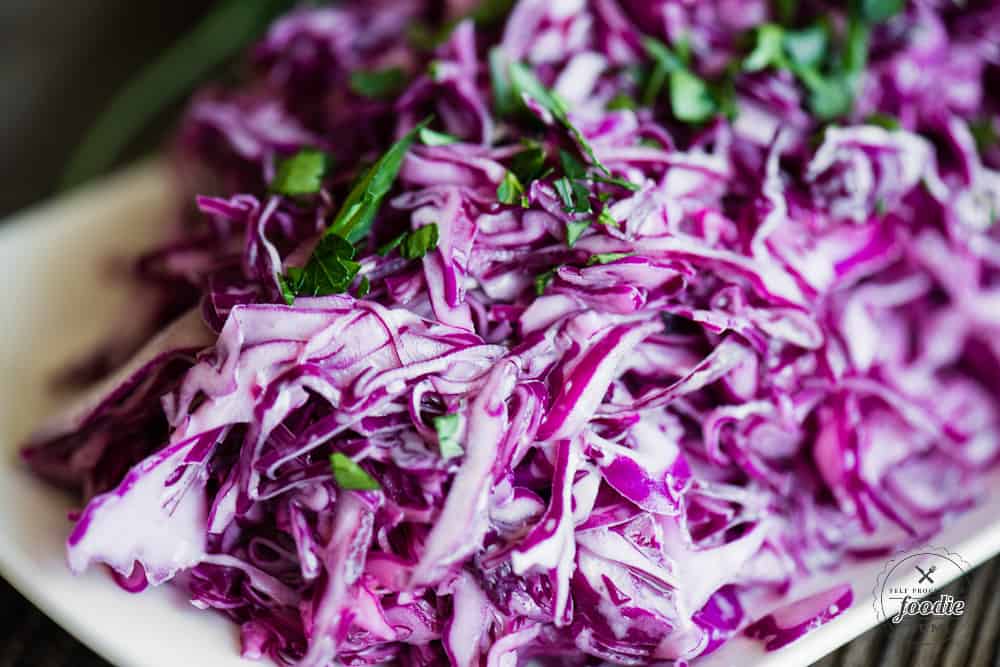 What to serve with coleslaw:
Normally I'm sharing a main dish and am recommending the best side dishes. This time I'm doing it the other way around.
To me, coleslaw is best during the summer when you can barbecue outside. Here are a few of my favorite coleslaw-worthy recipes.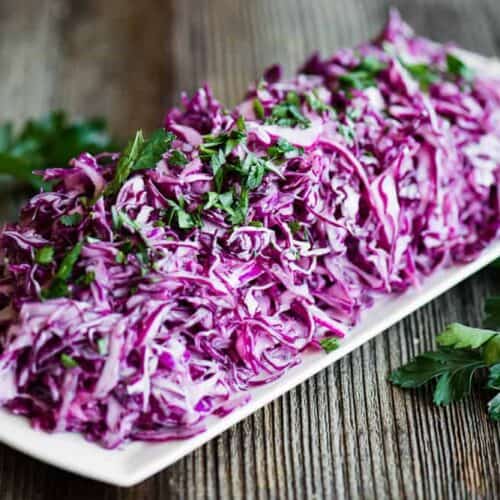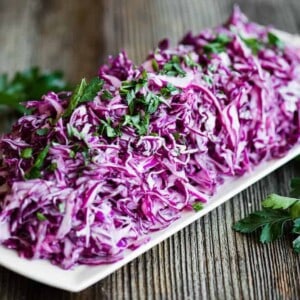 If you're looking for a tasty creamy coleslaw recipe that can be served to most anyone because there is no dairy nor eggs, this Creamy Vegan Coleslaw is the recipe you want!
Instructions
Add cabbage to a large bowl.

In a separate bowl, whisk together remaining ingredients. Add to cabbage and toss to combine.

Serve immediate or refrigerate for several hours to over night to allow the dressing to absorb. Note that if slaw is stored overnight, additional liquid will accumulate at the bottom of the bowl, but it still tastes really good!
Nutrition
Calories:
145
kcal
,
Carbohydrates:
7
g
,
Fat:
12
g
,
Saturated Fat:
1
g
,
Sodium:
266
mg
,
Potassium:
127
mg
,
Fiber:
1
g
,
Sugar:
4
g
,
Vitamin A:
585
IU
,
Vitamin C:
29.9
mg
,
Calcium:
24
mg
,
Iron:
0.4
mg
Nutrition information is automatically calculated, so should only be used as an approximation.