Enjoy summer grilling at its best with these Baby Back Ribs with BOOM Sauce. The quick & easy homemade BBQ sauce has a secret ingredient with a real kick!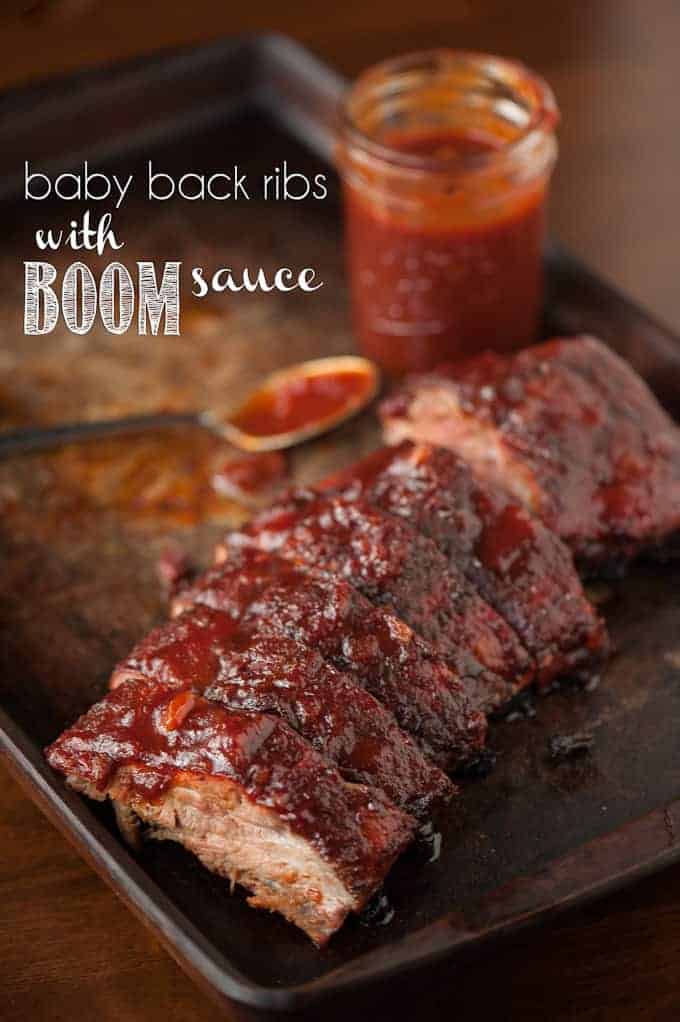 Oh, how I love summer grilling. Let me count the ways. One of my most favorite things in the world to grill up on the BBQ on a beautiful summer day is a nice rack of baby back ribs. Want to know a fun little fact? I never used to like anything spicy until I got pregnant with my first child. I don't know what happened to my brain during that pregnancy, but from the time I started growing that first baby in my belly, this non-vinegar non-spicy tolerant chick started craving all things pickled and extra hot. My husband loves all things spicy too, so I wanted to cook up something extra special for Father's Day yesterday. I decided to cook up a slab of ribs but I wanted a sauce that was not only easy to make (its summertime after all) but would be different from any other sauce I've made. I used the black label El Yucateco sauce that is created from fire roasted habanero. This one totally peaked my interest simply because of the color. The smokey flavor of this sauce brings depth, habanero flavor and the perfect amount of heat to any dish without adding an overpowering smoke taste. Before I started making my BOOM sauce, I poured a drop on my finger and tasted it. Oh, it burned so good. The kind of burn that covers your entire tongue and makes you say "now that's some good heat".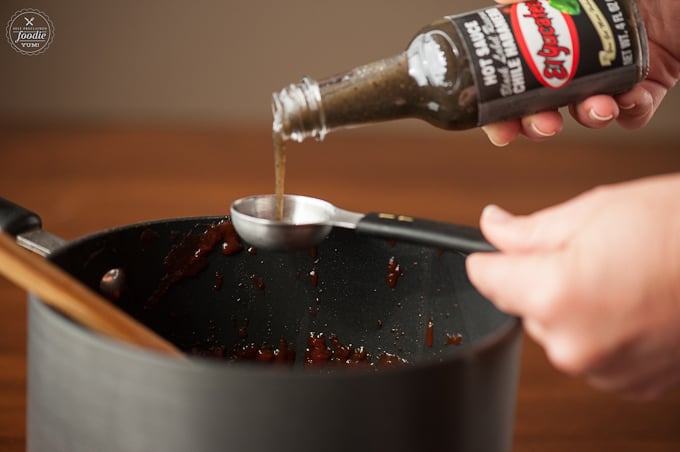 In the recipe I tell you to use 2 tablespoons to make boom sauce or 3 tablespoons to make BOOM sauce. Just start with two for what I call the perfect heat and work your way up to push the boundaries of your taste bud tolerance.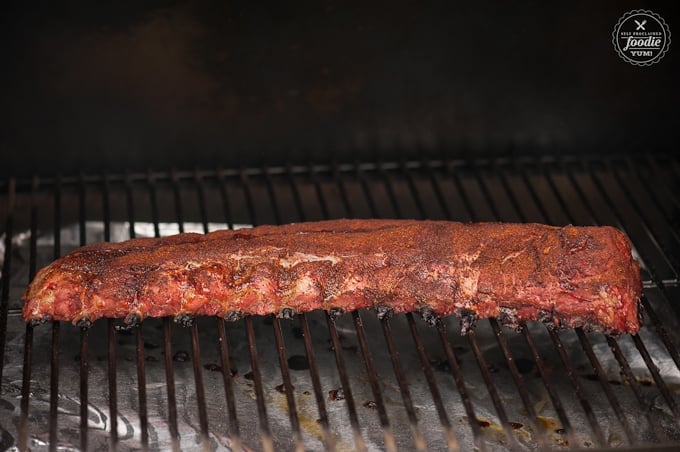 I love cooking with dry rubs because it creates a nice little crust on the outside of the meat that locks in all the flavor and juices. I tend to use my favorite go to rub anytime I grill, but i was really pressed on time yesterday and simplified it a bit by only using a few spices. Plus, I knew the sauce would be the ultimate flavor boost to the ribs and I only wanted the dry rub to keep the ribs moist during the cooking, not to add all the flavor.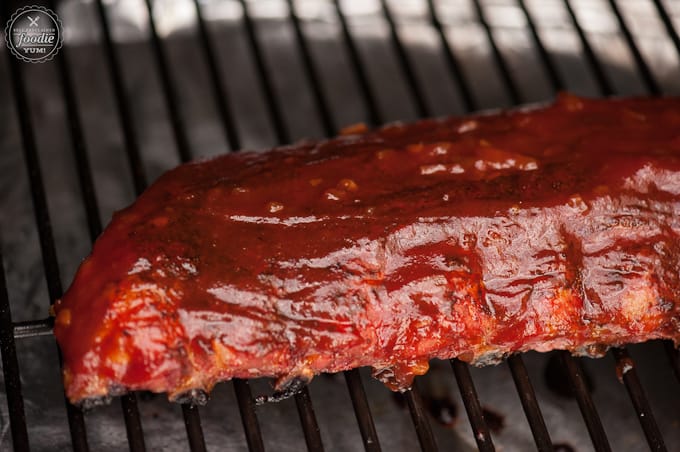 The magic happens during the last 15 minutes of the grilling process when you add the BOOM sauce. Perfection.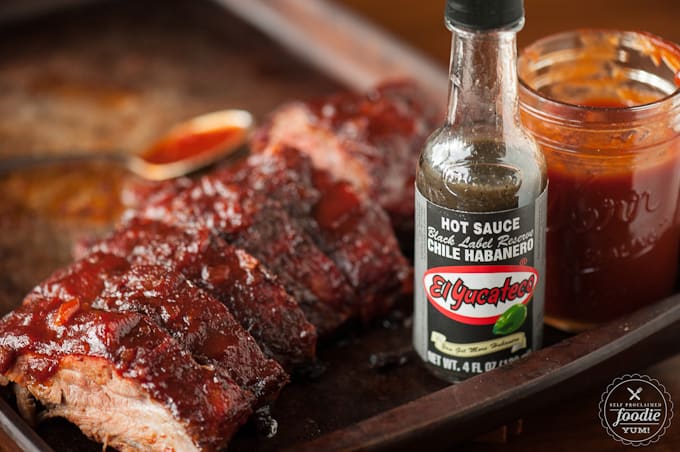 The end result were deliciously grilled ribs with an easy to make sauce that had the most unique and interesting spicy kick. Just be sure to serve these up along side some wet paper towels because you're gonna get messy in the best possible way.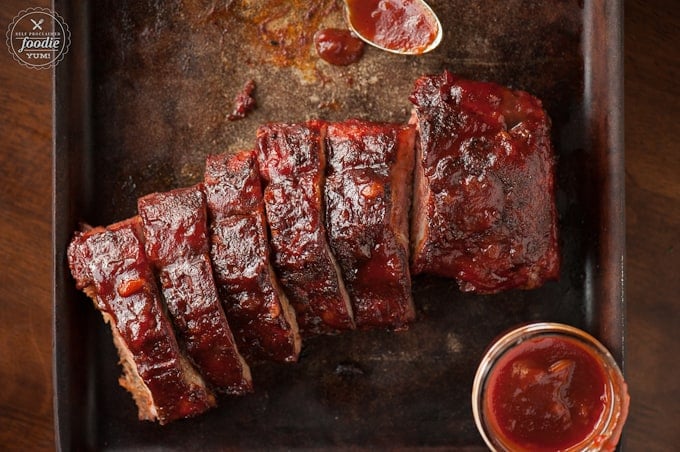 Baby Back Ribs with Boom Sauce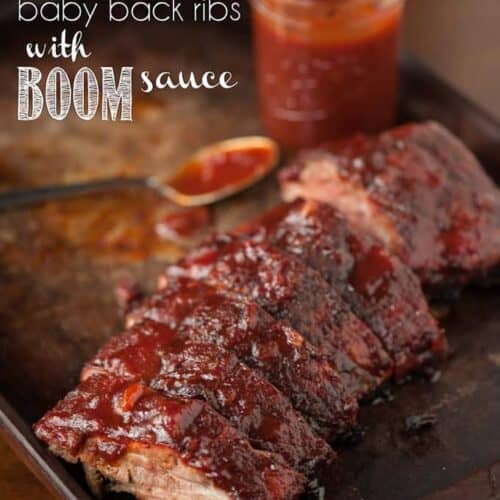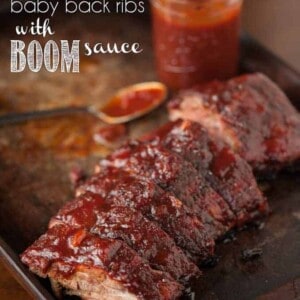 Enjoy summer grilling at its best with these Baby Back Ribs with BOOM Sauce. The quick & easy homemade BBQ sauce has a secret ingredient with a real kick!
Instructions
Preheat grill to 250 degrees F. Remove membrane from the back of the ribs by lifting the end with a dry butter knife, then gripping it with a paper towel and lifting (my ribs already had the membrane removed). Rinse ribs with cool water and pat dry with paper towels.

In small bowl, mix together cumin, chili powder, and paprika. Coat all surfaces of ribs with rub. Place on grill, cover with lid, and cook fully covered for 2-3 hours.

Meanwhile, to make the BOOM sauce, saute onions and garlic in olive oil in sauce pan over medium heat until fragrant and golden brown, 3-4 minutes. Add remaining sauce ingredients and stir to combine. If you want boom sauce (perfect amount of heat that you can feel on the entire surface of your tongue), use 2 tablespoons of El Yucatero. If you want BOOM sauce [notice BOOM in all caps] with a heat that will make you sweat and have you coming back for more, bump it up to 3 tablespoons of El Yucatero. You'll get a total of 2 cups of sauce.

Once the meat has pulled back from the bones, cover with a healthy amount of BOOM sauce and continue to cook, covered, for the last 15 minutes of your grilling time to really get the sauce to stick. Remove ribs from grill, slice, and serve with additional BOOM sauce, lots of paper towels, and a big glass of ice water!
Nutrition
Calories:
802
kcal
,
Carbohydrates:
76
g
,
Protein:
43
g
,
Fat:
37
g
,
Saturated Fat:
13
g
,
Cholesterol:
148
mg
,
Sodium:
1724
mg
,
Potassium:
1080
mg
,
Fiber:
2
g
,
Sugar:
67
g
,
Vitamin A:
2046
IU
,
Vitamin C:
13
mg
,
Calcium:
137
mg
,
Iron:
4
mg
Nutrition information is automatically calculated, so should only be used as an approximation.