Super soft Brown Sugar Pecan Cookies with a brown sugar frosting are an easy to make treat perfect year round, or for the holidays, that everyone will love!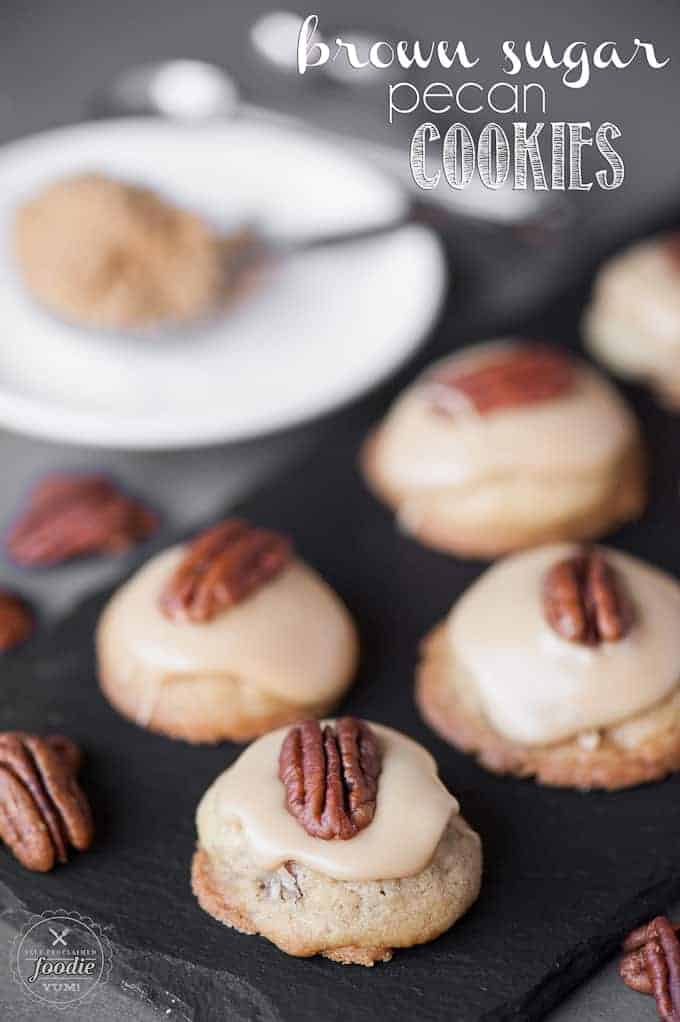 Today I'm sharing with you these amazing cookies. The most important thing that I can tell you about these cookies other than about how incredibly good they taste, is that they flatten out when cooking. Beware! There is something you can do to prevent this, however. I cooked these in three different batches so I know exactly what works best.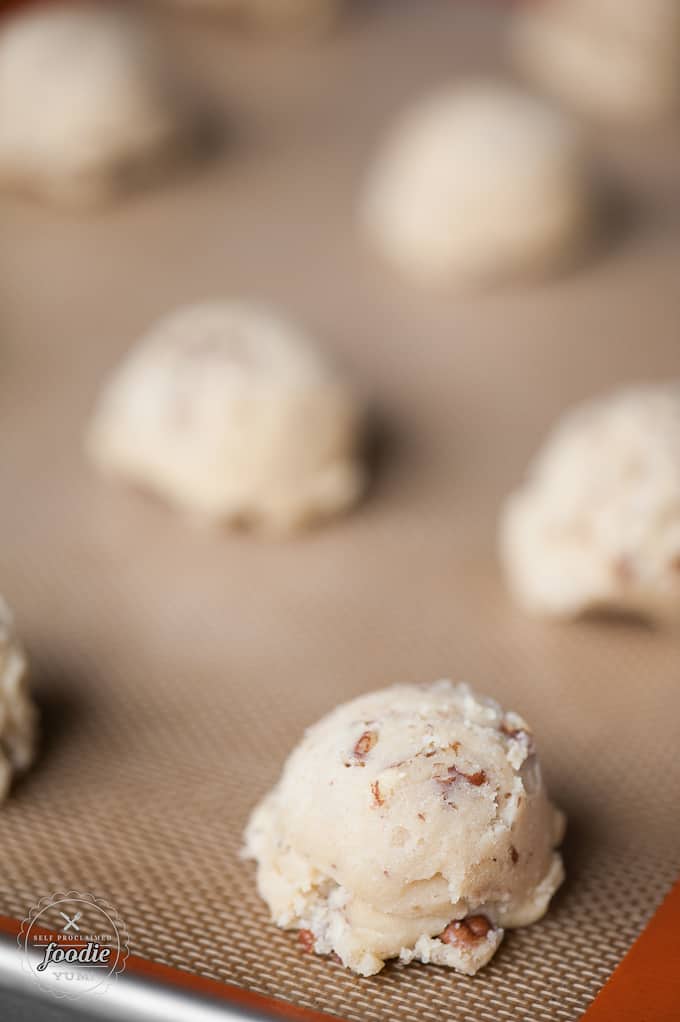 First, I love to bake on stone but also have a very large metal baking sheet and often use both when I cook so I can determine which works best with either recipe. The metal sheet works best with this recipe because it gets hot faster. With a stone, it heats up at the same rate as your cookie. that's perfect if you want a golden cookie top and bottom, but not if you want your cookie in and out of the oven as quick as possible.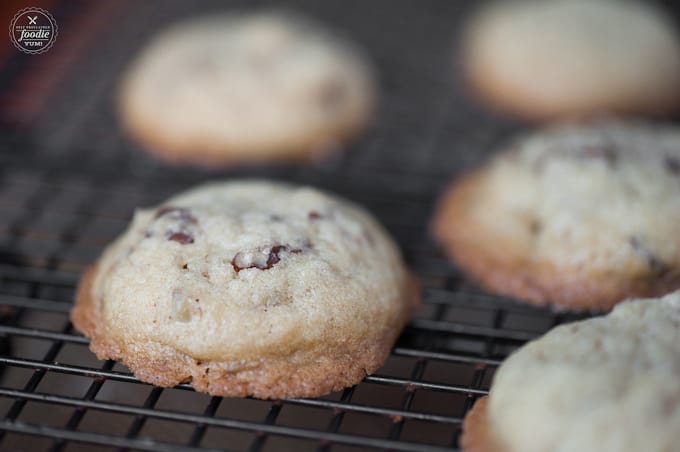 Second, you want your dough COLD. The colder it is, the less it will spread. The batch that I put in the oven after the dough had come to room temperature completely flattened out. You may even want to consider rolling your balls and popping them in the freezer for 5 minutes prior to cooking. I did this and it worked great!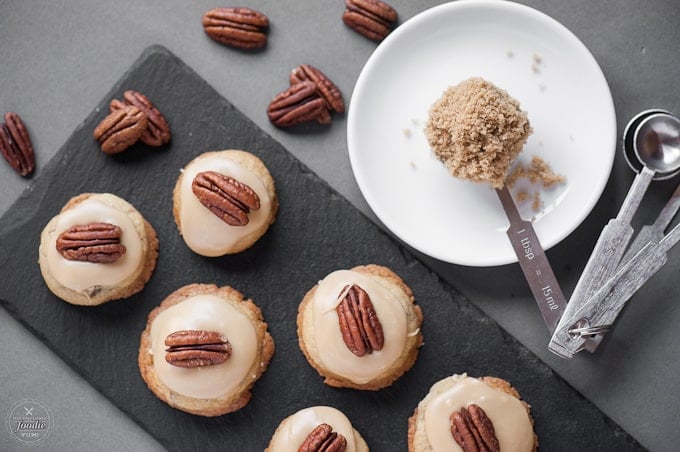 One of the things I really love about these cookies is that the cookies, themselves, aren't very sweet. In fact, they're rather boring except for being incredibly soft. But, when you top them with that warm brown sugar frosting that immediately sets with a beautiful sheen, everything instantly becomes right in the world. The final product is a gorgeous simple and classic cookie that everyone will love!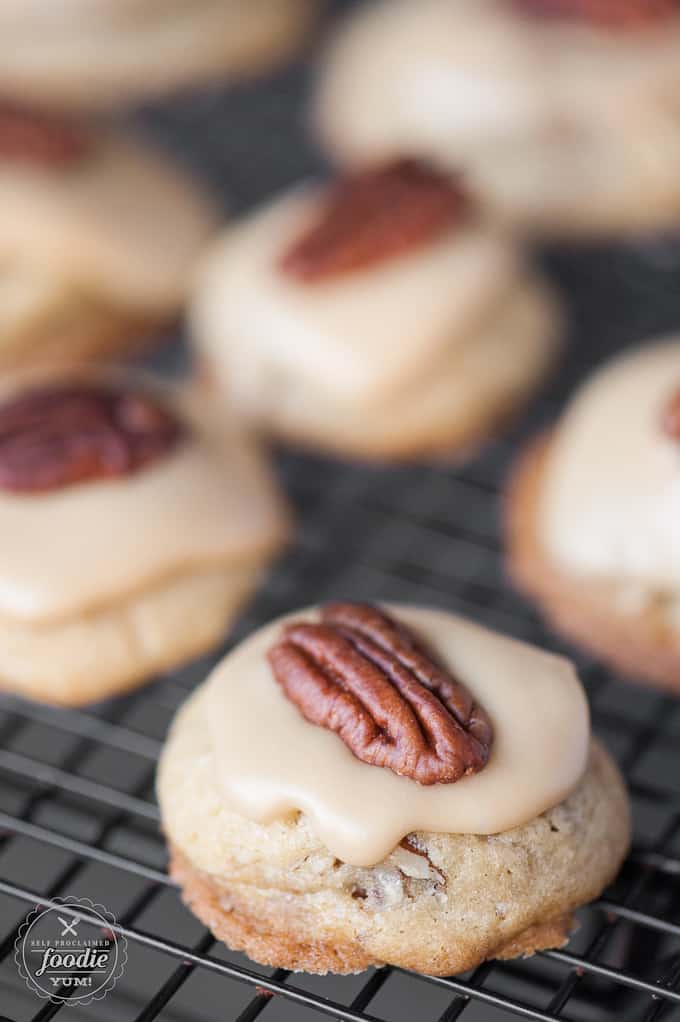 Brown Sugar Pecan Cookies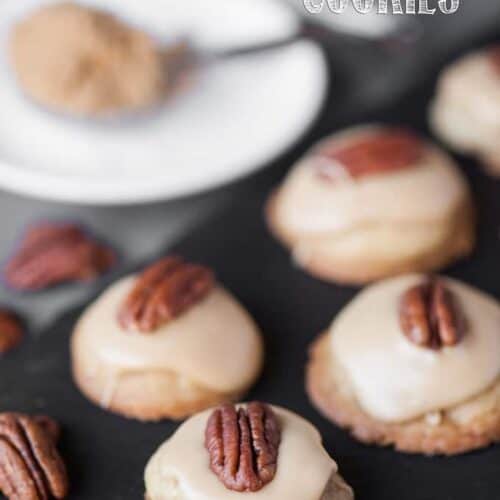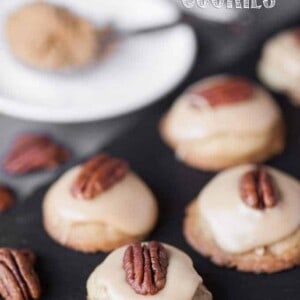 Super soft Brown Sugar Pecan Cookies with a brown sugar frosting are an easy to make treat perfect year round, or for the holidays, that everyone will love!
Ingredients
Pecan halves or chopped pecans for garnish
Instructions
In a medium bowl, combine flour, baking soda, and salt. Set aside.

In the bowl of a stand mixer, beat together the butter and sugar until light and fluffy (several minutes). Add the egg and vanilla and beat until combined.

Mix in the dry ingredients until just combined. Stir in the chopped pecans. Cover the dough and refrigerate for at least one hour.

Once the dough is chilled, preheat your oven to 350 degrees F.

Shape the dough into 1-inch balls and place two inches apart on a cookie sheet lined with parchment paper. Cookies will flatten out while cooking if the dough isn't VERY cold. You may also choose to create your dough balls and freeze 5 minutes prior to baking. These also cook best on a metal baking sheet as opposed to stone. Bake for 10 minutes or until set. The cookies should just start to lightly brown. Allow to cool on baking sheet for 5 minutes before transferring to cooling rack.

Meanwhile, prepare your frosting. In a pot over medium heat, combine the brown sugar and milk. Bring to a boil and boil for about 3-4 minutes, stirring constantly. Remove from heat and stir in the butter and salt.

Then, stir in the confectioner's sugar. Whisk or beat with an electric mixer until smooth. The frosting will firm up as it cools.

Add about 1 tablespoon of frosting to each cookie. You must work quickly while the frosting is hot as it will immediately set. If it starts to not look so pretty when you add it to the cookies, heat it slightly to bring it back to the consistency you like. Top with a pecan half.

Store the cookies in an air tight container once fully cooled and the frosting has set.
Nutrition information is automatically calculated, so should only be used as an approximation.
Recipe adapted from Southern Living.
To see all of 2014's holiday treats, click the links below: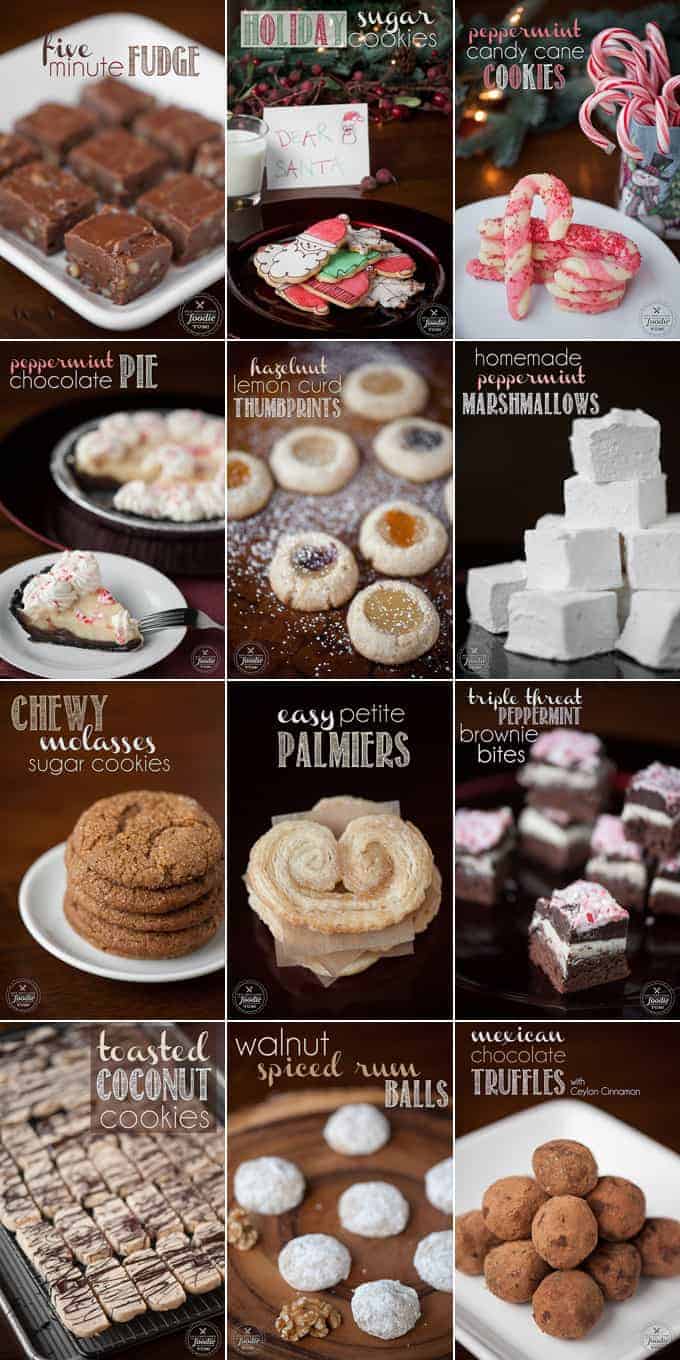 Five Minute Fudge | Holiday Sugar Cookies | Peppermint Candy Cane Cookies
Peppermint Chocolate Pie | Hazelnut Lemon Curd Thumbprints | Homemade Peppermint Marshmallows
Chewy Molasses Sugar Cookies | Easy Petite Palmiers | Triple Threat Peppermint Brownie Bites
Toasted Coconut Cookies | Walnut Spiced Rum Balls | Mexican Chocolate Truffles
To see all of 2015's holiday treats, click the links below: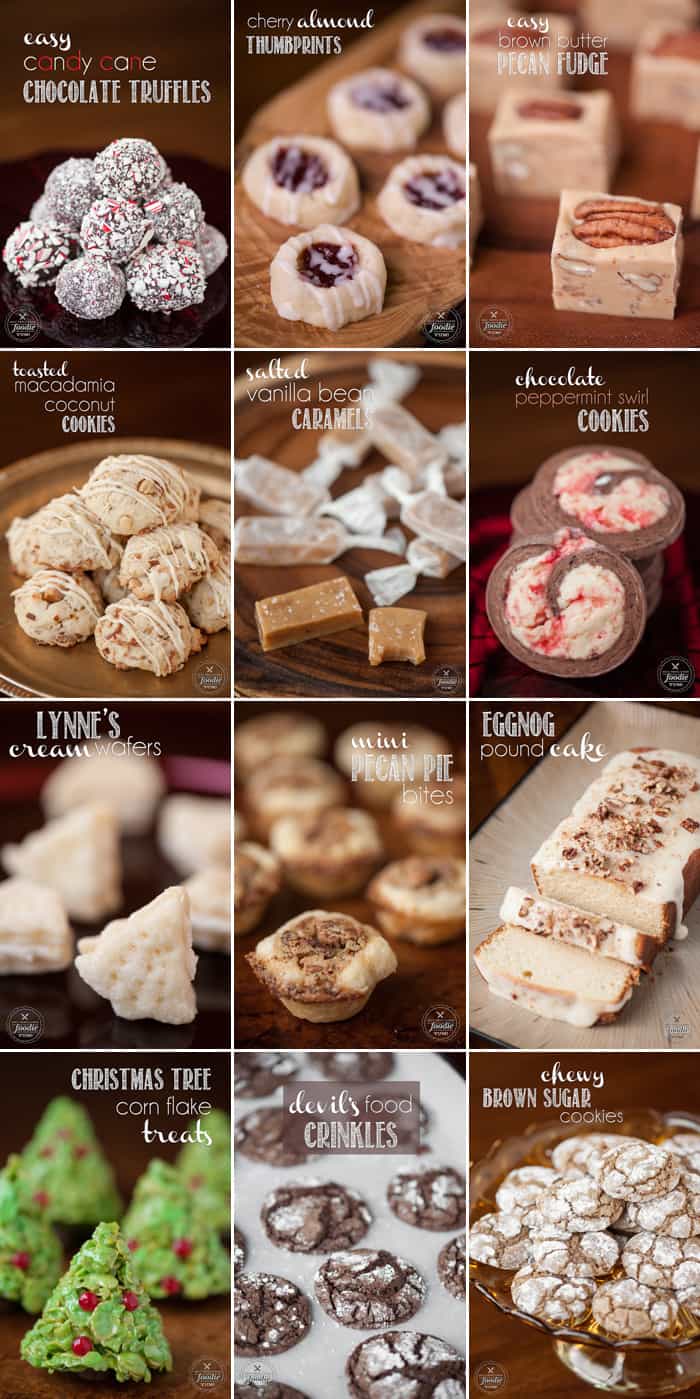 Easy Candy Cane Chocolate Truffles |  Cherry Almond Thumbprints  | Easy Brown Butter Pecan Fudge
Toasted Macadamia Nut Cookies  |  Salted Vanilla Bean Caramels  |  Chocolate Peppermint Swirl Cookies
Lynne's Cream Wafers  |  Mini Pecan Pie Bites  |  Eggnog Poundcake
Christmas Tree Corn Flake Treats  |  Devil's Food Crinkles  |  Chewy Brown Sugar Cookies