Beet Brownies are a decadent brown butter brownie recipe with a smooth buttermilk roasted beet puree mixed into the batter.
The result is a lusciously soft brownie with an intense dark chocolate flavor. You'll enjoy the added health benefits of cooking with beets and will be pleasantly surprised with the flavor! Be sure to scroll down to watch my recipe video!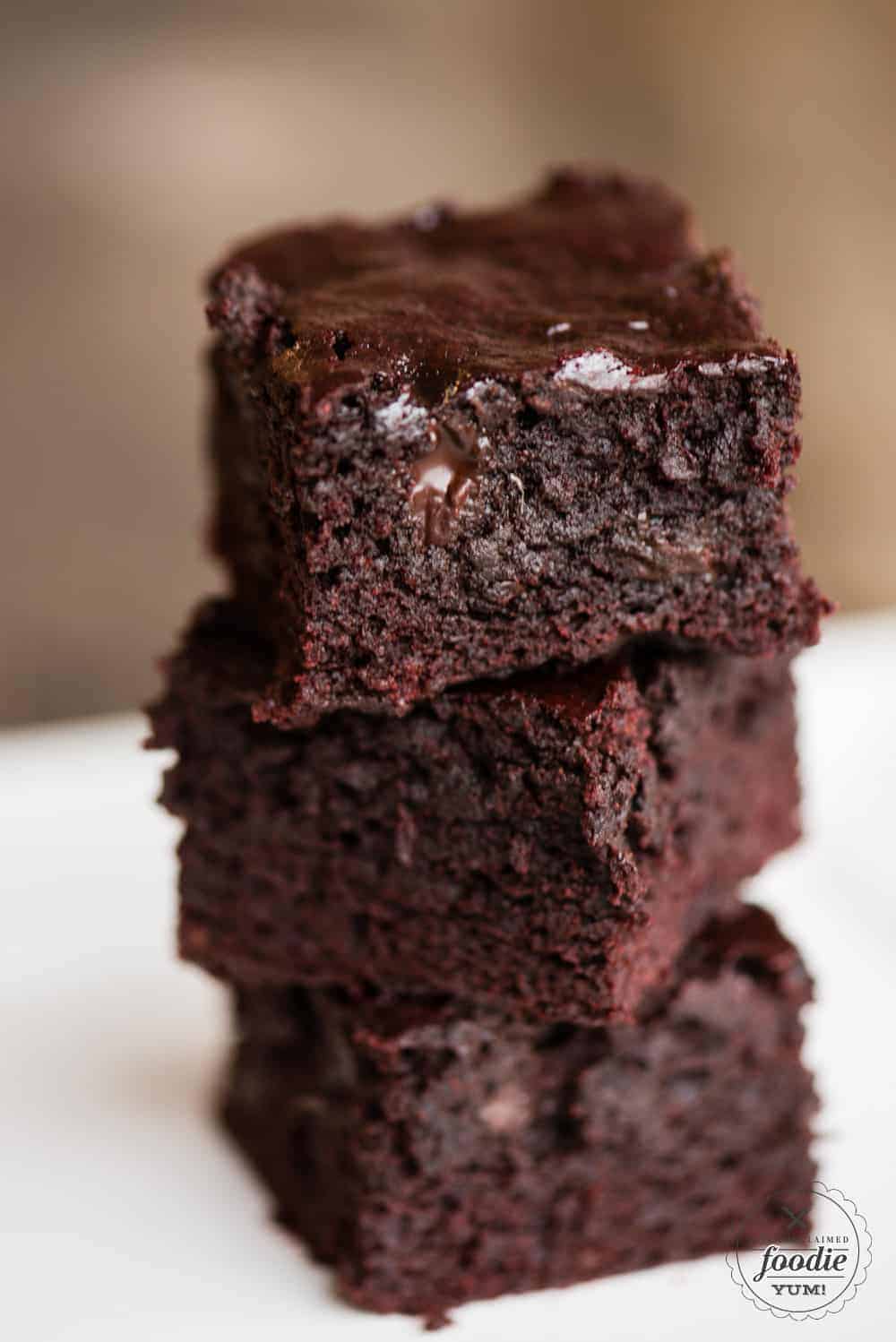 Why this recipe works:
Beet Brownies are so much better than regular brownies.
Hate beets? These might not be for you. Love beets? Or even like beets? These will blow your mind.
I've been using this beet puree in all sorts of things like pancakes and cookies and now brownies.
I'll never forget the first time I ate beets (I was a very late-in-life beet person) and asked a friend what the heck I do with a beet and he said "throw it in the garbage – they taste like dirt". He's a smart guy, but I'm so happy I didn't listen to him.
My entire family loves beets.
From fresh citrus beet salad to beet soup, we can't get enough of this dark red super food.
How to cook beets in the oven:
All you do is wrap the whole trimmed beet, or a bunch of trimmed beets, in aluminum foil and cook them in a 400 degree F oven for at least an hour until they're soft.
Let them cool enough to handle so you can remove the peel and and chop.
How to cook beets in the Instant Pot or electric pressure cooker:
Set the trimmed beets on the steamer basket. Add about a cup of water to the cooking pot.
Set the timer to 15 minutes and cook on high pressure. Quick release the pressure when they're done. Again, once they're cool enough to handle, you can peel and chop them.
Making the puree couldn't be easier. To make the beet puree, blend them up with some buttermilk until they are velvety smooth. That's all, folks!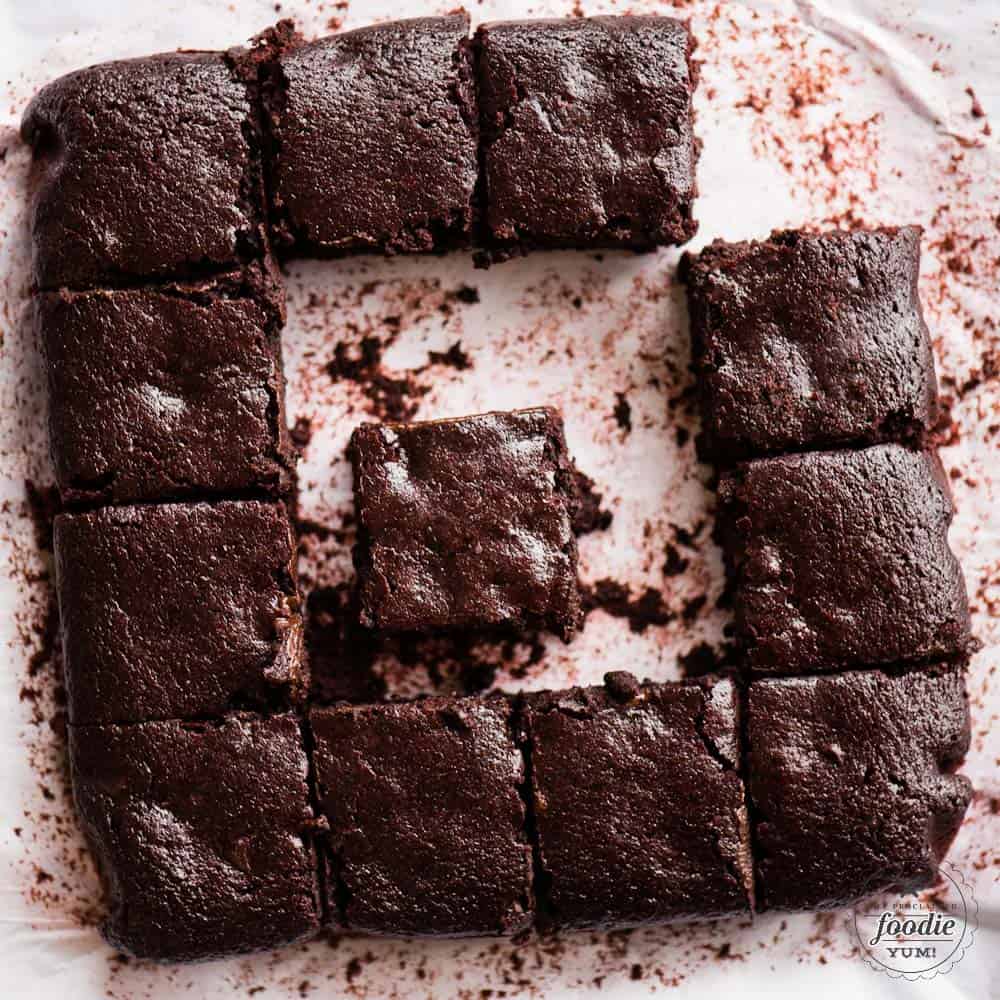 Why are beet brownies so good?
You can see by that gorgeous color that roasted beets have been added to my recipe. The first time I photographed these beet brownies, I actually put 50% more beet puree in. My family loved the way it tasted, but they really didn't look like a brownie. I ended up photographing them again when I made the recipe video.
One of the magical things about adding beet puree is how velvety smooth the final brownie ends up being. Its so freaking good.
I love adding chocolate chunks to this recipe. Yes, you can add chocolate chips, but there's just something different about a chocolate chunk that I love. Perhaps its the random sizes of the chunks that keeps me guessing. Who knows – I'm weird like that. As for the beets though, don't just take my word for it – you must try it yourself. You will love it!
Bears beets Battlestar Galactica.
Yes. I said it.
If you don't understand my joke, just leave me a comment and I'll explain. If you do get it, you're my kind of person.
I couldn't make beet brownies without saying that bears beets Battlestar Galactica.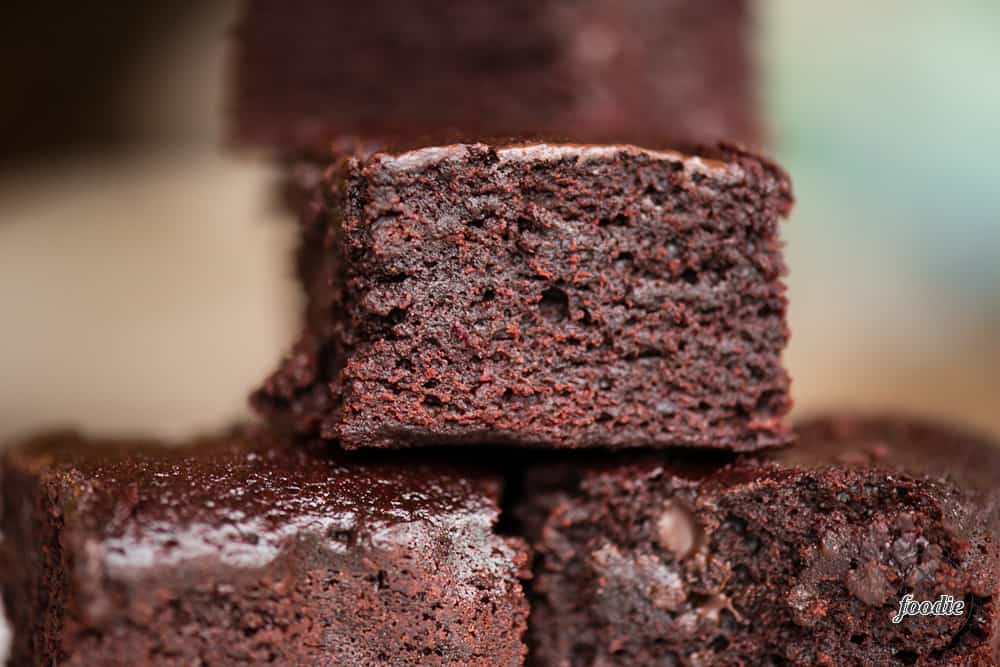 Watch the recipe video
of me making my beet brownies below!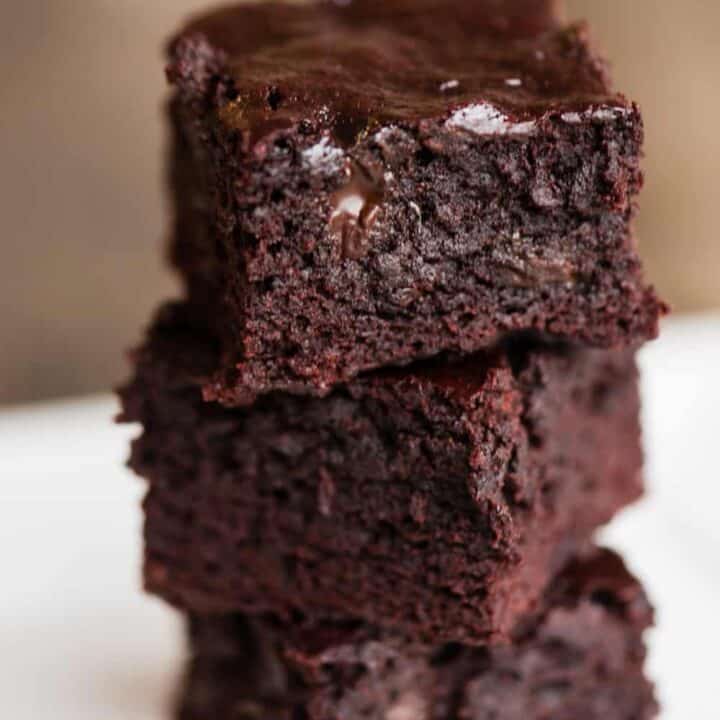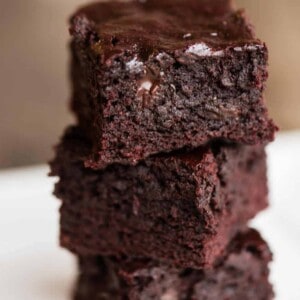 Beet Brownies are made with my decadent brown butter brownie recipe and have a buttermilk beet puree mixed in to yield a lusciously soft red velvet brownie.
Ingredients
Beet puree:
1

large

red beet

or two small beets

1/4

cup

buttermilk

amount may vary
Beet Brownies:
8

tablespoons

unsalted butter

1¼

cups

granulated sugar

½

teaspoon

kosher salt

2

large eggs

2

teaspoons

vanilla extract

1

cup

beet puree

You can reduce this amount if you're worried about putting that much beet into your brownies

3/4

cup

unbleached flour

1/2

teaspoon

baking powder

1/2

cup

dark chocolate chunks
Instructions
To make beet puree:
In oven: Wrap whole beets (stems removed) in aluminum foil and roast in 400 degree F oven for at least an hour until soft to the touch.

Alternatively,

In Instant Pot: Set beets on rack and add 1 cup water. Cook on high pressure for 15 minutes. Instant release pressure.

Allow beets to cool enough to handle and peel away skin.

Puree beets in blender or food processor with just enough buttermilk to allow puree to achieve a very smooth consistency. Note: only 1 cup of beet puree will be used for this recipe. If you end up with extra puree, you can use extra puree in pancake batter, soups, etc.
To make beet brownies:
Preheat oven to 325F. Grease or line a 8x8x2 metal pan with parchment foil paper.

Using a medium to large saucepan over medium heat, melt butter. Stir frequently as it continues to bubble. When there are small brown specs, and it smells like nutty caramel, remove pan from heat.

Add sugar, cocoa powder and salt to combine.

In separate bowl, beat eggs. After butter mixture has cooled in pot 4-5 minutes, slowly pour eggs into pot with sugar/butter/cocoa powder, stirring constantly until well combined.

Add vanilla and 1 cup beet puree, stir to combine.

Add flour and baking powder, stir to combine.

Add chocolate chunks, stir to combine.

Bake 25-35 minutes in preheated oven or until top no longer looks wet. Enjoy!
Nutrition
Calories:
190
kcal
,
Carbohydrates:
27
g
,
Protein:
3
g
,
Fat:
8
g
,
Saturated Fat:
5
g
,
Cholesterol:
35
mg
,
Sodium:
105
mg
,
Potassium:
183
mg
,
Fiber:
2
g
,
Sugar:
19
g
,
Vitamin A:
215
IU
,
Vitamin C:
0.8
mg
,
Calcium:
40
mg
,
Iron:
0.9
mg
Nutrition information is automatically calculated, so should only be used as an approximation.