This wonderfully delicious package of apple wood smoked bacon ends and pieces is exactly the same product as sliced bacon, but it is much cheaper and can be used in a wide variety of recipes.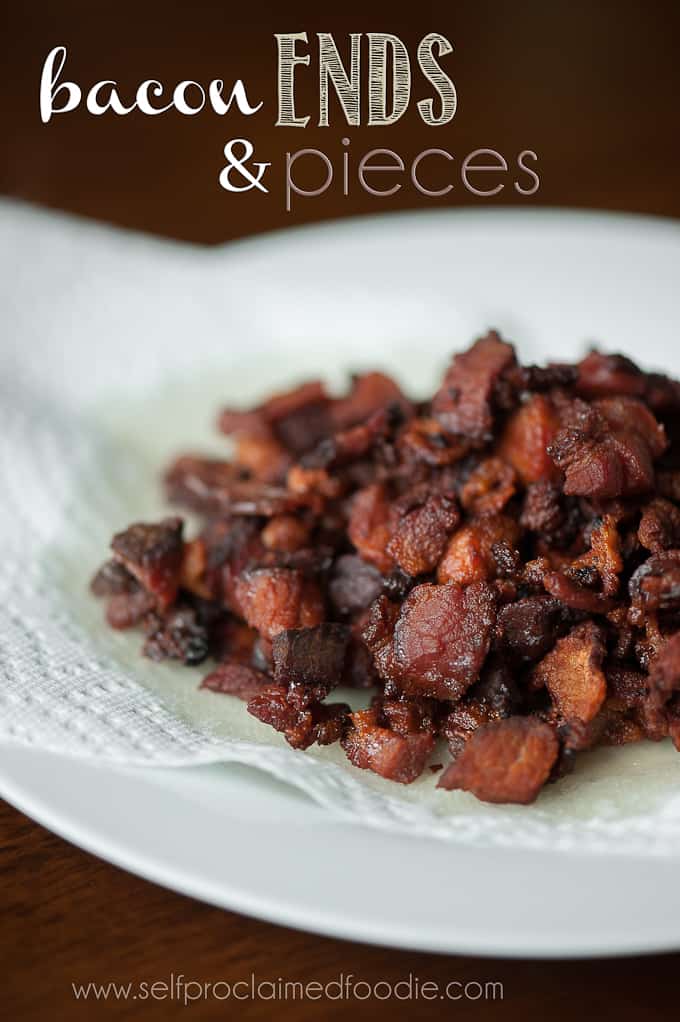 Any recipe that calls for small pieces of bacon should use bacon ends and pieces. It is literally half the price of a package of sliced bacon.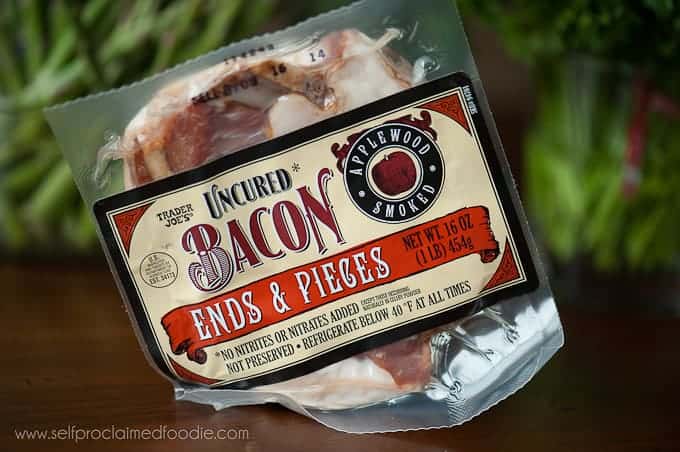 First, allow me to say that I belong to the vast group of people who think bacon deserves its own food group. I wish I could eat bacon every single day of my life. The smell, the taste – its all absolutely divine. It belongs in breakfast, lunch and dinner. It pairs beautifully with both sweet and savory. What can I say? I adore bacon.
Second, I should tell you that I love Trader Joe's. This is not the first time you'll see me talk of the love I possess for that wonderful store. I should be their spokes person. As you know, I am completely pretentious when it comes to food. How can I call myself a self proclaimed foodie otherwise? I'm almost repulsed by the big name grocery stores I grew up with with their isles full of corn syrupy, genetically modified, preservative filled, big name brand garbage they call food. More than anything, I prefer to buy, cook and eat locally grown and made products (this is a huge part of the culture in this town). Our family buys a pasture raised and finished quarter cow and a half pig every year from an Eastern Oregon ranch. The bacon from that pig is the best I've ever had in my life. When I cook it (I always cook bacon strips in the oven), I use the utmost care and respect so that it turns out perfectly every time. I only share it with the convert-foodie husband and one of my foodie-in-training kids (The other one, who eats just about anything and everything, doesn't like bacon. Can you believe that? I have an appointment for him with a therapist to get that all sorted out.) because they know its there and I can't possibly hoard it from them. Guests? Sorry – we don't share our bacon from the ranch. We don't get nearly enough bacon with our pig, though, and when it runs out, I always buy my bacon from Trader Joes. Its wonderfully delicious and has no nitrates, nitrites, preservatives. I'd rather die from a heart attack because of my bacon clogged arteries than eat those chemicals.
Back to the post – bacon ends and pieces. If ever a recipe calls for little tidbits of bacon like collard greens, twice baked potatoes, or breakfast burritos, don't buy the good (expensive) stuff. Buy the ends and pieces. Its not nearly as pretty when you open the package, but who cares? Do yourself a favor and look at the meat through the plastic – if its mostly fat, skip it, but if you see a lot of meat and fat (much like you would a regular pack of bacon), buy it. In fact, TJ's is often out of stock of this product, so when I see it, I usually buy at least six packages to store in my freezer. Cut it up into little teeny pieces, toss it in your cast iron skillet, and cook it up over medium high heat. The trick to perfectly cooking your bacon is to reduce the heat to low when the oil starts to foam. Otherwise, you may end up with half burnt, half raw bacon. This is the tried and true method to get every single piece to cook perfectly. Drain on a paper towel and voila – wonderful little bacon pieces that are roughly 60% as expensive as the strips for the same exact product.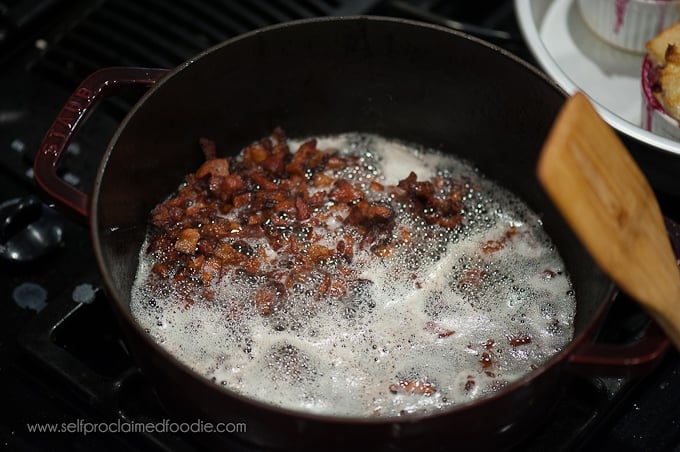 And yes, I have a cheap-o black range that shows every disgusting splatter. Don't judge. Just look at that wonderful bacon and the raspberry baked french toast I forgot to move out of the frame.
Who loves to watch bacon cook? I do! I do! I made the VIDEO below just for you.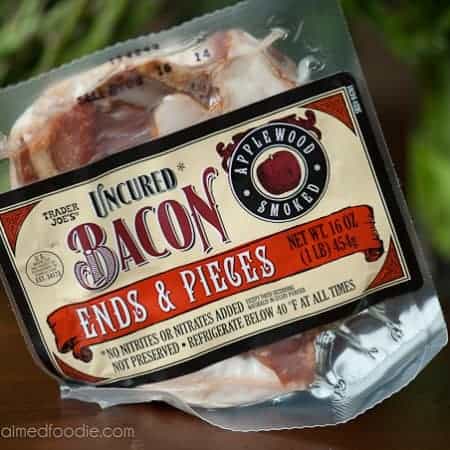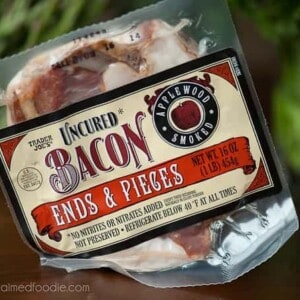 This wonderfully delicious package of apple wood smoked bacon ends and pieces is exactly the same product as sliced bacon, but it is much cheaper and can be used in a wide variety of recipes.
Ingredients
16

ounces

bacon ends & pieces
Instructions
Heat heavy bottom skillet or dutch oven on medium high heat.

Dice bacon pieces to desired size and discard any pieces that don't look appetizing (i.e. too much rough outside).

Cook bacon pieces on medium high heat, stirring every minute or so to cook evenly, 15-20 minutes.

Once the bacon pieces really start to cook, the oil will being to foam. At this point you should turn your heat down to low and allow bacon to continue cooking until all the pieces are perfectly done, about 5 minutes. This is how you get evenly cooked bacon.

Once bacon pieces are cooked to your desired level, remove pieces with slotted spoon and allow to drain on paper towels.

Use pieces in breakfast burritos, on top of twice baked potatoes, or eat them with a spoon because they're just wonderful and delicious bacon!
Notes
Yields about 1 cup of cooked bacon pieces
Nutrition
Calories:
236
kcal
,
Carbohydrates:
1
g
,
Protein:
7
g
,
Fat:
23
g
,
Saturated Fat:
8
g
,
Cholesterol:
37
mg
,
Sodium:
375
mg
,
Potassium:
112
mg
,
Vitamin A:
21
IU
,
Calcium:
3
mg
,
Iron:
1
mg
Nutrition information is automatically calculated, so should only be used as an approximation.