Get creative at lunch time and make these incredibly delicious Back-to-School Turkey Pinwheels with a special cream cheese spread, arugula, & tomato.
My kids love it when I pack these in their lunches, along with some No Bake Chocolate Sunflower Oat Balls.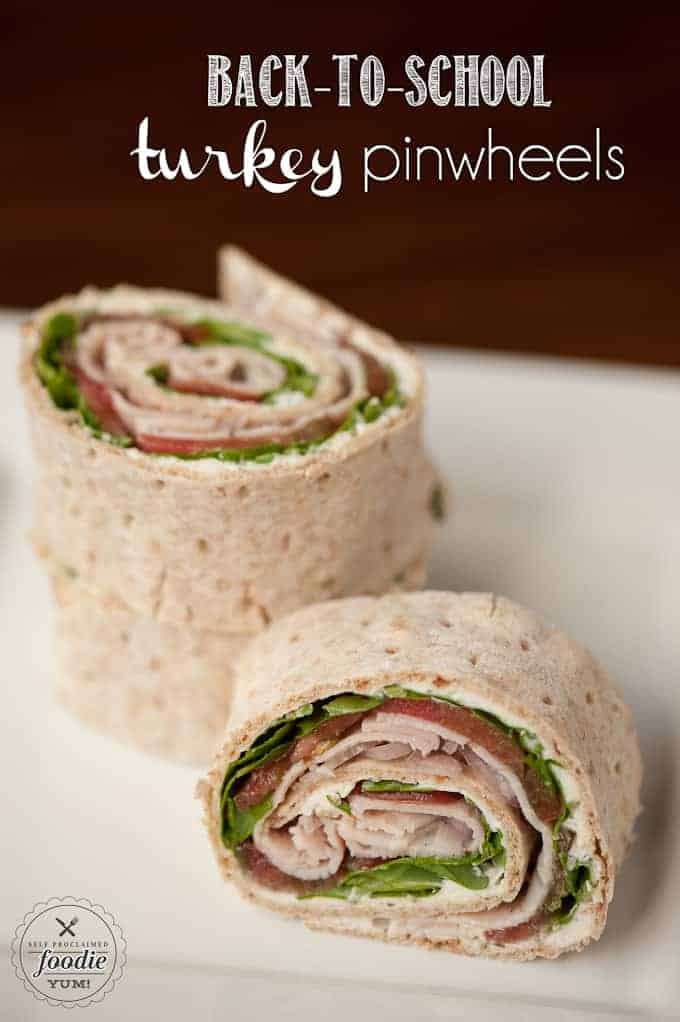 Imagine what is possible when a kid is fueled by wholesome food. I can see a noticeable difference in both of my kids when they haven't eaten well or gotten proper rest. Imagine the possibilities if kids have nourishment that they enjoy and actually want to eat. Fortunately, my kids have always been really good eaters (shocking, right?) but I know there are tons of kids out there who barely want to touch most foods. As my family is enjoying what's left of summer, we're also working to establish and maintain positive, healthy routines for the school year. One of the things I'm very pleased with has been how we have planned most of our meals ahead of time. You see, I joined this really awesome gym at the beginning of the summer. Not only is this gym beautiful with all the bells and whistles, but there are two main reasons I love this place: 1) they watch my kids for a whole two hours while I work out and 2) they have a huge pool complete with water slides. The unfortunate part is that they have poolside service with hamburgers and hot dogs. Yes, its a gym and yes, they have healthy items on the menu, but try telling my kids they have to eat a salad when the waiter is walking by with the best smelling hot dog on a gorgeous sunny day. What we've been doing everyday instead is sticking to a schedule as well as packing a healthy lunch. The routine keeps the normalcy and cadence that we enjoy during the school year and packing our own food not only keeps the cost down, but it keeps our bodies nourished as we play in the sun.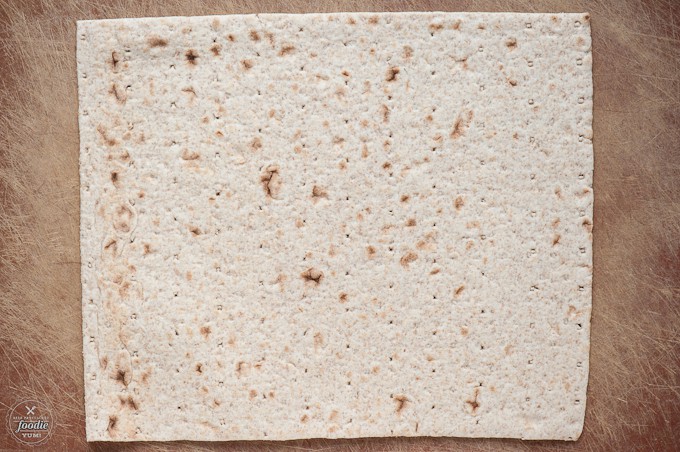 Okay, now I'm going to tell you how to make the most delicious turkey pinwheel wrap. I've had a lot of pinwheel sandwiches – people either serve them up at parties or sometimes I grab one from the deli at the grocery store. I find most of them to be boring and bland. Not this one. The first step is to use a rectangle wrap. Use a circle and your'e going to have weird pinwheels.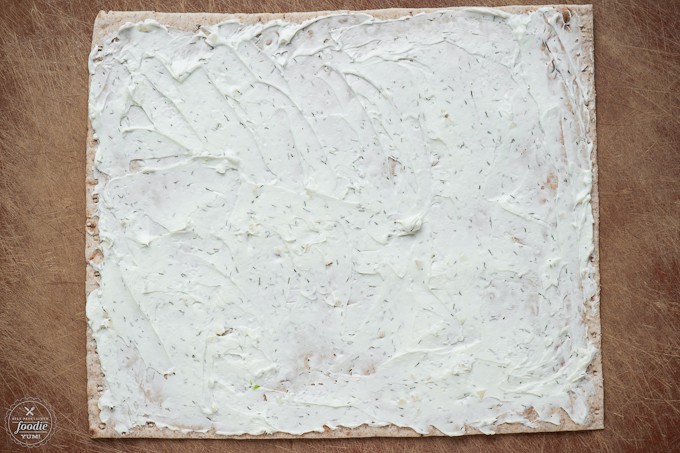 Second, don't just use cream cheese. That's boring and a wee bit nauseating, if you ask me. No. I like to mix in a bit of mayo because this is technically a sandwich, right? I also mix in some raw garlic and dried dill weed. Its worth it. I promise.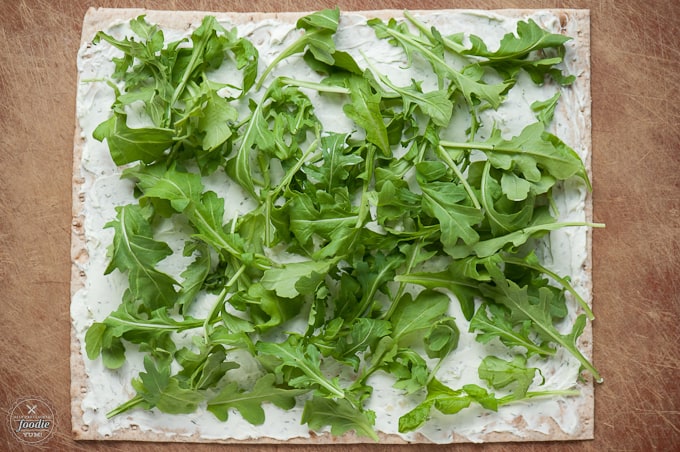 A large handful of arugula will add color and the bitter greens go nicely with the other flavors. Then, slice up a gorgeous organic heirloom tomato like the one I have below. The thinner, the better. So good.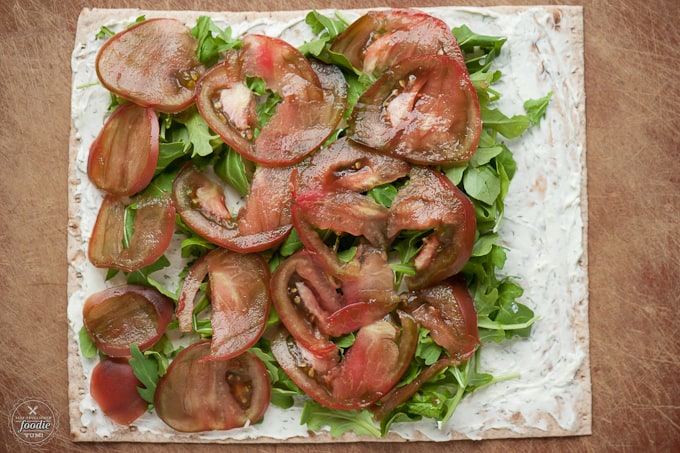 Next, add your slices of turkey. I used pepper turkey because its awesome. I love raw red onion on my sandwiches but everyone around me doesn't love that I love it, so for these pinwheels I opted for shallot which is basically a very tame red onion.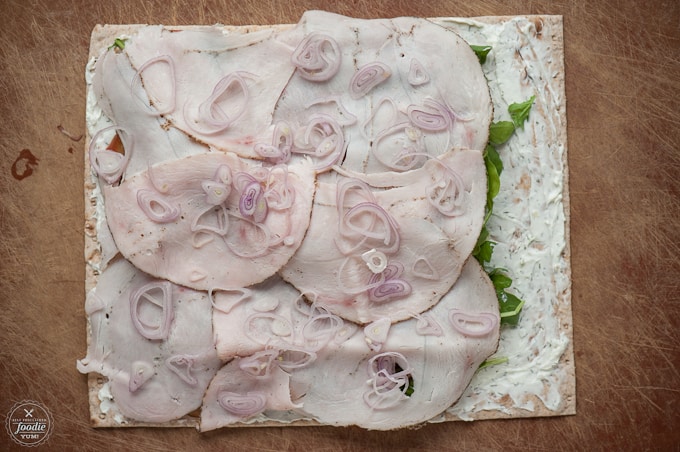 Now look at how awesome this lunch is. My kids were hovering over my shoulder when I took the photo below and as soon as I was done, there were four hands (two kids) reaching for all the food I had laid below them. This lunch has everything anyone might want and would keep any kid, or adult for that matter, going strong all day. Doesn't it look yum?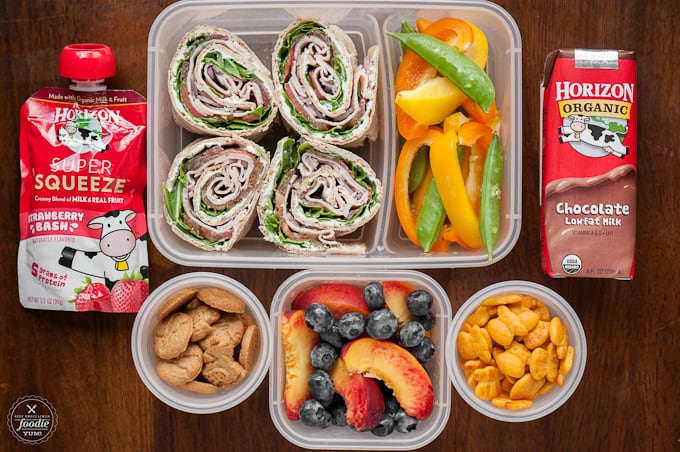 Back-to-School Turkey Pinwheels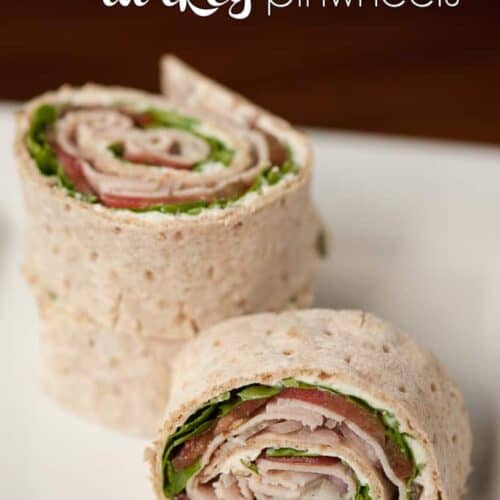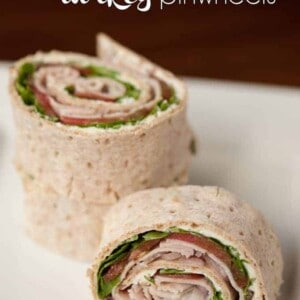 Get creative at lunch time and make these incredibly delicious Back-to-School Turkey Pinwheels with a special cream cheese spread, arugula, & tomato.
Ingredients
3

tablespoons

whipped cream cheese

1

tablespoon

mayonnaise

1

teaspoon

dill

1/2

clove

garlic

minced

1

rectangle wrap

I used whole wheat

1

cup

fresh arugula

one big handful

1

medium

tomato

sliced very thin

4

ounces

turkey breast

about 5 large slices

1

shallot

sliced thin
Instructions
To make the spread, mix together the cream cheese, mayonnaise, dill, and garlic. Spread onto wrap covering entire surface.

Cover with arugula, then tomato, then turkey, then shallot, reserving about a one inch section on one side where no toppings will sit. That will be the last part of the wrap and the cream cheese will help seal it together. Starting from the opposite side, roll up your wrap, using your hands to ensure the toppings don't squeeze out as you role.

Using a sharp knife, cut into 6-8 pinwheels.
Nutrition
Calories:
269
kcal
,
Carbohydrates:
17
g
,
Protein:
17
g
,
Fat:
15
g
,
Saturated Fat:
6
g
,
Cholesterol:
57
mg
,
Sodium:
382
mg
,
Potassium:
392
mg
,
Fiber:
3
g
,
Sugar:
5
g
,
Vitamin A:
1042
IU
,
Vitamin C:
11
mg
,
Calcium:
92
mg
,
Iron:
1
mg
Nutrition information is automatically calculated, so should only be used as an approximation.
Love tasty sandwich recipes?
Well then you'll definitely want to try these: