Can you think of a better way to enjoy summer than enjoying a lovely picnic outdoors while enjoying something like this Summer Veggie Sandwich?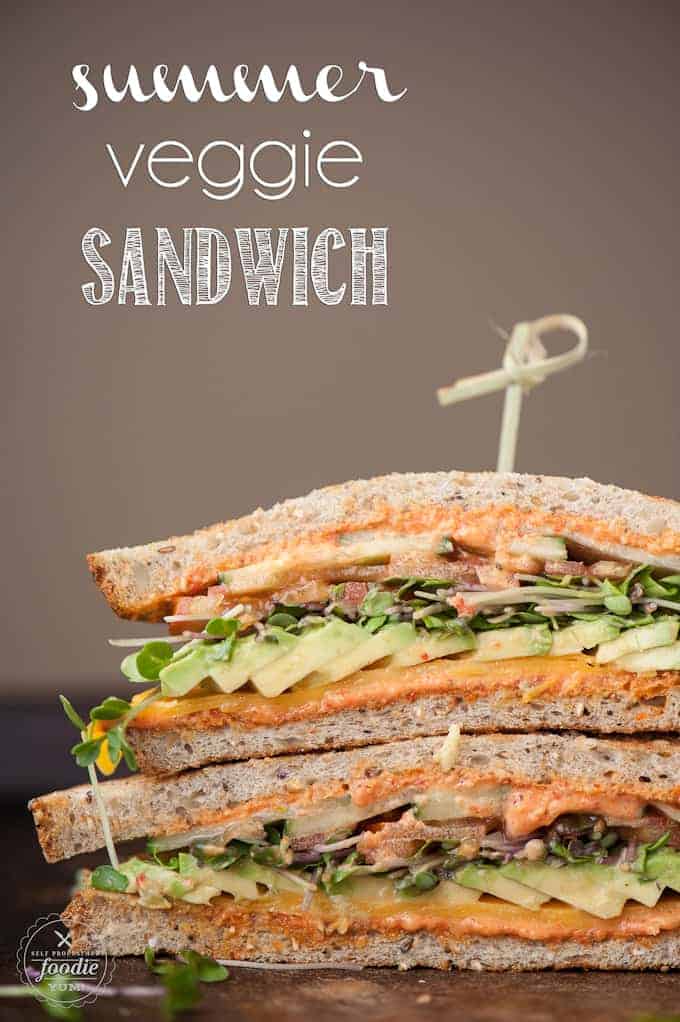 I was recently asked by Sargento® to create some unique tips for using their product and I wanted to share with you this incredible sandwich. If you're looking for a "Summer Sandwich Occasion" I honestly can't think of a better occasion than a picnic. Whether it be a romantic daytime date with your sweetheart or a family hike, picnics are the absolute best way to enjoy some of the best things in life – food, the outdoors, and your friends & family. I'm an Oregon girl now, but I grew up in California. A vegetable sandwich like this might seem weird to some people out there, but I grew up eating amazing veggie sandwiches.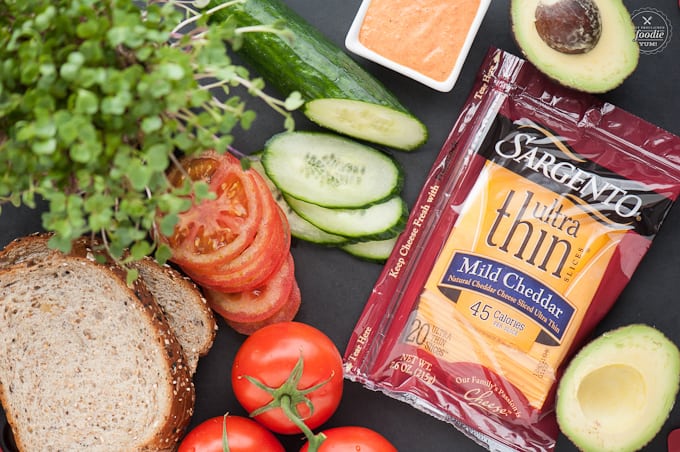 There are a few tips and tricks to make an outstanding veggie sandwich. Not all options and combinations would result in a tasty sandwich. There are definitely a few must-haves to make your sandwich amazing. I'll start with the cheese because, after all, who doesn't love cheese? I found my Sargento® Sliced Cheese at QFC and went for the Ultra Thin Mild Cheddar. I am super fond of the extra thin slices because I love the way they taste but you can also put the exact amount you want on your sandwich. There are tons of varieties of Sargento® Sliced Cheese you can choose from that come pre-sliced and ready to use that can be used in a variety of sandwiches: on the grill, cold sandwiches, panini etc. Just pick whichever one(s) look best to you and you won't be sorry.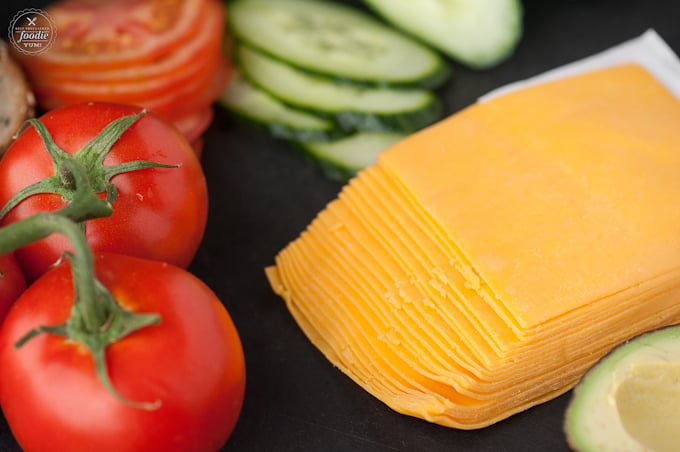 The next thing I recommend is a good spread. You can always use the basics – mayo and/or mustard, but you can't beat the flavor of a scratch made aioli.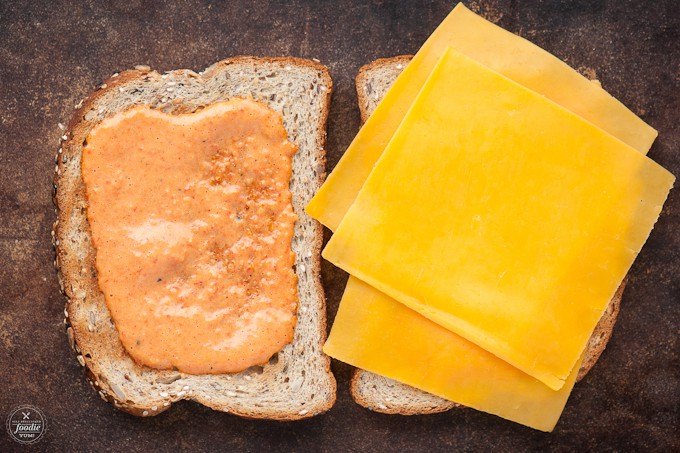 I also highly recommend both avocado and cucumber. The avocado combined with the cheese gives your sandwich a rich creaminess that is downright necessary. The cucumber adds a nice fresh crunch.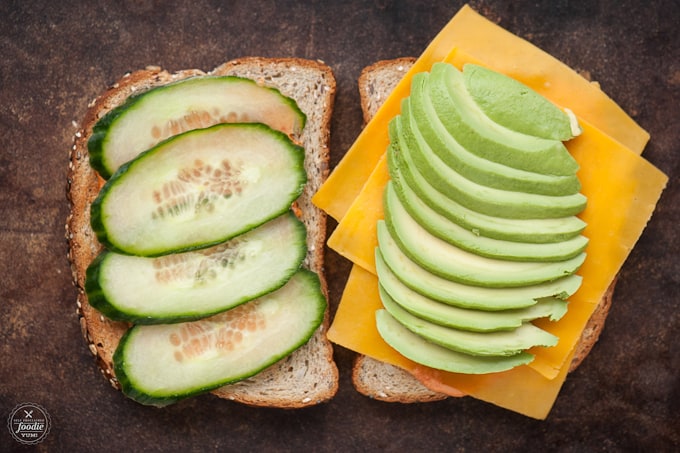 Tomato is a given – that should be no surprise there. My other sandwich favorite is fresh sprouts. I grew up eating alfalfa sprouts, but they're not always easy to find these days. You can, however, usually find some kind of microgreen either packaged up or still living. These happen to be radish sprouts that were sold still growing. They add the perfect texture and taste to this sandwich.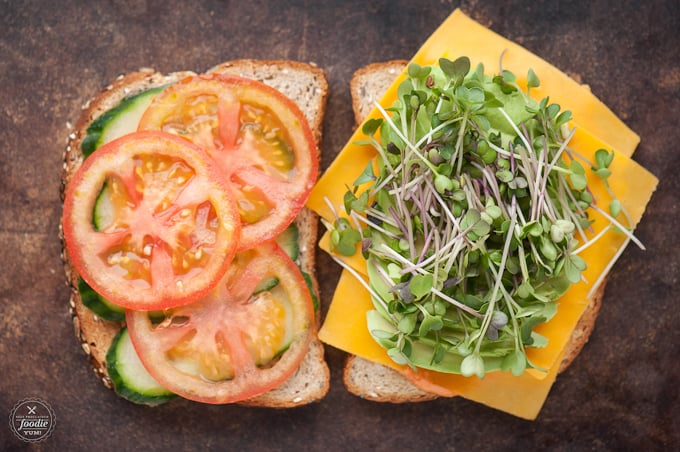 Now, you can always add a few slices of turkey, ham, and/or bacon to your sandwich. In fact, I did that very same thing the next day when I made more sandwiches (we couldn't get enough because they were so good). Either way, the components of this sandwich bring out the very best of summer and make the perfect addition to any picnic. Enjoy!!!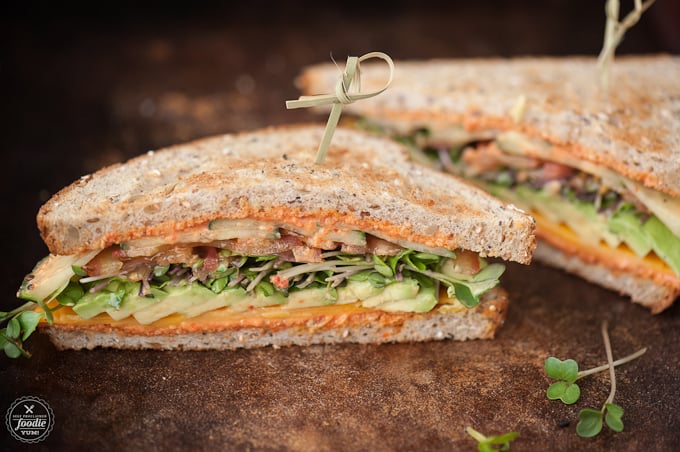 Summer Veggie Sandwich
Can you think of a better way to enjoy summer than enjoying a lovely picnic outdoors while enjoying something like this Summer Veggie Sandwich?
Recipe type:
main dish, sandwich
Ingredients
Seeded wheat bread
Any kind of spread - mayonnaise, mustard, homemade aioli
Sargento® Sliced Cheese
avocado
cucumber
tomato
sprouts
Instructions
To assemble your sandwich, layer all ingredients and enjoy! You can add as much or as little of any ingredient that you'd like!
This is a paid conversation written by me on behalf of Sargento®. The opinions and texts are all mine.

MY OTHER RECIPES